Zhiyun Smooth 5s

Best for professionals

The Zhiyun Smooth 5S is a smartphone gimbal aimed at those who want a little more professional control. It supports heavy payloads and has a wealth of advanced software features. It's a large and heavy gimbal, so carrying it is a chore.

Pros

Extremely high quality build
Most configurable mobile gimbal
Accepts payloads of up to 300g

Cons

Big and heavy
Confusing app experience

DJI

DJI Osmo Mobile 6

Best for most people

Undoubtedly one of the most popular smartphone gimbals on the market today. It folds down small, sets up fast, is lightweight and offers a world of stabilised fun. It's not as adaptable as the Zhiyun, but it makes up for it in convenience.

Pros

Compact lightweight design
Easy to use software
Super-fast set up time

Cons

App requires sideloading on Android
Limited tilt range
If you're looking to pick up a smartphone gimbal, there are two stand-out models on the market today.
The Zhiyun Smooth 5S and DJI Osmo Mobile 6 are both priced similarly and offer similar features, but they take quite different approaches, and will likely appeal to different types of people.
We had the opportunity to test both of them side-by-side, and while both gimbals are capable of excellent results, the user experience couldn't be more different.
If you're trying to decide between the two, you're in the right place. Here's everything you need to know about these snazzy stabilisers.
Specs, availability and pricing
The DJI Osmo Mobile 6 was released in September 2022 at a price of $159 and it has been available at retail ever since.
The Zhiyun Smooth 5S was released slightly later, in November 2022, at a price of $169 and has been widely available since its launch.
| | DJI Osmo Mobile 6 | Zhiyun Smooth 5s |
| --- | --- | --- |
| Selfie Stick | Extendable to 8.5 inches | No |
| Weight | 309g | 625g |
| Charging Time | 1.5 hours | 2 hours |
| Runtime | up to 6.5 hours | up to 24 hours |
| Size | 189×84.5×44 mm folded | 311x168x52 mm |
| Compatible Thickness | 6.9-10 mm | up to 10 mm |
| Compatible Width | 67-84 mm | 50-90 mm |
| Compatible Weight | 170-290g | 150-300g |
Design
The difference in approach is immediately apparent when you look at these gimbals side by side. The Osmo Mobile 6 folds down into a tiny convenient form factor, whereas the Smooth 5S cannot be folded into a smaller size.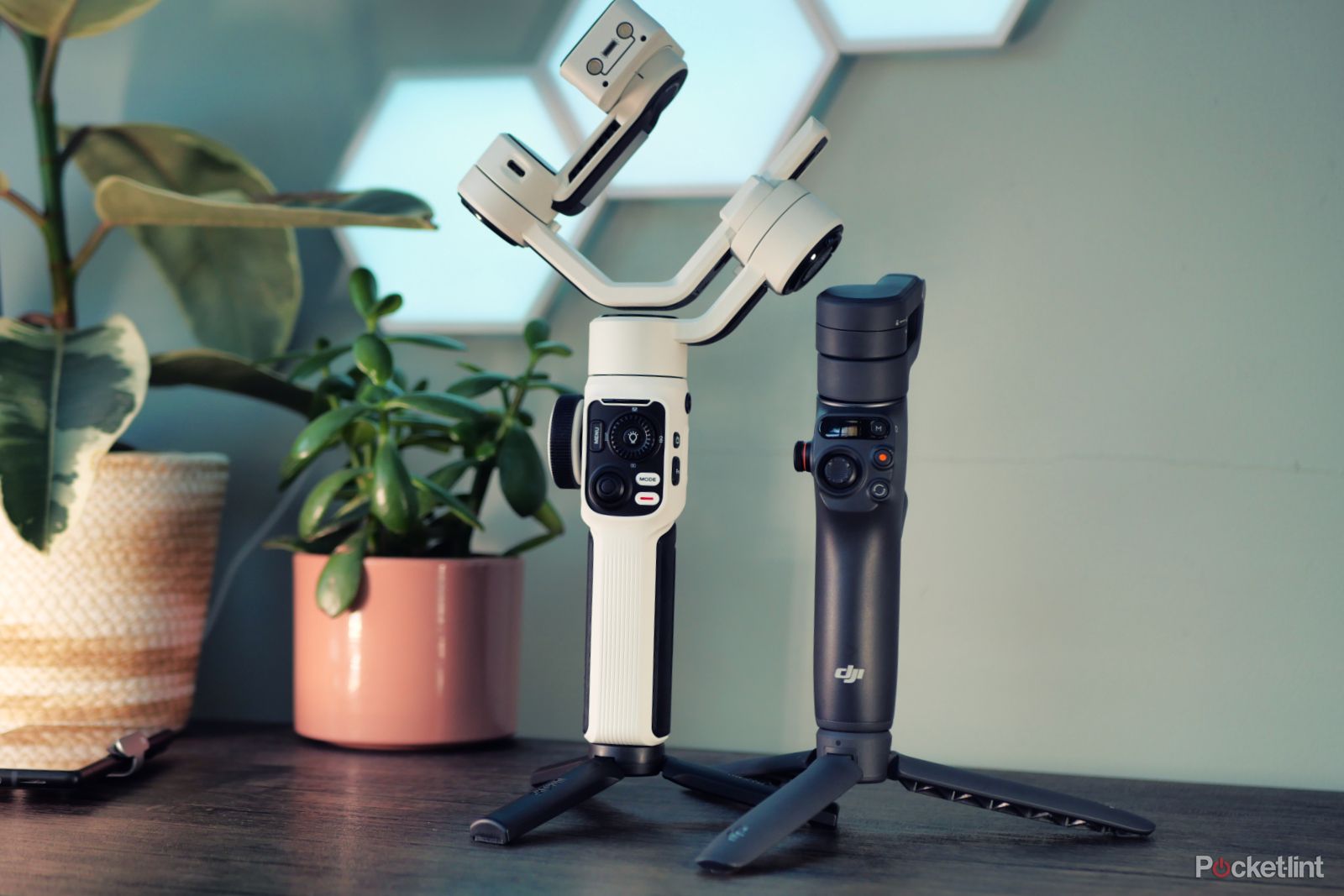 The Zhiyun feels closer to a stabiliser designed for professional mirrorless cameras. It has some heft to it, which makes it feel like a quality tool, and the physical controls are larger and more comprehensive.
The most obvious evidence of this is the zoom/focus wheel that's found on the left-hand side of both gimbals. The DJI wheel is tiny and unobtrusive, whereas the Zhiyun wheel is massive, with a rubberised grip texture. There's more resistance on the Zhiyun wheel, which makes precision movements easier, but it comes at the cost of weight and portability.
DJI's approach is all about convenience, and the design goes to great lengths to put as little friction as possible into the set-up process. You can just unfold the gimbal, magnetically attach your phone and start shooting. The Zhiyun design, on the other hand, requires you to unlock three axes separately, clamp your phone and balance it before shooting.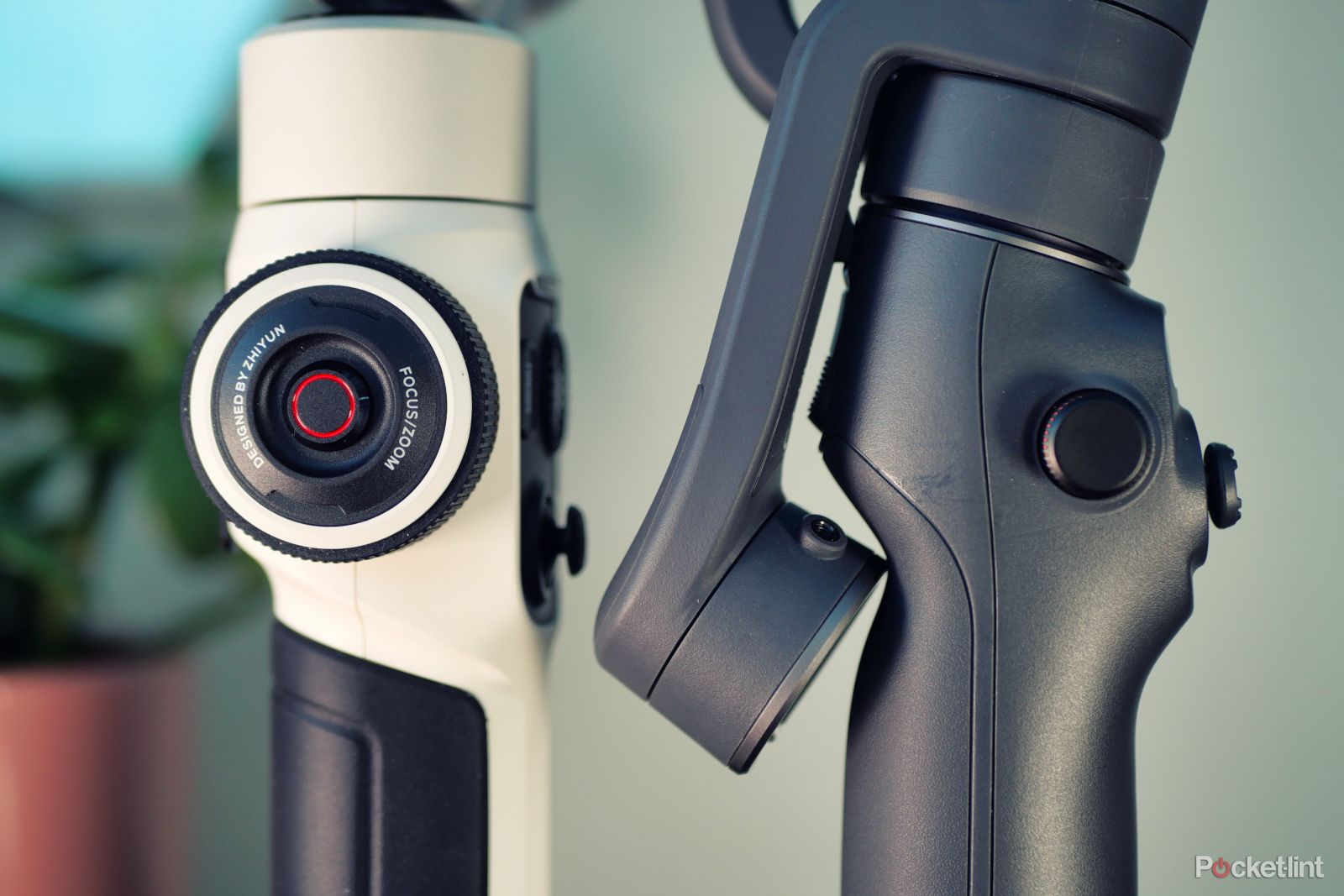 The same is true when switching from horizontal to vertical shooting, the DJI can switch with just a couple of button taps, whereas the process on the Smooth 5S is much more involved, requiring rebalancing on the majority of devices.
There are pros and cons to each design. The Smooth 5S is much more configurable, and this means you can achieve a much better balance, which aids in both battery life and smoothness, but you'll need to set aside a few minutes to set up before each use.
The Osmo Mobile 6, meanwhile, can be set up in a matter of seconds but may be less compatible with smartphones that have an unusual weight distribution – like the top-heavy Vivo X90 Pro. The same goes for those who like to attach external lens adapters or filters to their devices.
Features
The Zhiyun Smooth 5S has a built-in fill light on the rear of the phone clamp, and its brightness can be adjusted via a wheel next the joystick on the handle. This light kicks out a surprising level of brightness and could prove useful in low-light situations. It's much brighter and more diffused than a phone's built-in LED light, and can be further supplemented with an additional magnetic light, if you still need more lumens.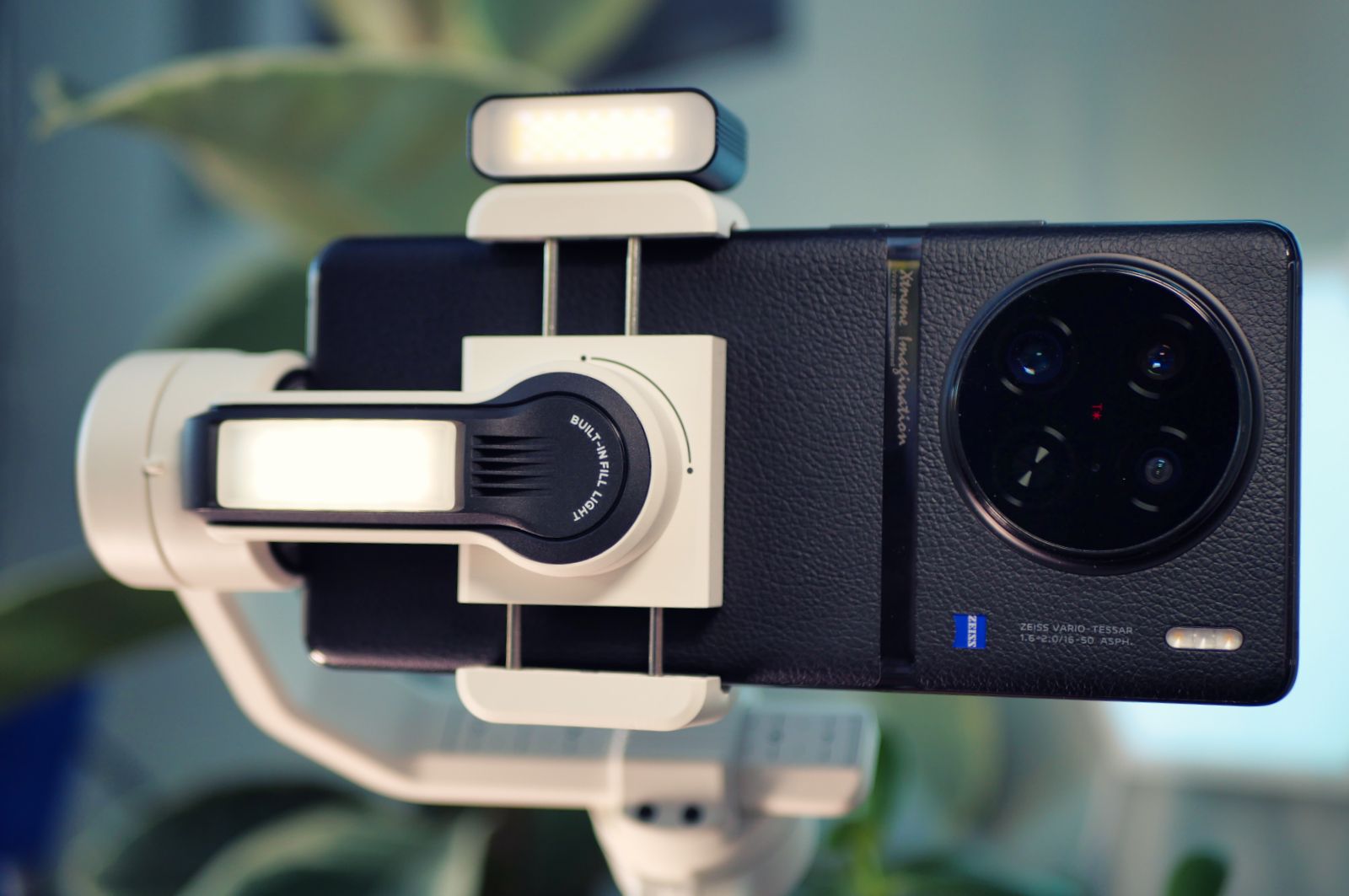 DJI offers an optional phone clamp with built-in fill lights, but this is designed to be used primarily for selfie shooting, as the lights are placed on the screen side of the clamp. Zhiyun's built-in light is designed for lighting your subject, as it's positioned on the rear side of your phone, but the optional additional light can be mounted facing in either direction, making it the more versatile option.
The DJI Osmo Mobile 6 has a telescoping selfie stick built-in, which can be very useful in practice. It allows you to get high or low-angle shots while the controls all remain within reach. The Zhiyun gimbal doesn't extend in this way, and we found ourselves missing the feature while shooting.
On the flip side, this means that the Smooth 5S has much more room internally to house its battery pack. As a result, it offers significantly longer runtimes, you can expect up to 24 hours, compared to just 6.5 hours with the DJI.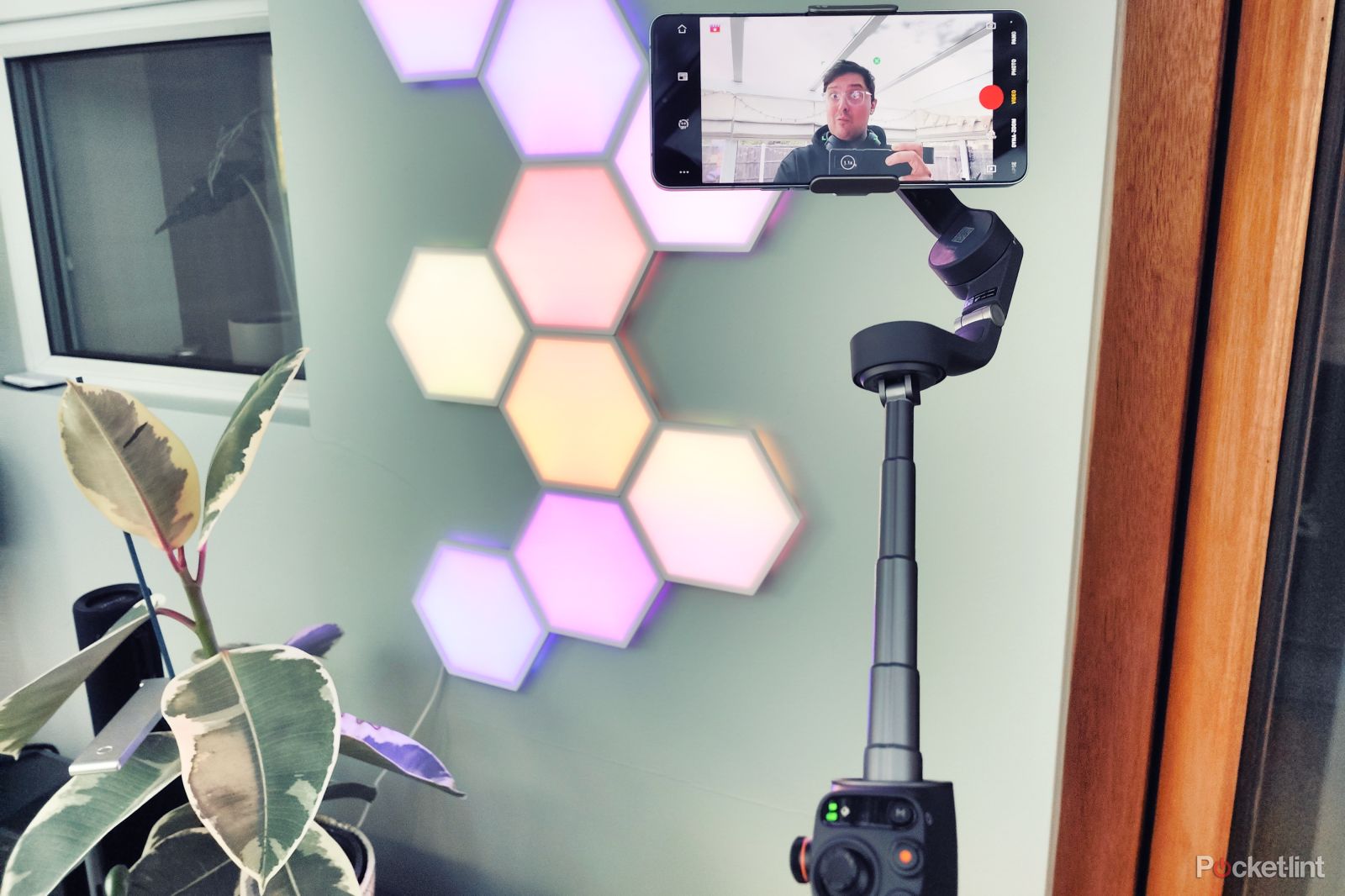 Another big difference between these two gimbals is the level at which they can rotate on each axis. The Zhiyun gimbal can pan infinitely, so it's much better for vortex mode spinning shots, as well as 360-degree subject tracking.
The maximum tilt and roll angles are also significantly higher on the Zhiyun option, which means that you can smoothly transition between high and low-angle shots without needing to stop and flip the gimbal upside down.
Software
Zhiyun Smooth 5S: ZY Cami and StaCam for iOS and Android
DJI Osmo Mobile 6: DJI Mimo App for iOS and Android
The DJI Osmo Mobile 6 uses DJI's longstanding Mimo app, and users of the DJI Osmo Action and Pocket cameras, as well as older gimbals, will be very familiar with the experience.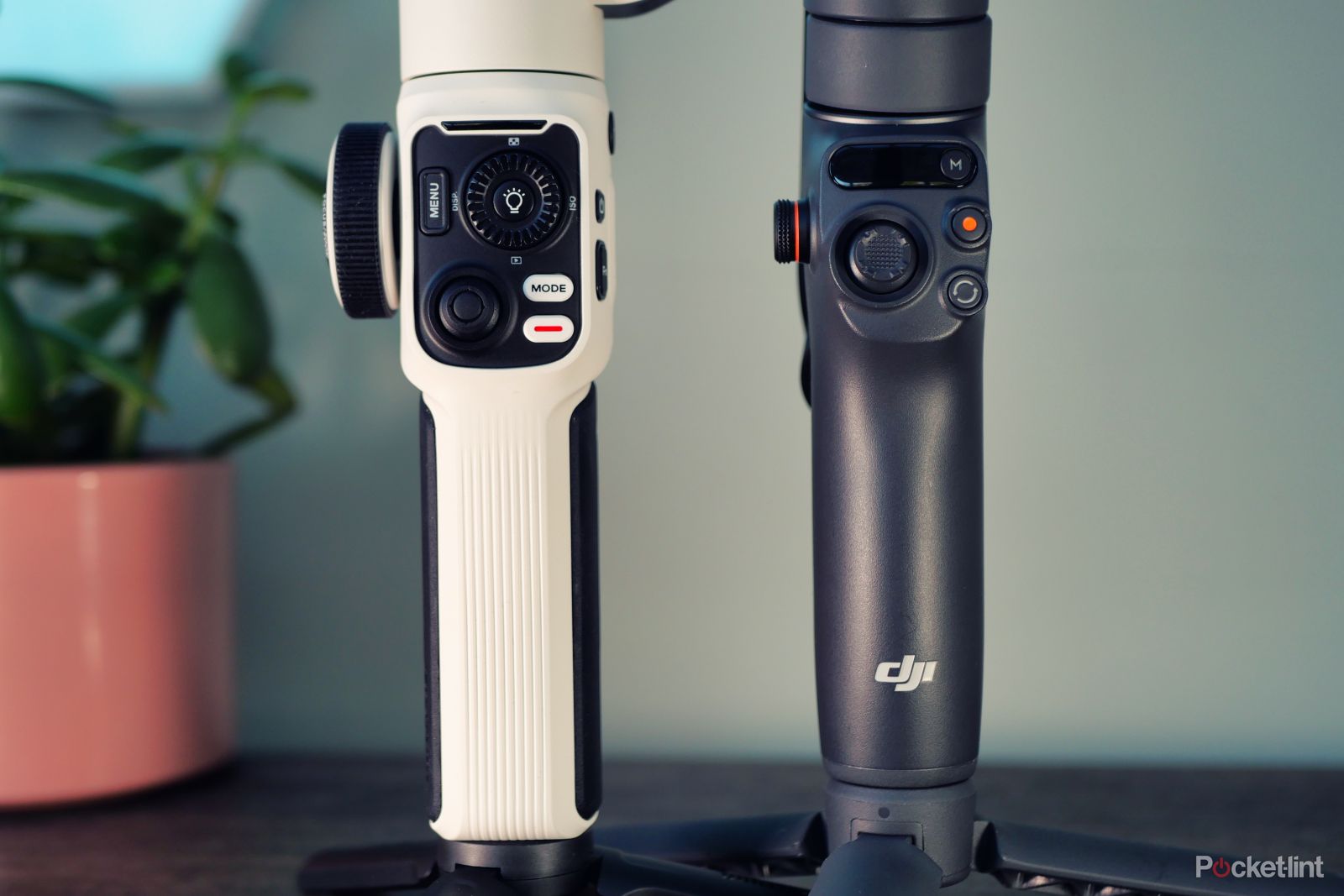 Overall it's a decent app with loads of useful shooting features like motion timelapses, hyperlapses, panoramas and some very comprehensive beautification options.
The standout feature of DJI's software is its excellent tracking capabilities. While almost every gimbal offers this functionality, including the Smooth 5S, DJI's system is without a doubt the most reliable and accurate.
A downside to DJI's software is that it isn't available in the Play Store, for Android users. It's not a big hassle to sideload it, but security-conscious users may be a little put off by this process. On iOS, it's still available through the App Store as normal.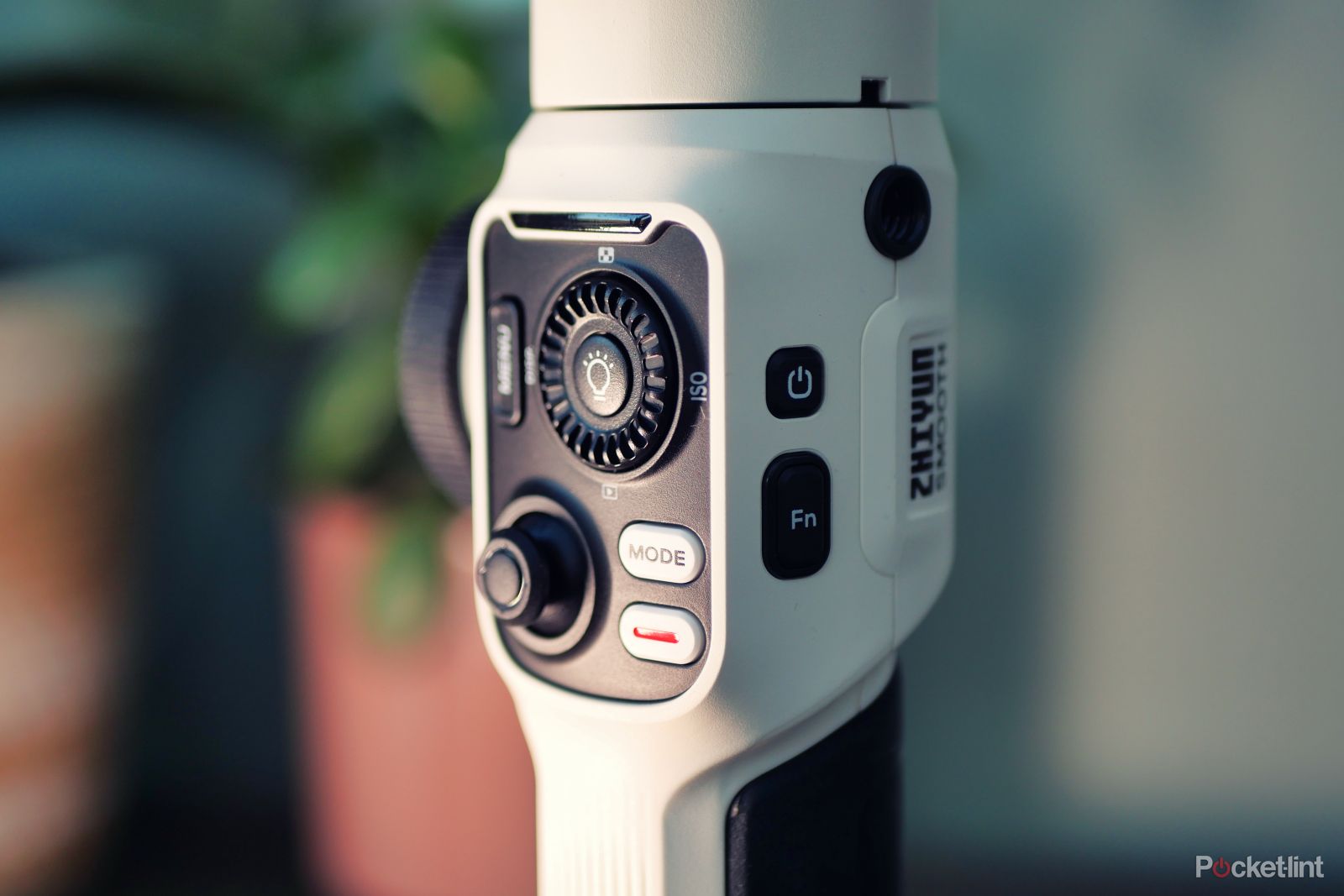 The Zhiyun Smooth 5S, confusingly, uses two separate applications. You can choose either the ZY Cami app, or StaCam. To access some features, you'll need both installed.
ZY Cami is the more mainstream offering, and is similar to DJI Mimo in many ways, offering a multitude of shooting options and boatloads of beauty options for selfie addicts.
StaCam is the more advanced option, and it utilises more of the gimbal's physical controls for things like ISO, resolution and manual focusing. It also has some more advanced features like focus peaking, histograms, LUT support and zebra stripes.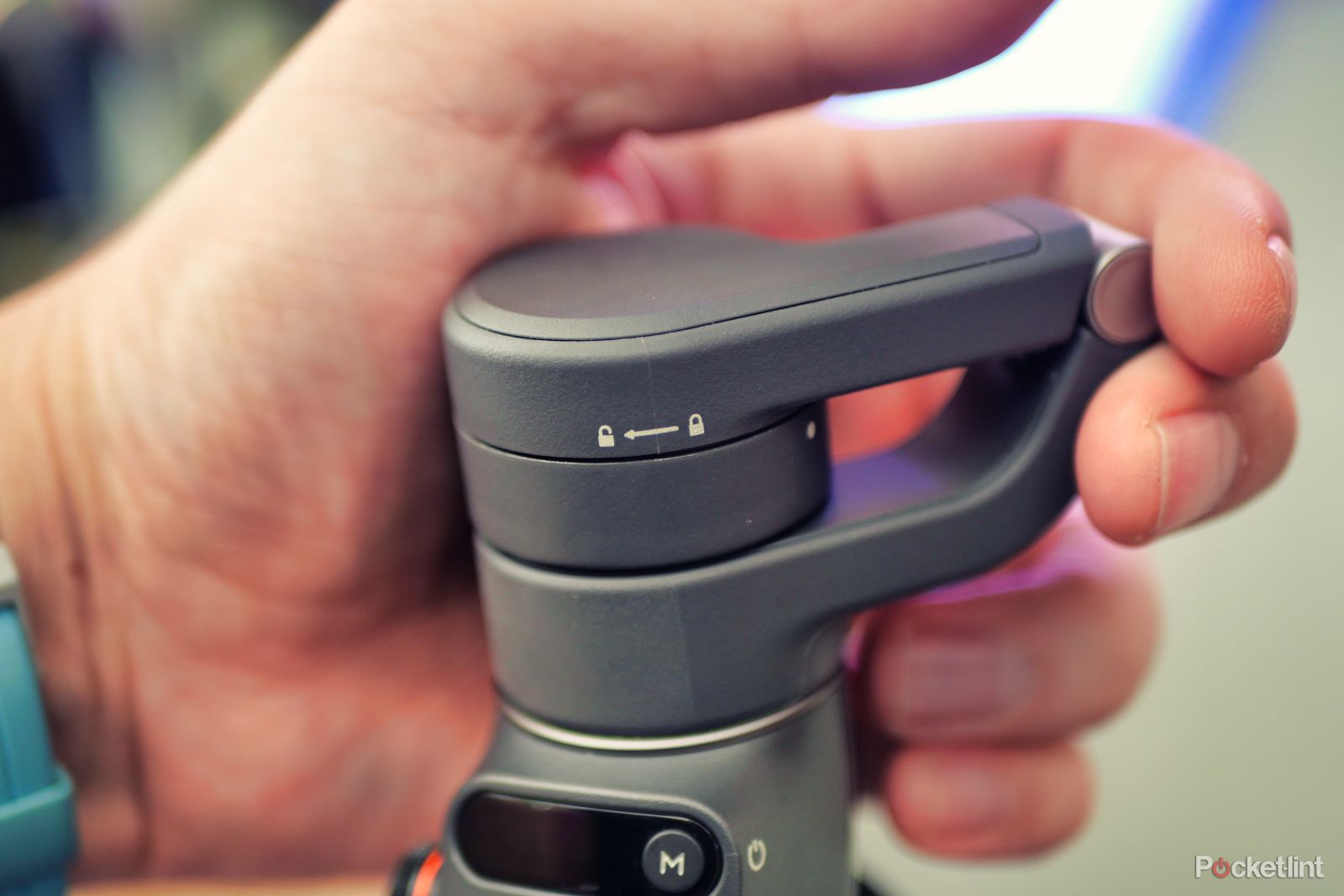 Frustratingly, many of these more advanced display options are only available with Zhiyun's Prime+ subscription which will cost you an additional $24.99 / £22.49 per year, or $2.49/ £2.29 per month.
Conclusion
The DJI Osmo Mobile 6 and Zhiyun Smooth 5S are similarly priced, with the Zhiyun option typically costing around $10 more. With such a small difference in price, really it comes down to which device is more suited to your needs.
We love the DJI Osmo Mobile 6 for its portability and convenience. With such a lightweight build and pocketable form factor, you're much more likely to want to take it with you on a trip. The extendable selfie stick is also extremely useful, and something that we really missed when shooting with the Smooth 5S.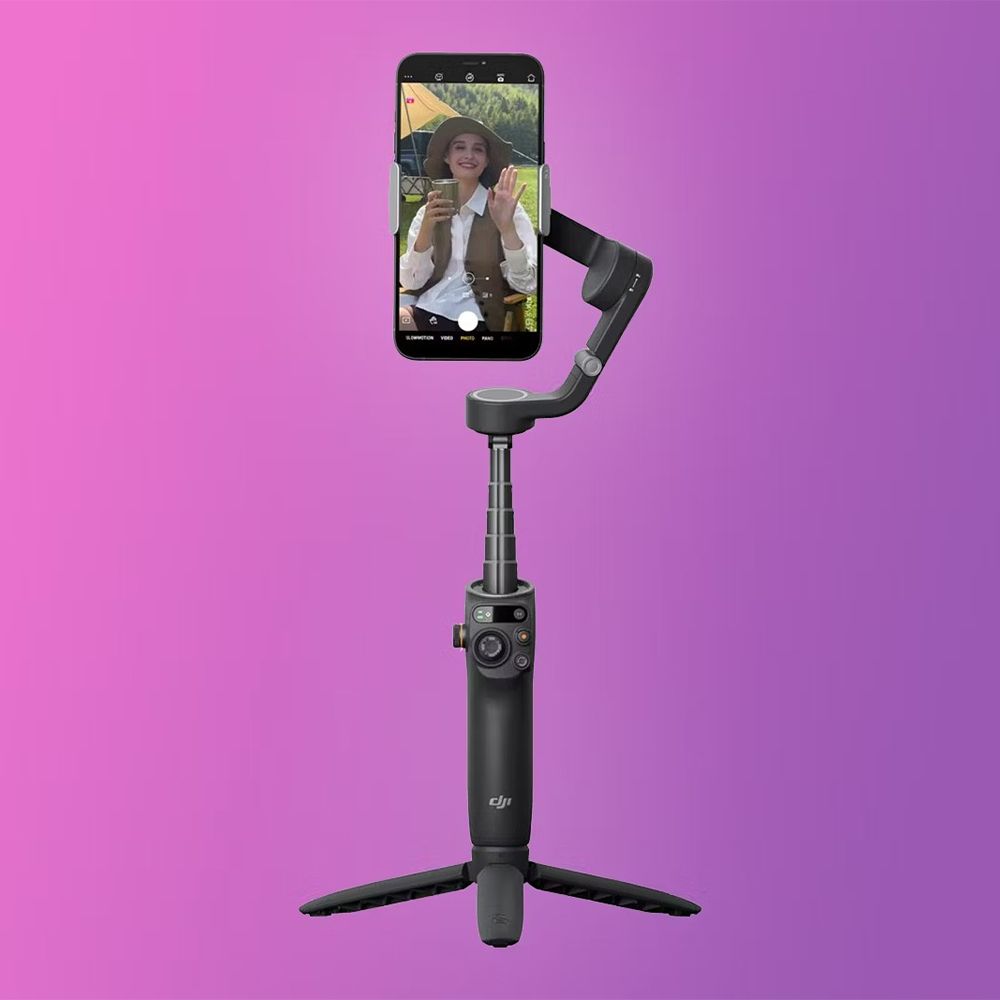 DJI
On the other hand, the Zhiyun gimbal feels like a higher-quality piece of equipment, and is infinitely more adjustable for unusually weighted phones and lens combinations. It's more flexible in the pan, tilt and roll axes, too, which means that you can capture shots that simply aren't possible with the Osmo Mobile 6.
We'd say that the Zhiyun Smooth 5S is technically the better gimbal, and if you're looking for a tool for professional video creation, it's likely the one to go for. However, that's not the full story.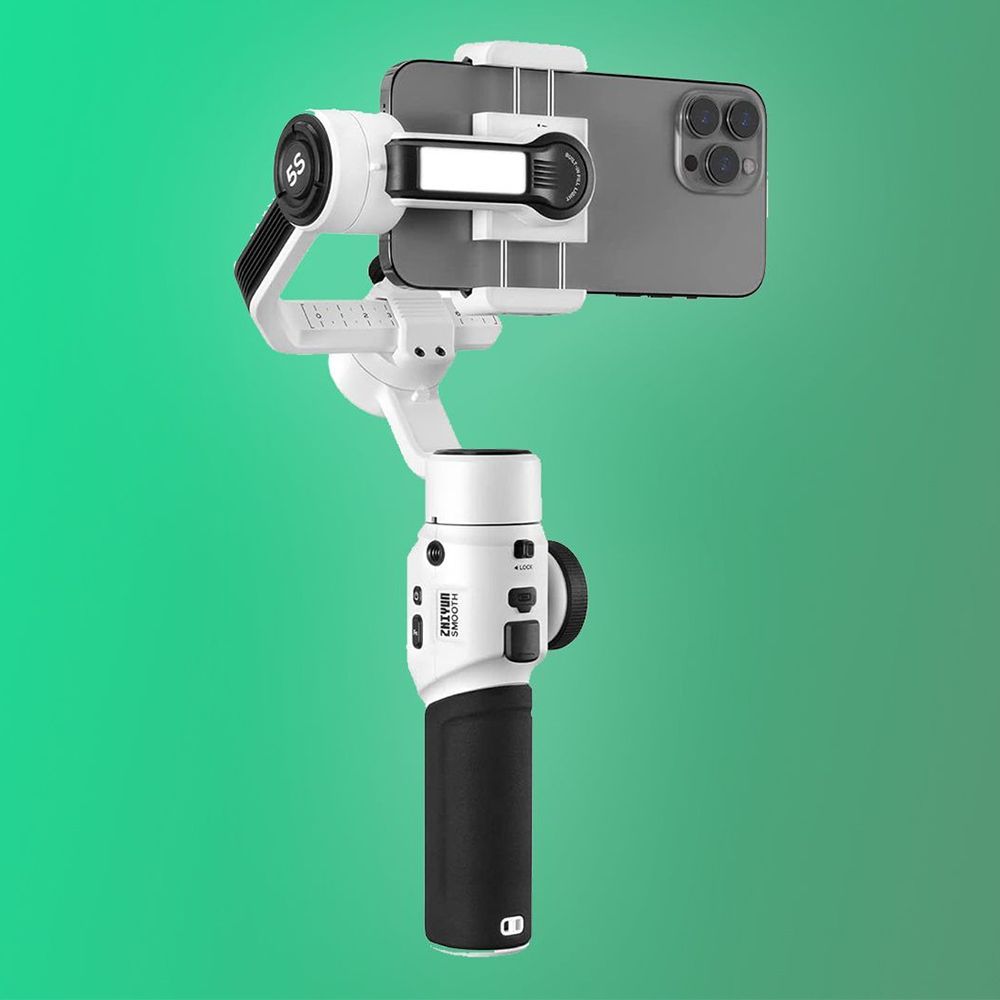 Zhiyun
The DJI gimbal is extremely simple to set up and operate, and it's designed with vertical shooting in mind. This means that it's a way better option for casual users who just want to add some smoothness to their social media posts.
As always, it all depends on what you want to do with it, and how much you're willing to carry in the process. Either one of these gimbals can produce wonderfully smooth videos, but each excels in different ways.
Trending Products

.