Whether you're shooting still images or video using a smartphone, action camera, point-and-shoot camera, DSLR, or one of the latest mirrorless cameras, these compact tripods can help you capture stable, quality content in every shooting situation.
Coming in a wide range of designs and styles, all of our picks, including our top choice overall – the Peak Design Travel Tripod – provide a useful set of features that can give you more framing options when shooting without taking up too much space. We compiled a list of the best compact tripods currently on the market to help you decide which most suits you and your content capture preferences.
Our picks for best portable tripods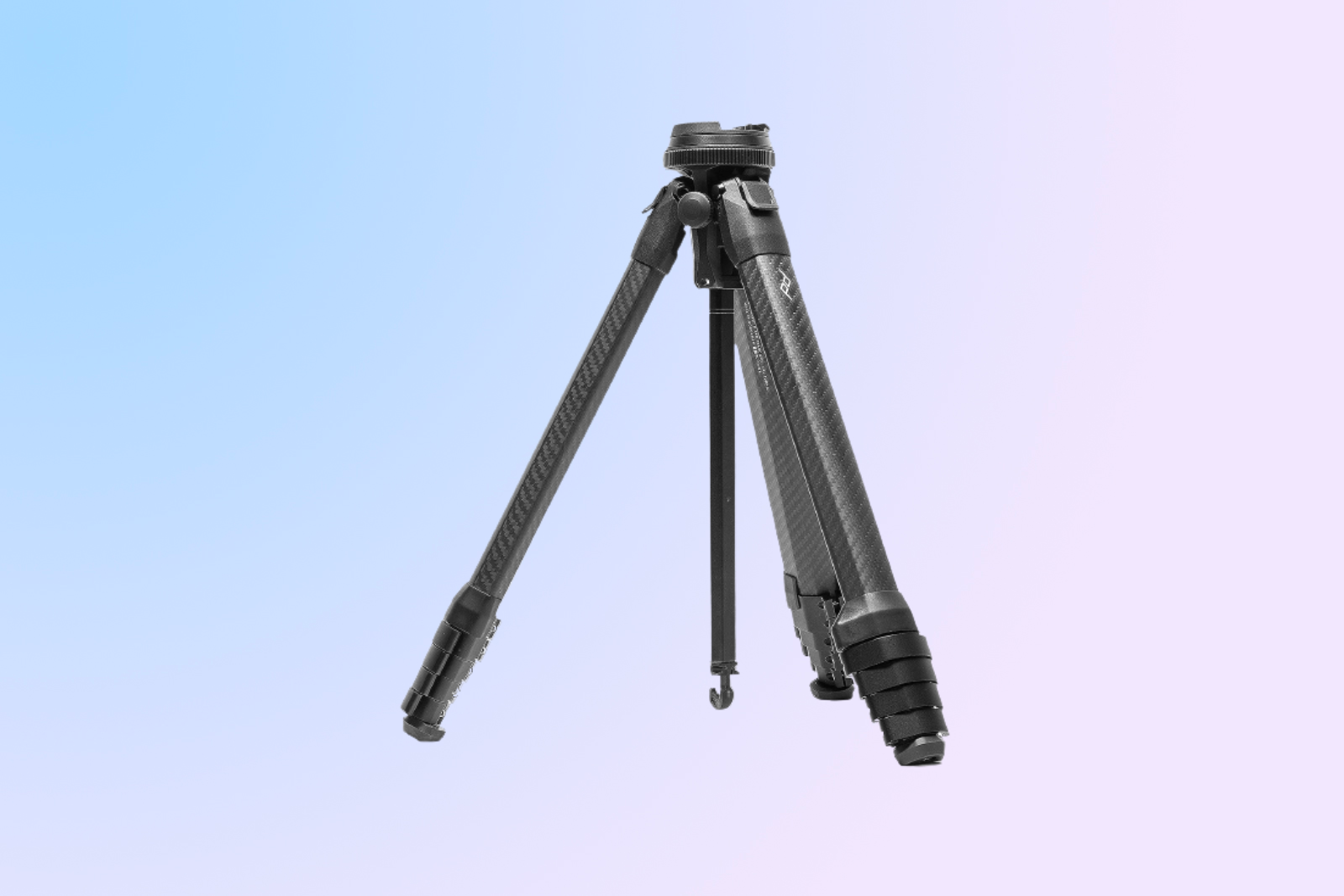 Peak Designs Travel Tripod / Pocket-lint
Peak Design Travel Tripod
Best portable tripod overall
Compact and ready for adventure
The Peak Design Travel Tripod is not only the Rolls Royce of compact tripods, for a photographer or videographer who's constantly on the move, it's also an indispensable tool. Weighing in at just 1.27kg when unfolded, it's able to hold a camera (and related gear) up to 9kg.
Pros
Lightweight
Height and angle adjustable
Holds up to 9.07kg
Durable and stable
This fully height and angle adjustable tripod uses carbon fiber components for durability and weather resistance. It folds down to just 386mm long and is about the diameter of a water bottle, so it's thinner and lighter than most travel tripods. It's also designed to offer incredible stability and adjustability, expanding up to 1524mm in height, (up to help you capture the perfect shots. And because the Peak Design travel tripod comes with several mounts that attach to its angle-adjustable ball head, you can quickly switch between a smartphone, DSLR, or mirrorless camera.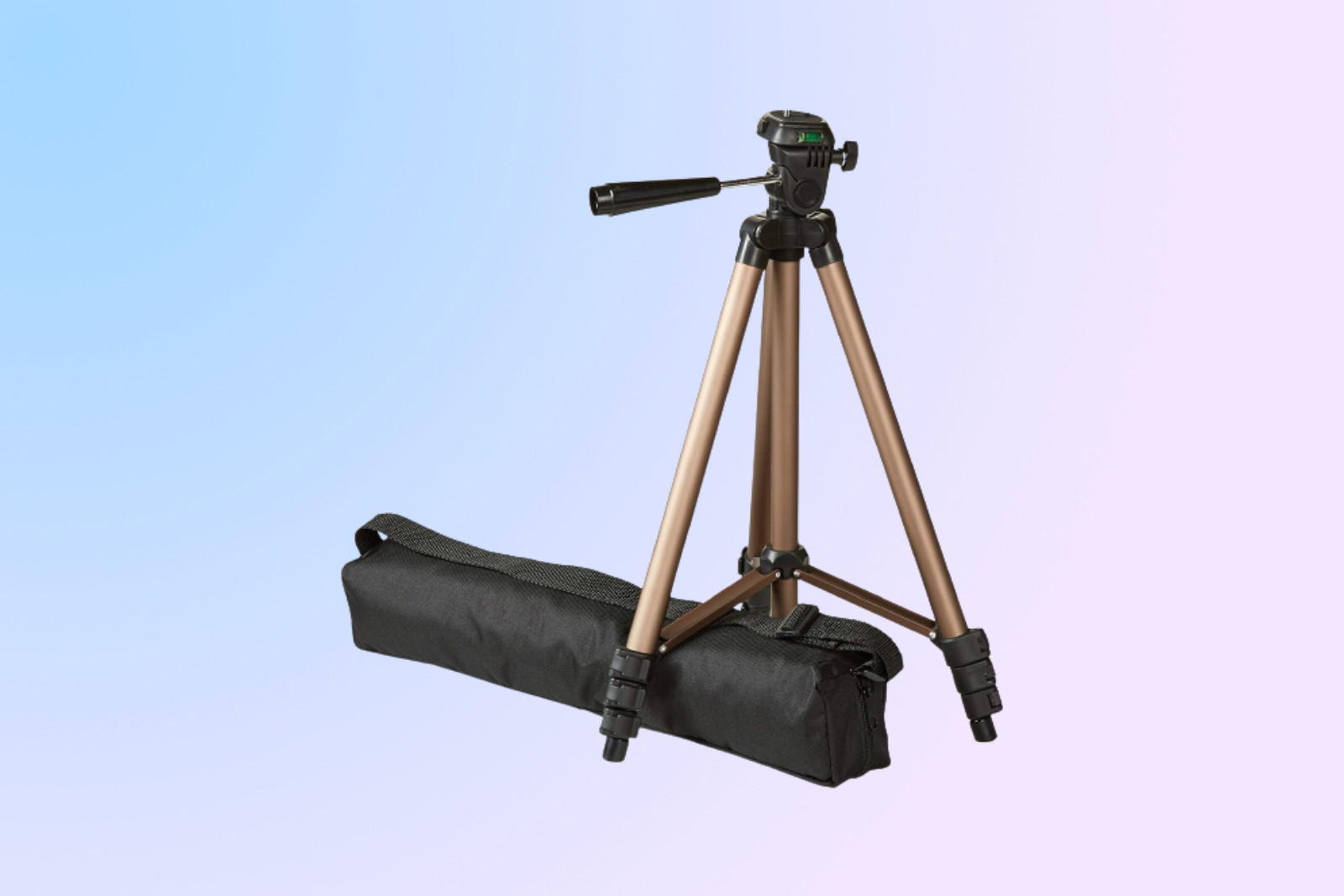 Amazon Basics 50-Inch Lightweight Camera Mount Tripod / Pocket-lint
Amazon Basics 50-Inch Lightweight Camera Mount Tripod
The best portable tripod for value
Best bang for your buck
If all you need is a basic, height and angle adjustable tripod that weighs just 2723g this Amazon Basics model promises both affordability and versatility. Its biggest drawback, however, is the maximum weight limit is just 2kg.
Pros
Extremely affordable
Lightweight and portable
Ideal for lighter weight cameras
Cons
2kg maximum weight capacity
The three-way head allows you to tilt or swivel your camera–making it ideal for capturing portrait or landscape shots. The legs are each composed of three sections, so you can adjust the tripod's height between 419 and 1270mm. Additionally, the mount can swivel 360-degrees, but also be secured at the ideal position and angle to capture your shot. It comes with a handy quick release plate for your camera, so you can attach and detach it from the tripod quickly.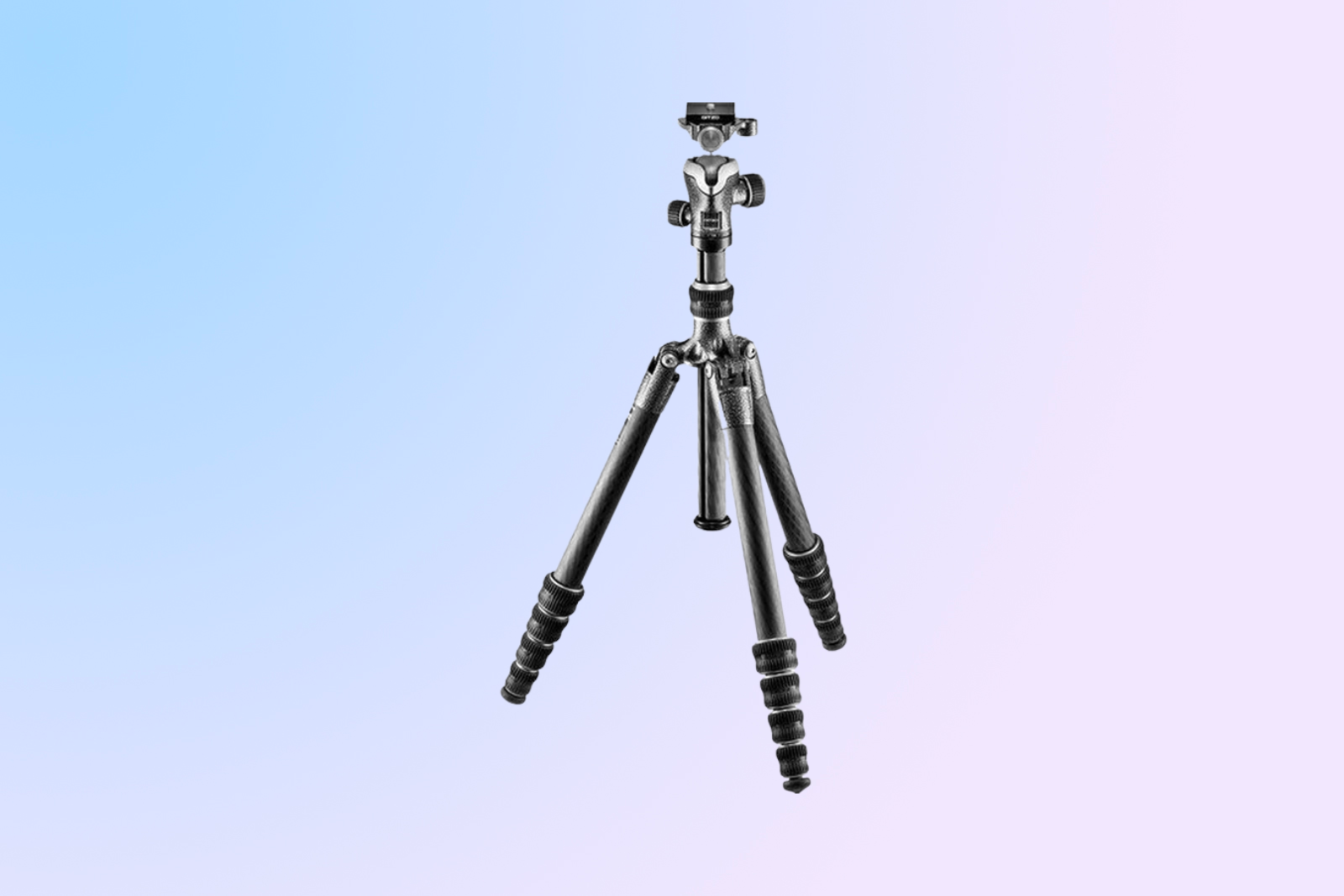 Gitzo Lightweight Series 1 Traveller Carbon Fiber with Center Ball Head / Pocket-lint
Gitzo Lightweight Series 1 Traveller Carbon Fiber with Center Ball Head
Best premium portable tripod
For premium portable content
For a pro-photographer with few budgetary limitations, the Gitzo Lightweight Series 1 Traveler uses a center ball head with durable and extremely sturdy legs made from carbon fiber. This tripod has a maximum weight capacity of 9.98kg,yet it weighs just 1.45kg making it an easy carry.
Pros
Carbon fiber components
15kg weight capacity, but weighs just 1.45kg
14-inch closed length
Adjustable ball head with quick release plate
Like most traditionally designed tripods, this one is height and angle adjustable. Once it's positioned perfectly to capture your shot, it uses G-Lock mechanisms to securely hold the legs in place. It has a built in and height adjustable center column and comes with a convenient shoulder strap. It's also height adjustable—between 355.6 and 1397mm. This is a premium quality, five section tripod kit that's extremely versatile, so you can use it on uneven surfaces or position your camera at a very specific angle – and height – when framing each of your shots.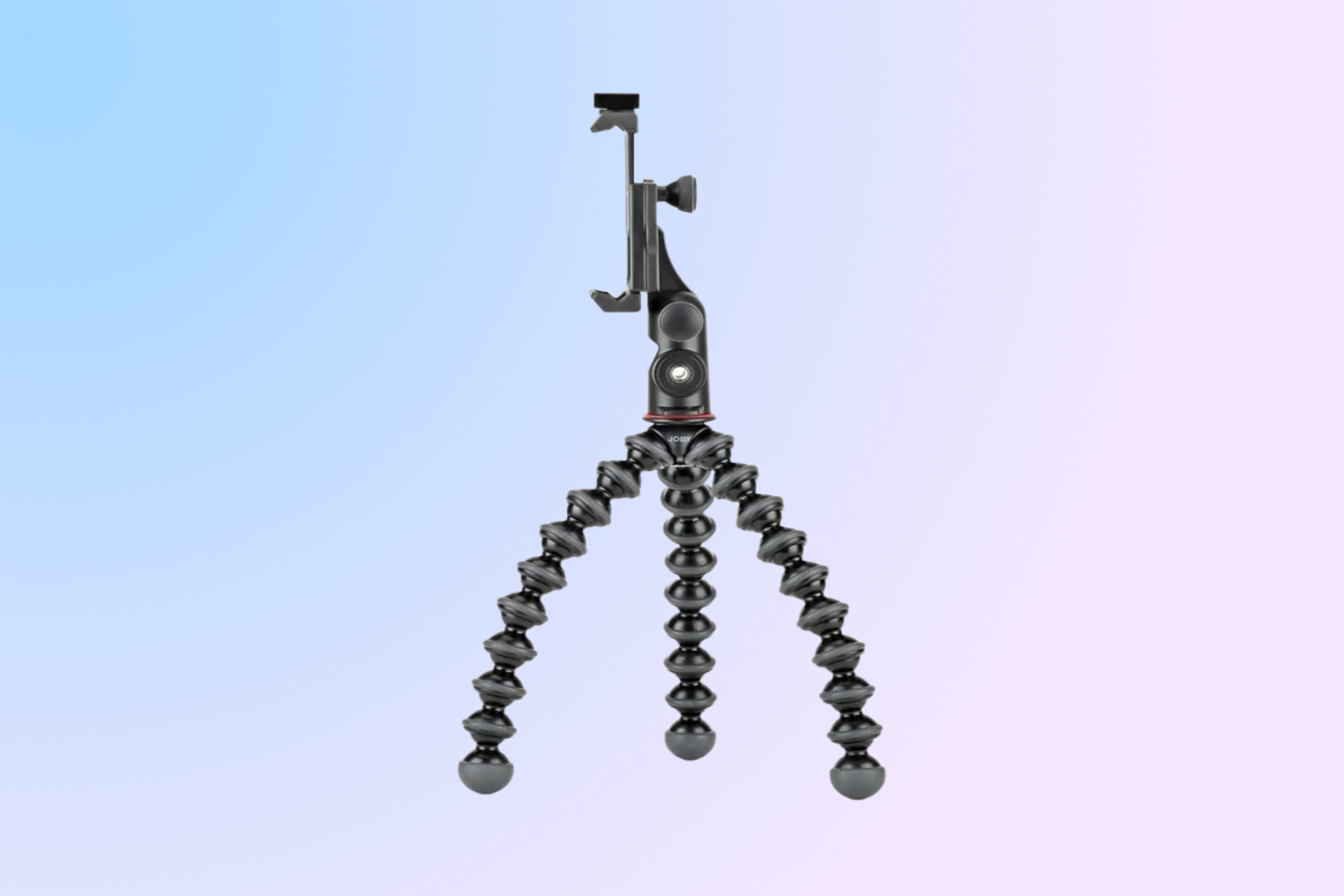 Joby GripTight Pro 2 GorillaPod / Pocket-lint
Joby GripTight Pro 2 GorillaPod
Best portable tripod for smartphones
For smartphone photographers
Whether you're shooting with a smartphone, action camera, or a small point-and-shoot camera, Joby offers a lineup of GorillaPod compact tripods with fixed length but bendable legs and a variety of different head mounts. The Joby GripTight Pro 2 GorillaPod, for example, is designed for use with a smartphone or smaller size camera.
Pros
Bendable legs
Interchangeable feet
Durable construction
Ideal for smartphones, action cameras, and point-and-shoot cameras
With the phone securely attached to this tripod, you can quickly switch between landscape and portrait mode. What sets it apart is that it has replaceable feet that come in different colors and that offer different functions. For example, it has feet with internal magnets, so the tripod can be attached to a metal surface. The unit weighs just 280g and is made from aluminum, stainless steel, and ABS plastic. It has a weight limit of 1kg and comes with a 6.4mm tripod mount, as well as a smartphone mount. The entire unit measures 134.6 x 167.6 x 350.5mm.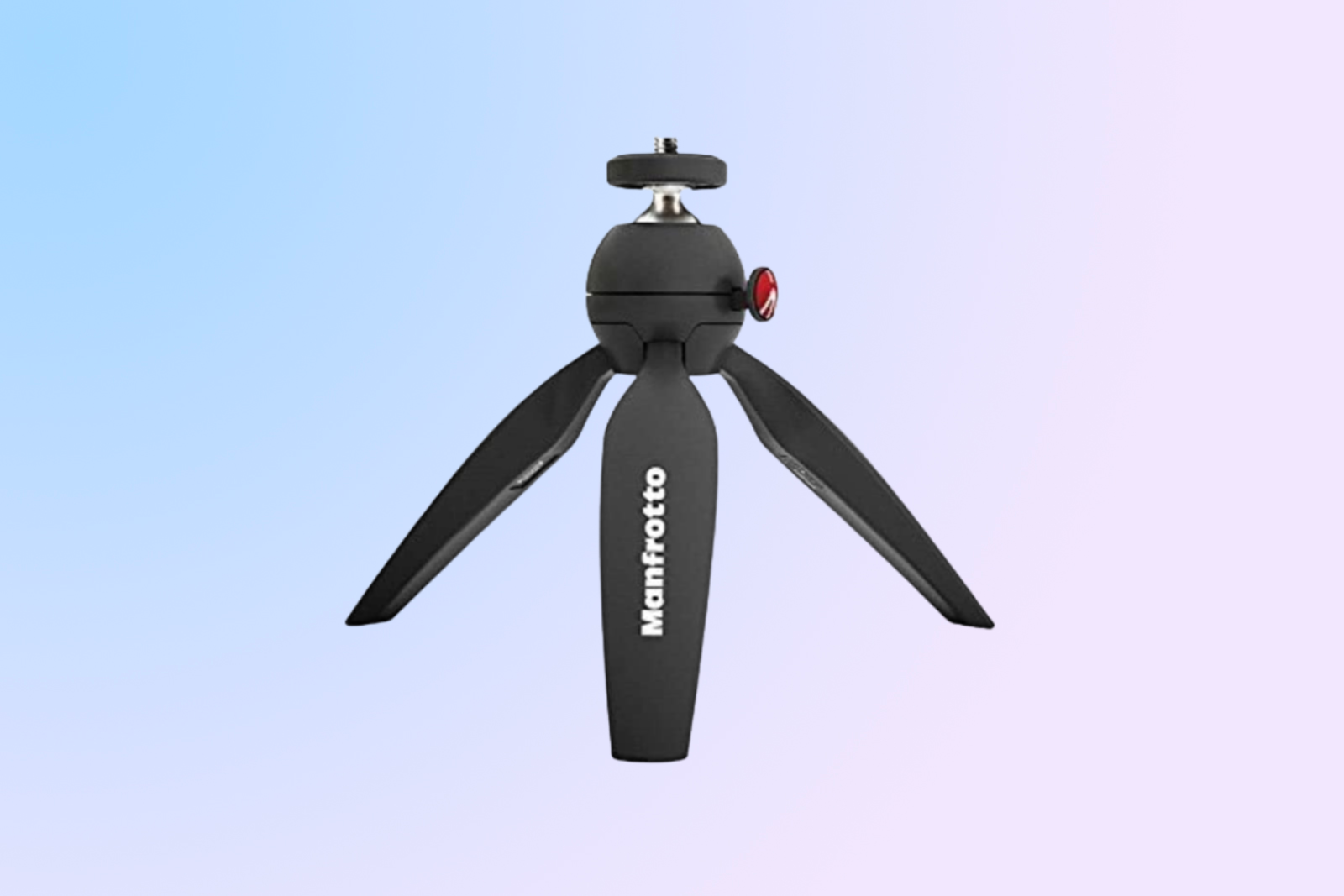 Manfrotto PIXO Mini Tripod / Pocket-lint
Manfrotto PIXO Mini Tripod
Best compact tripod for action cameras
Extra compact
$19 $32 Save $13
The Manfrotto PIXO Mini Tripod is the ideal tabletop tripod for cameras weighing up to 1kg and fold-in legs. Additionally, the legs are coated with a comfortable, non-slip hand grip material, so it can also be used as a camera handle.
Pros
Affordable
Lightweight and easy to carry
Use as a tabletop tripod or camera handle
Cons
No quick-release plate or adapter for the camera
Low maximum weight capacity
Not height adjustable
Along with its ability to fit into your pocket, this tripod features a 6.4mm tripod mount and an angle adjustable ball joint that locks into place once you position your camera at your ideal shooting angle. It has a fixed height of 134.6mm when open and showcases a modern, Italian design which makes it more aesthetically pleasing to use. Made mainly from technopolymer and aluminum, it's ideal for smaller size cameras and for photographers or videographers that need a tabletop tripod that can be set up in seconds.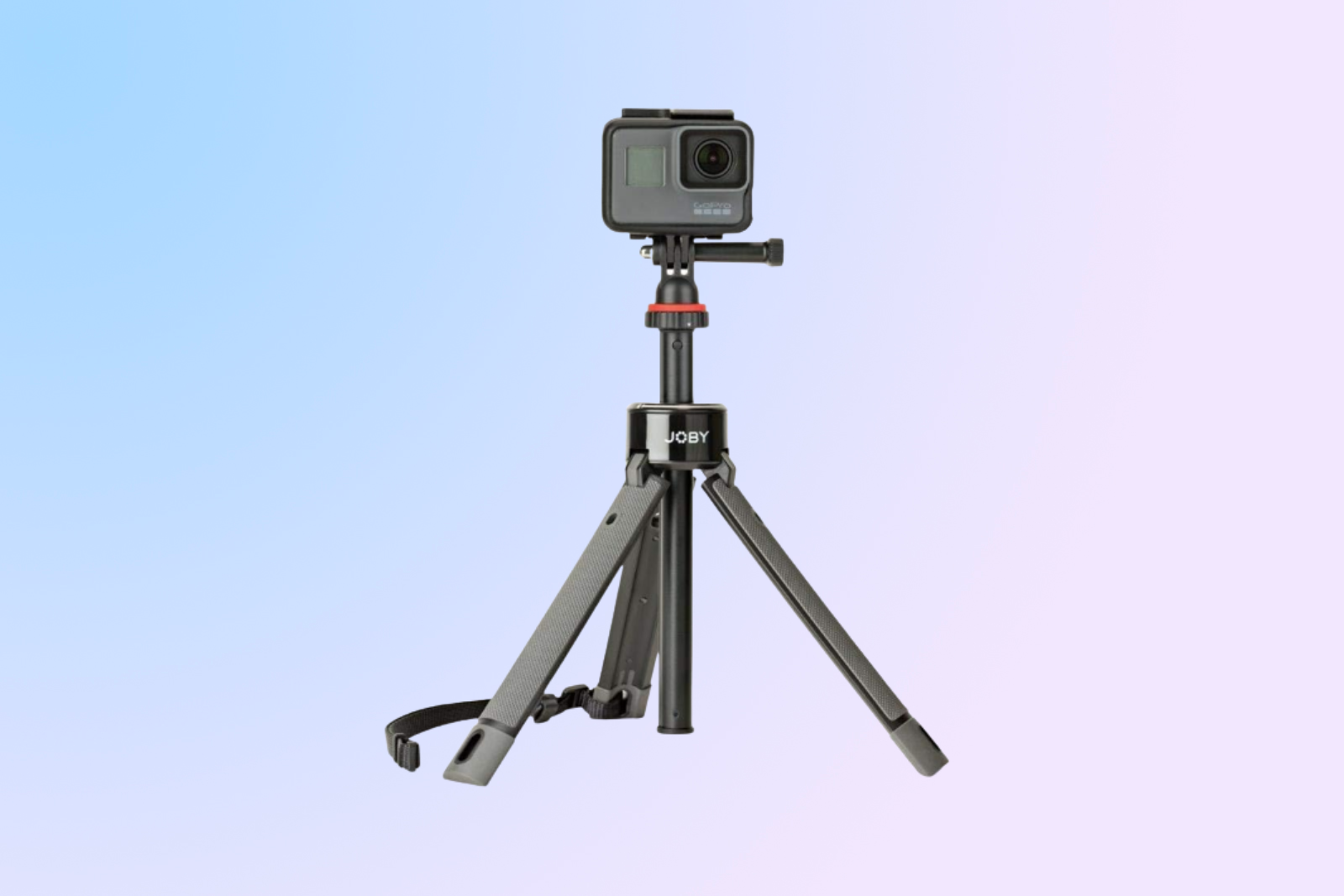 Joby TelePod Pro Kit / Pocket-lint
Joby TelePod Pro Kit
Best portable tripod for traveling
Ideal for vacation photography
$49 $90 Save $41
While Joby is known for its GorillaPod tabletop tripods with bendable legs, the TelePod Pro Kit features a more traditional straight leg design. This model can be configured as a compact tripod, monopod, selfie stick, or as a camera handle.
Pros
Four configurations?compact tripod, monopod, selfie stick, and camera handle
360-degree panning and 90-degree tilt
Ideal for mirrorless cameras, action cameras, and point-and-shoot cameras
Cons
Expensive
1 kg weight capacity
Featuring a versatile design that's both lightweight and compact, the TelePod Pro's biggest drawback is its limited 1kg weight capacity. This makes it better suited for smaller cameras with a traditional 6.3mm tripod mount. The entire unit weighs in at just 2.27kg. It measures 55.9 x 45.7 x 205.7mm and is made from durable materials that make it lightweight. The ball head allows you to adjust the angle of the camera up to 90-degrees and rotate it 360–degrees, so you can quickly frame your shot, whether you're shooting a vast landscape, a tall building, or a popular tourist attraction from a special angle.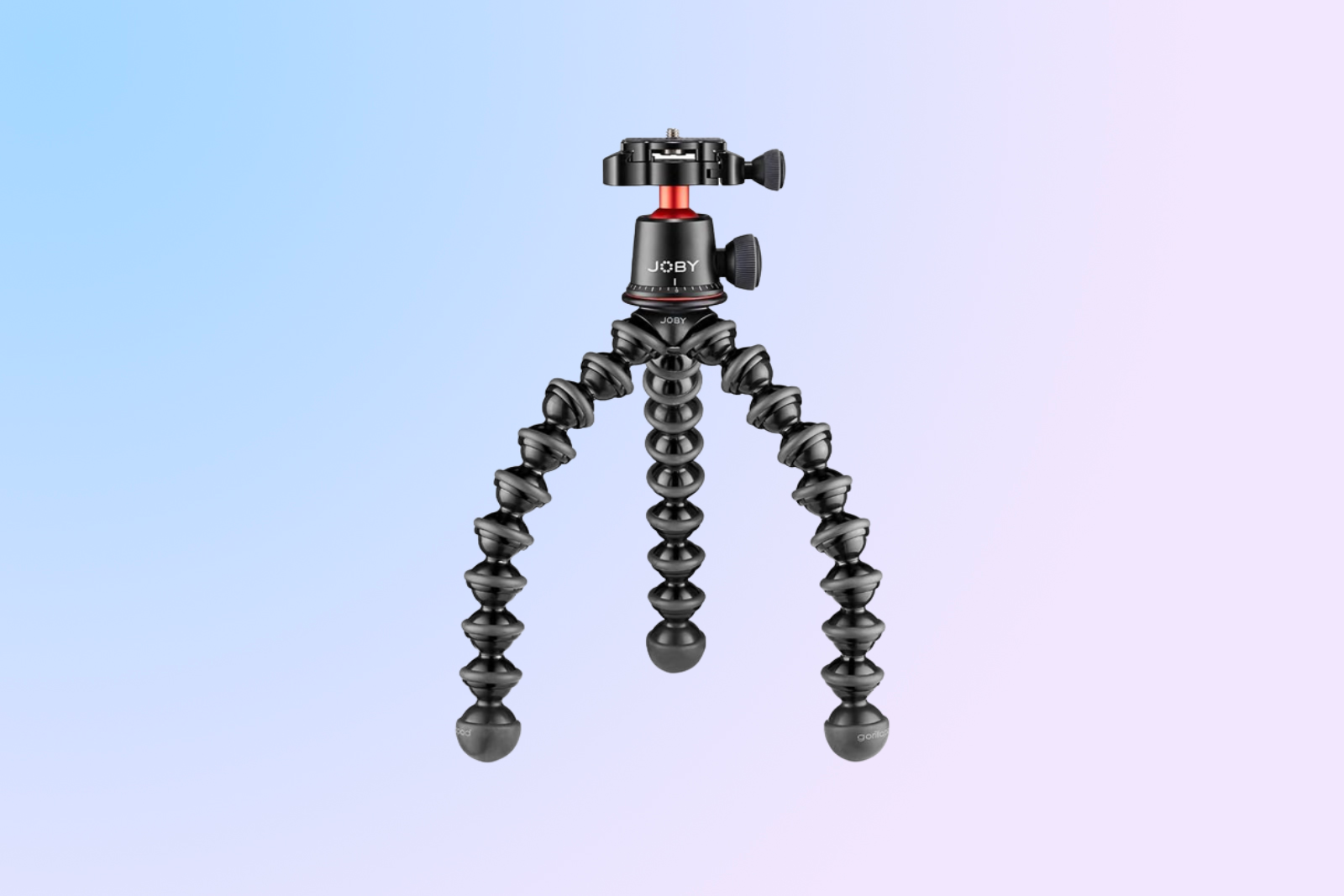 Joby GorillaPod 3K Pro Kit / Pocket-link
Joby GorillaPod 3K Pro Kit
Best portable tripod for mirrorless cameras
If you want to go small and mirrorless
$100 $165 Save $65
If you shoot with a DLSR or mirrorless camera that weighs up to 2.99kg, the Joby GorillaPod 3K Pro Kit with a ball head gives you the versatility you need from a compact (tabletop) tripod.
Pros
Versatility with three configurations
2.99kg weight capacity
Bendable legs
This GorillaPod features the company's signature bendable legs that can wrap around a tree branch or handrail, for example. For durability, you get a premium aluminum design with three configurations–tabletop tripod, wrap-around tripod, or handheld camera grip. It measures 76.2 x 53.3 x 299.7mm and weighs just over 454g. The ball head is configured with a 161.3mm traditional tripod screw mount. The ball head gives you a lot of extra creative control when framing your shots, because you can set the camera at a very specific angle.
How we chose these compact tripods
The Pocket-Lint team – which includes professional photographers – began by focusing on the average needs and budget of amateur, semi-pro, and professional photographers and videographers who often shoot in remote locations. We then did extensive research and some hands-on testing to create this roundup of the best compact tripods currently available. When evaluating each compact tripod, we focused on its design, size, weight, head type, price, the materials it's made from, and its durability. Our goal was to offer photographers and videographers with a selection of compact tripod options at a variety of price points.
Eight features to look for when choosing a compact tripod
There are a handful of things to consider when choosing the ideal tripod, starting with where you'll be using it, your primary shooting needs, the type of camera you'll be using it with, and your budget.
The compact tripods in this roundup are designed for use by photographers and videographers on the go, who want to reap the benefits of shooting with a tripod, without adding too much additional bulk or weight to their camera bag. When choosing the ideal compact tripod to meet your specific shooting needs, be sure to take into account the following features and options:
Materials: This refers to the materials used to construct the tripod. While some compact tripods are made almost entirely from plastic, the higher-end models also utilize ultra-lightweight and durable metals, like carbon fiber, titanium, or aluminum.
Head/mount type: Where the tripod head and the legs of the tripod meet is called the tripod head mount. There are two popular styles of tripod heads–a ball head and a pan & tilt head. The part of the tripod head that connects to the camera is the mount type. Traditional point-and-shoot, DSLR, and mirrorless cameras all come with an industry standard, female 6.4mm screw mount built in (on the bottom of the camera). However, action cameras and smartphones, for example, require a different type of mount. The best tripods come with interchangeable heads and mounts, so you can attach the appropriate head to the tripod based on the camera you're using, and then easily switch between them.
Quick release plate: For cameras with a traditional 6.4 mm screw mount, a quick release plate gets screwed into the bottom of the camera and then the plate attaches to the tripod in a way that allows the photographer/videographer to quickly attach or remove the camera from the tripod in seconds, typically by pressing a button or adjusting a lever or knob.
Durability: The materials the tripod is made from will help to determine its weight, weight capacity, adjustability, and durability. Not only do you need the tripod to be able to hold your camera securely and still, you also need it to be durable enough to withstand whatever shooting conditions you encounter, such as rain, dirt, or strong wind, for example.
Leg adjustability: Being able to extend the length of the tripod legs is useful, as is the ability of some tripods to set each leg at a different angle to compensate for a non-flat surface. Some tripods even come with bendable legs.
Camera weight capacity and compatibility: Every tripod has a maximum size and weight capacity for the camera it can be connected with. If you try attaching a camera that's too large or heavy for the tripod, the tripod will collapse or become unstable, which could damage your equipment.
Maximum height: This is the maximum height that the tripod can be raised to when its legs are fully extended. Some tripods have a built-in center column that can be raised or lowered as well to give the connected camera extra height. You also want to pay attention to the length of the tripod legs when they're folded, because this directly impacts its portability.
Weight: This is the total weight of the tripod. Obviously, when you're on the move, the lighter it is, the easier it is to carry within your camera bag or by attaching it to your backpack, for example.
Do portable tripods have any special features?
Many tripods have additional features built in, such as a level gauge, panning knob, interchangeable feet, interchangeable heads/mounts, adjustable (or bendable) legs, and/or a height adjustable center column.
Do tripod feet types matter?
The bottom of the tripod legs are referred to as feet. Tripod feet can be made from non-slip rubber, smooth plastic, magnets, or contain a small spike that will dig into dirt to hold the tripod stable.
Why do you need a compact tripod?
The ultimate purpose of a tripod is to hold a camera extremely still, at a specific height and angle, when shooting still images or video with virtually any type of camera–including the camera built into your smartphone, a point-and-shoot camera, action camera, DSLR, or mirrorless camera. As its name suggests, a compact tripod offers this feature, but with a design that's extremely portable and lightweight. This makes it easy to travel with and set up quickly at remote locations.
There are many reasons why using a tripod can be beneficial, including when capturing long exposure images, shooting in low light situations, photographing landscapes, taking photos of large groups of people, shooting time-lapse video, and to overcome hand shaking that the camera's image stabilization can't fully compensate for.
Using a tripod also forces the photographer or videographer to put extra thought in when framing their shots, because they'll need to adjust the tripod's height and camera angle (in addition to their camera's onboard settings).
Best compact tripods: The bottom line
The ultimate purpose of a compact tripod is to hold your camera extremely still, at a specific height and angle, while you're shooting. To this end, you can choose a unit that folds up extra-small, but extends into a full-size, sturdy, and full-featured tripod that's designed to hold the size and weight of your camera. A perfect example of this is the Peak Design Travel Tripod (Carbon Fiber Edition), which works with virtually any type of camera. A less expensive version (made from aluminum) is also available.
Alternatively, you can choose a compact tripod with a tabletop design–like the Joby TelePod Pro Kit–which is one that literally fits in a pocket. It can be set up almost anywhere in a matter of seconds. This particular model can also be configured as a selfie-stick or monopod, depending on your needs.
There are also compact tripods that offer bendable legs, including the Joby GorillaPod 3K Pro Kit, as well as options with interchangeable head types, special types of feet, a built-in level gauge, and other features to make your shooting experience easier.
Choose a compact tripod that's compatible with your camera and that offers the design and configuration options you're most apt to use when shooting photos or videos. The price for a compact tripod ranges from under $25 to well over $800, depending on its size, design, manufacturer, and the materials it's made from. Once you know what your objective is, select a compact tripod that fits within your budget and that you'll have no trouble carrying with you when shooting in remote locations.
Trending Products

.