Innovation in technology is, of course, the backbone of its very existence. However, when it comes to products, that innovation most commonly crops up as new features within tried-and-tested categories. Seeing a brand new product idea break ground is usually something reserved for the likes of Kickstarter, not big-name manufacturers.
That's why Sony's "wireless portable theatre system" – the HT-AX7 – is so refreshing. Aimed at delivering solo surround sound on the fly from portable devices, if there's anything else like it, then I certainly haven't heard about it. But is the market there for it? I got to take a first look, and here are my first impressions.
Sony HT-AX7
First impressions
The HT-AX7 is an impressive product that brings the cinematic sound to the ever improving picture quality of our phones and tablets. However, its price tag isn't easy to swallow and so will likely be a luxury purchase for many.
Design and features
The HT-AX7 is made up of three components – a main speaker and two circular satellites, which dock neatly on top of the main unit when not in use, for safe keeping and also for charging.
Both the main unit and satellites are covered in a light grey fabric, made from 100% recycled PET bottles – with just the one finish available at the moment. There's also rubberised control panel on the top, and a similar finish on the base – to help it to feel secure when placed on a flat surface.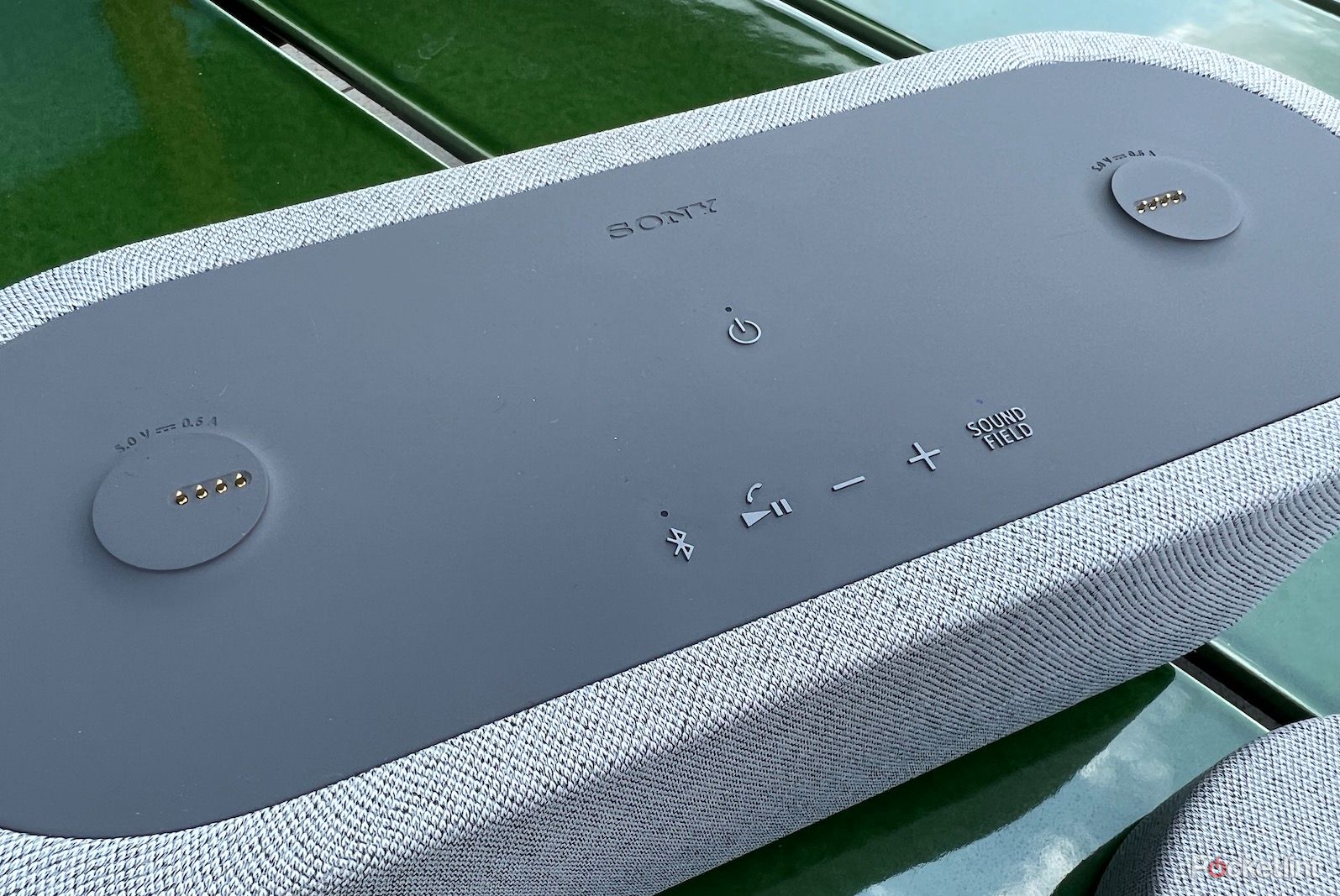 While unique in its functionality, the HT-AX7 is quite a straightforward product, and so there isn't too much by ways of bells or whistles. It works solely via Bluetooth, so there's no wi-fi here and no LDAC either, for higher-resolution music playback.
It does have a multipoint Bluetooth connection, which is particularly helpful for controlling it – you can have the Sony Home Entertainment Connect app open on one device, while watching on another, giving you the ability to control volume and EQ tweaking without interrupting whatever you're watching.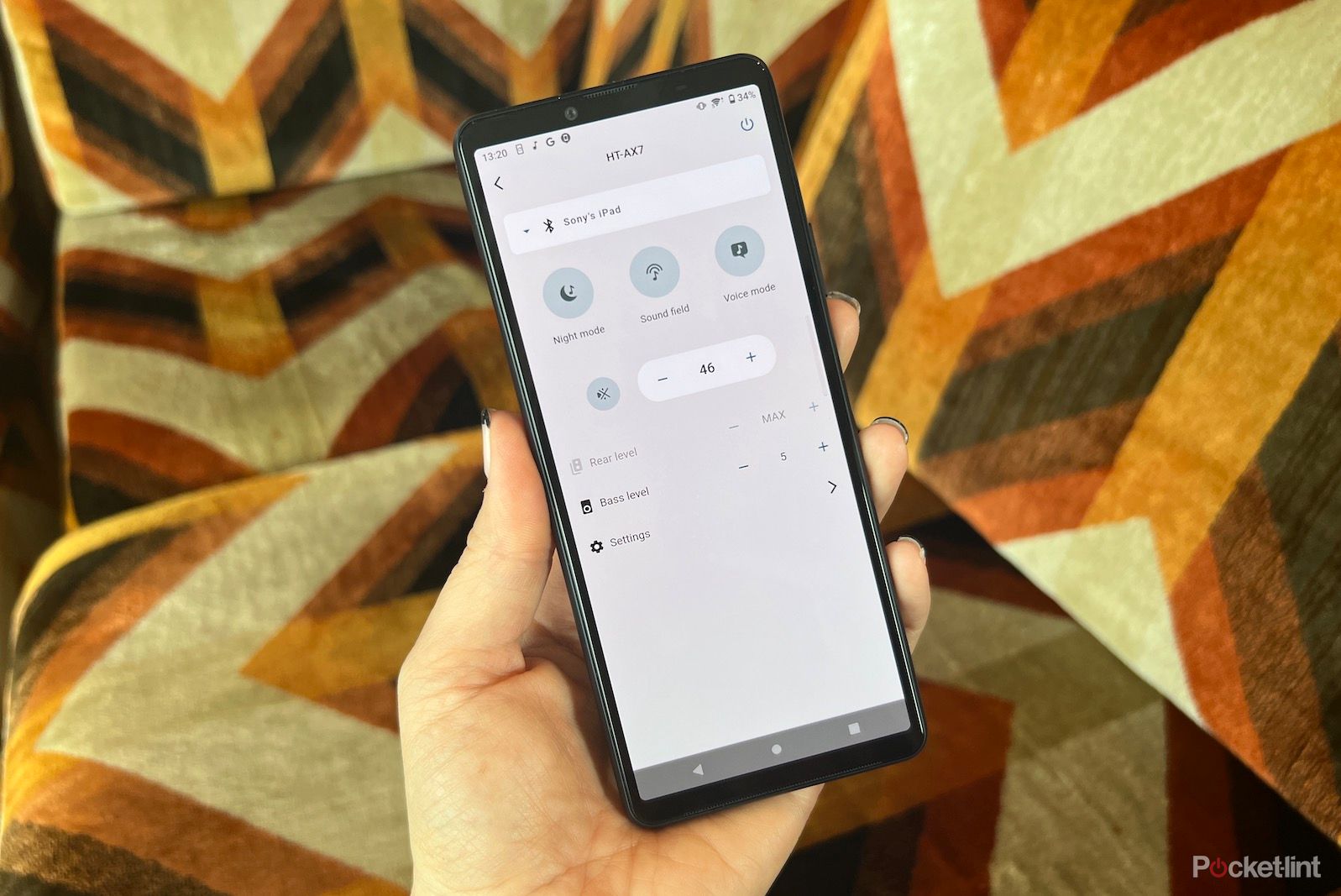 Inside the main unit you'll find Sony's X-Balanced speaker units and two passive radiators, and while it uses Sony's 360 Spatial Sound mapping to produce its sound, this is not a 360-degree product. For best results, you'll want to be sat right in front of it.
Battery life is quoted at 30 hours, though this will depend how loud you're listening to it. Thankfully there is a fast charge on board, giving you 2.5 hours of playback from just 10 minutes on charge.
Setup and performance
The HT-AX7 is designed to be used, in the most part, by one person. It's ultimately looking to bring a more immersive sound to portable devices – whether that be teenagers watching Netflix in their bedrooms, travellers catching up on their shows from hotel rooms or anyone else who spends any time watching content on their phone or tablet.
It can be used in one of two ways, with the soundfield on or soundfield off. When you remove the satellites from the main unit, this automatically triggers the soundfield to turn on and for the immersive effect to be activated.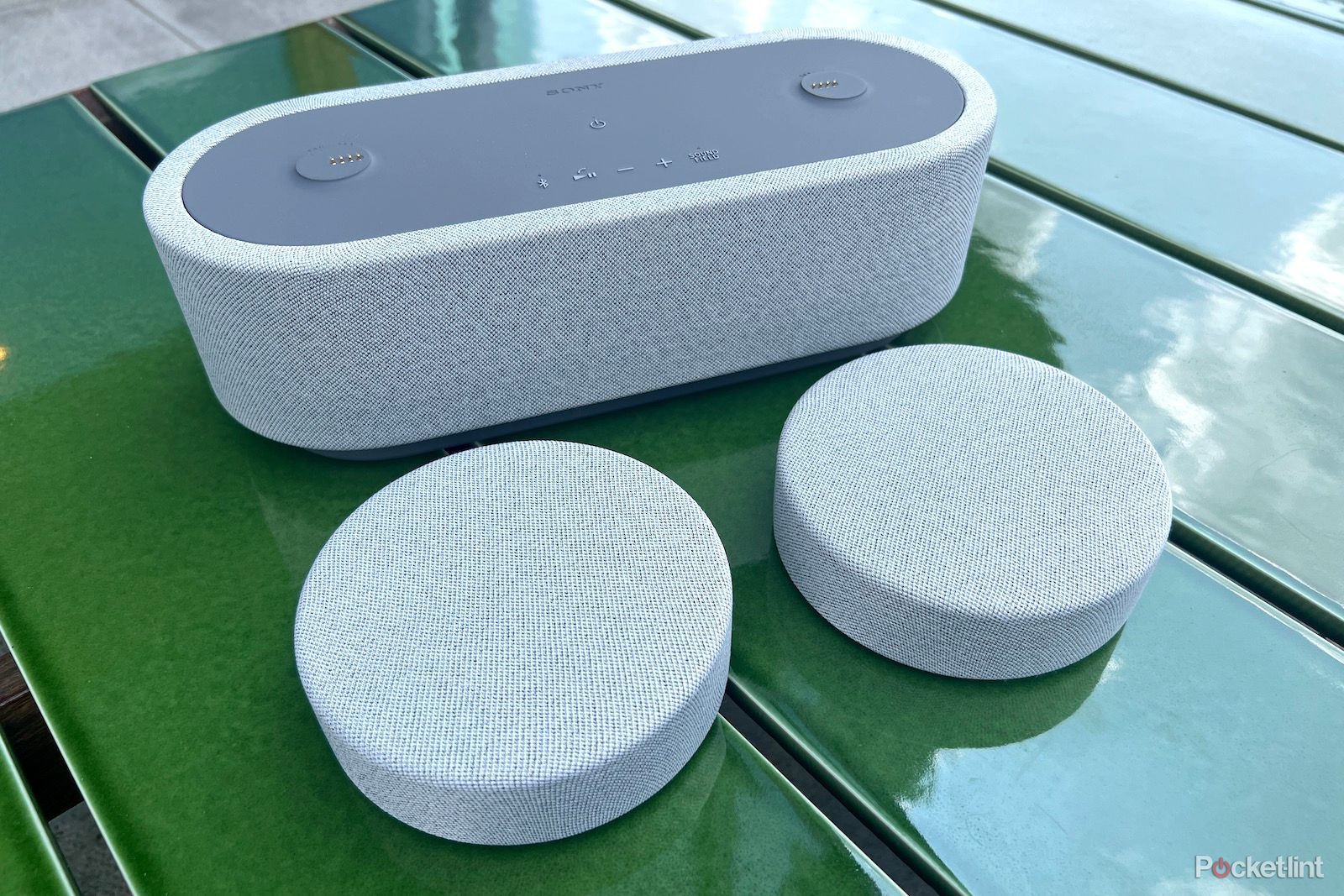 Sony says you should place the satellites to the left and right of you, a good arm stretch away from your ear – about 1 – 1.2 metres – and slightly below ear level. It's not supposed to be too technical or involved, just plonk them down somewhere and enjoy the experience.
Once paired with your device, the HT-AX7 will take the standard stereo soundtrack from whatever you are watching or listening to and transform it into three-dimensional surround sound in real time. It has the ability to separate individual sound objects and move them to the satellites, while Sony's 360 Spatial Sound Mapping also adds virtual speakers around the room to give the feeling of an even bigger performance.
I was shown a clip from No Time To Die – the iconic scene where James Bond and Madeleine are showered with gunfire behind the wheel of a thankfully bulletproof Aston Martin – and the experience is impressive. There is a real sense of immersion – the spread of sound is convincing and while it is obviously not as precise as you would expect a true surround sound soundtrack to be, it improves the sound experience of watching on a tablet tenfold.
Another clip, this time from Oblivion, shows how well the HT-AX7 keeps voices focused while environmental sounds and foreboding soundtracks can creep in all around you, while a clip from the Melbourne Cup puts you right in the middle of the action – the crowd noise all around you taking you much closer as a spectator.
This is when the HT-AX7 is at its strongest. A clip from a Coldplay concert wasn't quite as convincing, perhaps losing some of the focus from Chris Martin and Ed Sheeran's voices, but it did arguably add a sense of "being there" as you hear the crowd singing all around you. And that's the point of this product after all.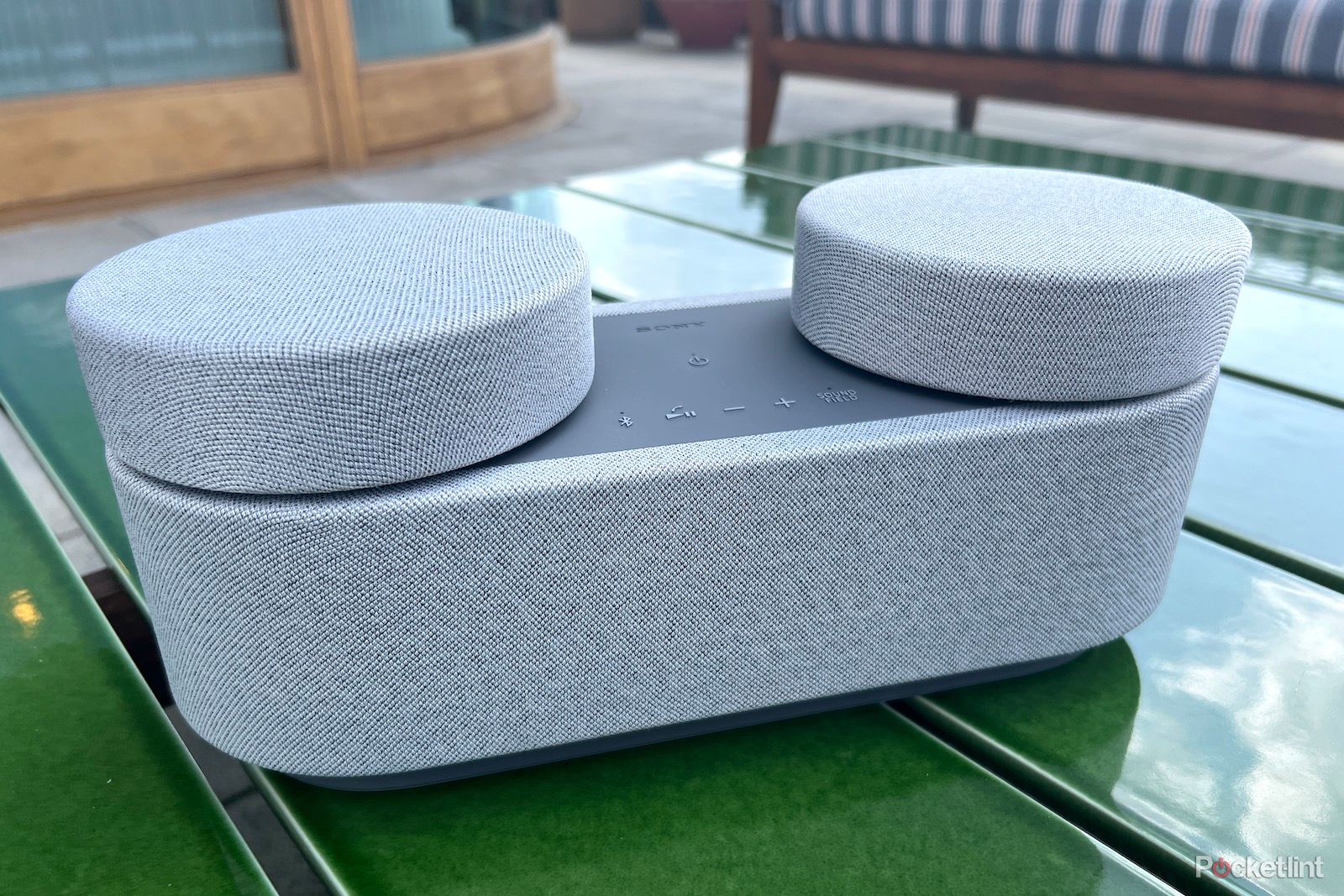 While this immersive experience is the main focus on the HT-AX7, you can still use it as a standard wireless speaker, by attaching the satellites back to the unit for a flatter, more balanced performance, without the surround sound effect. However, the particular trick up its sleeve that we loved was to turn off the soundfield but keep the satellites separate – by spreading them out around the room, it turns the HT-AX7 into a really great party speaker.
First impressions
The HT-AX7 is not a mainstream product by any means, but I have to applaud Sony for pushing the boat out and trying something truly new – the performance it delivers is impressive, if perhaps niche. With a price tag of $499/£499 though, will make it something of a luxury purchase, but for people wanting to make the most of their portable movie watching, it's a very interesting product to say the least.
Trending Products

.