When you think about super luxury, there are a number of brands that come to mind – and Rolls-Royce is more than likely one of those. The cars produced by the British manufacturer are some of the most incredible vehicles on the road, delivering an air of grace and opulence that is pretty much unrivalled in its sector.
While Spectre – first unveiled in October 2022 – is the first electric Rolls-Royce, it remains a Rolls-Royce at heart and throughout. It's a car I'll never be able to afford, but I can still more than appreciate everything it delivers. The company has vowed to make its entire product portfolio fully electric by 2030, with us never seeing another twin-turbocharged V12 engine under the hood of a Rolls again. But what's the future like to drive, and can it compare with its outgoing combustion legacy?
Rolls-Royce Spectre
Editor's Choice
The Rolls-Royce Spectre is pretty much as luxurious and fabulous as you would expect, and the fact that it is fully electric with an incredible driving performance means it has just raised the electric car standard to a pretty high bar. Many of us will never have the pleasure of owning one, but that's ok, because the Rolls-Royce Spectre offers something to be admired. It's a phenomenal electric car that oozes luxury in a fabulously subtle way.
Pros
Superb driving experience
Striking but classic design
Luxurious interior
Some excellent features
Clever use of technology
Supreme design
The Rolls-Royce Spectre is every bit a Rolls-Royce, with sublime craftsmanship that anyone considering a Rolls-Royce would expect. It's a two-door coupé, taking lead from the Phantom Coupé – so while there is plenty of room in the rear – it's not a traditional chauffeur car. Instead it is one you would enjoy driving yourself.
The coupé design is visually striking, delivering a sporty and modern look, with lines flowing gracefully and smoothly towards the rear of the all-aluminium frame. The rear is very elegant and understated overall, so much so that you'd be forgiven for not instantly recognising it as a Rolls-Royce from the back. The taillights are set into a single body panel that extends from the A-pillar to the luggage compartment, designed to mimic an island in a lake, and they are lovely and subtle. On the side of Spectre, there's a continuous waft line at the bottom, which is similar to what you might find on a modern racing yacht, flowing from front to back, while the huge 23-inch wheels are incredibly striking. The fender line meanwhile, flows beautifully from the door handle to the rear of the Spectre, making for a super smooth and elegant finish.
The Spectre I drove only had one colour on the exterior, although the geometry of the Spectre's design really lends itself to a two-tone finish, with a clear distinction between sections, especially on the front, which is squarer overall, while the bonnet offers more angular and defined lines compared to the smooth waterdrop rear. I mentioned the rear being understated but the front is most definitely not – and rightly so. It features the company's iconic split headlights, with a direct reference to the Phantom Coupé, with upper daytime running lights and a lower four-lamp cluster for seeing the road ahead.
It's the Pantheon grille that distinguishes Spectre as a true Rolls-Royce though. It's a feature of the design that really draws you in – and probably the element that saw multiple people pull over to let me pass when I was behind them. It's the widest grille of any Rolls-Royce to date, and its polished stainless steel vanes are smooth and flush, but meticulously arranged so the grille appears open by bending light in a certain way, when in fact it is not. It also lights up at night with 22 LEDs, so it's not just during the day the Spectre's presence is made known.
Above the grille and Rolls-Royce badge is where the Spirit of Ecstasy is positioned. The signature figure has seen several reiterations since its inception in 1904, and for Spectre, it's had another transformation to help with aerodynamics. The figure has a lower stance for Spectre, along with reimagined robes for a more modern look, though you can still see the top of these robes from the driving position.
Opulent interior
Inside, the luxurious elegance of Spectre continues, but it is perhaps here that the "Rolls-Royce first, electric cars second" mantra for this car is really apparent. Unlike many electric cars where large screens and infinite dashboards are present, Spectre keeps things pretty simple, but I love simple. There's a digital dashboard behind the steering wheel, which shows you range, speed, as well as how much power you have left to use, rather than how much power you are using. The company does this with its combustion engines too, so it will be familiar for any Rolls fans or owners. A heads-up display is presented too, delivering need-to-know information to save you having to glance down.
There's also a lovely low seating position, thanks in part to re-engineering of the frame, which is 30 per cent stiffer than other Rolls-Royce models. The stiffness allowed the floor to be placed halfway between the sill structures, and the bulkhead location moved for this model too, making for a more cocooned cabin with a deepened dash. The windscreen is also significantly raked, which contributes to the cocoon feeling, and aids the aerodynamics, while the battery – more on that in a minute – is fully integrated into the car's architecture and helps reduce the noise from the road surface, making for a near silent cabin.
In terms of comfort, Rolls-Royce is pretty much second to none and the beauty is that its cars can be customised to pretty much whatever you want. If you want the logo of your company stitched into the headrests, that can be done. If you want the paint to be the colour of your dog, that's possible too, though I'm not sure why you would. It's pretty much the haute couture of cars with nearly infinite possibilities if you have the cash. The Spectre can be customised with Starlight Doors that incorporate 4,796 "stars", matching that of the roof first introduced on Phantom, and the Spectre's Illuminated Fascia too, which sees a cluster of over 5,500 stars. If having starlit doors is a little much, there's a range of beautiful wood panels you can choose from, which I personally preferred for their more traditional look.
The finish of the interior of the Spectre was exquisite though, as you would expect from a Rolls-Royce. The attention to detail is second to none and I have so much appreciation for this. The vents were stainless steel, oozing a premium quality that's hard to find elsewhere. Tap them with your fingertips and they make a wonderful pinging sound, while the hand-stitched dash in the matching colour to the interior you select is a lovely touch.
I loved the analogue buttons and dials too, all of which were similar to other Rolls-Royce models so despite being electric and modern, the Spectre still retains traditional roots. The steering wheel is slim and wonderful to hold, the wool floor is absolutely out of this world when you take your shoes off, and the analogue clock on the main dash is refreshing. I loved the Mercedes EQE and it's incredible Hyperscreen dashboard, but there is something really rather lovely about fewer screens. Aside from the driver's dashboard, there is a centralised main screen but it's barely noticeable, which I liked. It blends in rather than looking out of place. The only thing I noticed that stood out for the wrong reasons were the plastic-tipped controls. While the stems were leather, matching the seats, the controls themselves were plastic, which seemed out of place considering there was no other plastic in sight.
In between the driver and passenger seats is a central control panel that's almost identical to the BMW i7 – perhaps not surprising given Rolls-Royce is owned by the BMW Group nowadays – while you also get the Rolls-Royce umbrellas built into the Spectre's frame, like other models in the company's portfolio.
Subtle technology
There's plenty of technology within the Rolls-Royce Spectre too, as you might expect, from the basics like wireless Apple CarPlay and Android Auto built-in to the Spirit system, to Active Lane Centering and Adaptive Cruise Control. The Spirit system also links up with the Whispers app – which is essentially one of the most elite private member's clubs you could be a part of seeing as you need to own a Rolls-Royce to get access. Through this system though, you have your own concierge at your service whenever you might need it, but you can also select the colour of your instrument dials through the app, for example.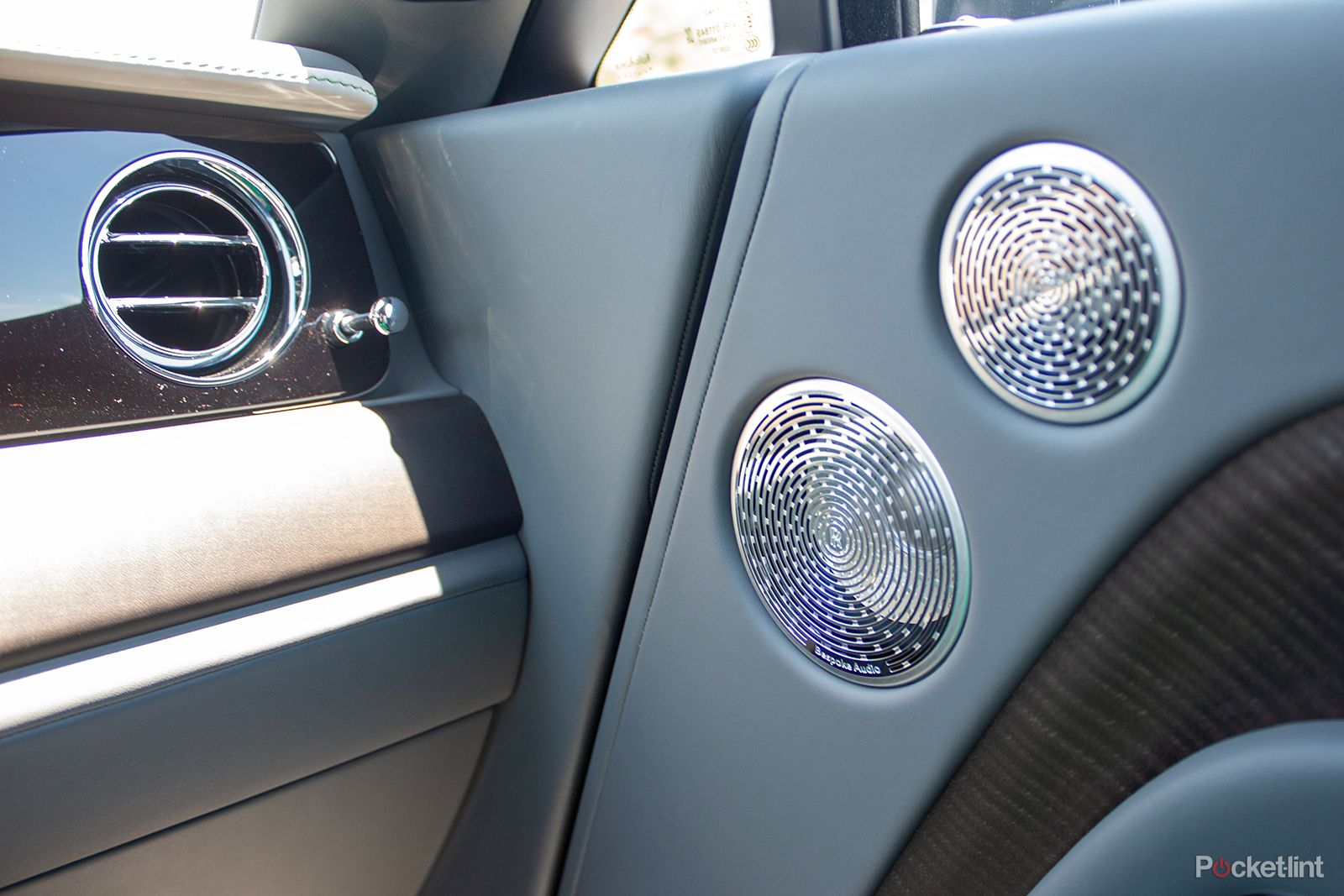 Elsewhere, the sound system is bespoke and it is excellent. Rather than partnering up with a speaker manufacturer like Bose or Sonos, Rolls-Royce builds its sound systems in-house, with the speaker grilles not only looking great inside the car but delivering the goods too. I listened to a range of tracks, including Fleetwood Mac's The Chain where every ping of the guitar strings in the opening sequence are crystal clear. It's not as all-encompassing as the Mercedes Maybach, which has speakers positioned everywhere you could imagine basically, but the Spectre is still somewhere you will more than enjoy a huge range of tracks.
Perhaps one of the things I liked most about the Spectre was the ability to close the huge 1.5-metre driver door with the brake pedal. It's effortless, much like the rest of the car. Just one tap on the pedal and the door starts coming towards you. For the passenger door, there's a button in the central lower control panel that you pull and hold, and there's a button for the driver door too, but tapping the brake pedal is a much cooler way to close a door in my opinion. When opening those huge (and heavy) doors, a single pull of the handle opens it to what is called "comfort position" to allow you to check for hazards, while a pull and hold of the handle activates full power assistance. When you release the door, there's a door brake. You can then close the doors from the outside with a tap of the button on the handle or manually, where some power assistance will kick in.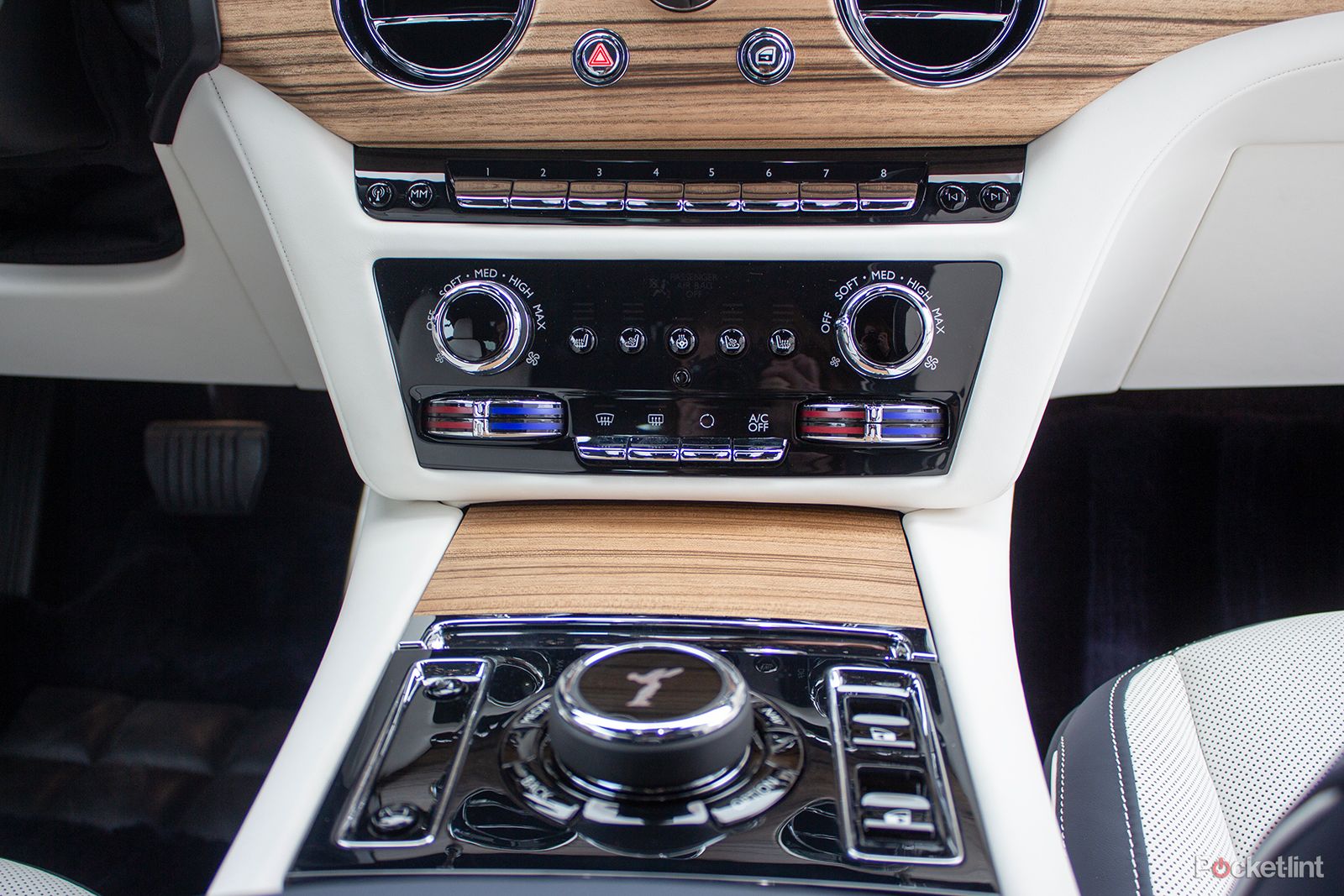 Elsewhere, there are sparkles on the speed dial as your speed increases, as well as an artificial noise that you can turn on and off in case the Spectre is too quiet. Like the sound of an engine? No problem. You can programme one of the eight buttons on the central control panel to turn on a sound that pretty much depicts what the V12 engine on other Rolls-Royce models sounds like. It's more subtle than BMW's alternative and Ford's Mustang alternative, and I found I actually really liked it. The silence was golden too though.
There's plenty of other technology under the hood of Spectre, as you would expect, much of which you don't see, but rather feel. For example, there's a software architecture called Decentralised Intelligence, which sees data processed closer to its source to enable Spectre to respond quicker to driver inputs and road conditions.
Drive, range and performance
The Rolls-Royce Spectre drives absolutely beautifully. It is not a light car by any stretch of the imagination – weighing in at just shy of 3-tonnes, but you'd never know that when in that driving seat. It feels the size it is for all of about 30 seconds, after which you completely forget because it is so incredibly easy to drive and manoeuvre.
People often talk about a "magic carpet ride" when they talk about a Rolls-Royce and while comparing a car to a fairytale seems rather far-fetched, I can understand what people mean after driving Spectre. The Napa Valley country roads are not kind – I did them on an electric bike too and let me tell you, my bottom hurt significantly more on that after 15 minutes than 5 hours driving the Spectre. The latest Rolls-Royce glided effortlessly over the bumps and rough surfaces, offering a smooth bounce every time rather than any jolts. In fact, I wouldn't have noticed how bad some of the roads were if I wasn't looking at them as you certainly couldn't feel them – or hear them for that matter.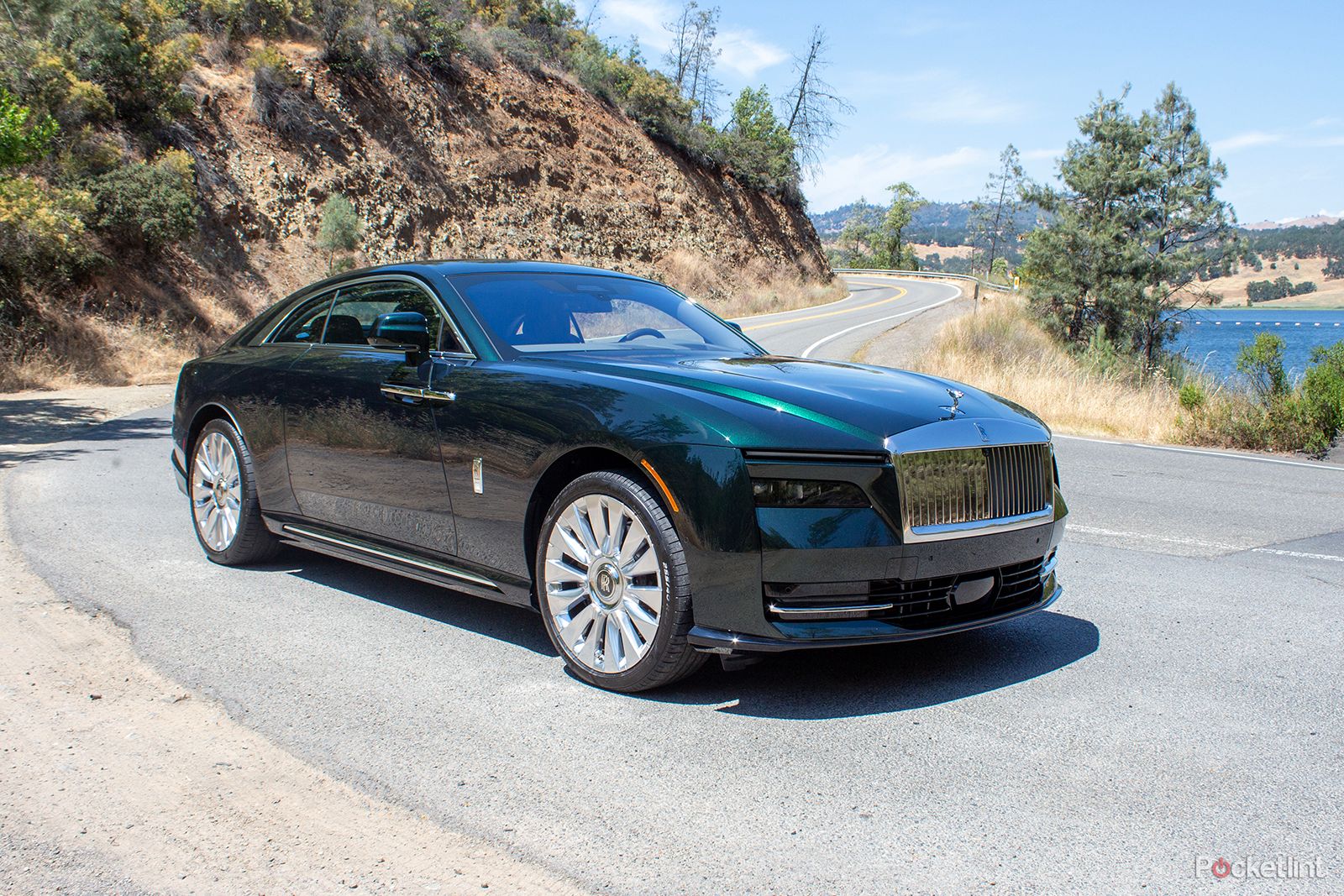 The suspension system on Spectre is an evolution of the Planar System that launched on Ghost, with no need for an upper wishbone damper thanks to the extra rigidity offered by Spectre's frame. On straight roads, Spectre's system is designed to decouple the anti-roll bars to enable the wheels to act independently, while on corners, the components are re-coupled and the damper stiffens to activate the four-wheel steering system. The result? If you were a passenger sipping champagne, you'd have no problem whether on a mountain road or motorway.
Spectre felt incredibly grounded, perhaps aided by the sheer weight it offers, but despite that weight, I could steer it with my pinky fingers. I didn't do that for long, because I was in a half a million dollar car that I didn't fancy crashing, but I was pleasantly surprised by how light and easy it was to handle. Some of my drive was incredibly winding, but the Spectre handles sharp turns with absolutely no bother at all. It was effortless to drive and so comfortable that I could have driven it long after the range would have run out.
Speaking of the range, Rolls-Royce claims Spectre's 102kWh lithium-ion battery will give you 329-miles (530km), though as is the case with all electric cars, it depends on how you drive the car and the conditions and route you drive. The battery is a little less capacious than the Mercedes EQS for example, and the range is lower too. Perhaps the difference here to other electric cars however, is that the typical Rolls-Royce owner has more than just one car (the average is seven apparently) so whilst this is absolutely the one you would want for any long distance, it may not be the one you select.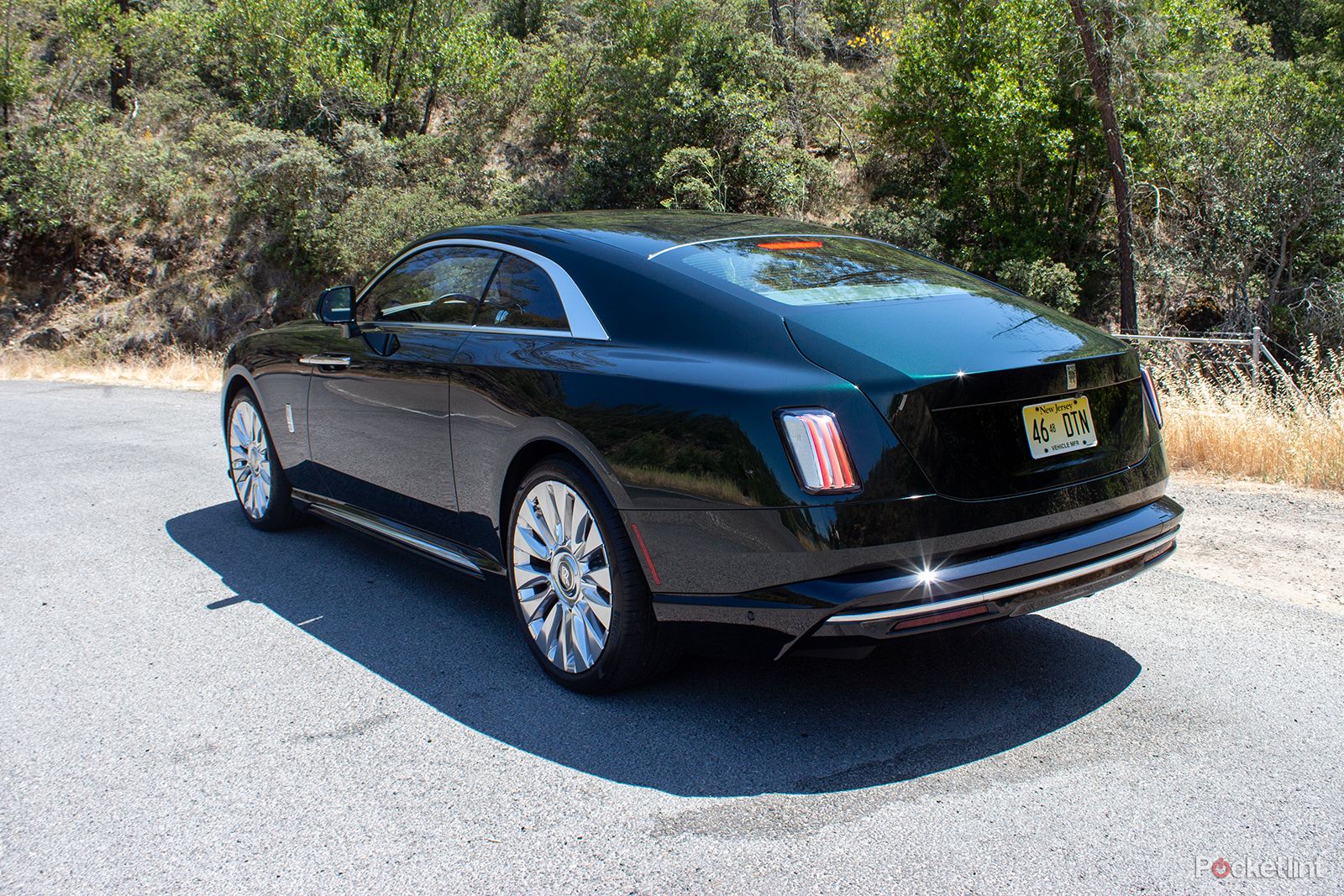 Charge time is said to be 34 minutes to take you from 10 per cent to 80 per cent using a 195kW fast charger, or 100km in 9 minutes in distance terms. Again, this charge speed isn't the fastest out there, with the Genesis GV60 offering 350kW support for example. The reality is though, that most Spectre owners will likely have a fast charger in their home or garage, and as I mentioned, will also likely have another car to take for any long distances, so battery anxiety may not be as prevalent as it would be on some alternatives.
When it comes to performance, the Spectre does not hang about. The all electric drive-train has two motors, with the front electric motor offering 190kW of power and 365Nm of torque and the rear delivering 360kW of power and 710Nm torque, claimed to be the equivalent of a 584hp internal combustion engine with 900Nm of torque. It achieves 0-60mph in 4.4-seconds and it is incredibly responsive. Tap that accelerator and it flies, despite the weight it's carrying, with a similar feeling to the instant power you get from the Rolls-Royce Twin Turbocharged V12 engines found in other models like the Rolls-Royce Wraith, for instance. This will no doubt please those who may be purchasing the Spectre as a second or third Rolls (yes, those people do exist).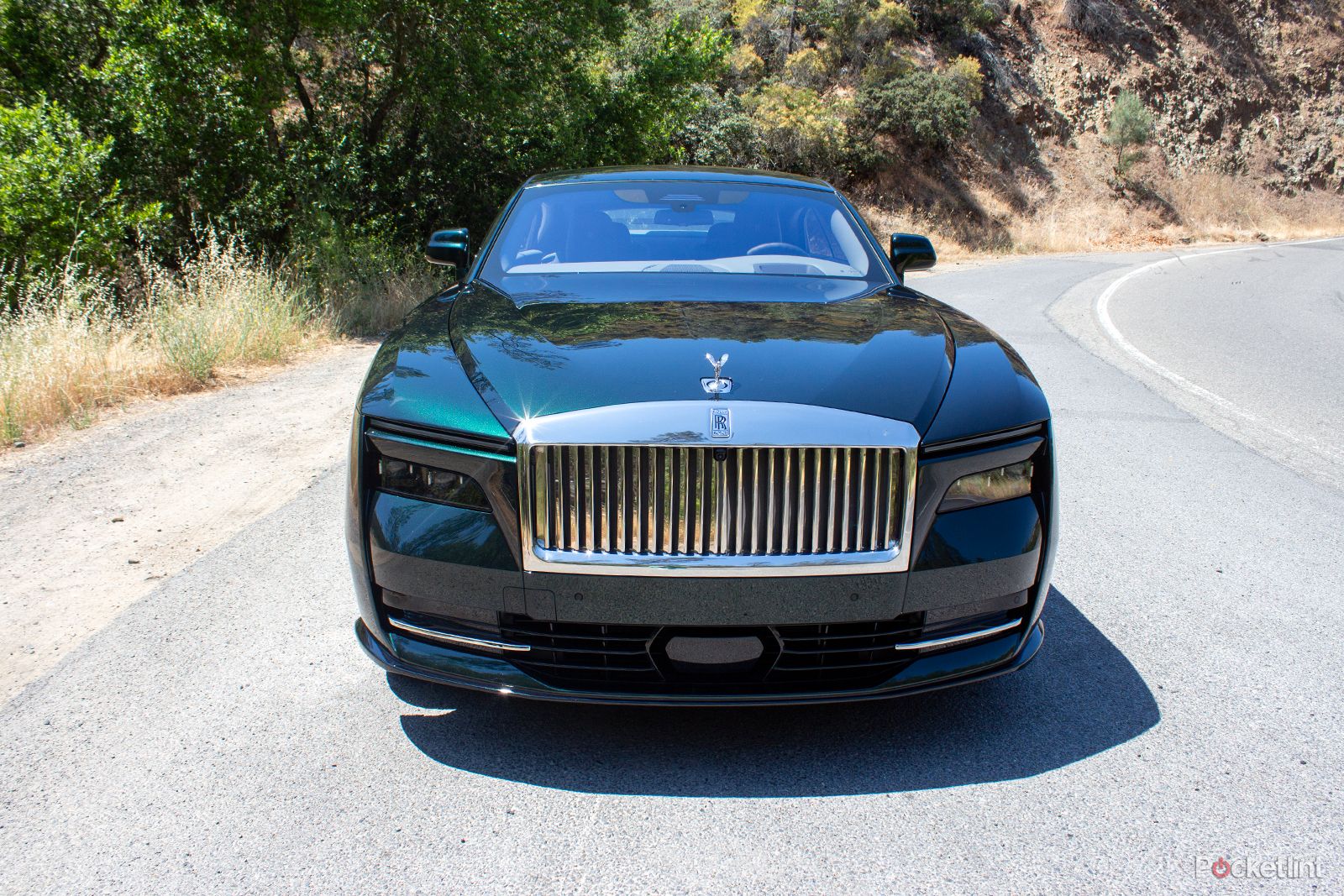 Braking is effortless too. Even without enabling Brake Mode that increases regenerative breaking – much like other electric cars – and allows the Spectre to come to a complete stop if you take your foot off the brake, it's still possible to get a "champagne stop" without this mode. If you're wondering, the champagne stop is when the car stops without any kickback, useful for if you are sipping on that Bollinger in the back. The default setting for Spectre is low regeneration, which is designed to mimic the automatic driving style on a traditional Rolls-Royce and I found the car to be very responsive even in this mode, allowing for a lovely smooth driving experience overall, though the Brake Mode certainly required less work from the driver.
Verdict
The Rolls-Royce Spectre is pretty much as luxurious and fabulous as you would expect, and the fact that it is fully electric with an incredible driving performance means it has just raised the electric car standard to a pretty high bar.
It delivers a superb design that stays true to the company's signature looks whilst adding a modern appeal, the interior is simply glorious and it offers the smooth driving experience that Rolls-Royce owners will have come to expect.
Many of us will never have the pleasure of owning one, but that's OK, because the Rolls-Royce Spectre offers something to be admired. It's a phenomenal electric car that oozes luxury in a fabulously subtle way.
Trending Products

.