Discover the ultimate comfort food with a pulled pork loaded potato — a perfect blend of rustic simplicity and gourmet taste that promises to impress and satisfy with every forkful.
There is a unique sense of joy that comes with digging into a pulled pork loaded potato, a hearty offering that unites the tender, smoky allure of pulled pork and the comforting softness of a perfectly baked potato. Every layer is thoughtfully constructed — from the pillowy interior of the potato, to the mouthwatering combination of shredded cheese, sour cream, and finely sliced green onions. Optional add-ons, such as jalapeño slices, crispy fried onions, and homemade nacho cheese sauce, further customize this dish to your personal preference. All this topped with succulent pulled pork which, if desired, can be made even saucier with a touch of barbecue sauce.
Frequently Asked Questions
What can I use as a substitute for russet potatoes?
Sweet potatoes can be used as a tasty and nutrient-rich alternative.
Can I use a different type of cheese?
Absolutely! Feel free to use any cheese that melts well, like Monterey Jack or mozzarella.
Is there a vegetarian option for this recipe?
Yes, you could replace the pulled pork with a plant-based alternative like jackfruit.
Substitutions
If you're looking to reduce the sodium in this recipe, opt for unsalted butter and a low-sodium cheese.
If you don't consume dairy, plant-based cheeses and dairy-free sour cream can be used.
Those avoiding pork can use shredded chicken or a plant-based meat substitute.
If the pulled pork isn't saucy enough for your liking, adding barbecue sauce is an easy fix.
Not sure what pulled pork to use? We absolutely love Slow Cooker Honey-Chipotle Pulled Pork, Kalua Pork, and even Pulled Ham, but you can also use store-bought pulled pork if you're in a pinch!
Serving Suggestions
This pulled pork loaded potato can be the star of a cozy family dinner or the crowd-pleaser at your next backyard barbecue. Pair it with a simple side salad for a balanced meal, or with cornbread for an extra touch of Southern flair.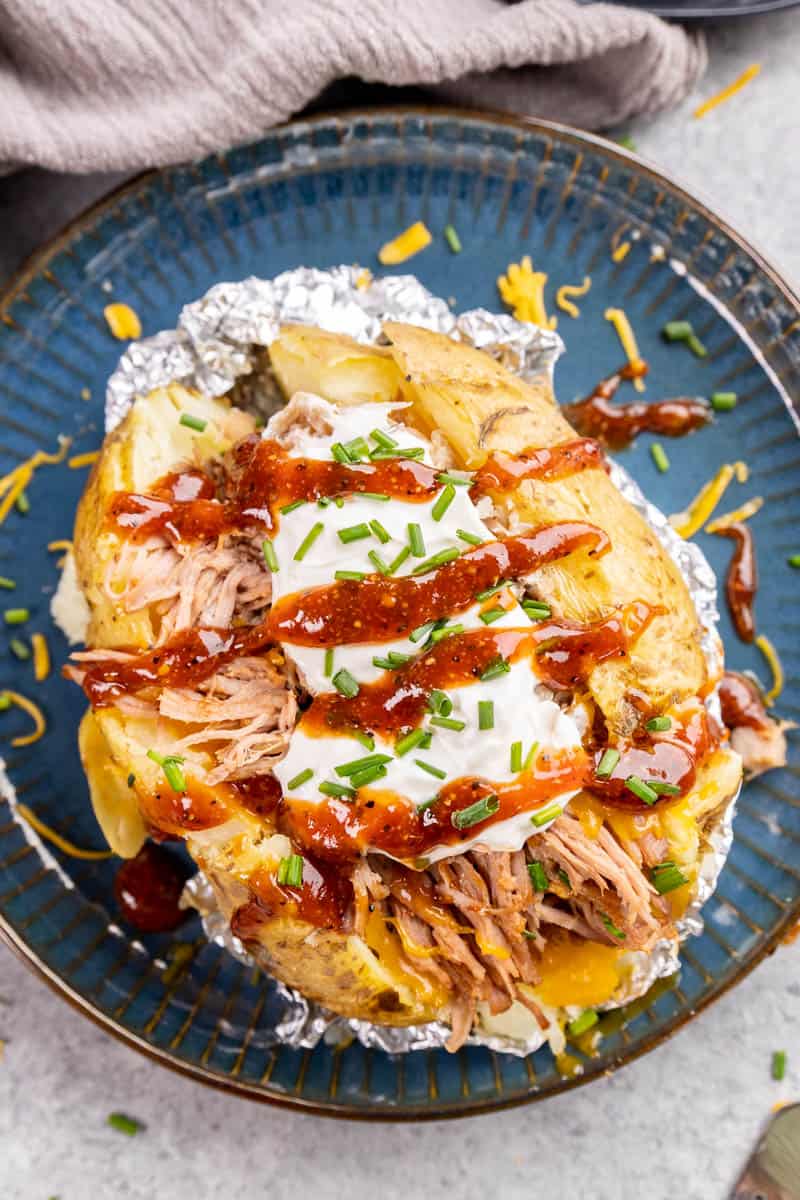 Storage & Reheating Instructions
Leftovers can be stored in an airtight container in the refrigerator for up to 3 days. To reheat, place in a preheated oven at 350 degrees F until warmed through, about 15-20 minutes.
If you like this recipe, you may be interested in these other delicious hearty potato recipes:
Trending Products

.