Pesto pasta salad is a charming balance of textures and tastes. With fresh veggies and a delicious homemade pesto, prepare for the colorful palette of this salad to make your dining experience truly delightful.
This pesto pasta salad is more than just a dish—it's a vibrant symphony of flavors dancing together in delightful harmony. From the bite of the crunchy bell pepper to the rich and creamy mozzarella, each ingredient offers its unique voice to the melody. The star of the show, of course, is the homemade basil pesto, offering a flavor so robust and aromatic that it elevates the entire dish. But let's not forget the playful pops of color from the cherry tomatoes and olives, making the salad not just a feast for the palate, but for the eyes too!
An Ode to Italian Cuisine

The roots of this pesto pasta salad stretch back to the sun-kissed region of Liguria in Italy, the birthplace of the enchanting basil pesto. Recognized as one of the essential elements of Ligurian cuisine, pesto has won over hearts and taste buds globally. Traditionally made with fresh basil, garlic, pine nuts, Parmigiano-Reggiano, and olive oil, it embraces the Italian spirit of using simple, fresh ingredients to create remarkable flavors. This pesto pasta salad is our ode to this rich culinary tradition, a lovingly crafted blend of comfort and luxury.
Pasta Options

We love how the spiral pasta holds onto the pesto, giving you plenty of sauce in each bite! However, you could also use farfalle, fusilli, penne, or even macaroni. 
You can also your favorite gluten free pasta, but be sure to not overcook it!
Dry vs. Fresh Pasta

While we love fresh pasta, it just does not hold up well when tossed around in a salad. You will want to stick with dried pasta for this and any pasta salad. 
Homemade vs. Store Bought Pesto

The flavor of homemade pesto is one of our most favorite things. Store bought is just never as good. However, we understand there may be tree nut allergies, and also what a time saver it is to use store bought. You are welcome to substitute in store-bought pesto if needed. You will need to use 1 1/2 cups of prepared pesto. 
Variations

You can leave out or add in whatever toppings you like. Some favorite additions are chopped cucumbers, sun dried tomatoes, and goat cheese. 
What can I use instead of pine nuts in the pesto?
If you can't find pine nuts, walnuts make a great substitute. For a nut-free option, try using sunflower seeds.
Can I make this salad dairy-free?
Absolutely! You can use a dairy-free cheese substitute in place of the mozzarella balls and Parmesan, or you can omit them altogether.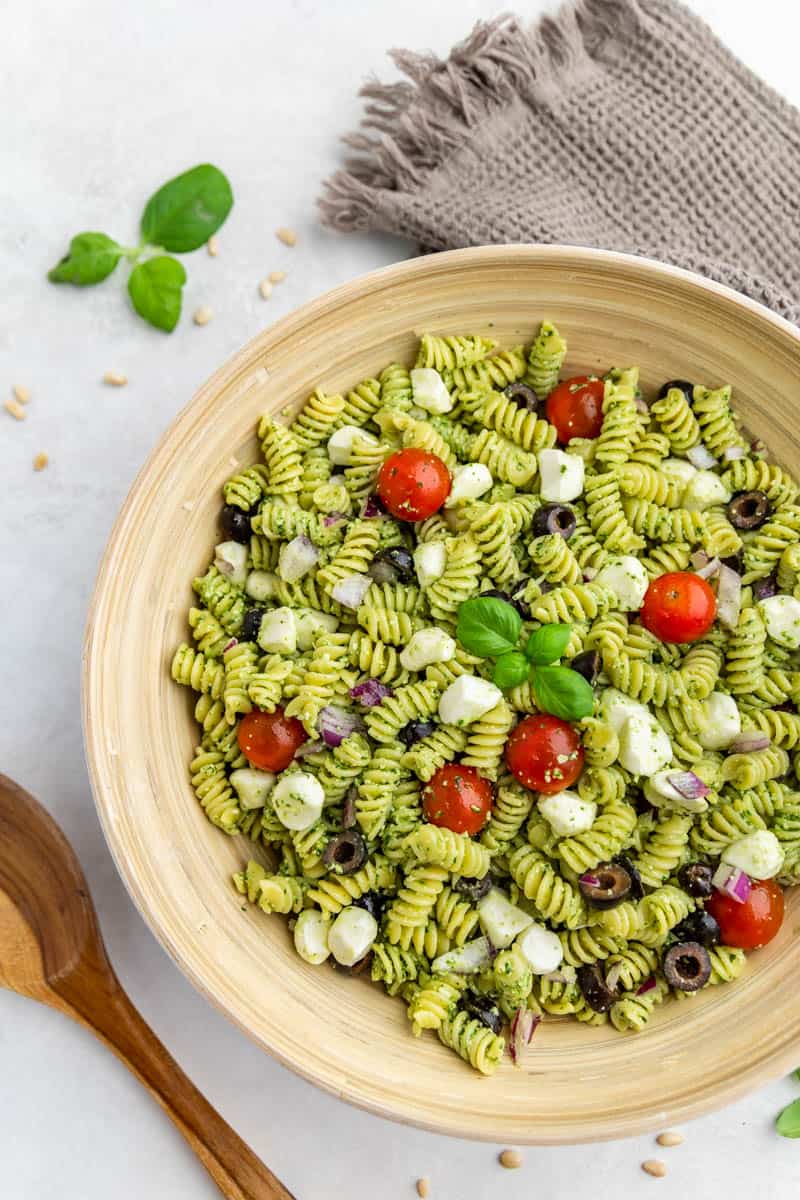 Serving Suggestions & Storage Instructions

This recipe is flexible and forgiving, making it perfect for picnics, potlucks, and weeknight dinners alike. If you're looking to add some protein, feel free to mix in some grilled chicken or tofu.
For storage, transfer any leftovers to an airtight container and store in the fridge. The salad will keep fresh for up to 3 days. You can enjoy it cold straight from the fridge or at room temperature.
If you like this recipe, you may be interested in these other delicious summer salad recipes:
Watch the video below where Caytlin will walk you through every step of this recipe. Sometimes it helps to have a visual, and we've always got you covered with our cooking show. You can find the complete collection of recipes on YouTube, Facebook Watch, or our Facebook Page, or right here on our website with their corresponding recipes.
Trending Products

.