NASA's Martian explorer, MAVEN, captured Earth's neighboring planet in fascinating detail, revealing the changing seasons on Mars as it orbits around the Sun.
Astronomers Could Soon Get Warnings When SpaceX Satellites Threaten Their View
The Mars Atmosphere and Volatile EvolutioN mission, MAVEN for short, views the planet in ultraviolet light (which has wavelengths shorter than that of visible light). Using its Imaging Ultraviolet Spectrograph (IUVS) instrument, the spacecraft snapped global views of Mars in 2022 and 2023, when the planet was near opposite ends of its elliptical orbit. NASA released two of the images on Thursday, showing Mars' southern and northern hemispheres in beautiful new shades.
The first image was taken in July 2022 of Mars' southern hemisphere during its summer season. Mars takes roughly twice as long to orbit the Sun compared to Earth, so seasons on the red planet last about double the time that they do on Earth.
In this view of Mars, one of the planet's deepest craters (known as Argyre Basin) appears at the bottom left covered with an atmospheric haze that appears in a pale pink shade. At the top left of the image are the deep canyons of Valles Marineris, while the southern polar ice cap, which was shrinking from the summertime warmth, can be seen at the bottom of the image in white.
MAVEN's ultraviolet camera measures wavelengths between 110 and 340 nanometers outside the visible spectrum. In order to help us see the images, NASA renders them with the brightness levels of three ultraviolet wavelength ranges that are represented as red, green, and blue. Within this color scheme, atmospheric ozone appears purple, clouds and hazes appear white or blue and the surface can appear tan or green.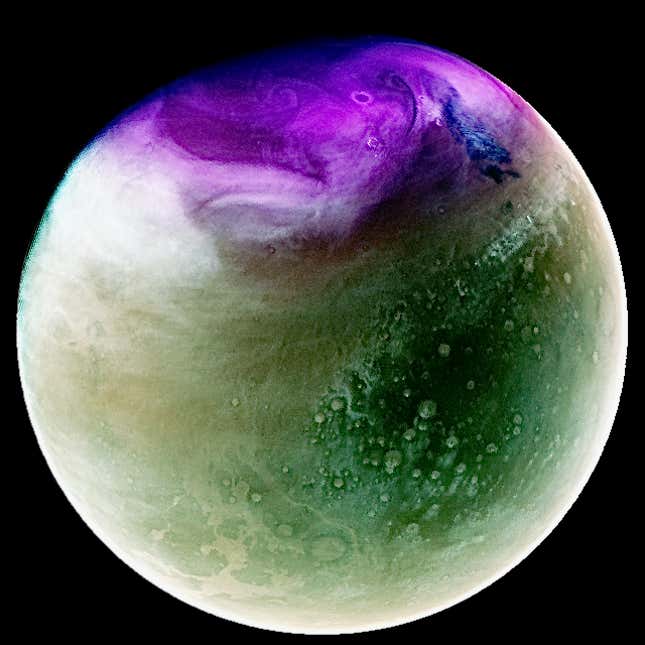 The second image of Mars was captured in January 2023, when the planet was at its farthest point in orbit from the Sun.
MAVEN provides a stunning view of Mars's northern hemisphere, where the planet's harsh winter season has caused a buildup of the planet's ozone at the top, shown as a vibrant magenta in this rendering. The ozone is destroyed in the northern spring as it reacts with the water vapor in the planet's atmosphere, which is restricted to lower altitudes during the wintertime.
NASA's MAVEN spacecraft launched in 2013 with a mission to study the planet's upper atmosphere, ionosphere, and its interactions with the Sun in an effort to understand how Mars lost its atmosphere millions of years ago. Seeing Mars in ultraviolet light provides a new perspective on the planet, even losing its signature red hue in these wavelengths.
When it comes to the planets of the solar system, I always say that Jupiter is the most photogenic, but Mars is definitely giving the gas giant a run for its money with these new images.
For more spaceflight in your life, follow us on Twitter and bookmark Gizmodo's dedicated Spaceflight page.
Trending Products

.