Jalapeño Popper Dip is addictingly delicious, and completely indulgent. This perfect party appetizer can easily be doubled to feed a crowd, and has just the right amount of heat. 
We love party food like Jalapeño Popper Dip. You can easily make it ahead of time, which is a must for us. Entertaining typically means spending all day in the kitchen, and a recipe like this means we can focus on the more time intensive recipes. Friends and family always rave over this one, and we're sure you will too! You should really just double the recipe the first time you make it, otherwise you might eat the whole pan by yourself!
Frequently Asked Questions
What can I substitute for sour cream?
If you are not a sour cream fan, you can always substitute with mayonnaise. Looking for a lighter option? Substitute with greek yogurt.
What type of jalapeños can I use?
You can use either fresh or canned jalapeños in this recipe. If you don't want too overpowering of spice, make sure you remove the ribs and seeds from your peppers. If you want that super spicy kick, leave the ribs and seeds in!
Can I double this recipe?
Yes! If you double the recipe you'll need to use a 9×13 pan. Bake time or temperature will not be affected. 
Can I cook this on my grill or smoker?
Yes! This would be fantastic cooked on the grill or in your smoker in a cast iron pan.
Serving Suggestions
We prefer to have a variety of dipping options. Bread, crackers, and tortilla chips are standard. You could even keep it light with raw veggies.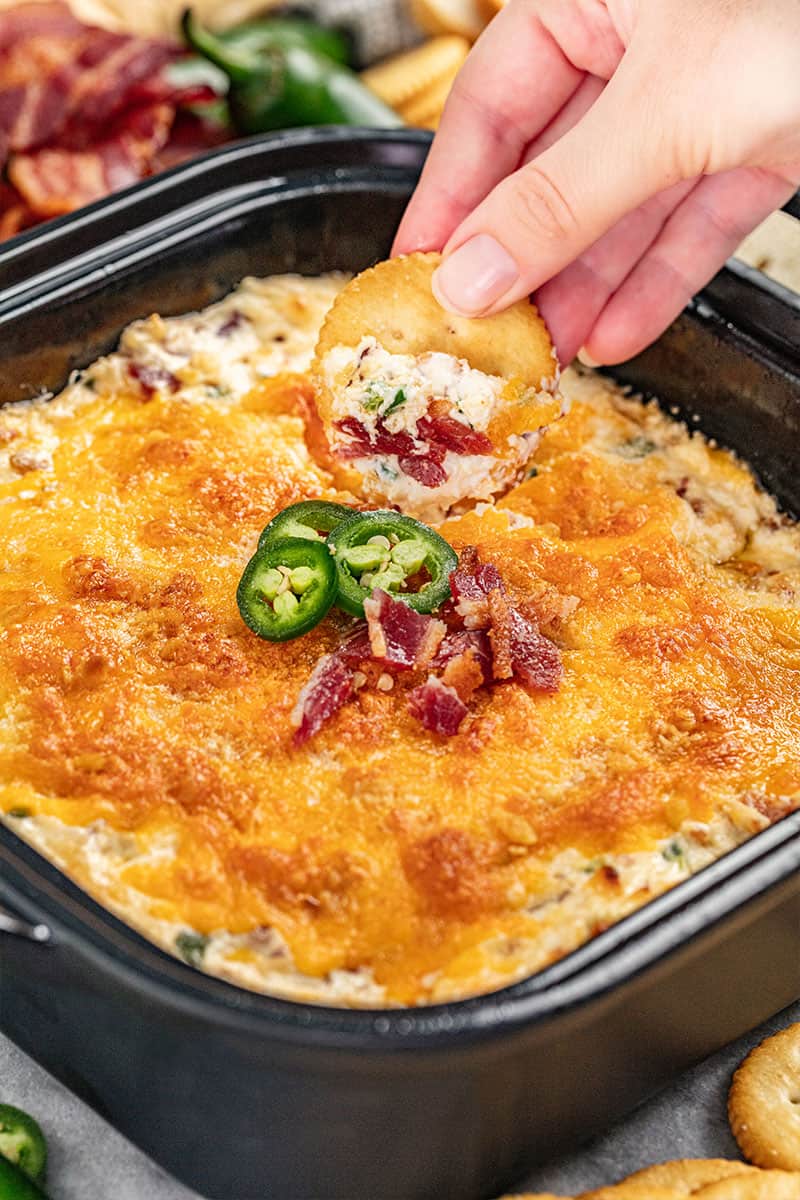 Make Ahead Instructions
You can prepare your dip up to 24 hours in advance. Simply prepare your dip and spread it into your baking dish. Top it with plastic wrap and store it in the fridge until ready to bake!
Storage & Reheating Instructions
Store any leftovers in an airtight container in the fridge for up to a week. Reheat in the microwave in 30 second increments until warmed through.
Trending Products

.