Amazon Studios' Jack Ryan continues to enthrall, as Tom Clancy's most popular character delves into the world of CIA adventures. Jack Ryan Season 3 received rave reviews and it looks like there's plenty more to come from Season 4.
This is everything you need to know about the final season of Jack Ryan. That's right, this is the last of the run for Tom Clancy's hero in this format, but we're sure there's more to come elsewhere in the Ryanverse.
Jack Ryan Season 4 release date
Jack Ryan Season 4 started streaming on 30 June, Amazon Video.
The existence of Season 4 was confirmed on 14 October 2021 – which now seems like a long time ago. Season 3 released on 21 December 2022, but it was confirmed that Season 3 and Season 4 were filmed back-to-back, in an interview with The Wrap.
How many episodes will there be in Season 4?
There will be six episodes in Season 4 and they will be releasing at a rate of two episodes a week. The final episodes will be available from 14 July, so it's a short run and you won't have to wait to long to watch it all.
How can I watch Jack Ryan Season 4?
Jack Ryan is an Amazon original title, so it streams exclusively on Amazon Video. To access Amazon Video, you'll either have to pay, or more simply, be a Prime subscriber. All the previous Jack Ryan content is on Amazon Video too, so if you subscribe there will be plenty to watch and catch-up on.
If you're not a Prime subscriber, you can sign up for a free trial.
Is there a trailer for Jack Ryan Season 4?
Yes there is a trailer and this will give a clue about what happens in Season 4.
What to expect from Season 4
So far the different seasons of Jack Ryan have offered pretty much stand-alone storylines. The thing tying those storylines together is the characters. But in that there's a small hint about what to expect.
One of the characters making an appearance in Season 4 is Ding Chavez, played by Michael Peña. Ding Chavez is a central character in the Tom Clancy novels, a key component of Rainbow Six, following introduction to Jack Ryan in Clear and Present Danger (Chavez is in the 1994 movie of the same title) and in the novels has a close relationship with the whole Ryan family. We explore some of these connections in our guide to the Ryanverse.
Abbie Cornish returns as Cathy – Jack Ryan's love interest – with a slightly more stable setting in the final season than in Jack Ryan Season 3. Jack Ryan will be (acting) Deputy Director of the CIA. This is a role we've seen Ryan in before – in the 1994 Clear and Present Danger – which sees us go full circle to what we've said above – we think this will link Ding Chavez and act as a bridge to Amazon's Tom Clancy movies. Elsewhere Wendell Pierce returns as James Greer, while Michael Kelly is back as Mike November – with typical banter with Jack Ryan to follow.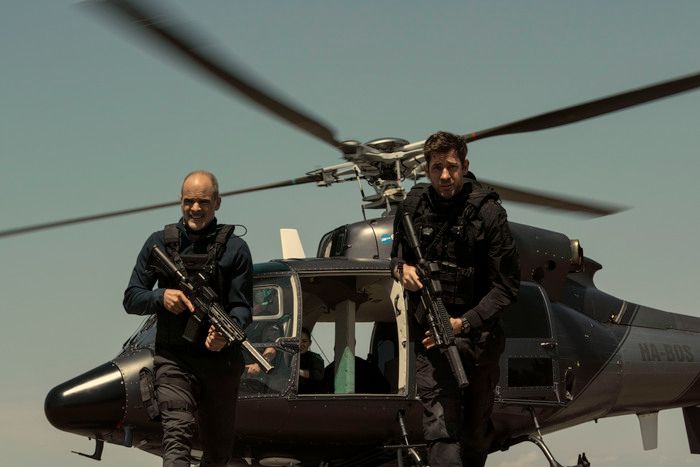 Amazon Studios
Will there be a Season 5 of Jack Ryan?
It has already been confirmed that Jack Ryan will come to an end with Season 5, but you can never say never when it comes to television. The introduction of Michael Peña is expected by many to drive a new central character for future expansions, potentially giving a link through to John Clark/Kerry in the forthcoming Rainbow Six movie.
Trending Products

.