Key Takeaways
Key takeaways:
Netflix is cracking down on subscribers sharing accounts, and Disney+ plans to do the same.
Spotify allows multiple people to stream audio simultaneously, even though its terms say they must reside at the same address.
To stream on multiple devices with one Spotify account, users can download content and switch to offline mode to avoid limitations.
Netflix has put the squeeze on its subscribers as would-be freeloaders tapping into one account are being pulled apart and left to pay up or go without. Seeing how many new signups the company was able to achieve, Disney+ plans on doing the same thing soon. With the streaming apocalypse seemingly upon us, we want to point out a hot tip that Spotify listeners can use (at least until when the execs catch on).
Why stream from one Spotify account on multiple devices at the same time?
You've probably figured that many of these media subscription services will have plans that suit individuals and ones that can fit in a family or whoever you count in as family. Spotify is no different – in the United States, an individual Premium plan is now $10.99 a month, the extremely descriptive Premium Duo costs $14.99, and Premium Family for up to six accounts is $16.99. Like its video-serving cohorts, the audio streamer has also been inserting language mandating that multi-account plan users must reside at the same address, though this is somewhat more difficult to enforce if every user is almost jamming out exclusively on mobile devices.
That said, there's really nothing stopping you right now from sharing your Spotify account so that multiple people can stream audio at the same time. Maybe your children are at the back of the car complaining about how they're tired of listening to each other's music and you're staring down red tail lights for the many miles ahead of you? Maybe you're trying to enjoy a few minutes of Taylor Swift during lunch at your underpaying job, but can't afford it anymore because you're really counting the cents in your near-empty bank account. We're not here to judge – the machinations of capitalism are already cruel enough. You deserve to be able to get the most out of the Spotify plan you have.
What is Spotify Connect?
Spotify Connect is our enemy. Well, it's a friend, too. A frenemy.
This is basically your account's master control system that can direct the music, podcast, or audiobook you're playing from one output to another. When you head into the Now Playing section – tap on the lower-left corner (it should name the earphones or speakers you're using) or the lower-right corner on the web and desktop apps via that icon that looks like a monitor and speaker combined – you'll be able to switch between different devices that are connected within the same Bluetooth and/or Wi-Fi networks as well as devices that are in range through AirPlay, Google Cast, or the Sonos standard.
It's great for when, let's say, you're arriving home and want to continue listening to the podcast from our sister site, Android Police, that's been playing on your phone, but on your Nest Hub Max instead. But for that continuity, you're also subtly reminded that you can only have one active audio stream playing to one output at any given time.
How to stream on multiple devices with a single Spotify account
Let's break the limits. Because Spotify knows what you're listening to and what you're listening on whenever you're connected to the Internet, getting around Spotify Connect will require you (and your accomplices to go off the grid. This means you'll have to perform some preparations before going in.
Downloads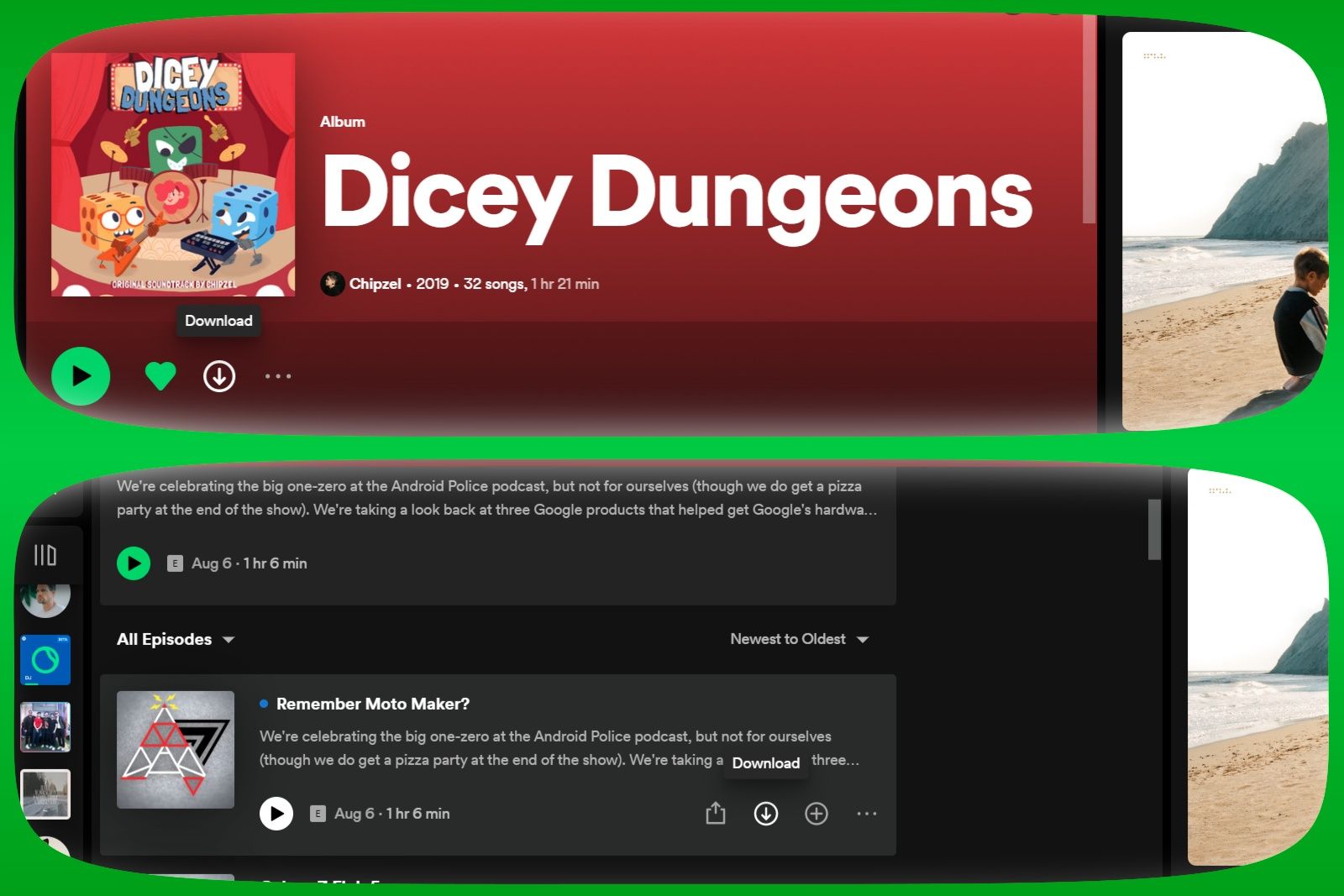 First, you'll want to download all the material you'll want to listen to on the device that is sharing the Spotify account.
Before doing so, make sure you have selected the audio quality at which your content will be downloaded in. Hop into Spotify's settings on your phone or tablet by tapping on the gear icon at the top-right corner of the home feed or by hitting Cmd/Ctrl + P if you're on macOS or PC. Scroll down to the Audio Quality section and then, next to Download, select from Low, Medium, High, and Very High. For your reference, an hour of Very High quality audio content amounts to about 144MB while an hour of Low quality audio stacks up at around 10MB.
Once you've set your download audio quality, start downloading. You'll be able to do so by selecting the downward-pointing arrow in a circle where you see it or right-clicking/holding down an individual item where applicable:
For music, you'll need to compile a playlist to save all the songs you like. New songs added to download-designated playlists will automatically be downloaded when your device is online. You can also download full albums.
For podcasts, you can download episodes one at a time.
Video podcasts will contain video by default. To download the audio content only, you'll need to enter Spotify's settings and toggle on Download audio only.
Whole audiobooks can be downloaded at once.
Offline Mode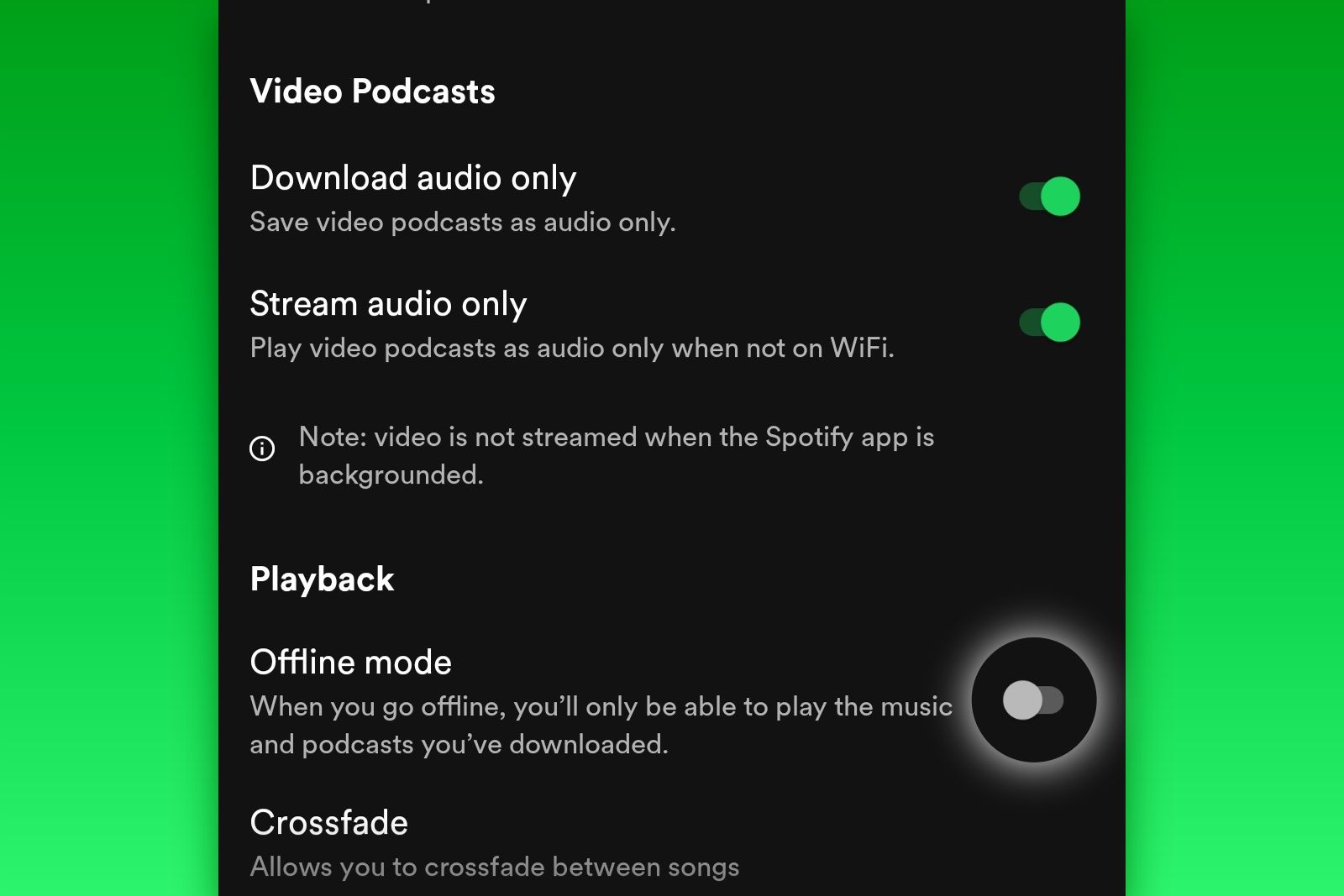 If you're using a phone or tablet, head back to the app's settings and then, under Playback, switch on Offline Mode. Spotify will then only show the content you've downloaded and saved to your library. You'll be able to listen to that content to your heart's desire. This unfortunately means you won't be able to access "radio" playlists for songs, albums, and artists as well as other online features like the AI DJ.
Spotify will require you to bring your "offline" device back online every 30 days to continue accessing the songs in your library, but you'll probably be coming on to update your playlists more often then that. These conditions might also disrupt your music discovery process: you might decide to head online to add songs while listening, risking that the music will stop when another person on the same account starts listening to their own music on their own device. All you would need to do is to flip back to Offline Mode to continue playing your music.
On PC or macOS, this trick is a little less useful since there is no Offline Mode toggle – you will need to use your machine off the grid entirely to make this work or, perhaps more realistically, stick with that mobile device. In fact, you might want to recycle something that you're no longer daily driving.
It's not a perfect world and this workaround isn't a perfect experience, but it's better than paying more than then you (and your peeps) need to for Spotify Premium.
Trending Products

.