Philips Hue smart lights are some of the most popular smart home products out there, with lighting products from smart bulbs and light strips, to standalone lamps and lighting controls. You can control the lights from your phone, but if your phone is in another room, and you want to turn the lights on, that's not much use.
That's where Alexa comes in. By linking your Hue lights to Alexa, you can control your lights with just your voice either through the Amazon Alexa app, through an Echo smart speaker, or using another device with Alexa built in. Once you've tried turning the lights off with your voice without having to crawl out of your warm bed, you'll never want to go back. If you're ready to make your lights respond to your voice, then here's how to connect Philips Hue to Alexa.
Philips Hue Starter Kit
$169 $199 Save $30
How to connect Philips Hue to Alexa
There is a wide range of Philips Hue lights available. Some of these communicate via Zigbee and require a Hue Bridge. There are also Bluetooth lights available that don't require a Hue Bridge. If you're not using a Hue Bridge, you can still connect your lights to Alexa, but you won't get the same level of control that you get when using the Hue Bridge.
How to connect Philips Hue with Bluetooth light to Alexa
If you're not using a Hue Bridge, you can connect your Philips Hue Bluetooth bulbs directly to Alexa.
Connect your Philips Hue Bluetooth lights and turn on the power.
Your Echo device or Alexa app should inform you that a new light is found.
If this doesn't happen, ask your Amazon Echo to "discover devices".
Alternatively, in the Amazon Alexa app, tap + (plus) on the Devices tab.
Select Add Device > Other > Bluetooth and tap Discover Devices.
Once your light has been discovered, you can control your lights with your voice or the Amazon Alexa app.
How to connect a Hue Bridge to Alexa
If you're using a Hue Bridge, you can get even more control of your Philips Hue lights by installing the Philips Hue skill. You'll need to have created a Philips Hue account first.
Open the Amazon Alexa app.
Tap More.
Select Skills & Games.
Type Philips Hue in the search bar.
Select the Hue skill and tap Enable to Use.
Sign in to your Philips Hue account.
Once you are signed in, select your Hue Bridge and tap Next.
Agree to the terms and conditions.
Your Hue Bridge is now connected to Alexa.
How to control Philips Hue with Alexa
Once you have connected your Philips Hue lights to Alexa, you can control them via the Amazon Alexa app. Any connected lights can be turned on or off in the app, and you can change the brightness and select a colour for coloured lights. You can also turn on specific scenes such as Relax, Energise, Read, or Tropical Twilight, which turn your lights to pre-set colour and warmth levels. Without the Hue Bridge, however, you can't assign bulbs to specific rooms and therefore can't control all the lights in a specific room at once.
The real power of connecting Philips Hue to Alexa, however, is to be able to use your voice to control your lights, either through the app, or through an Echo device. For commands relating to specific rooms, you'll need to have your bulbs set up through the Hue bridge. Some examples of commands that you can issue through Alexa include:
Turn on all the lights
Dim all the lights
Turn off the lights
Turn down the lights to 50 per cent
Set the lights to 80 per cent brightness
Lower the bedroom lights
Make the lights warmer
Turn the living room lights pink
Make the living room brighter
Turn the lights whiter
Set the kitchen lights to Relax
Turn on Tropical Twilight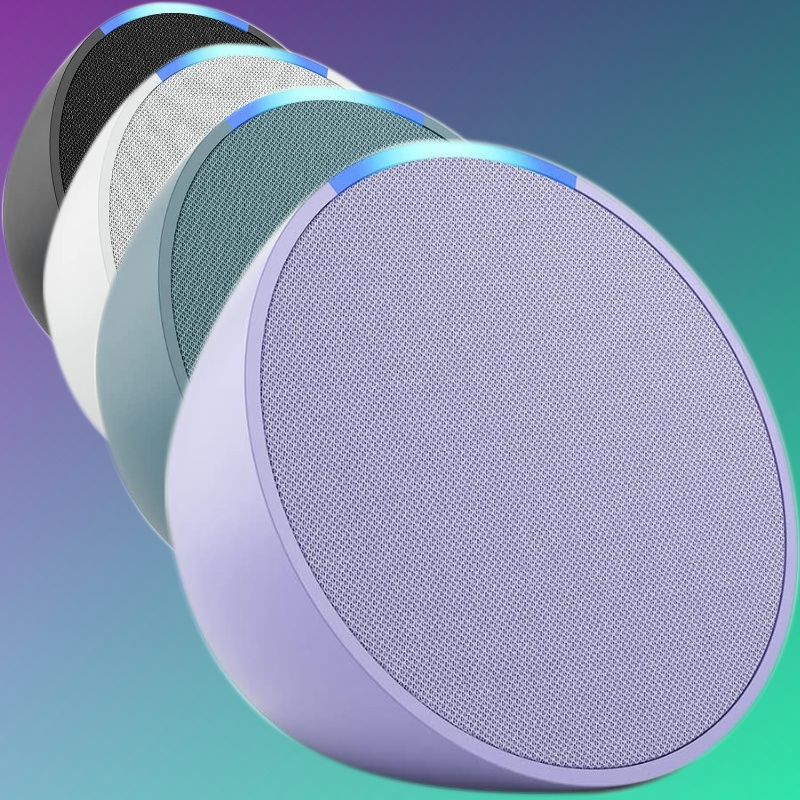 Amazon
Amazon Echo Pop
$25 $40 Save $15
Amazon's Echo speaker now comes in a more prominent, vibrant tabletop form factor. You still get Alexa, podcasts, and music. You also get a better-looking bedside ornament!
Trending Products

.