Android has a chequered history with tablets and even with the launch of the new Pixel Tablet, there's a story to tell. Previewed at Google I/O 2022, it was a full year before the tablet was officially launched, suggesting that Google wanted this tablet to be something special.
This comes on the back of unceremoniously stepping away from tablets in 2019, just before the pandemic made tablets a must-have device for many. It's impossible to avoid comparisons to Apple's iPad, which has dominated the premium tablet space for many years, into which Google now steps.
So does Google offer anything unique in this tablet and is it worth getting excited about?
Google Pixel Tablet
Google's return to tablets gives greater optimisation and a unique focus on smart home integration. It's a little on the expensive side – no doubt thanks to the bundled dock – but for Android fans, there's appeal in this pure Android Pixel Tablet.
Pros
Nice design and build
High resolution display
Bundled Charging Speaker Dock sounds good
Cons
It's expensive
Hub Mode is a bit lacklustre
App ecosystem can't challenge iPad
Design and build
258 x 169 x 8.1mm, 493g
Nano-ceramic coating
The Google Pixel Tablet feels solid enough when you pick it up, with a nice quality to the rear of the tablet. Google describes this as a nano-ceramic coating, designed to feel a little like porcelain. There's certainly a smoothness to it that I like, it feels higher quality than something like the Fire HD 10 tablet from Amazon, although the looks are similar.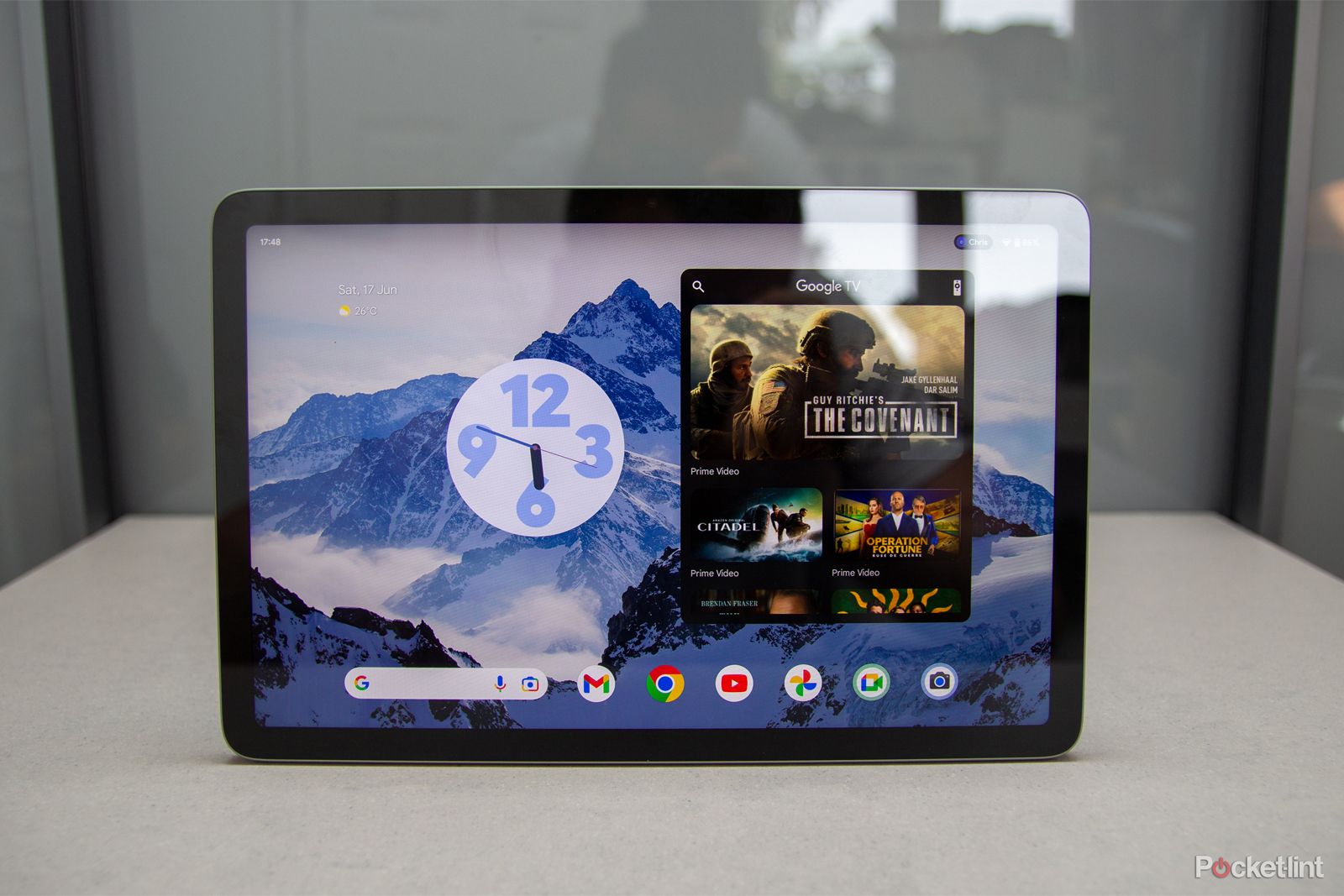 At 493g, the Pixel Tablet is a little heavier than the Apple iPad (10th gen), although I don't think it feels as premium. However, I prefer the curves to the edges of the rear of the Pixel Tablet over Apple's squared finish – it's just nicer if you end up holding it in bed for any prolonged period of time.
There are a couple of rubber feet on one side while there are four contact points on the rear to use with the Charging Speaker Dock, openings on the ends for the speakers, and the camera on the long side. That's right, this tablet is designed to be predominantly used in landscape. Speaking of cameras, this is flush to the back of the tablet so when you lay it down and you touch it, it doesn't wobble around – which is something I'm a big fan of.
There are four speakers around the body of the Pixel Tablet designed to make the audio a little more immersive, but what they lack is any sort of appreciable bass – they're a little lacking on their own. Of course, there's the Charging Speaker Dock which I'll talk about later, but naturally that gives the Pixel Tablet a substantial boost.
There's a fingerprint sensor built into the power button on the side of the tablet and this makes it pretty simple to unlock with a tap; it seems a bit strange that there's no face unlocking as found on recent Pixel phones though, as this would streamline access to the device.
Overall the build of the Pixel Tablet isn't quite premium: the bezels are perhaps wider than they should be and it's a little hollow sounding when you give it a tap, but it's generally fine, if you can accept that you don't get a metal tablet for your $500.
What's in the box? The Charging Speaker Dock
Before I go much further, I want to talk about the Charging Speaker Dock. At the launch of the Pixel Tablet, this accessory comes in the box, and that's partly responsible for its $499 / £599 asking price. Consider, however, that the Charging Speaker Dock will cost $129 / £139 as a standalone accessory, and I'm sure that the Pixel Tablet will be available for less without it at some point in the future – and it should be, because on it's own, the tablet feels overpriced.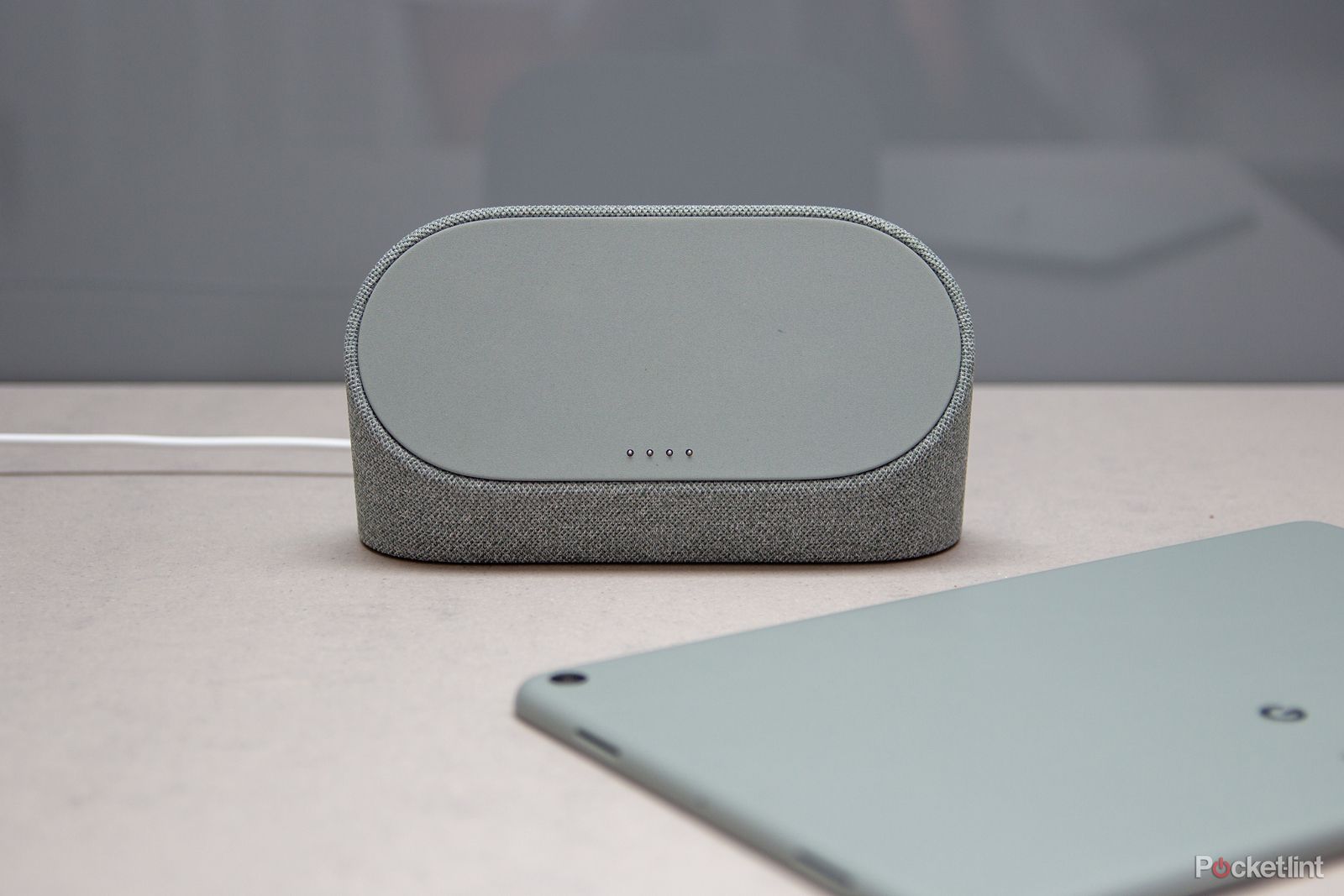 What's not in the box, however, is a power supply for the tablet. The Charging Speaker Dock uses a barrel-style connector, so it only powers the dock. You'll have to buy or use a separate USB-C charger if you plan to use your Pixel Tablet away from the dock. But if you're an Android phone user – and you probably are if you're considering the Pixel Tablet – then your phone charger will do.
Anyway the Charging Speaker Dock is both a nice idea and a slightly puzzling move. Google's unique selling point for the Pixel Tablet appears to be that when it's not being used as a tablet, it isn't just redundant tech lying around your house. Instead you can dock it and it becomes more like a Nest Hub, getting an audio boost while charging from that dock. It's not a unique idea: Amazon did exactly the same thing with Show Mode on the Fire tablet, again with a bespoke dock to transform it into a smart display.
The Charging Speaker Dock is wrapped in fabric, has a rubberised base and four charging pins to match the contact points on the tablet's rear – while also being loaded with magnets so that the two halves stick together.
Using the Charging Speaker Dock is a seamless action, it "docks" well thanks to those magnets and seems plenty secure, although knock it hard on the top and the tablet will disconnect and drop off. There's no pairing to be done either, so no need to worry about Bluetooth or anything else – it just works.
There's software support, so on first dock you'll be asked to setup Hub Mode to define how the tablet behaves when you place it on the dock – which we'll talk about more below.
The Charging Speaker Dock sounds pretty good. It adds a richness to the audio thanks to the 43.5mm driver, so watching a movie or listening to your favourite tracks is a better experience than the tablet alone. It's not quite as solid as the Echo Show 10, for example, which I think has richer overall sound.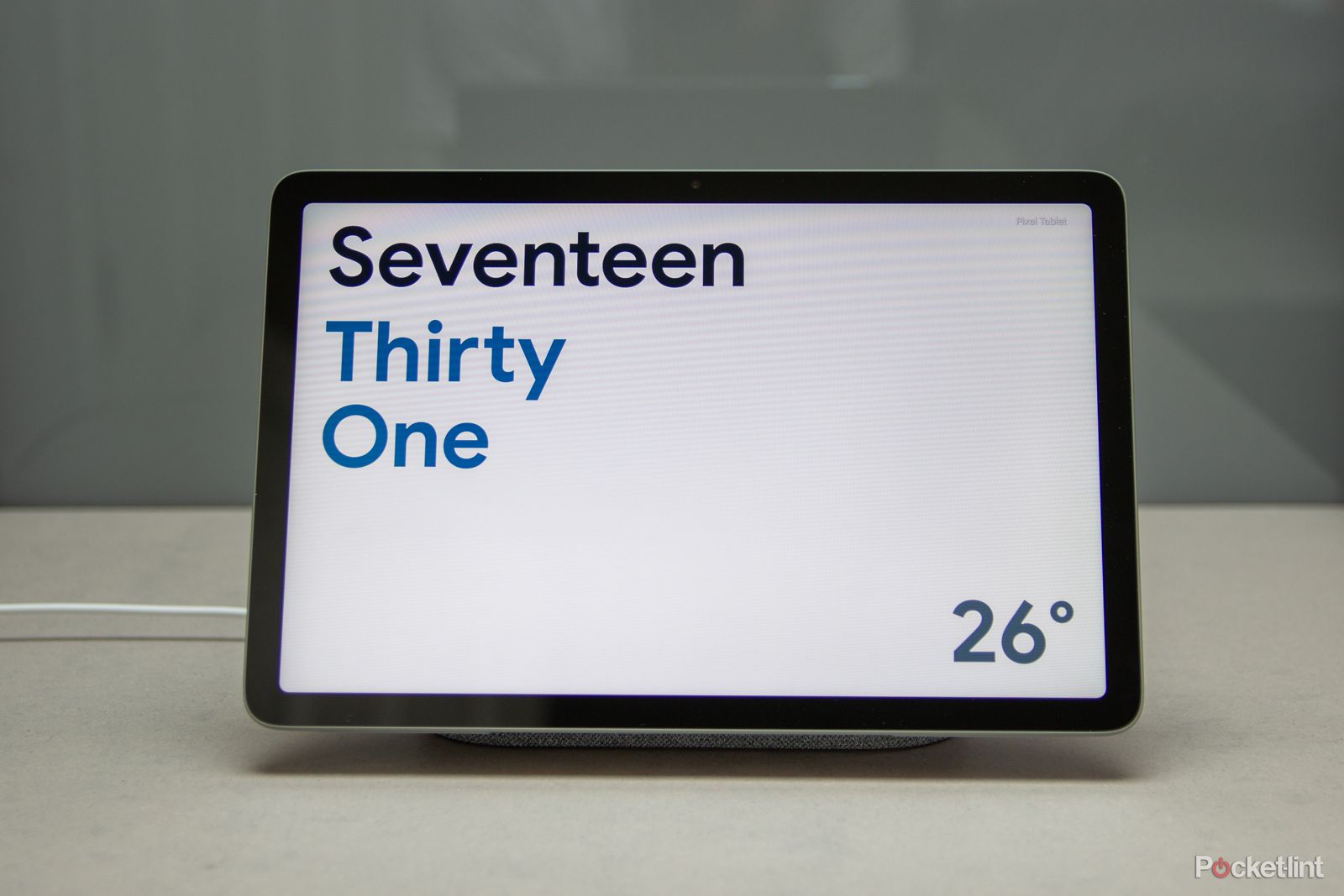 What's interesting is that all the audio is transferred to the Charging Speaker Dock when the tablet is docked – it doesn't use the tablet's own speakers at all. The charging has also been optimised: the tablet only ever charges to 90 per cent on the dock to maintain battery health and it has a 15W charging rate.
Having a separate Charging Speaker Dock is an interesting idea, but I'm not totally sold on the notion of buying additional docks: when there's no tablet it's just an inert bit of tech – you can't connect to the speakers to use them for anything else.
Importantly, however, Google is pitching the Pixel Tablet as this dockable device: that's the intention – it's not a casual accessory, it comes in the box, so it's designed as primary feature, whether you like it or not. And you really do have to like it to consider the Pixel Tablet, because if docking it doesn't appeal to you, you might be better off with a different tablet entirely.
Display and hardware
10.95in LCD, 2560 x 1600 pixels, 276ppi, 60Hz
Google Tensor G2, 8GB RAM, 128/256GB
The Pixel Tablet has an LCD display rather than an OLED one, which you'd find on the likes of the Samsung Galaxy Tab S8+, although LCD is still typical for tablets at this price point. What's important here is the resolution of display – that 2560 x 1600 pixels is higher than the (cheaper) Fire Max 11, and is about the same as the Galaxy Tab S8, which is probably its closest rival. Note though, that Google has opted for a 60Hz display, whereas the Samsung device is 120Hz, although we wouldn't say that's a deal breaker: you're likely to spend less time scrolling on your tablet than you are on your phone, but yes, it depends what you do with it.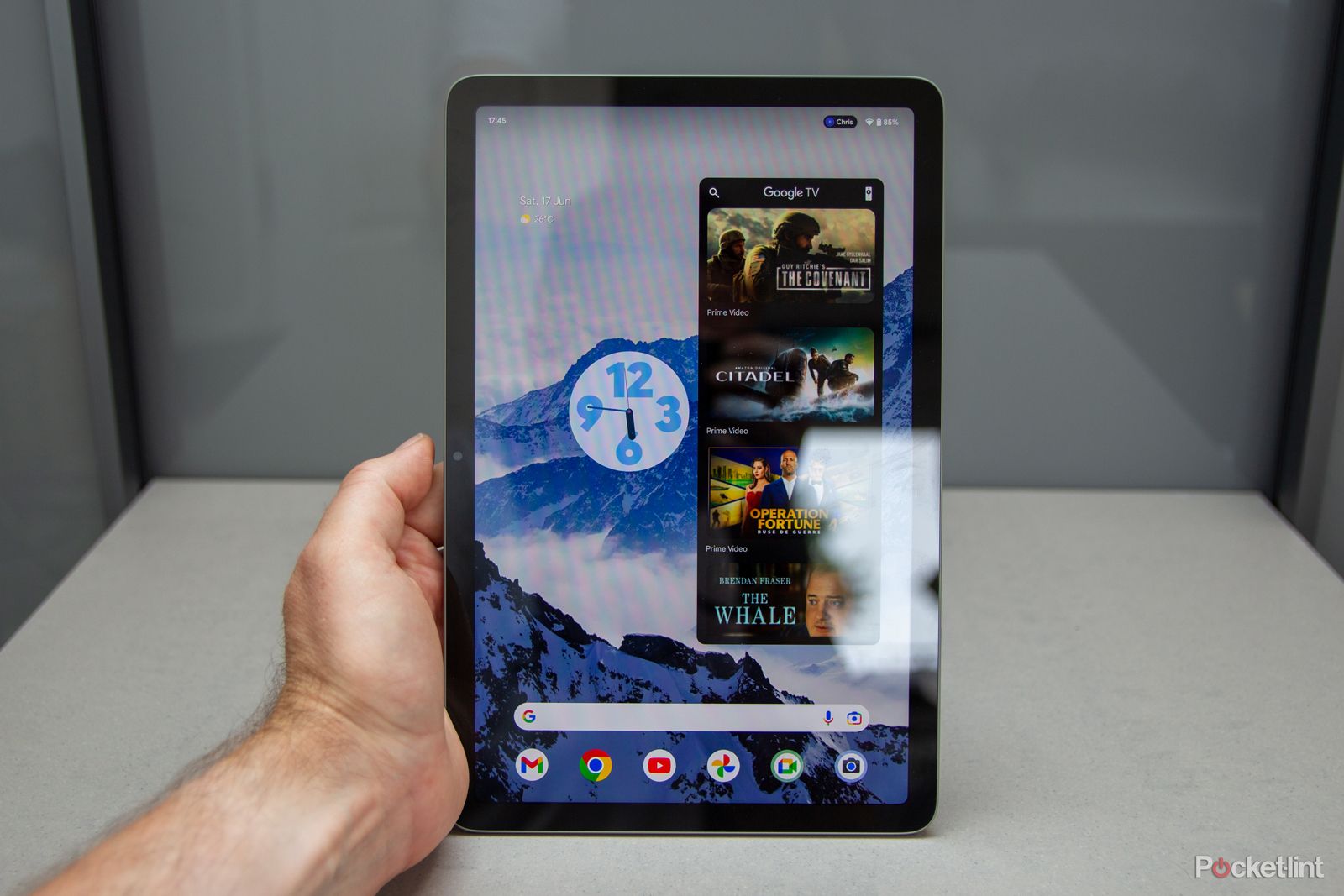 Because of the price, the Pixel Tablet is also comparable to the iPad and iPad Air, and shares the the 500 nits brightness with Apple's devices. The display supports USI 2.0 stylus interaction – and you can find a selection of the best Pixel Tablet styli right here – while there's plenty of vibrancy and pop to the colours, with support for HDR10 too. Movies look great, images pop, and there's wonderfully high-quality finish to things like apps and widgets. It's a shame that some of the tablet ecosystem just isn't there: while adapted apps like Google Calendar are sharp and luscious, you're only a few clicks away from landing on an app that's just the standard Android version that doesn't really fit and looks terrible on the larger display – more on that later.
In terms of performance, the Google Pixel Tablet sits on Tensor G2 hardware, the same that powers the Google Pixel 7 Pro and the Pixel 7a. It's flagship grade, so there's no compromise here, and everything I asked the Pixel Tablet to do happened smoothly and quickly – even without having the latest software. During the time I was testing the Tablet I saw no sign of slow-down or lag, it's a premium experience.
I tried playing some Call of Duty Mobile on the Pixel Tablet and it looked great and played smoothly, but in all honesty, this tablet is too big for touch controls, it's just not as much fun as playing on a phone. You can connect Bluetooth controllers – and the USB-C will allow you to connect other accessories, but note that you might lose the connection to the speakers on the Charging Speaker Dock if you connect USB-C accessories.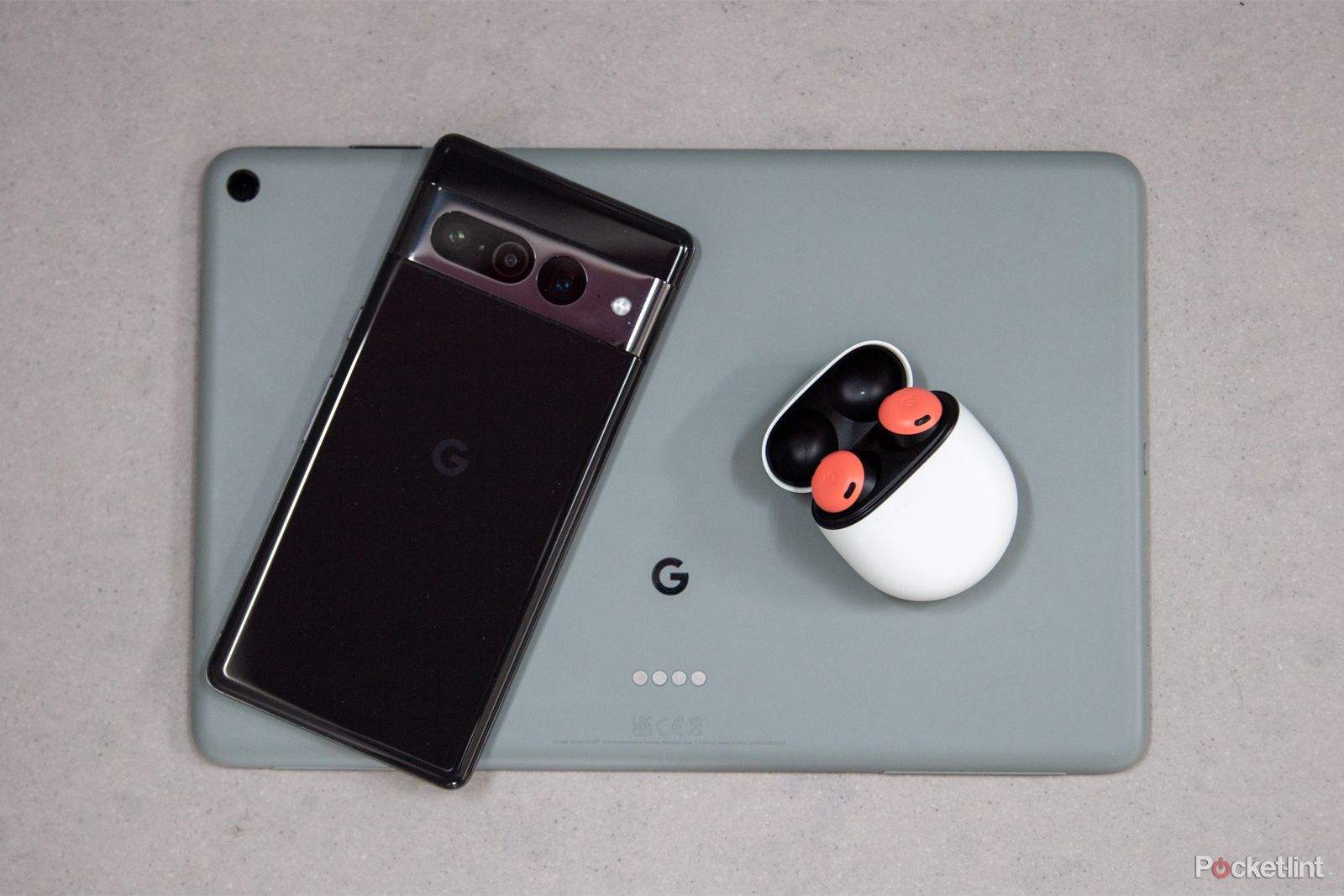 The Pixel Tablet comes with 128 or 256GB of storage which is quite a lot. That will play a role in elevating the price; arguably, a 64GB version would have made this tablet more approachable. Many people tend to use fewer apps on tablets and in the world of streaming, people are downloading less too – but if you want a cheaper tablet just for entertainment, you might be better with the Amazon Fire HD 10.
Google Pixel Tablet battery life
27Wh battery, 12 hours video
The Pixel Tablet has a cited battery life of 12 hours of video watching. That accounts for having the brightness at about 80 per cent and streaming 1080p content from YouTube. In my own battery test, I found that a two-hour video ran the battery down by some 20 per cent at 50 per cent brightness, which would equate to about 10 hours of use.
Of course it depends what you do with your tablet – ramping up the brightness will deplete it more, but I've typically found no problem getting through several days of intermittent use. Of course the Charging Speaker Dock means it never runs out, it's always ready to go when you're at home and for some people that will be the appeal of the dock – it just means you don't have to think about plugging the tablet in.
For those on the move, however, you'll find that the Pixel Tablet will get through about 5 per cent battery in a 12-hour period of standby, remembering of course that this is an Android device, so it loves to update and so on in the background. If you really want it to last, you might want to turn it off. The Pixel Tablet supports 15W charging via USB-C and there's no support for wireless charging.
A software work in progress
The Pixel Tablet launches on Android 13, with the promise of five years of Pixel updates. That means you'll get five years of security updates, but only three years of Android OS updates. That will likely see you through to Android 16 in 2026. But the updating of this tablet should be swift – as this is a Pixel device you're at the front of the queue rather than the back – and I'm expecting Google to push more tablet features as time goes by. Remember that Google is just getting started in its return to larger display support, both on folding phones and tablets.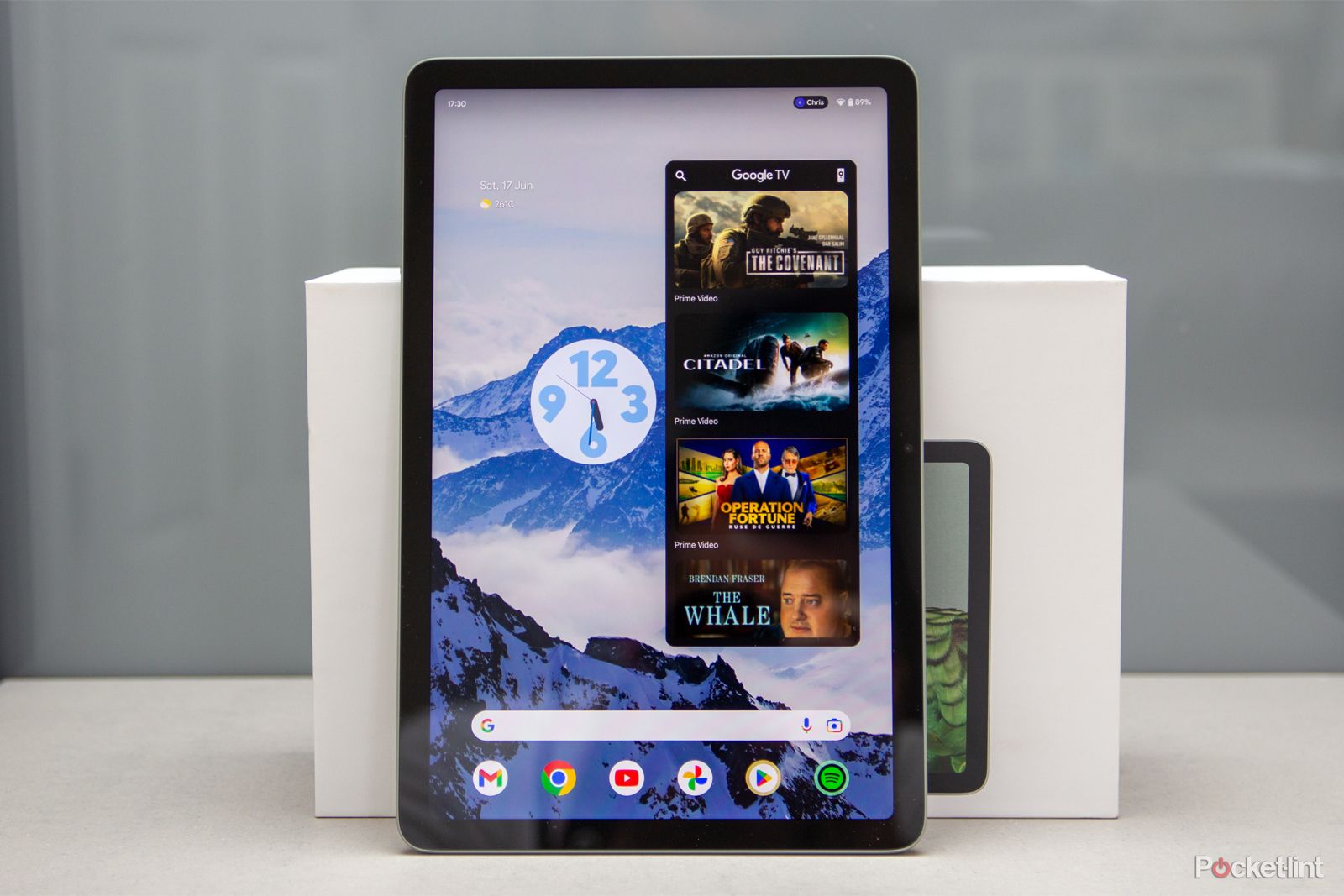 Google has worked hard to optimise many of its apps for larger displays. That includes the likes of Google Calendar which looks great, as does Google's Weather app. Gmail is useful in two columns, while Google Photos gives you plenty of space to explore – and supports dragging and dropping into other apps.
Apps like Microsoft Office work nicely and there's desktop Chrome here too, which boosts the browser experience. It could do with dropping the space to the top of the display a little more to give you more on-screen content, but in some cases running the desktop version of something is better than using the smartphone app.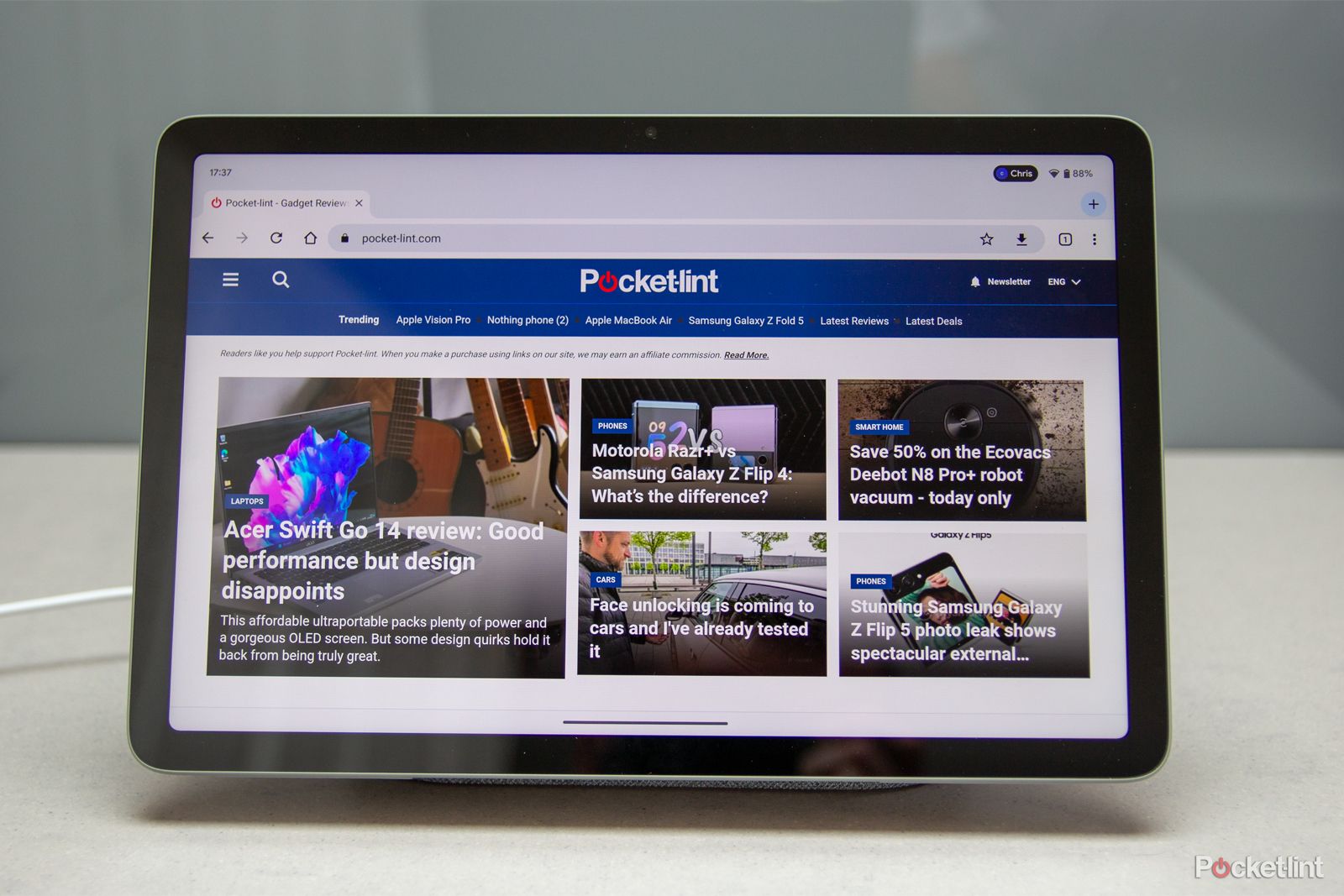 Browser support and services like Office lead you down the path of productivity – as does stylus support, although I didn't test this tablet with a stylus. I don't feel like Google wants this to be a productivity tablet, however. The lack of any sort of keyboard case at launch suggests that, unlike the old Pixel C. Still, I connected a Corsair USB-C gaming keyboard (with full RGB, of course) and found it worked well enough for rapid typing.
One thing the Pixel Tablet natively supports is split-screen and you can just drag up from the bottom to access the recent apps and hit the split-screen button, then select your second app. This is in addition to the taskbar, which you can easily access by swiping up quickly from the bottom. The taskbar will auto-populate with apps, so you can tap and go to what you want and this helps give the tablet some differentiation from larger Android phones.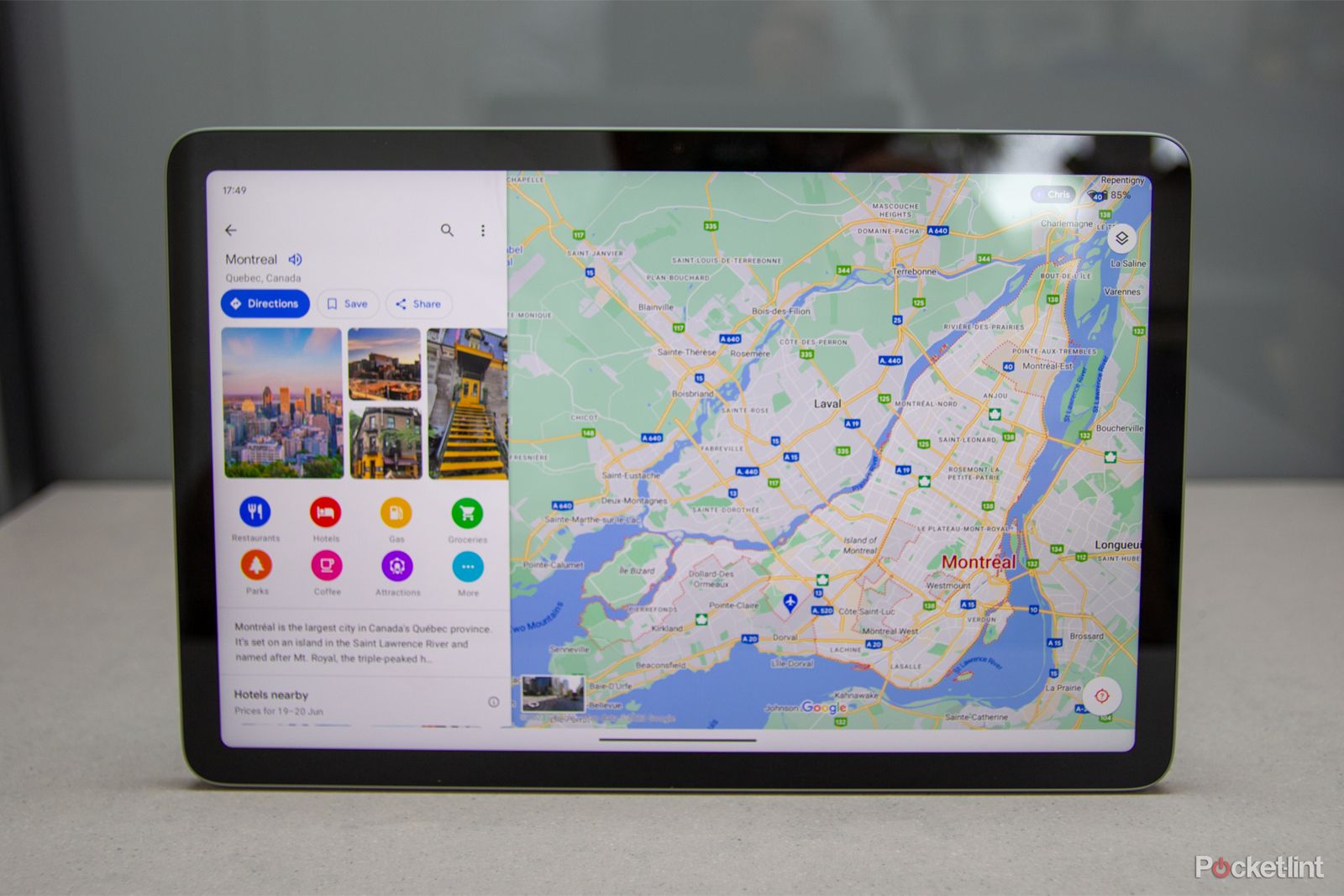 But it won't take long to run into apps that aren't optimised. Facebook for example – which is optimised for iPad – looks shocking on the Pixel Tablet. These phone apps sometimes lack support for landscape use, so will sometimes open a portrait window in landscape, sitting in the middle of the display. The Pixel Tablet allows you to shift those to one side; in some cases, you're forced into portrait, or caught in a sort of rotational hinterland, where the app isn't happy, the tablet isn't happy, and the user experience is pretty poor too.
This isn't new. In fact I commented on it on the 2018 Pixel Slate (which was Chrome OS but would run Android apps) and it's still a problem. Clearly Google has tried to boost the experience, but it's not there yet: there's the promise of more optimisation to come, but taken holistically, the software still feels like a work in progress.
Let's talk about Hub Mode
As I said above, bundling the Charging Speaker Dock in the box makes it a primary feature of the tablet, so logically Hub Mode is a primary experience. I found Hub Mode a little disappointing. It will let you setup what is effectively a screen saver for your docked tablet – that might be using Google Photos like a digital photo frame (weren't those hot in like 2009?), a giant clock, showing you artwork or like an animated weather station.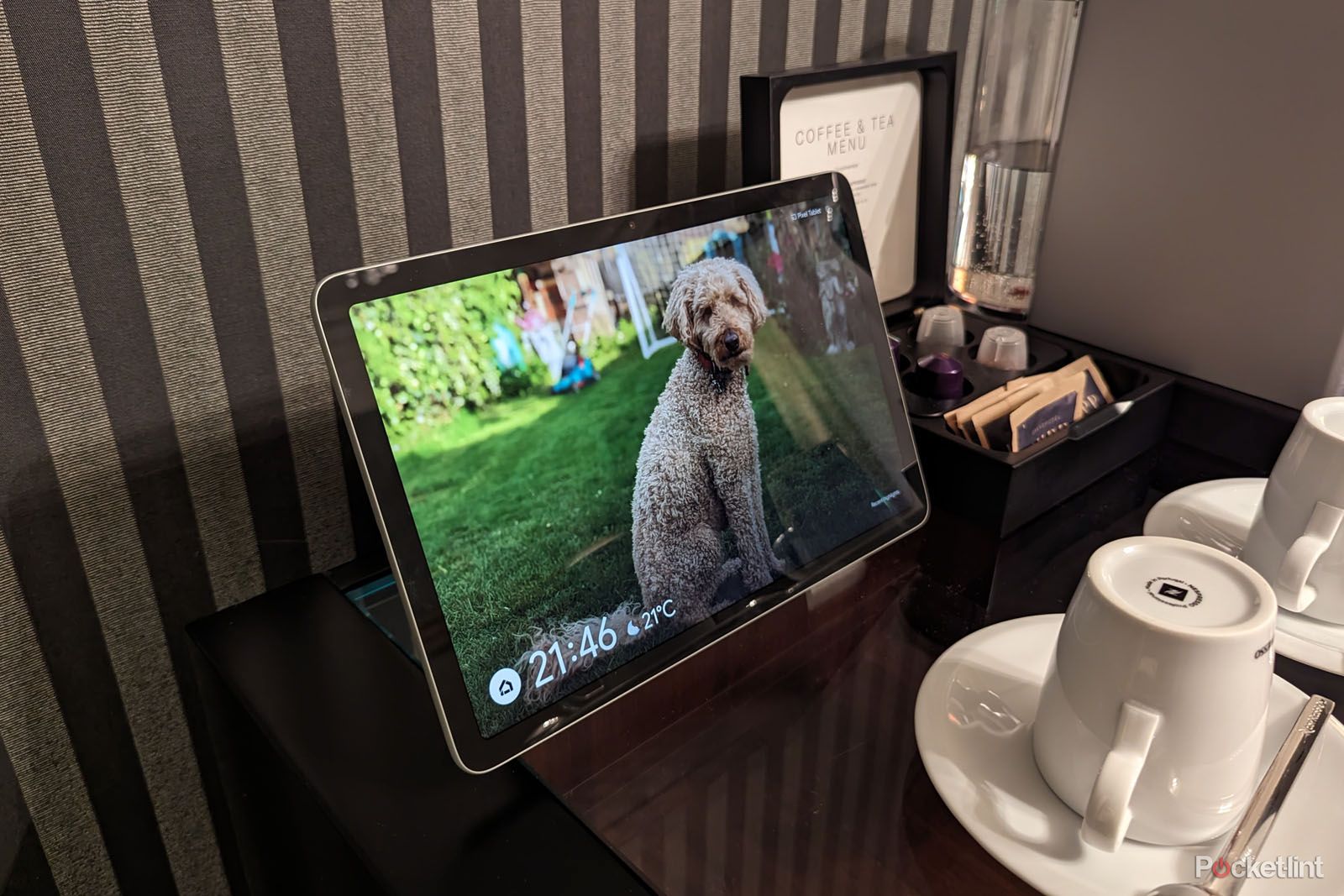 In Hub Mode your tablet is effectively locked, but you keep access to a couple of things. The first is the Google Home app, for smart home control and the second is your Quick Settings and notifications pane. That means you retain some controls you can tap to get to, although exactly why you'd want access to Quick Settings, we're still not quite sure.
Pitching the Pixel Tablet as a hub for your smart home hangs on access to the Google Home app, so if you have connected smart devices – cameras, lights, heating, etc – you can tap to control. That's convenient, although the layout isn't that great and I much prefer how Alexa presents smart home controls. Yes, you can run the Alexa app on the Pixel Tablet, but you can't choose what apps you can access from Hub Mode.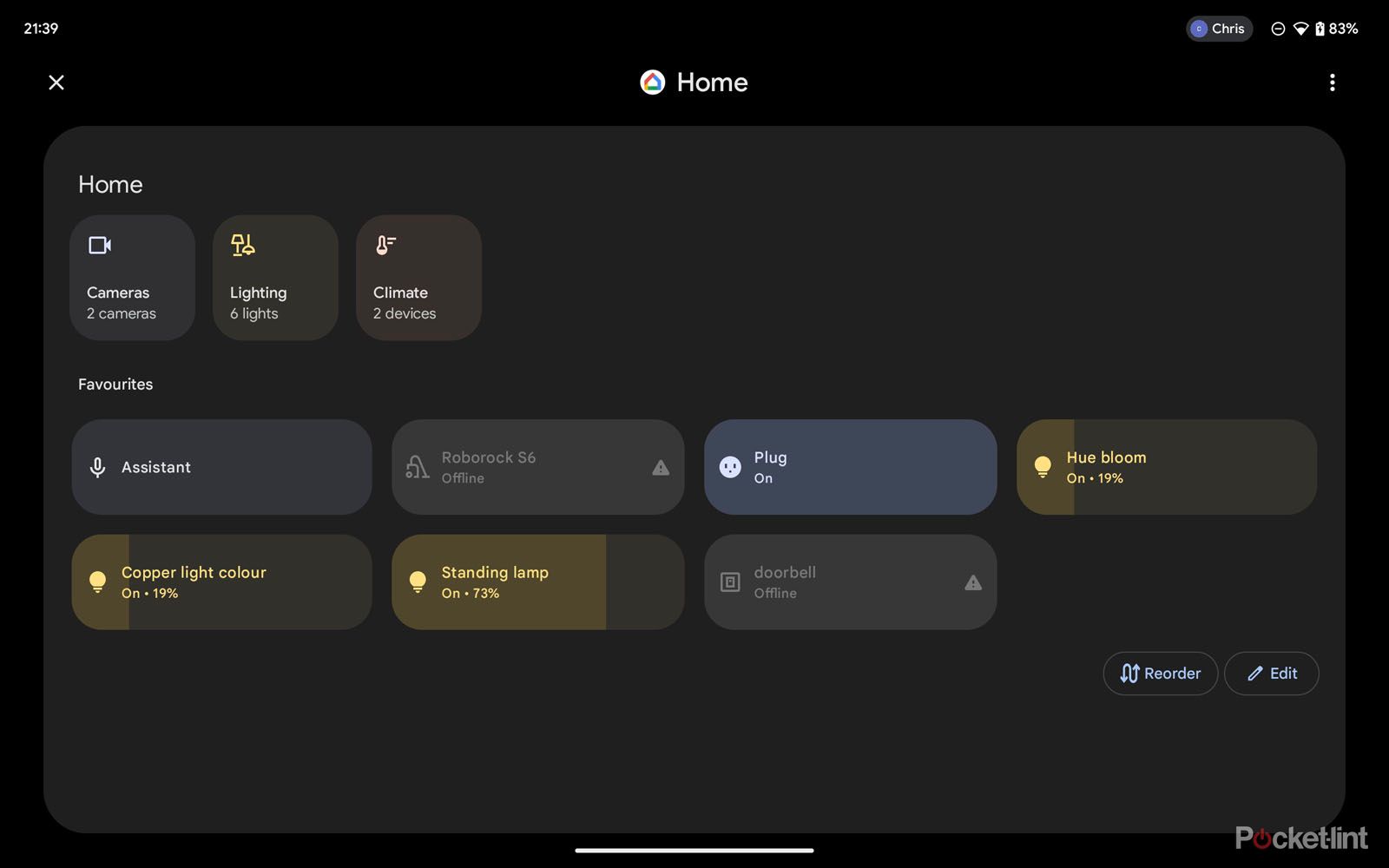 The other thing that Hub Mode claims to allow access to is Google Assistant. Well, there's actually no difference in the Google Assistant experience whether the Pixel Tablet is docked or not – because it can respond to your voice in both conditions and return visuals results.
What I was expecting from Hub Mode was something closer to the interface you get on the Nest Hub – nice big graphical widgets, things to tap and customise, like a smart display. Hub Mode instead is basically a screen saver and little more. As a core experience of the Pixel Tablet, that feels a little disappointing.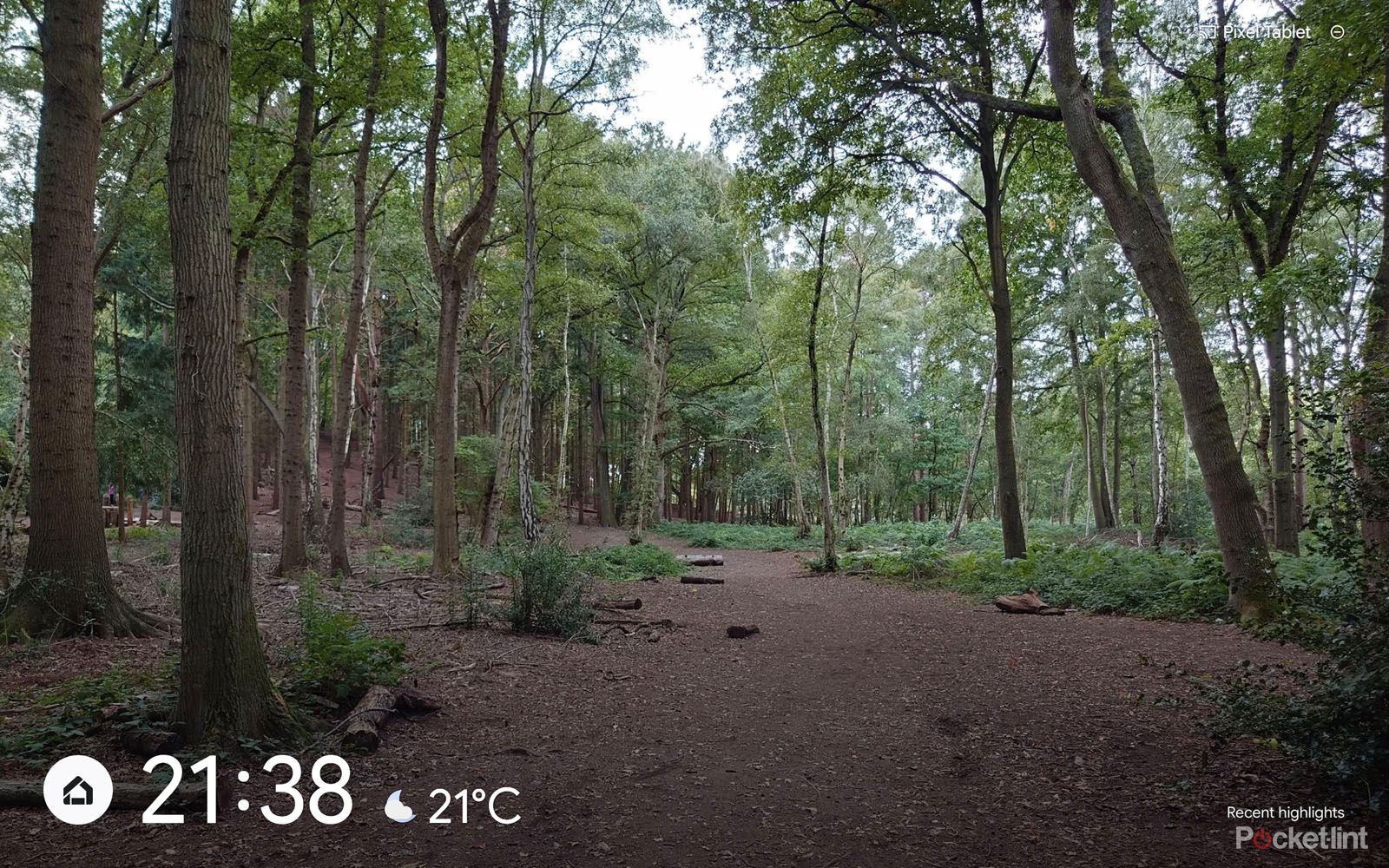 Cameras
Rear: 8MP, 1/4in sensor, 1.12µm, f/2.0, FF
Front: 8MP, 1/4in sensor, 1.12µm, f/2.0, FF
There's a pair of cameras on the Pixel Tablet, but don't get too excited – we're not talking smartphone-grade cameras here. Instead, there are two matching 8-megapixel cameras. It's unusual to find devices with the exact same camera setup front and back, but Google is perhaps being realistic about what tablet cameras are used for. Hint: this isn't a tablet you should be taking to a school assembly or the zoo to take photos. Yes, I find it irritating when I see people waving around an iPad in public taking photos – and let's not sully the Pixel Tablet's name by doing the same thing.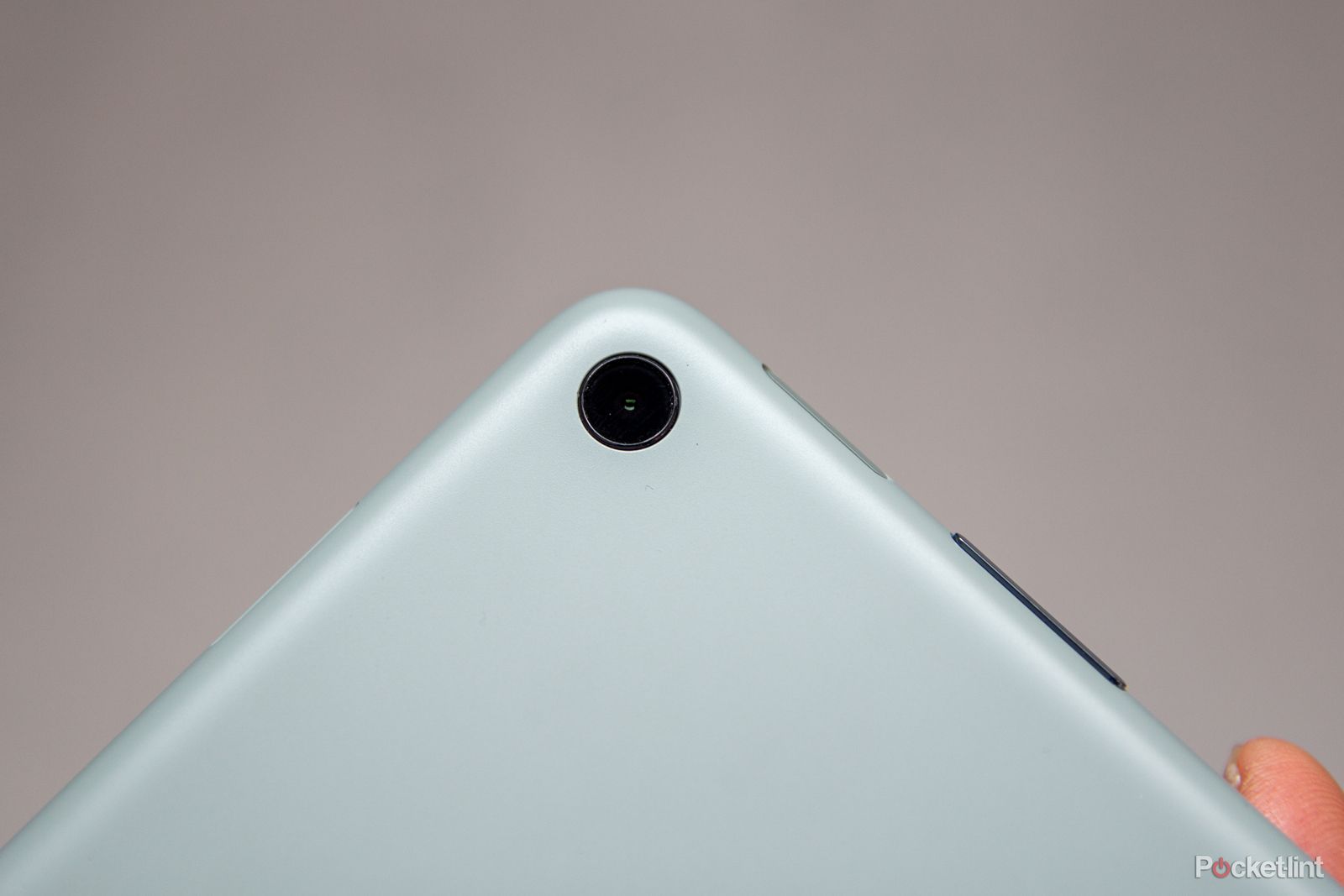 These cameras are really about video calling for the front camera and ad hoc snapping for the rear – the fact that both are fixed focus is a testament to that. Both are boosted because it's a Pixel Camera experience, with things like Night Sight. You can also dive into Google Photos and edit and refine these images, but this isn't designed to compete with the Pixel Pro – it comes nowhere near in terms of performance.
The front camera is pretty well-appointed for video calling. It's only 1080p (although that's fine) with a respectably wide-angle view so you'll get in the picture for your Google Meet calls. In the test calls I made, I found the quality to be good. That's about as far as I'd go with it: if you want to take selfies, stick to your phone.
Verdict
The appeal of the Pixel Tablet is that it's a Pixel device, therefore the bloat-free software and promise of updates means that it will offer a good experience compared to much of the rest of the Android tablet market. And we know that Google has a refreshed interest in larger screens, so it's likely to get better.
But at the same time the Pixel Tablet stumbles in a number of areas. It's the same price as an iPad, but the software experience and build quality isn't as good. It's sold with a bundled dock with the idea of docking it, but the docked experience is a little boring and I wouldn't say that's a reason to buy this device – get a Nest Hub or Echo Show instead.
That makes the Pixel Tablet a bit of a mixed bag. We've waited a year for it to arrive, perhaps while Google was trying to decide what it wanted to achieve with it. I'm just not sure if it has decided yet.
Trending Products

.