We love the convenience of a good Bluetooth speaker as much as the next music fan, but when you want to get serious about sound quality, the very best tower speakers are where it's at – sometimes also known as floorstanding speakers,
These larger units will take up a bit more space, but that's exactly the point – bigger speakers mean bigger sound, which is great if you have a listening space that can take it.
That said, you can still buy more compact tower speakers that work for smaller spaces too – so you don't have to live in a huge house for the best tower speakers to make sense.
They can be incredibly versatile too, so whether you're looking for the best tower speakers for your home theatre system, or you're all about hi-fi, our picks based on our research should offer up some solid choices at a variety of price points.
The best tower speakers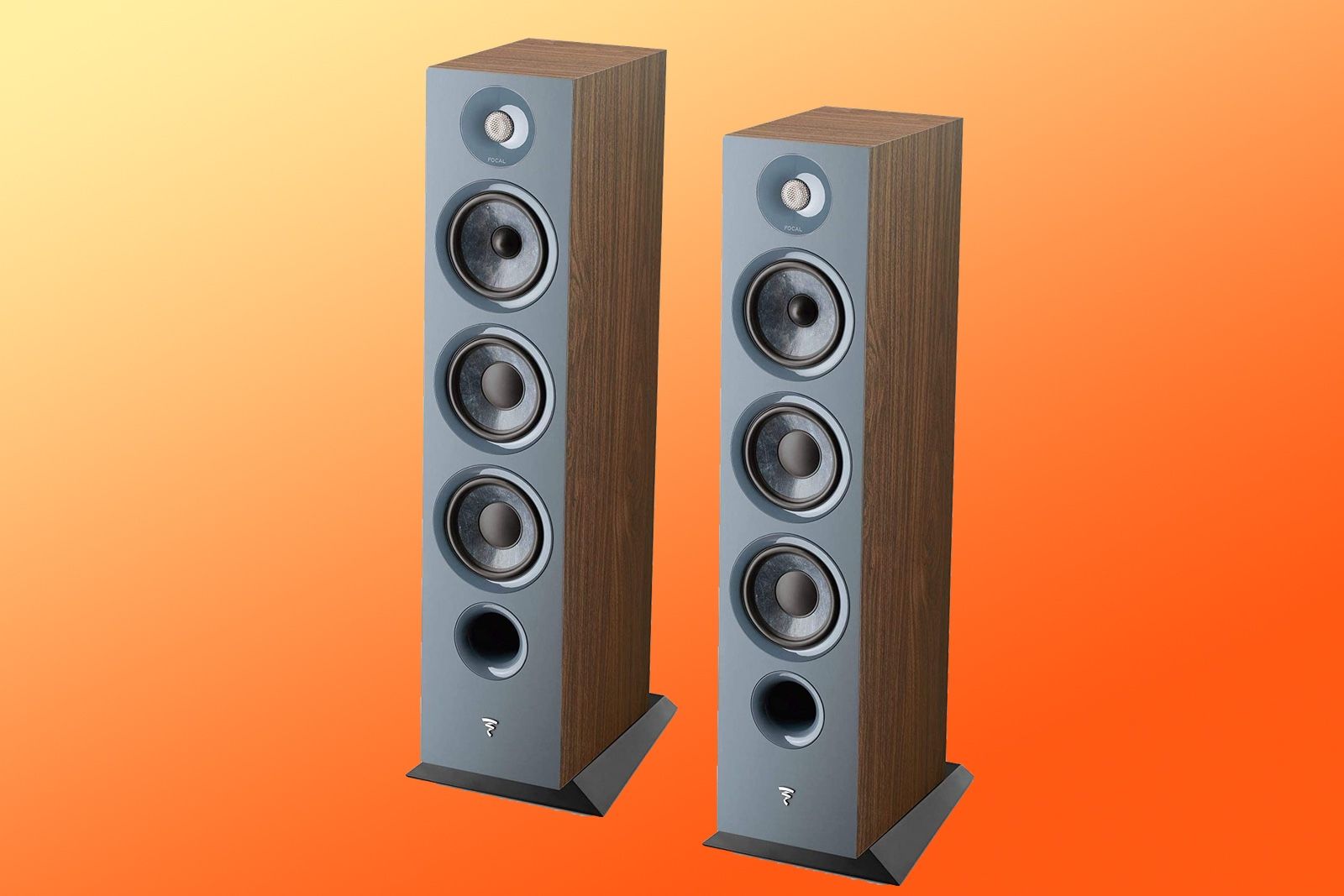 Focal/Pocket-lint
Focal Chora 826
1. Best tower speakers overall
Stunning sound
These stunning speakers look great, but most importantly sound even better.
French hi-fi manufacturer Focal is no stranger to attractive speaker design, and the Focal Chora combine a beautiful finish with high-end sound.
The Chora 826 sits at the top of the Chora range – a four driver, three-way speaker with a bass reflex design.
One of its drivers uses a new material developed by Focal called slatefiber – a mix of non-woven carbon fibres and thermoplastic polymer to ensure better damping, rigidity and lightness. This is supported by two woofers and a 25mm aluminium/magnesium inverted dome tweeter for a less directional tweeter and wider soundstage. The result is a detailed, hugely involving sound for less money than you might expect.
They sit ever so tilted on their floor stand, for optimal time alignment and an increased soundstage, and come in a choice of three colours – black, light wood and dark wood.
There's even a variant that includes a Dolby Atmos up-firing module too (the Chora 826-D), so you can opt for this if you want to double these up as home cinema speakers.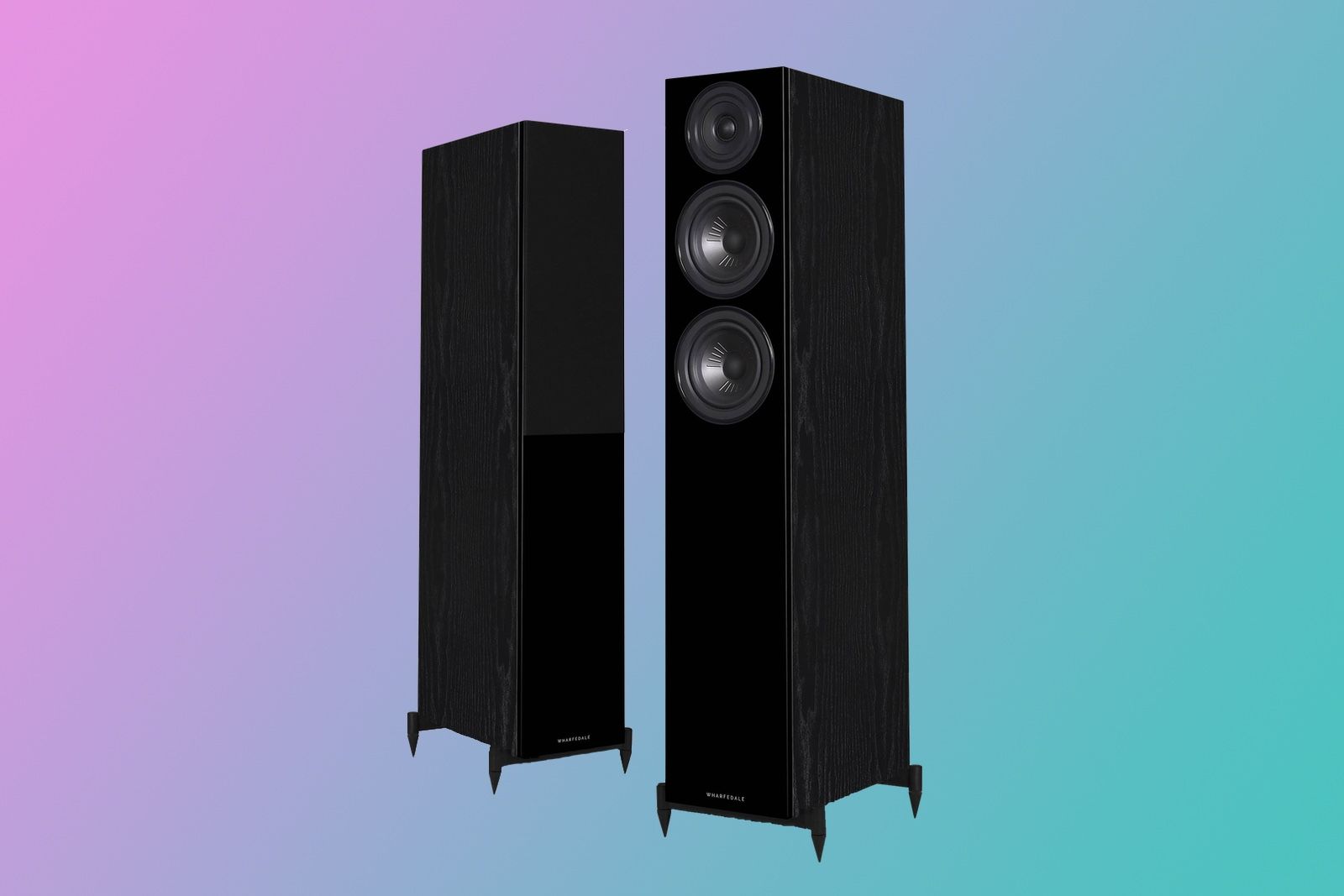 Wharfedale/Pocket-lint
Wharfedale Diamond 12.3
2. Best tower speakers runner up
Incredible value
These affordable tower speakers offer incredibly refined sound at a great price. They can also be built into a bigger system by adding in the wider Wharfedale 12 range.
Wharfedale's Diamond range has long been a go-to for great affordable standmounts, but the addition of the Diamond 12.3 shows Wharfedale can bring great value to tower speakers too
They aren't the biggest speakers you'll find, standing shorter and also slimmer than a lot of their competition, but that makes them incredibly flexible to fit into a variety of spaces – and they're built solidly too. No grumbles here.
Even better, of course, is that their slightly smaller size doesn't affect how they sound. Wharfedale has nailed the balance here, and serves up more detail – particularly throughout the midrange – than you might expect at this level.
Wharfedale has recently expanded this range too, so not only can you add in other speakers from the Diamond range to make a surround sound system, you can now also add upward-firing modules on top of the 12.3 for Dolby Atmos sound.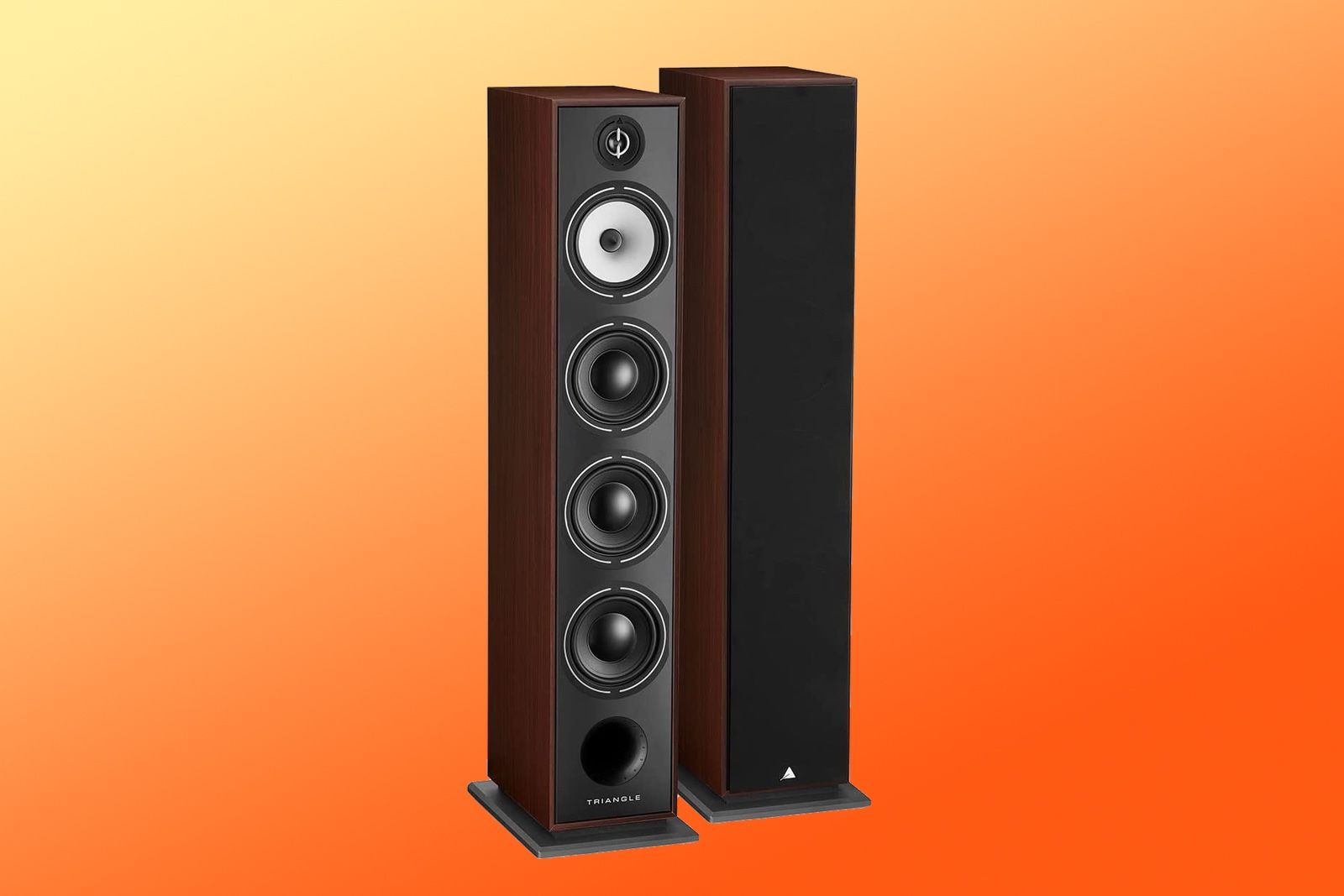 Triangle/Pocket-lint
Triangle Borea BR09
3. Best tower speakers for versatility
Great all rounder
Hugely versatile speakers that will do a great job with both music and movies.
These floorstanders from Triangle are wonderfully versatile, and can work magic with movies just as well as music.
Best suited to medium to large-sized rooms over 30m square, they're a three-way design, with three 16cm bass drivers, a dedicated driver for the midrange and a 25mm silk dome tweeter.
This ensures a powerful low-end, detailed, insightful midrange and a smooth and refined treble – even at volume. They're also hugely efficient, so are easy enough to drive with even lower powered amps.
They're available in a choice of black, white, walnet or light oak, with magnetically attached grilles and contrasting baffles on the wooden finishes.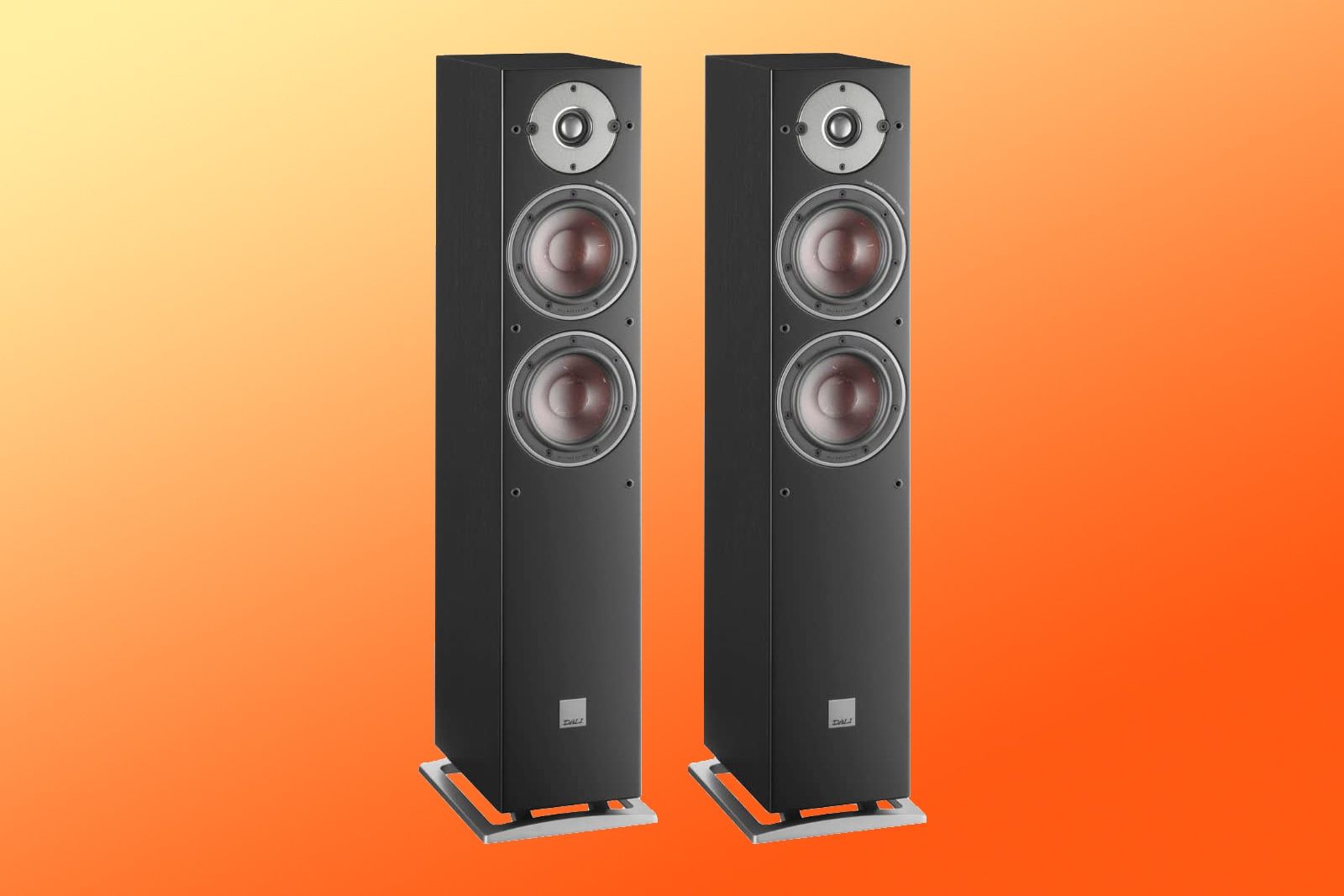 Dali/Pocket-lint
Dali Oberon 5
4. Best tower speaker for mid-range
Small but powerful, these floorstanders by Dali can bring bold, full-bodied sound to all but the biggest of rooms.
If you really value musicality, you will find it in spades in the Dali Oberon 5. They're smaller than some of their competition, like the Q Acoustics 3050i, but still manage to fill a large room with detailed and insightful sound.
Sitting at the heart of the Oberon 5 is a Soft Magnetic Compound (SMC) disc magnet system – an advanced feature to help drive up accuracy and keep down distortion.
They feature wood fibre woofers, based on Dali's reference grade speakers and an ultra-light tweeter, with an aim of getting sound as close to the artist's intent as possible. You don't need to toe these in or put them too far from a wall either.
They're available in a choice of Black Ash, Light Oak, Dark Walnut and White, so you can get a finish to work best with your room.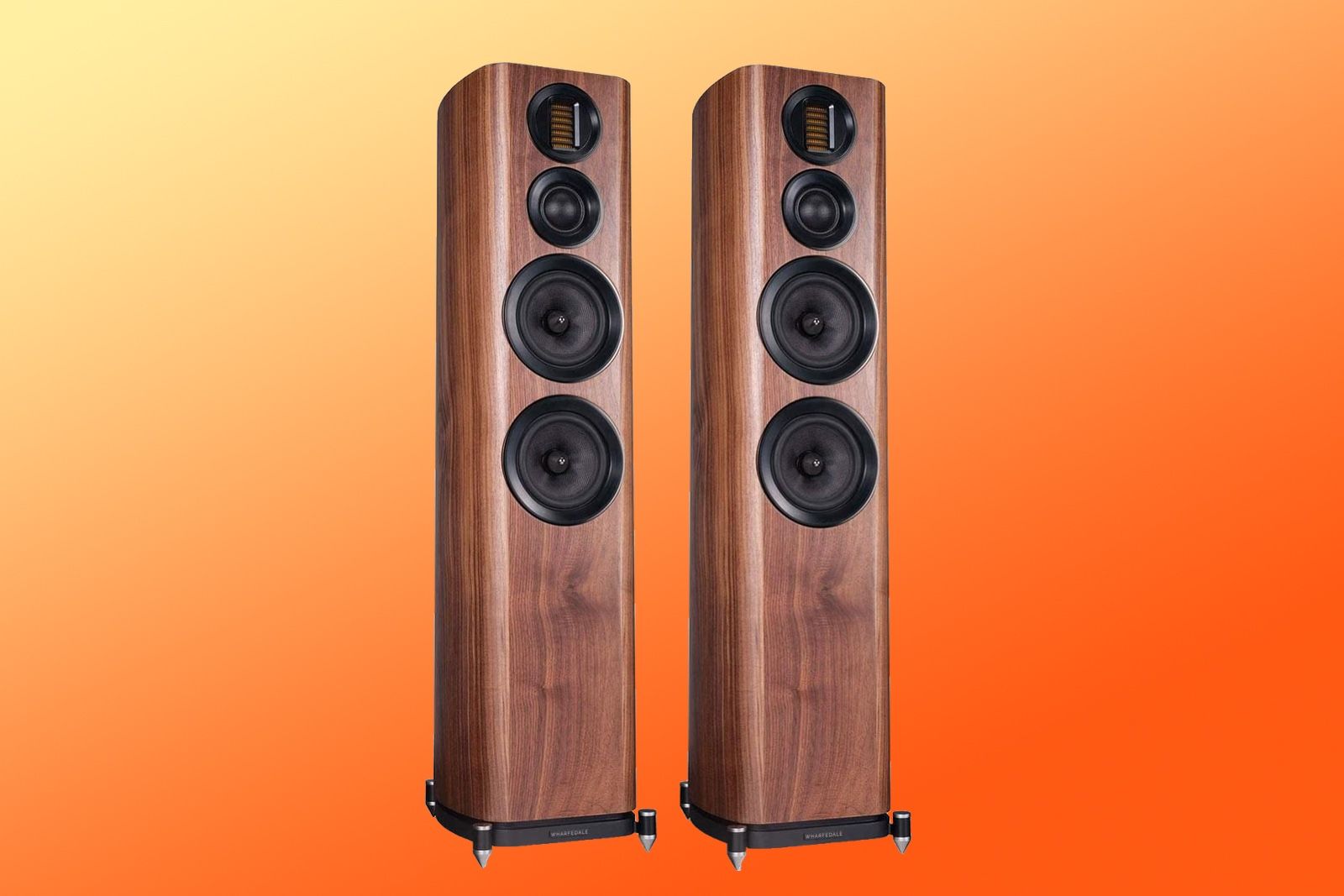 Wharfedale/Pocket-lint
Wharfedale Evo 4.4
5. Best tower speakers for features
Technically talented
These talented speakers are technically superior to most in their price bracket, and they sound great too.
The Wharfedale Evo 4.4 are the brand's second nod in this list – and for good reason. The Evo 4.4 take a lot of what the brand put into its reference Elysian range and brought it down a peg or two, so they are jam packed with a technical spec that far outweighs their price.
The Air Motion Transformer tweeter is one of the headline features of these speakers, which promotes a precise and consistent top end, and is technology you wouldn't usually expect to find at this price.
The same can be said for its soft dome midrange driver, which ensures a clean and accurate vocal reproduction, while the twin Kevlar bass cones and SLPP bass reflex system handle the powerful low end.
The result is a performance that suits a medium-to-large room the best, though the downwards-firing bass ports do make these a little easier to position as you can have them closer to a wall.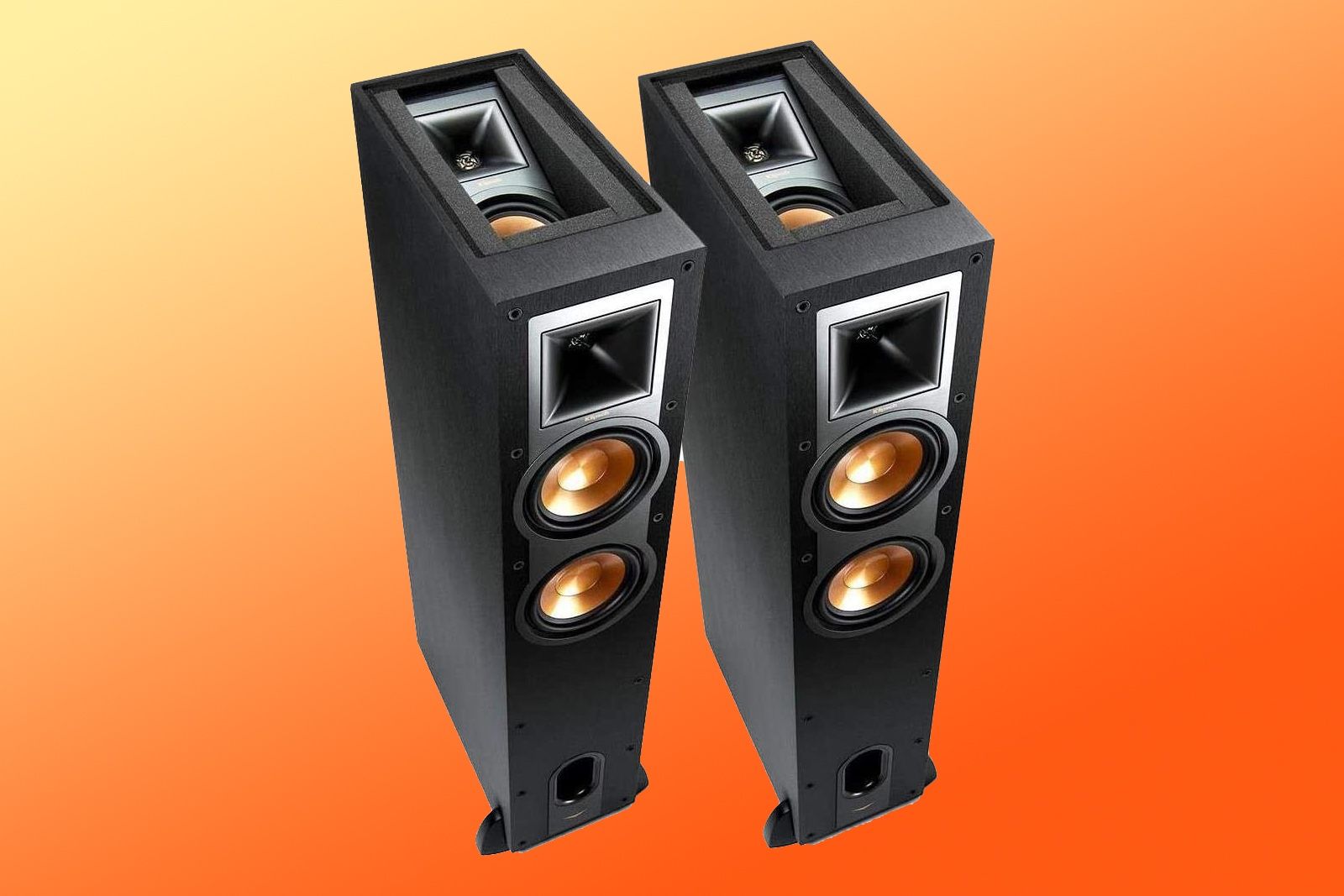 Klipsch/Pocket-lint
Klipsch R-26FA
6. Best tower speakers for Dolby Atmos sound
Big, bold sound
Hugely powerful speakers with built-in up-firing drivers for reproducing Dolby Atmos music and soundtracks.
The Klipsch R-26FA are big speakers with big sound. Measuring 16 inches deep, these are definitely not for you if you have a smaller listening space, but for those with bigger rooms and the supporting kit to make the most of it, the Klipsch R-26FA are an excellent option.
These can handle even the most powerful of amps, with a total power output of 400 watts per channel at 8 ohms, and excellent sensitivity of 97dB. They're a great option for home cinema setups too, as they include an up-firing Dolby Atmos module.
They were pricey at launch but now can be found for much cheaper and make them a great choice for those who can get the best from them.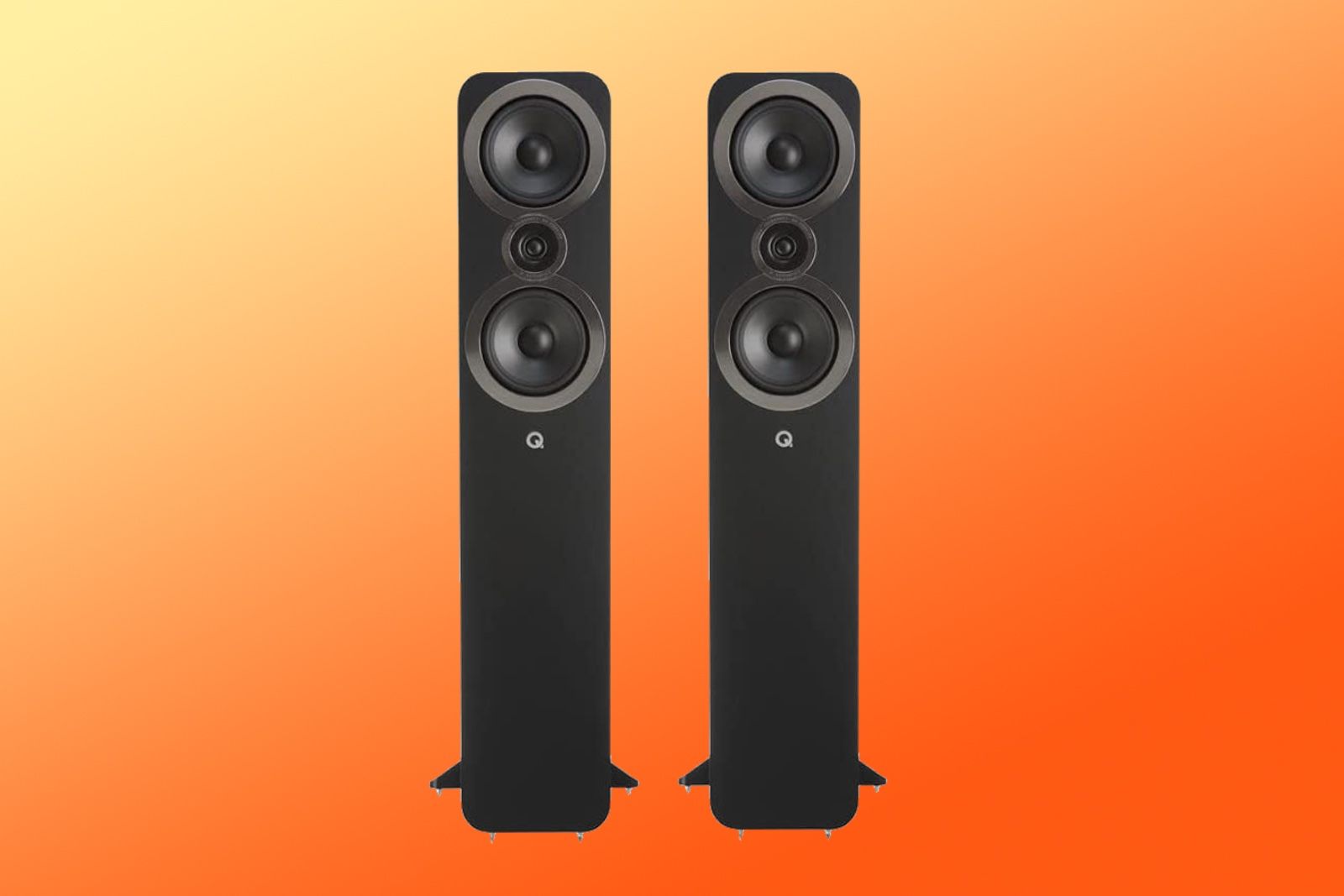 Q Acoustics/Pocket-lint
Q Acoustics 3050i
7. Best tower speakers for smaller spaces
Small but mighty
Fantastic speakers for smaller spaces, thanks to flexible placement and a small physical footprint.
If you have a slightly smaller room, the Q Acoustics 3050i are a great choice that never get old – despite the fact they were released in 2018.
That's not to say they don't have scale, they do. They're just pretty forgiving when it comes to placement and pairing, and have a relatively small footprint too.
They uses HPE (Helmholtz Pressure Equaliser) technology to help reduce distortion and resonance, while improved cabinet bracing backs this up, leaving the drive units to serve up their very best, cleanest sound.
The twin paper woofer cones are both light and rigid, and respond quickly for an accurate, deep and punchy bass response. The tweeter is decoupled to keep it protected from any bass resonance, ensuring a dynamic and subtle performance in the top-end too.
You can choose between Graphite Grey, Carbon Black, English Walnut or Arctic White.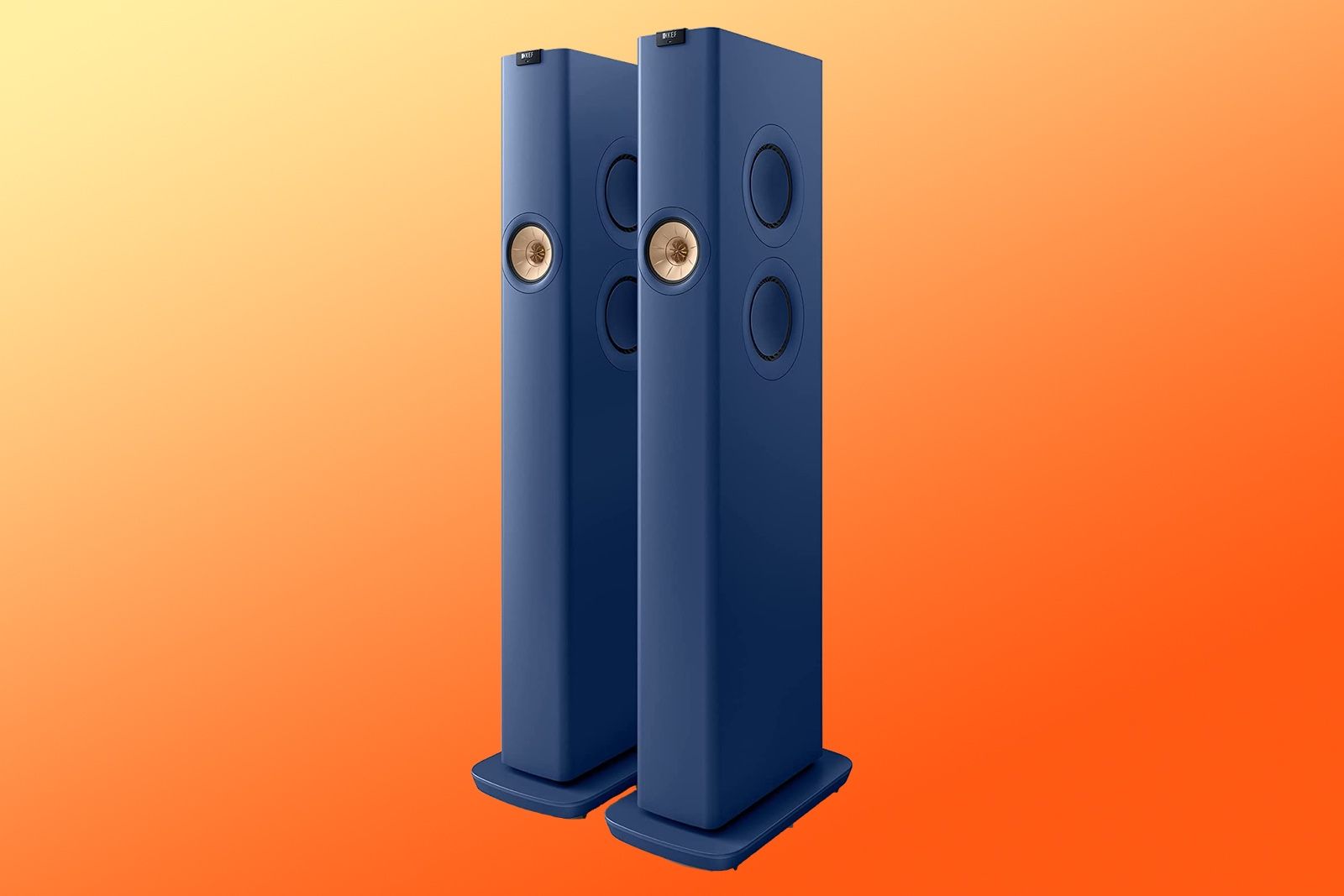 KEF/Pocket-lint
KEF LS60 Wireless
8. Best tower speakers for big budgets
Wireless wonders
These do-it-all speakers offer a unique, head-turning design and completely wireless playback. All you need to do is add a source.
If you have budget to spend and value convenience above all else, the KEF LS60 Wireless are a stunning choice – built to celebrate the company's 60th anniversary.
For a start, they look pretty unique with their narrow cabinet that measures just 13cm across. That has required the special engineering of KEF's signature Uni-Q driver, with a 10cm aluminium cone handling the midrange and a 19mm vented dome tweeter in charge of the top end.
For bass in this three-way speaker, the KEF LS60 Wireless borrow some similar tech from the ridiculously pricey Blade speakers, with two pairs of 14cm Uni-Core drivers per speaker that sit on the side, positioned in a way that means the whole frequency range appears to be coming from a single place for more accurate imaging.
However, the beauty of the LS60 Wireless is that they are completely wireless (apart from power cables) and are a system in a box – you don't need an amplifier to get these up and running. You don't even need to connect the left and right speakers together if you don't want to.
Simply add a source and you're good to go, from AirPlay 2, Chromecast and UPnP to hardwiring via HDMI, optical, coaxial or RCA phone inputs. The price is high but convenient hi-fi is real and we are here for it.
How did we choose the best tower speakers?
To ensure we picked out the best tower speakers for your consideration, we took time to read hundreds of user reviews to get a sense of the strengths and weaknesses of these speakers, combined with our knowledge of the brands and their strengths – not to mention their reliability.
We also considered their specs, including frequency range and power, plus the materials they are made out of and of course the price.
It's worth noting that the speakers in this list may be several years old, but that doesn't mean they aren't still the best tower speakers you can buy – the hi-fi product cycle is much longer than something like smartphones or TVs, so if you invest well here, you can expect these speakers to last you many years indeed.
FAQ
Q: What other equipment do I need to use with tower speakers?
Unless you've got big bucks to pick up the last recommendation on our list, the majority of tower speakers are passive, which means they need an external amplifier in order to make them capable of playing back music, as well as a source – something like a streamer, turntable or CD player. System matching is a real thing in hi-fi so do be sure to do your research to ensure the character of your kit complements one another.
Q: How much should I spend on floorstanding speakers?
If you're starting your system from scratch, consider your budget as a whole. Spend half of it on the speakers alone, and the other half can be used for an amplifer and source. Ultimately you can spend anything from a few hundred to several thousands of dollars, so it's hugely dependent on your budget as to where you should start. Remember it's not always the case that you spend more and get better either – there are some speakers punching well above their pay grade.
Trending Products

.