When I first got word of the Govee Curtain Lights, I knew I had to get my hands on them. They're essentially a set of hanging string fairy lights with individually addressable RGB LEDs, but combined with Govee's app, they become a massive pixel art tapestry to brighten up your wall.
They're designed primarily to hang in front of a set of floor-length curtains, the kind you'd have in front of a set of French doors, but they're equally at home on any flat surface. And they're IP65 rated, too, so you can even hang them outdoors.
At a price of $129, these lights aren't exactly an impulse buy, so I wanted to find out if they're worth your hard-earned cash. The lights have been gracing my wall for a couple of weeks now, and here's what I've learned.
Govee Curtain Lights
Recommended
The Govee Curtain Lights are an excellent way to add a splash of colour and excitement to your living space. They're bright, vibrant and very easy to set up and install. If you have a suitable space to put them, it's an easy product to recommend.
Pros
Awesome animated effects
Multiple mounting options in the box
Big and bright
Endless customisation options
IP65 waterproofing
Cons
The app can be confusing at times
What's included?
Curtain lights, control box and power adapter
Curtain hooks, seamless nails and VHB pads
Screws, screwdriver and manuals
In the box, you will find the lights themselves, as well as a power adapter and a control box with a power button and microphone built in. The string lights are pretty sizable and quite easy to tangle, but they're delivered in such a way that keeps things neat and easy to manage until they're fixed in place.
Govee includes everything you need for three different installation methods, well almost, one method requires a hammer and you don't get one of those, for obvious reasons.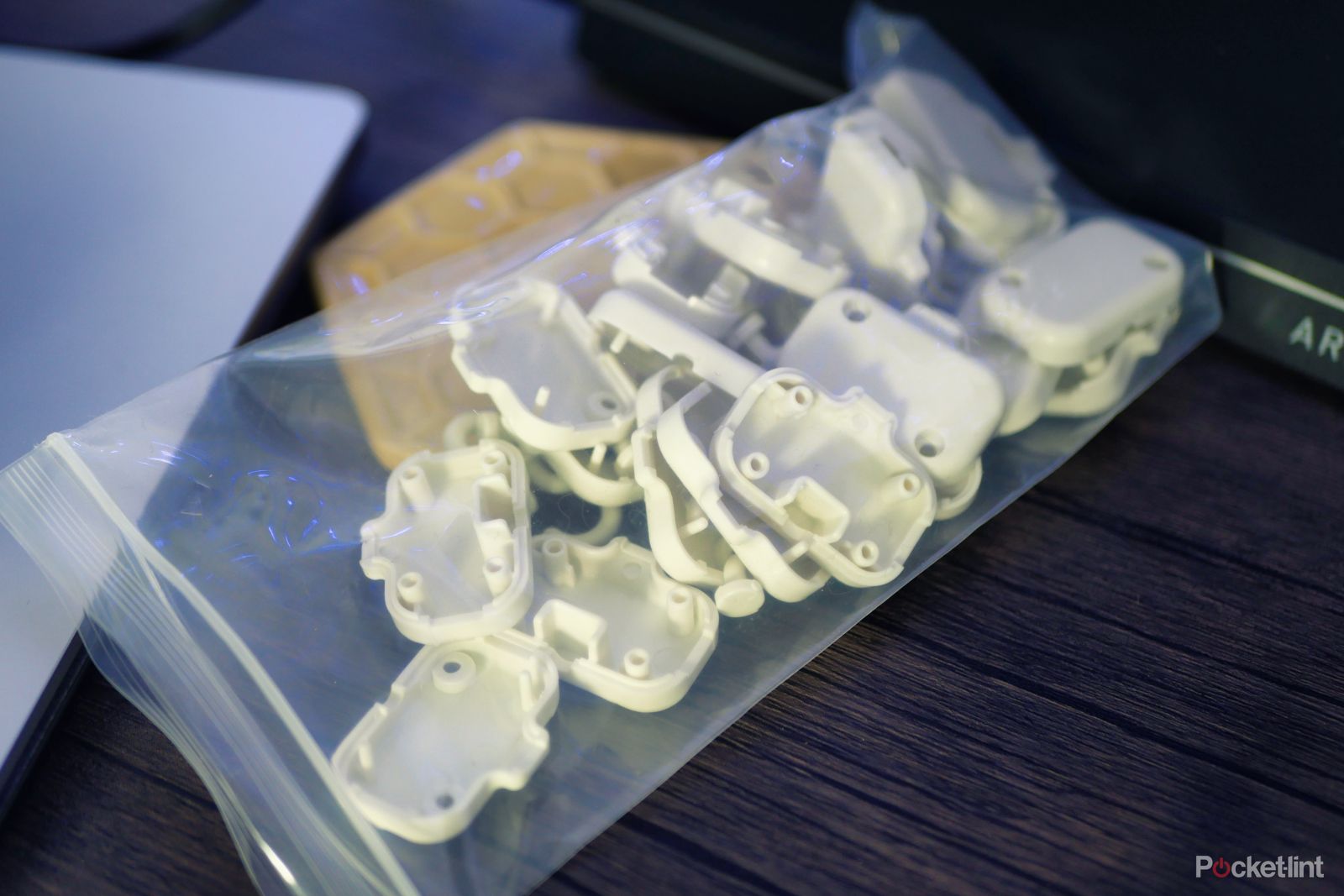 You can either attach "G4 hooks" and hang the lights on your existing curtains, stick them up with the included VHB strips, or hang them from hooks that nail into the wall. I chose the latter, mainly because I don't have any suitable curtains.
Setup and configuration
Three installation methods to choose from
1.5 x 2-metre space required
As I mentioned, I used what Govee calls "seamless nails" to install the Curtain Lights. Essentially, they're a set of four white plastic hooks, and each has four short nails pre-installed. To hang the lights you simply line up the hooks, bang them in with a hammer, and you're off to the races.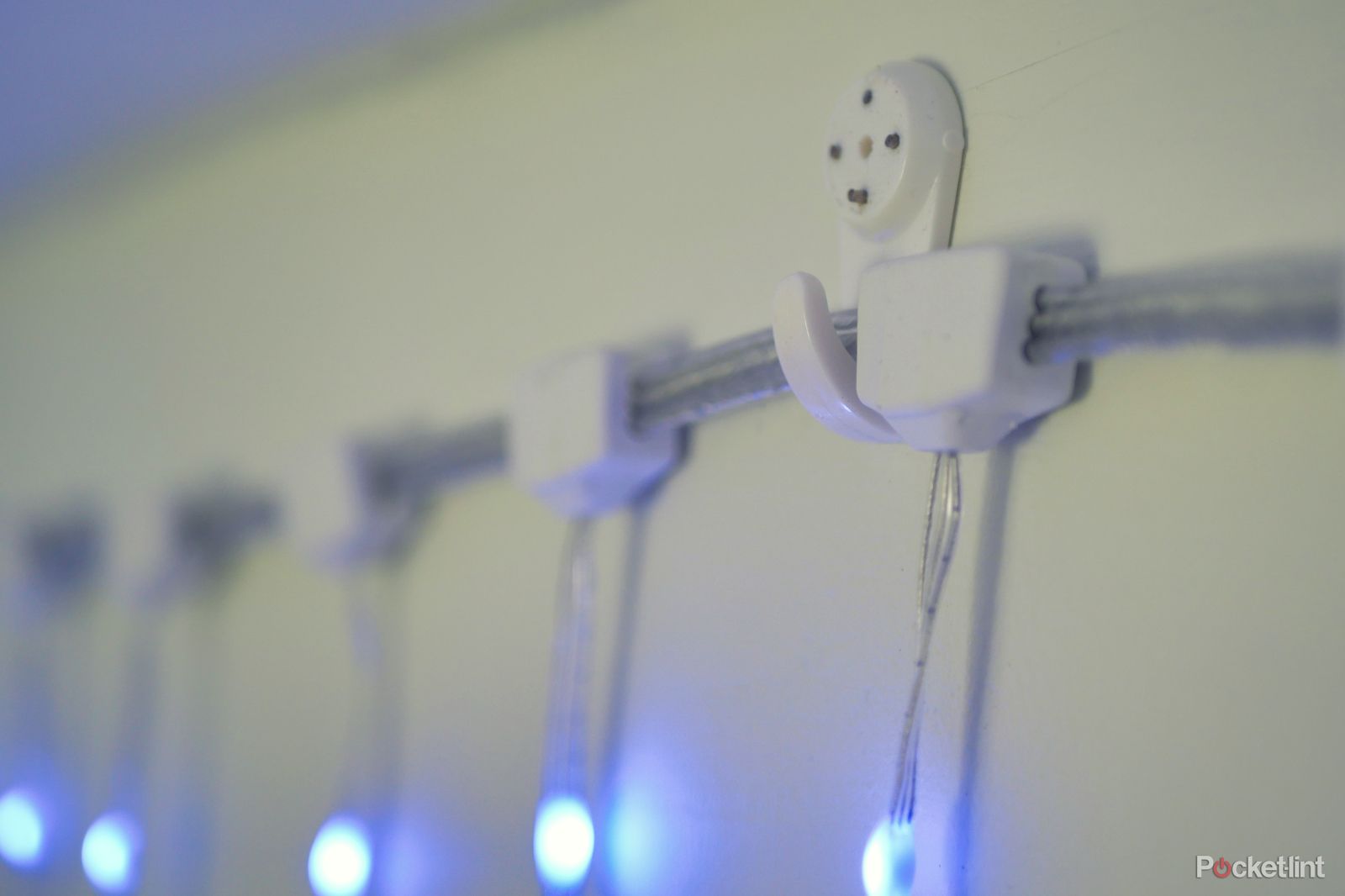 I can't comment on the other methods, as I didn't try them myself, but it looks equally easy from what I can tell. I also know from testing previous Govee products that the included VHB pads tend to be very strong and reliable, so I can only imagine that's the case here, too.
Setting up the lights using the app is as easy as can be. If you've used any other Govee product, you'll know exactly what to expect. You simply hit the plus button at the top right of the app, and the product is usually found automatically, if not, it's simply a case of typing in the product name and choosing it from the list.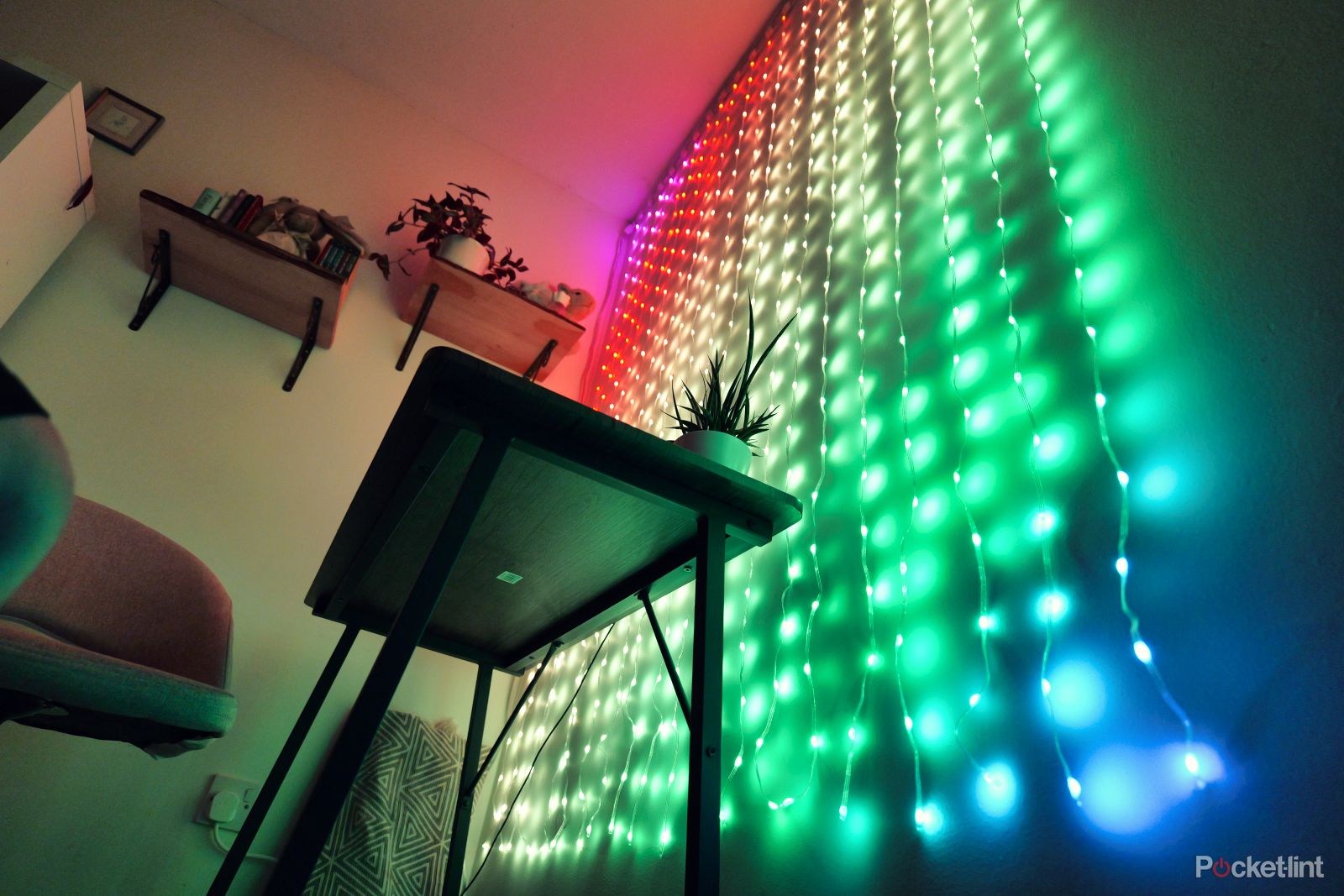 You can hang the lights with the power cord trailing on either the right or the left-hand side. At first, I thought I had made a mistake, as animations that display text were showing backwards, but there's a toggle in the app labelled "Switch Installation Direction" and tapping that put things right.
App and smart features
Govee Home app for Android and iOS
Works with Google Home and Alexa
There aren't too many surprises with the Govee app, it's the same app used by all of Govee's other products and the experience is largely the same.
It's easy enough to use, but it's not the most intuitive, sometimes features are hidden in slightly odd places and it takes a bit of tapping around to find the things that you're looking for.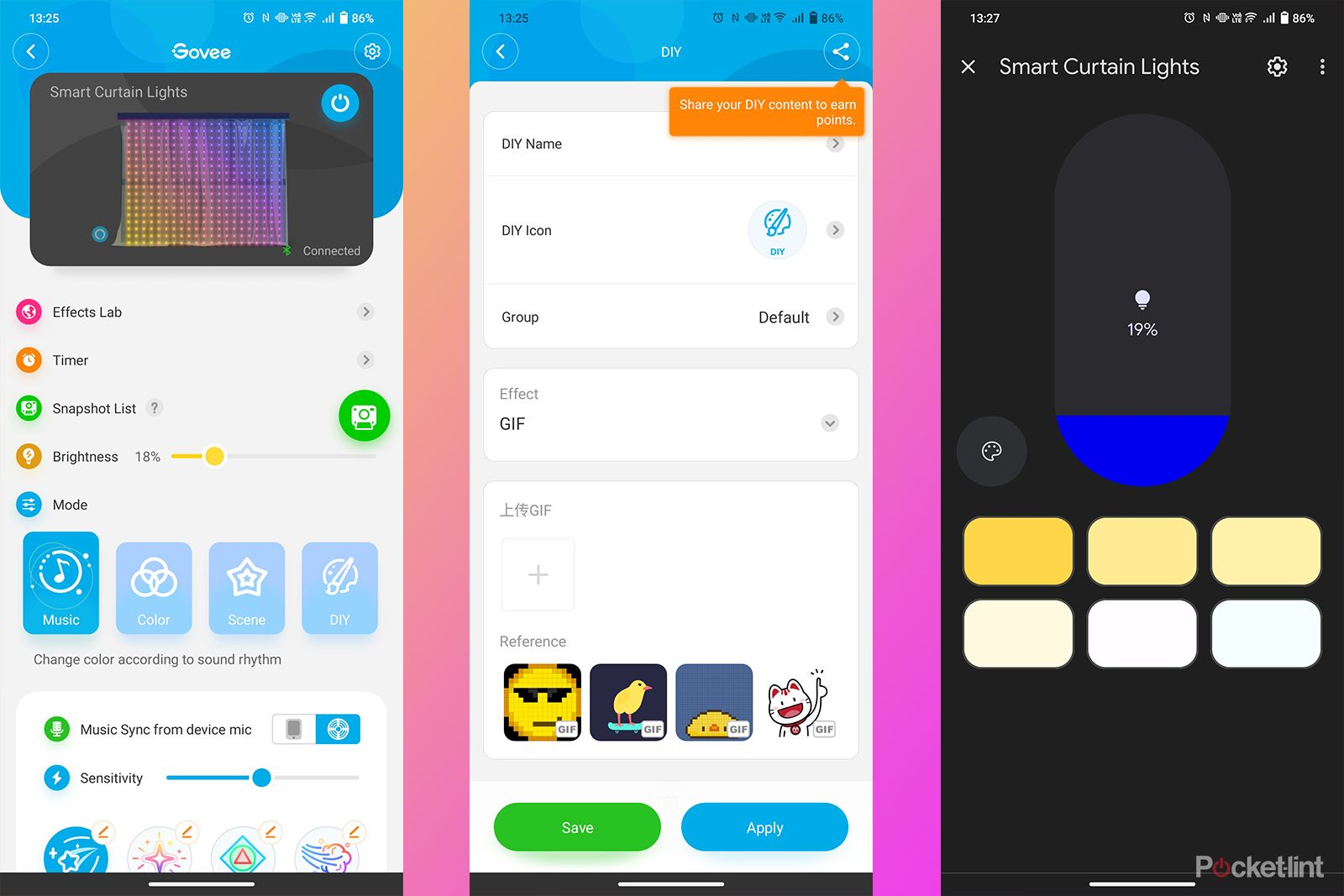 The smart home integration is the same as with Govee's other products, too. I'm a Google Home user, and Govee was already linked to my Google Home account, so adding the Curtain Lights only took a few taps. It's been a while since I did the initial setup, but it was completely hassle-free, so there's nothing to worry about if you're trying Govee for the first time.
Once connected, you can add the Curtain Lights to your automations, and control them via your Google Home app or using your voice with Google Assistant. From the Google Home app, you can choose a basic set of pre-determined colours as well as control the brightness and toggle them on or off. You can't select any of the fancy animated scenes, you'll need to use the Govee app for that, but if you use Google Home to automate an on/off cycle, it will continue to use the last animation that you had it set to.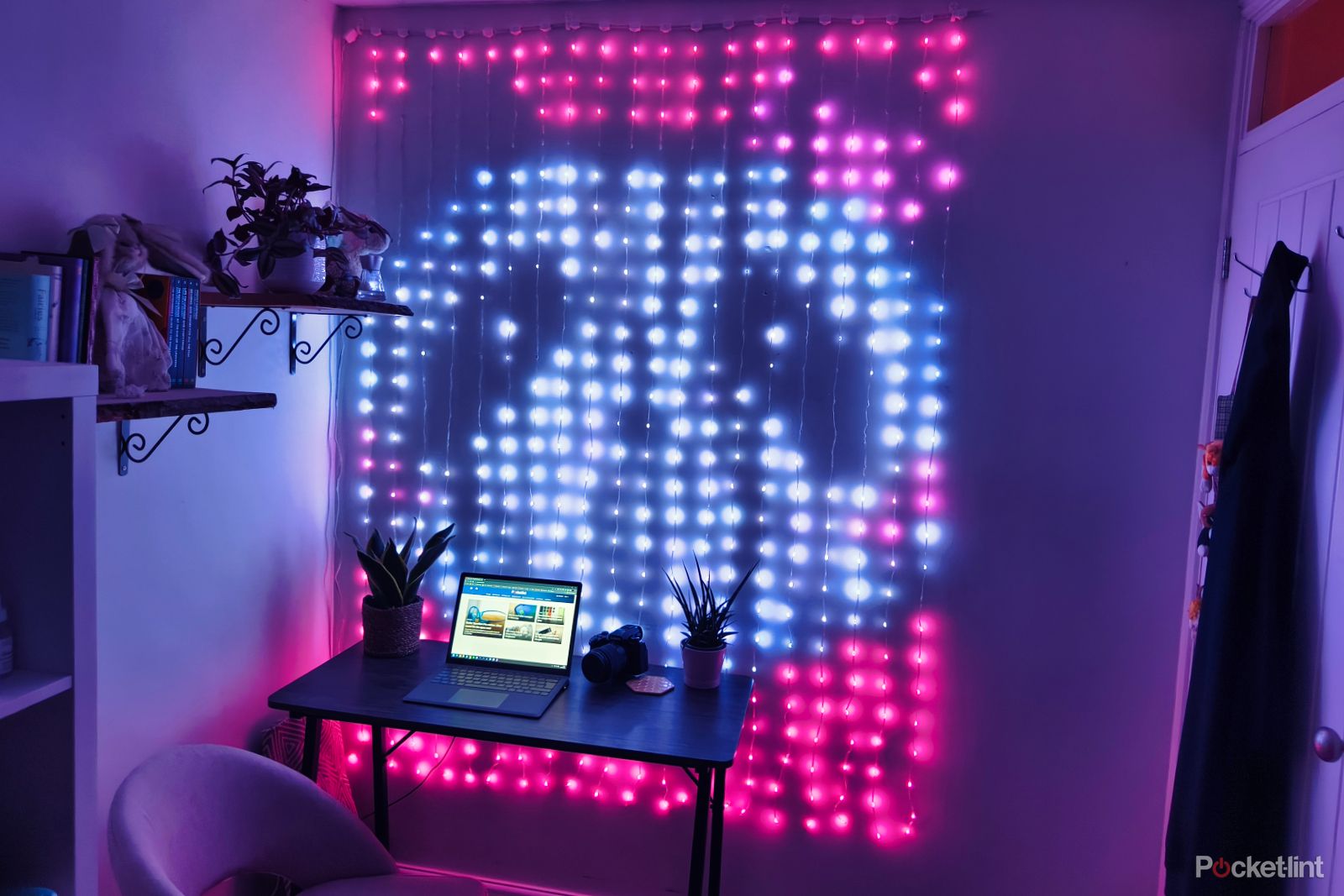 I don't personally use Alexa for my smart home stuff, so I didn't try it out with this product, but from what I understand, the process and functionality are broadly similar.
Performance and effects
Music modes, preset scenes, DIY mode
Upload GIF animations and browse user-created scenes
The lights can get exceptionally bright, to the point where you could have them on in the middle of the day if you really wanted to. There's excellent uniformity to the colour rendition across the array and the LEDs can kick out some seriously vibrant hues.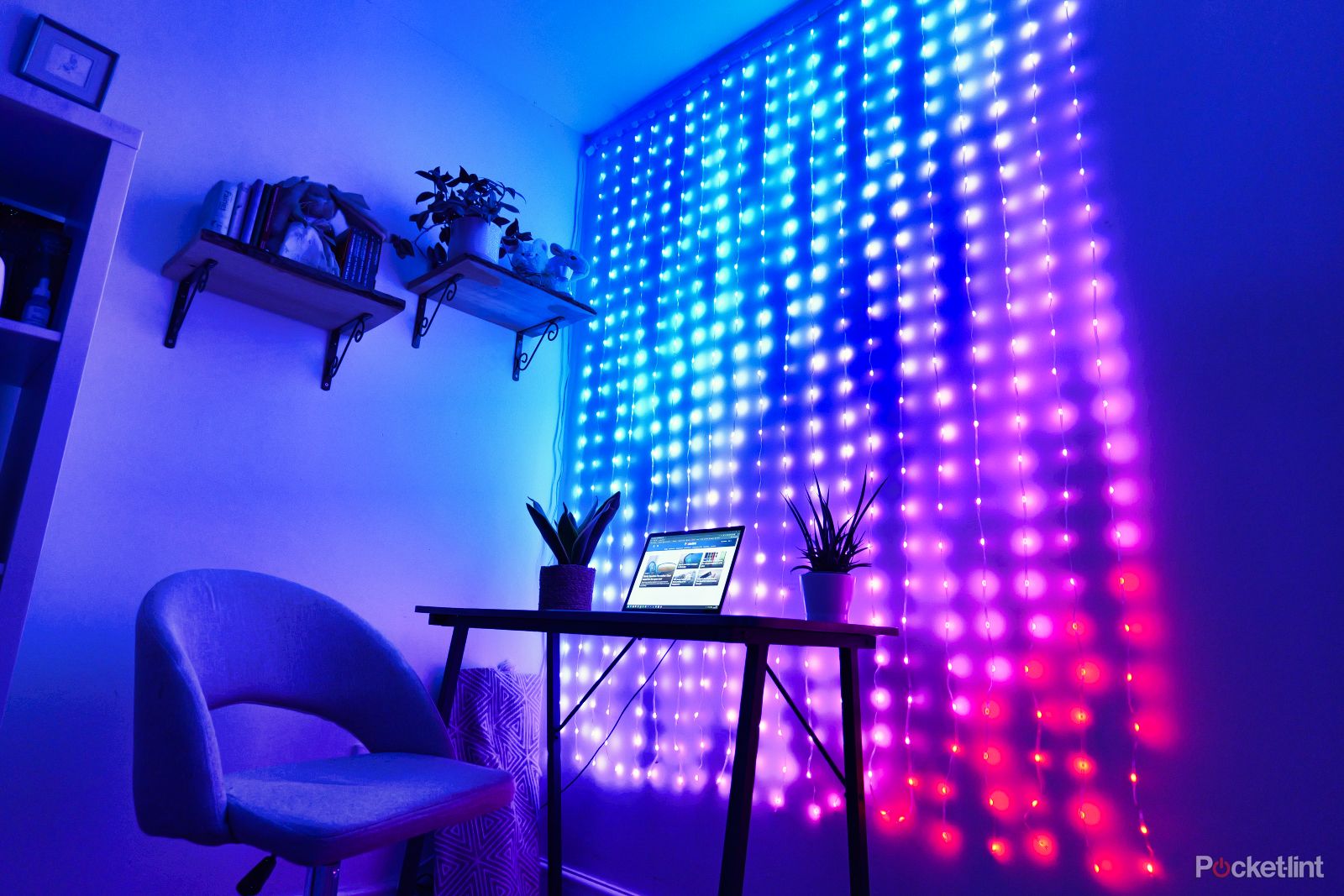 To the naked eye, there's no flickering whatsoever, and the same is true on camera. This is great if you want these lights to brighten up your live streaming or YouTube set-up. I even shot some 120fps slow motion on the Lumix S5II with these lights in the background, and there was still no noticeable flicker – impressive stuff.
There are a huge range of effects and scenes to choose from in the app, ranging from abstract patterns to pixel art and everything in between. Of course, some of these are more effective than others, and your viewing distance also matters quite a bit. There are only 520 "pixels" to work with, so simple images are much more recognisable than complex ones. That said, it is possible to connect multiple sets of curtain lights, so you could get more complex if you have the space and the patience.
The app allows you to upload animated GIFs to be displayed on the Curtain Lights, which as far as we're aware, is a feature that's unique to Govee. This makes it far easier to get your custom artwork displayed, compared to using the app's built-in tools, as you can just use software that you're familiar with and transfer it over. It's a great feature.
My personal favourite is the music reactive mode, especially with the Meteor Shower and Dream Color presets. It uses the microphone that's built into the control box and reacts swiftly to the beat, creating hypnotizing colourful patterns in sync with the music. The only pitfall is that it reacts to voices in the same way, so I can imagine the effect getting somewhat muddied during a loud party. You can tailor the sensitivity with a slider in the app, but the ability to react solely to your phone's sound output would be even better – maybe we'll see that in the future.
Verdict
If you like the idea of animated RGB LED curtain lights, then there aren't too many products to choose from. I haven't come across any that are as easy to use and well-constructed as Govee's, at least, and that makes them very easy to recommend.
The ability to upload GIFs, as well as create animations with the app's comprehensive suite of tools, means that the options are endless. Plus, easy access to community-created animations means that you can enjoy countless scenes without needing to do the legwork.
We think the price is fair for what you get, but a lower asking price would make such a purchase easier to justify. That said, Govee is known for its great discounts, so keep an eye out around Prime Day and Black Friday if the cost is holding you back. Even at the time of writing, there was a $30 off the asking price on Amazon, so do keep an eye out.
I've loved playing with the Govee Curtain Lights, and I reckon anyone that enjoys colourful lighting will feel the same way. If you've got floor-length curtains or a blank wall that could use jazzing up, this is an excellent option… and a lot of fun too.
Trending Products

.