Bursting with fresh flavors and vibrant colors, chicken pasta salad is the perfect balance of hearty chicken, al dente pasta, and tangy Italian dressing. A hint of heat from the pepperoncini peppers elevates the dish, making it a stand-out at any gathering.
Our chicken pasta salad is a symphony of textures and tastes that come together in one harmonious blend. Each component, from the tender chicken to the al dente pasta and the flavorful blend of Italian seasonings, plays its part in this culinary celebration. A vibrant mix of cherry tomatoes and pepperoncini peppers adds pops of color, making the dish as visually enticing as it is delicious. Its versatility is another feather in its cap, seamlessly fitting into everything from a relaxed picnic to an upscale dinner party. Truly, our chicken pasta salad is a delight to behold and to savor.
A Cultural Culinary Masterpiece
Our chicken pasta salad carries forward the legacy of Italian cuisine, lauded for its focus on fresh, quality ingredients. The tradition of pasta salad, a staple at many American picnics and potlucks, has Italian roots. Pasta fredda, or cold pasta, finds its place on many an Italian table during the warm summer months. Our recipe, featuring a medley of Italian ingredients like rotini pasta, mini mozzarella balls, and a homemade Italian dressing, pays homage to this cultural tradition while adding our own twist with the inclusion of chicken.
Frequently Asked Questions
How can I add extra flavor to the chicken?
Try seasoning the chicken with 1 teaspoon each of salt, pepper, and garlic, and cook it in a skillet with a tablespoon of oil for about 6-7 minutes per side (or until it reaches an internal temperature of 165 degrees F). Let it cool completely before adding it to the salad.
Can I add other vegetables to this pasta salad?
Absolutely! Feel free to add any veggies you like. Bell peppers, cucumber, or roasted veggies could all be great additions.
What can I do if my salad seems dry?
You can make a little extra dressing and add it to the salad if needed. Just remember to add it gradually to avoid making it too soggy.
Substitutions
For those with dietary restrictions, fear not, our chicken pasta salad can be easily modified to suit your needs.
For a vegetarian version, replace chicken with a plant-based meal alternative, grilled tofu, or chickpeas.
For a dairy-free option, omit the mozzarella or use a dairy-free alternative.
To reduce sodium, cut down on the olives and use a low-sodium Italian dressing.
For a gluten-free version, gluten-free pasta can be used in place of regular pasta.
Serving Suggestions
Chicken pasta salad pairs wonderfully with a warm baguette or garlic bread for a complete meal. It's an ideal side for grilled meats, and it holds its own as a main dish too. Whether you're serving it for a leisurely weekend lunch or a festive occasion, it's sure to be a hit.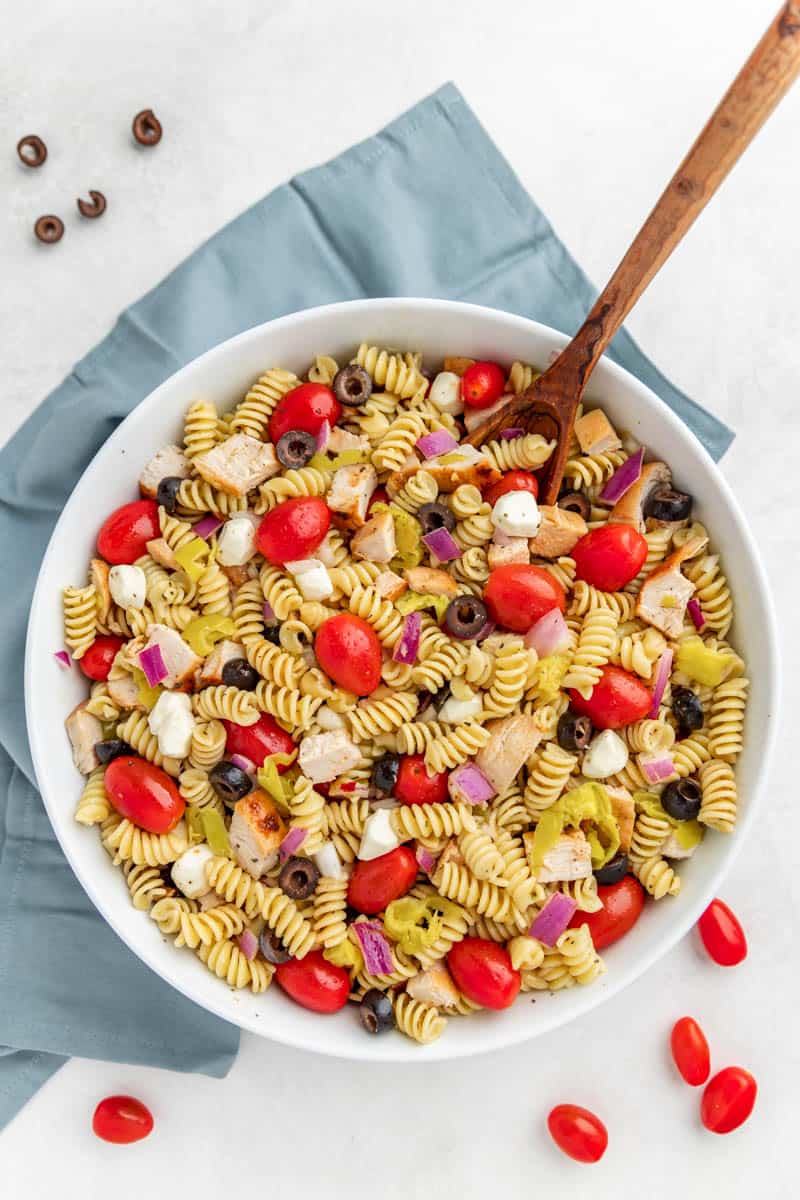 Freezer Instructions
Unfortunately, our chicken pasta salad doesn't fare well in the freezer. The fresh ingredients like cherry tomatoes, mozzarella cheese balls, and the homemade dressing may become texturally compromised once frozen and thawed. For best quality, it's recommended to enjoy this dish fresh or refrigerated.
Storage Instructions
If you have leftovers, store the salad in an airtight container in the refrigerator. You might find that the flavors meld together even better the next day, creating a deeper, more complex taste profile. When you're ready to enjoy it again, no reheating is needed – simply give it a good stir, and serve chilled.
If you like this recipe, you may be interested in these other delicious pasta salad recipes: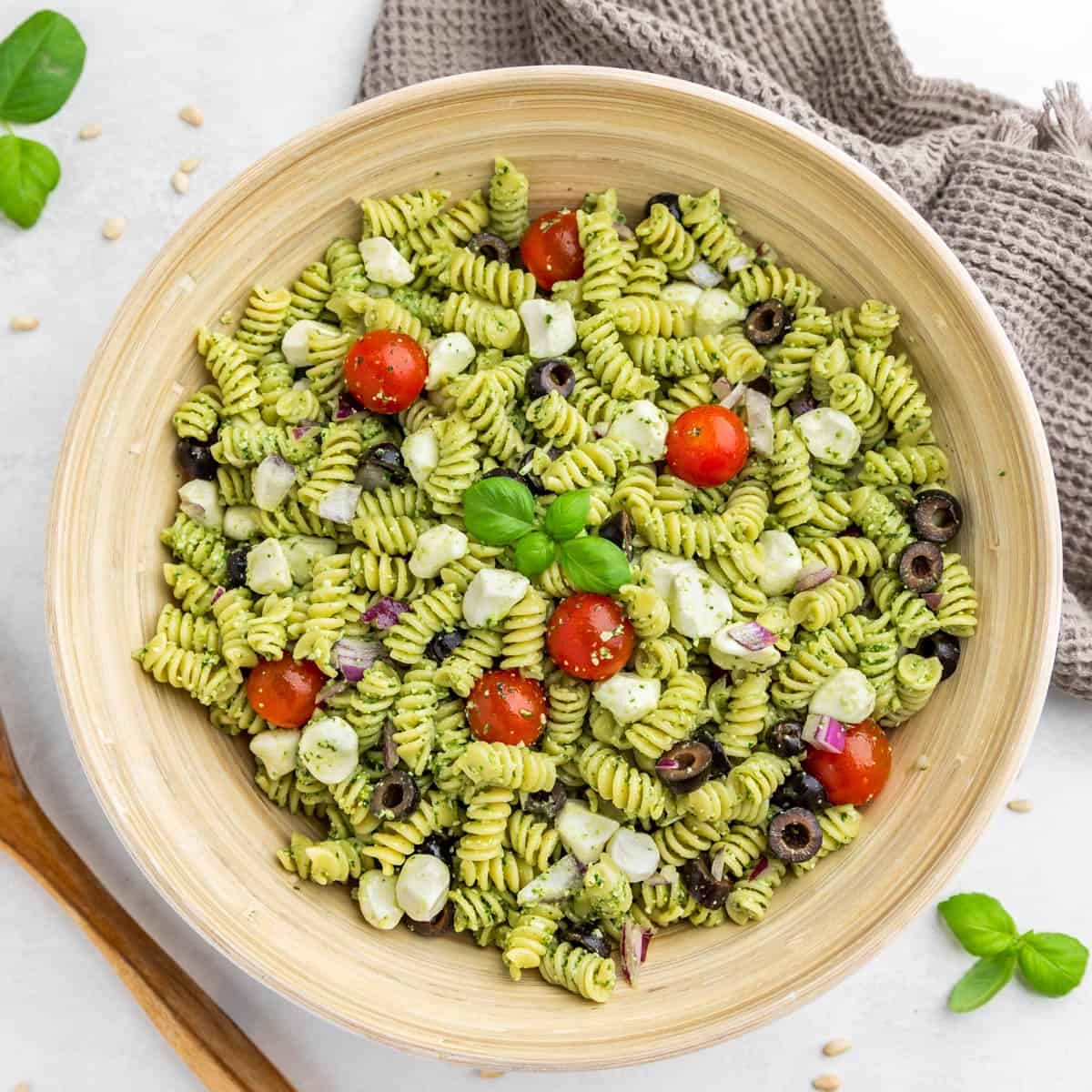 Simply click on the image to be taken to the recipe and make all of your pasta salad dreams come true!
Trending Products

.