Picking up a top ultrawide monitor can transform your desk setup, whether you want to use the screen for gaming or working from home.
Before you toss your old monitor onto the trash heap, it's important to understand what you're getting with an ultrawide monitor. Essentially, these wider screens let you view your content in a 21:9 (or wider) aspect ratio, rather than the standard 16:9 ratio – kind of similar to watching something at the movie theatre instead of your TV at home.
They tend to come in at around double the width of a standard monitor, with the same vertical height. This means you can enjoy dual-screen productivity without the irritating bezel gap. Of course, it also means you can get a seriously immersive gaming session on the go, too.
Since there are enough models of ultrawide monitors to fill a warehouse, where we've boiled things down and detailed some of the very best for every budget that can elevate your home setup – whether you're seeking more ultimate spreadsheet productivity or next-level gaming.
Our Top Pick: Best Ultrawide Monitor
Samsung Odyssey Neo G9
1.Best ultrawide monitor
The Odyssey Neo G9 makes for sublime gaming experiences. Ultrawide gaming is already fantastic, but super ultrawide is on a whole other level.
Pros
Fantastically immersive super ultrawide gaming
Useful features including picture-by-picture mode
Super HDR and local dimming modes
Cons
It's massive and expensive
If you're of the opinion that bigger is better then there's nothing better than the Samsung Odyssey Neo G9.
This is a 49-inch behemoth that's likely to make your desk look tiny but also will improve your productivity and gaming experiences too. It features some serious specs that include Samsung's Mini LED Quantum Matrix technology offering 2,048 dimming zones along with a 5,120 x 1,440 resolution. More importantly, it's fantastic for whatever you're doing, with superbly super ultra-wide views and a 32:9 aspect ratio. It's not cheap, but it is magnificent.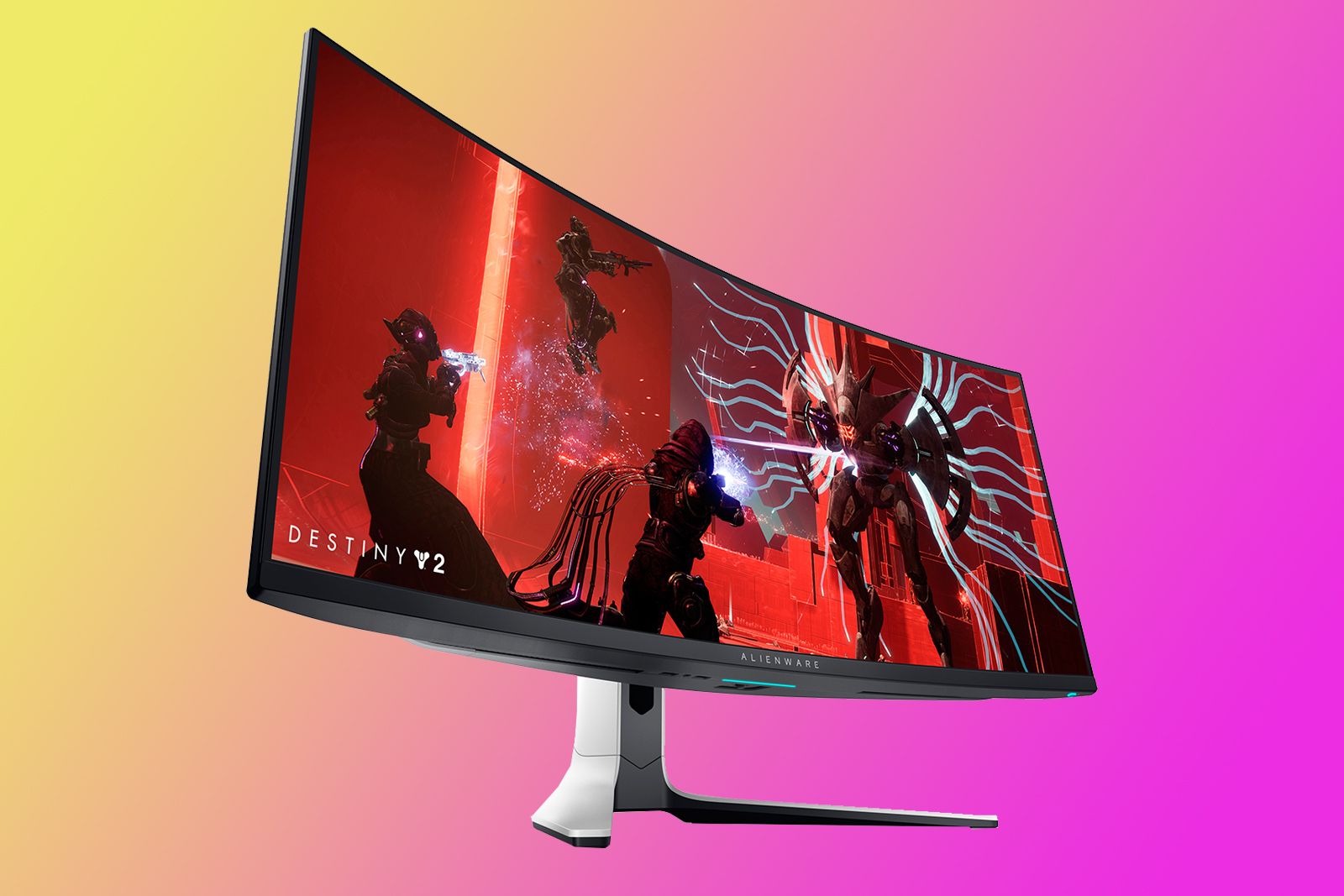 Alienware
Dell Alienware 34QD-OLED AW3423DW
2. Best QD-OLED ultrawide
This monitor sports a QD-LED panel with glorious blacks and it has an almost instantaneous response time that makes it ideal for gaming.
Pros
Insane response time
Stunning visuals
Superb blacks
If you're a gamer who demands only the very best then the Alienware AW3423DW is a brilliant purchase. It boats Quantum Dot-OLED screen tech that results in a True 0.1ms grey-to-grey response time for almost instant response. Alongside a 175 Hz refresh rate and native G-SYNC variable refresh rate (VRR) support too.
All this means buttery smooth gaming visuals, superb blacks and gorgeous colours to boot. For gamers, this is a perfect monitor, though it should be noted that QD-OLEDs are somewhat prone to burn-in. This could be an issue with static things like Windows Task bars and other on-screen elements.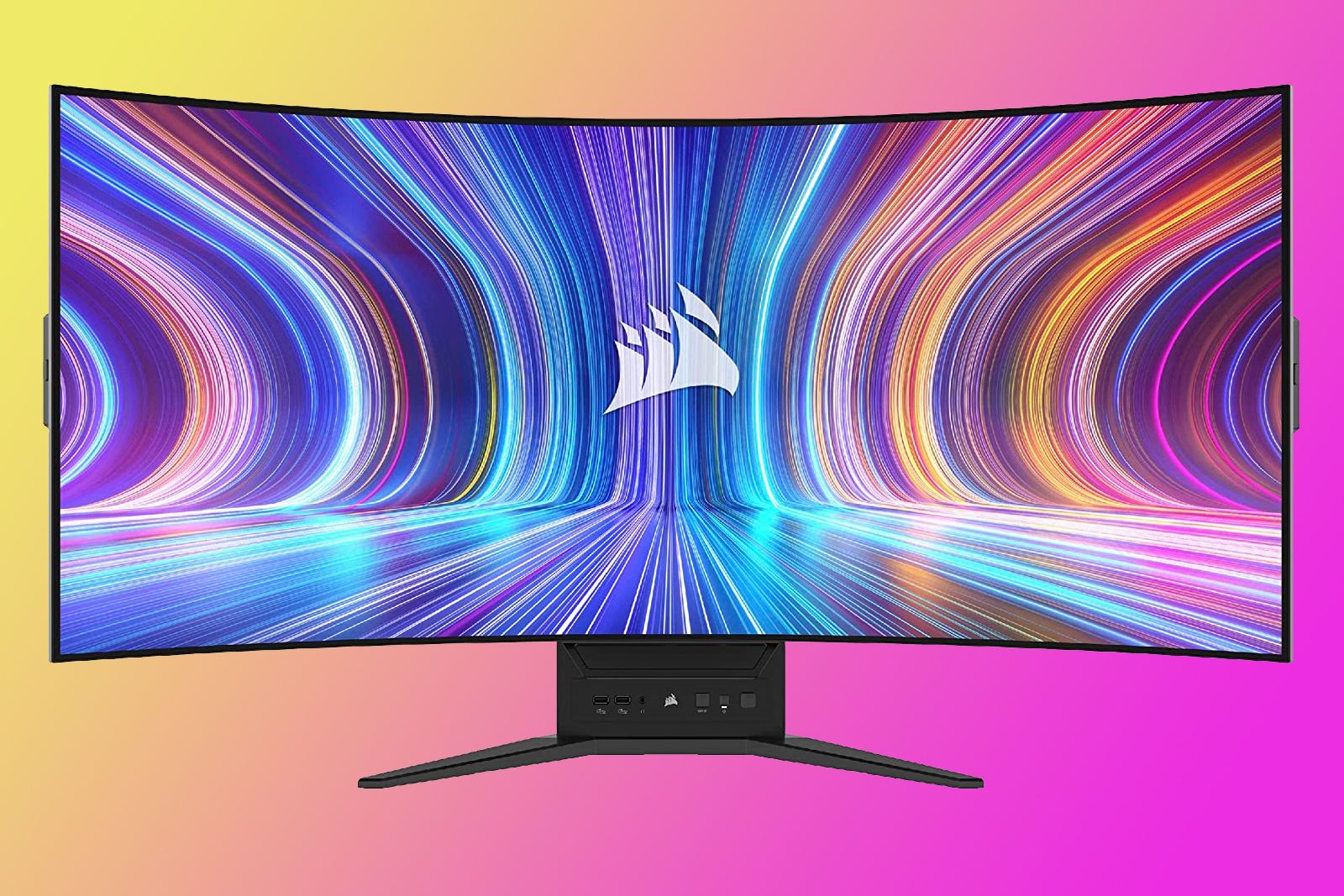 Corsair
Corsair XENEON Flex 45WQHD240
3. Most impressive ultrawide monitor
Can't decide between a curved and flat panel display? With the Xeneon Flex, you don't have to. Just switch between the two as you please.
Pros
Unique bending design
Gorgeous OLED panel
Superb gaming performance
This truly unique monitor allows you to switch between a curved and flat display as you please, thanks to a stunning bendable OLED panel developed in collaboration with LG Display.
It's not just about the bendy gimmick, though, this monitor also comes with all the features you could want, and then some. It's an OLED display with a 240Hz refresh rate, 0.3ms response time and a 3440×1440 resolution. It's absolutely massive, too, at 45 inches diagonally.
The only drawback is the price, this monitor will set you back some serious cash – but that's the price you pay for being on the bleeding edge.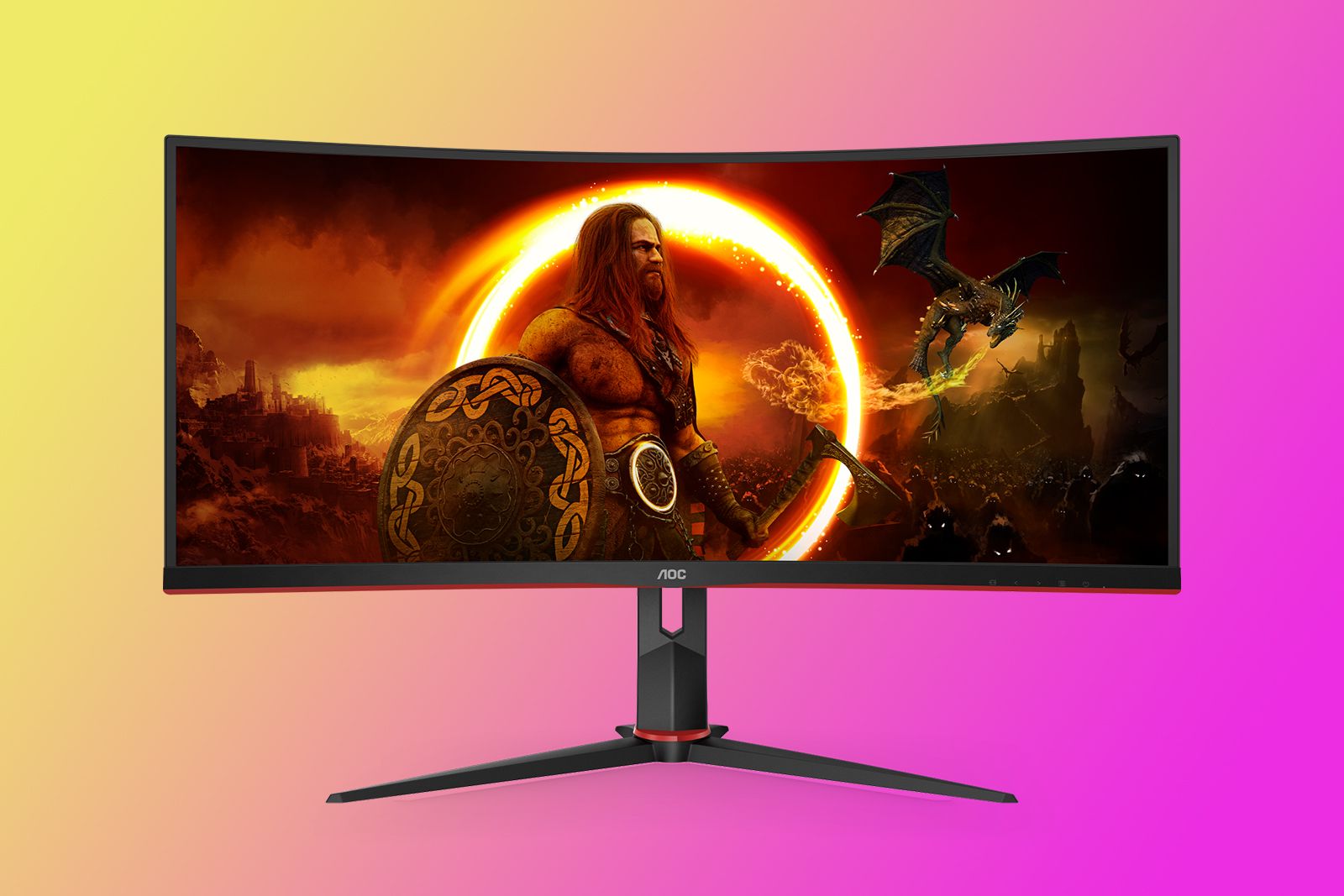 AOC
AOC CU34G2X
4. Best budget ultrawide
Superb mid-range budget ultrawide
A top mid-range ultrawide monitor for gamers who don't want to shell out the mega-bucks.
Pros
144Hz refresh rate with Freesync
1ms response time
Immersive 1500R curve
Cons
The speakers are terrible
If you're after a mid-range ultrawide monitor that can really elevate your gaming sessions, AOC's CU34G2X is one that manages to rise above the rest of the crop.
The 34-inch, 3440 x 1440 Quad HD resolution provides you with next-level crispness, while the 144Hz refresh rate and 1ms MPRT is the key to some very smooth gameplay.
The screen itself offers 1500R curvature, which adds to the immersion, with room for two DisplayPort, two HDMI 2.0, and four USB ports.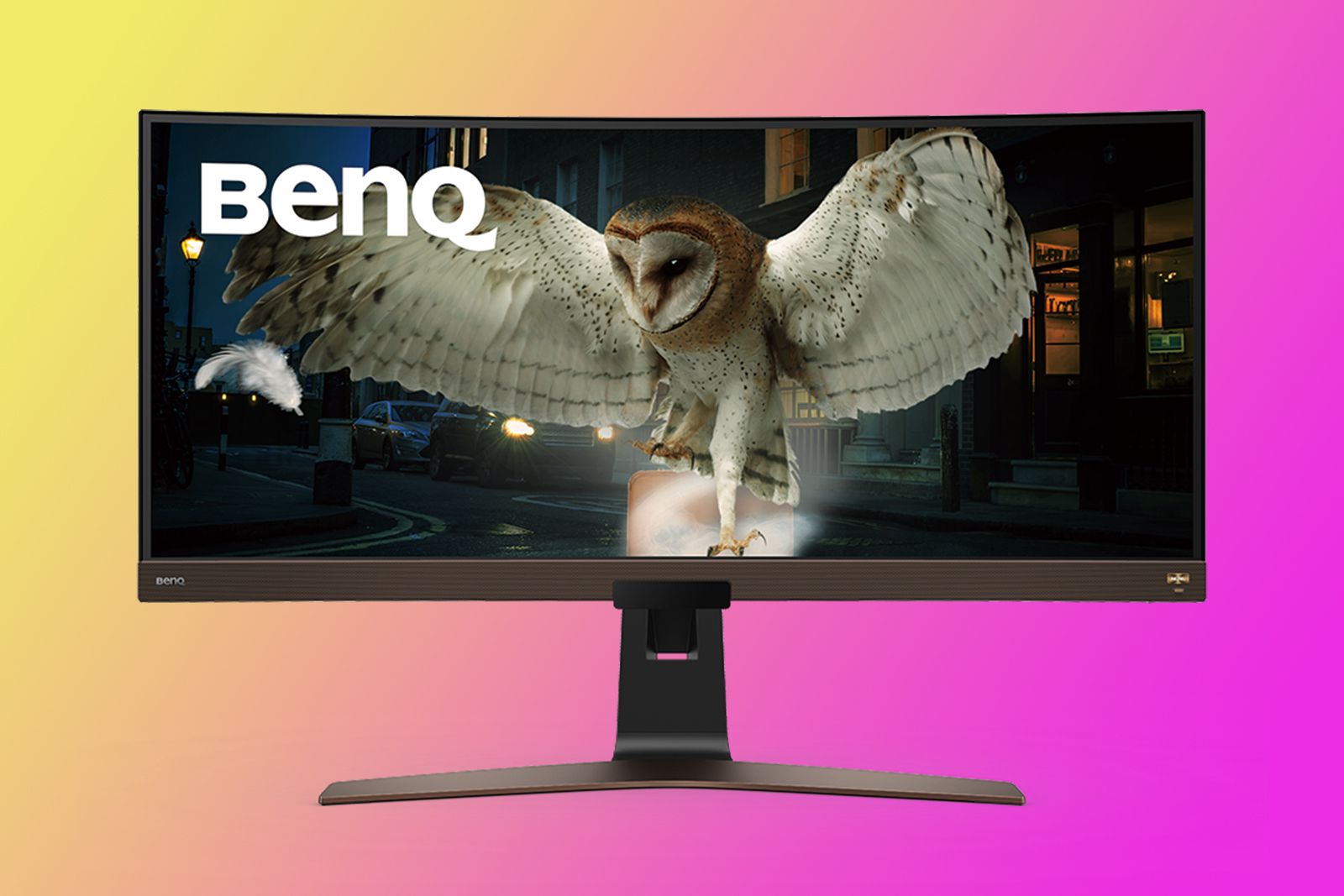 BenQ
BenQ EW3880R
5. Great ultrawide option
The BenQ EW3880R is an excellent monitor for work and media consumption.
Pros
Decent speakers
Superb for media
Plenty of style
If you're not a gamer then you might want to consider the BenQ EW3880R. This is pitched as an "entertainment monitor" and as such, it comes equipped with decent speakers and a 38-inch WQHD+ panel with a 2300R curve. It stands out for its 3,840 x 1,600 resolution and 21:9 aspect ratio but also 95% DCI-P3 cinematic colour space. If you're mostly going to be using your monitor for watching films or TV or working on then this is a great option.
The BenQ EW3880R struggles with fast-paced games but otherwise, it's a great monitor.
How we chose these ultrawide monitors
There are tonnes of ultrawide monitors on the market, and that makes it quite challenging to narrow down the best of the bunch. We've had hands-on experience with a number of these displays, and we've carefully analysed the specs and consumer feedback for every model that graces this page.
We take everything into consideration, including value for money, visual performance and build quality. We also consider the brand's reputation for quality assurance and customer support, so you won't find any no-name models on this page, just quality products from trusted suppliers.
How to decide on an ultrawide monitor
So, you've decided your next monitor is going to be an ultrawide model, but with so many to choose from, how can you tell which one is right for you?
Fear not, we've put together a short list of things to think about that should help you narrow the field and find your perfect match.
What will you primarily be using the monitor for?
We all use a computer for different reasons and each use case has its own feature sets to think about. If you're a hardcore gamer then you'll likely want to pay close attention to the refresh rate and response times offered by the monitor, you probably won't care so much about sRGB coverage.
However, if you're a photographer or graphic designer, then the opposite will be true.
If you want something that does it all, there are plenty of options, but they tend to get pricey. We'd recommend honing in on the features that are most important for your needs and it should become clear where you can cut back in order to find the best balance of price and performance.
How big is your desk?
This one is fairly straightforward but crucial to get right, the thing with ultrawide monitors is that they can get, well, ultra-wide. While we all want more screen real estate, having a monitor that is too large for your desk not only looks silly but could leave it prone to knocks and damage.
It's also important to remember that just because a screen is ultrawide, that doesn't mean that it's large. Some more budget options are barely wider than a standard keyboard. If that's what you're after, then that's great, but it's easy to get caught out and buy something smaller than you bargained for.
Is an ultrawide monitor right for you?
It's worth considering if you might be better off with a second monitor, rather than an ultrawide monitor. Most of us tend to split the screen across two distinct applications, so if you already have a monitor that you like, you could get a lot of the same benefits by adding a second. However, ultrawide monitors also give you a lot of side-by-side space that makes it perfect for split-screening in Windows and being more efficient. You do sacrifice the vertical height though which can make it harder to see an entire timeline when video editing and the aspect ratio isn't for everyone.
If you'll be gaming, you should consider that ultrawide monitors also tend to come with higher resolution displays – so running games on one will be more taxing for your graphics card. If you've got a beast of a PC then there's nothing to worry about, but those scraping by with lower-spec machines will want to be careful.
If you think you might be better off with a traditional monitor check out our guides to the best monitors and the best gaming monitors for our top recommendations.
What about monitor mounting?
If you buy an ultra-wide monitor it's also worth considering Vesa mounting. You can often find these monitors with Vesa mounting options which means you can attach them to an arm or monitor mount for making positioning more flexible and customisable.
This can be one way to deal with the amount of space an ultrawide monitor stand might otherwise take up on your desk too.
Ultrawide curve considerations
The other important design feature of ultrawide monitors is the curve. You'll find most of the widest monitors have a slight curve to help you see all the screen without having to constantly turn your head. Some have a stronger curve than others and if you're coming from a flatscreen this can be quite something to get used to. But you will quickly adjust to it and find it's not necessarily as much as a problem as you first thought. It is worth paying attention to how much curve the monitor has before you buy though.
The downsides of ultrawide
One downside of ultrawide that's important to know before you buy is the aspect ratio. Not all games or sources of media play nicely with a 21:9 or 32:9 aspect ratio. This can result in black bars on the top and bottom or side of what you're watching that can spoil the immersion.
Many PC games support ultra-wide resolutions for the main gameplay but cutscenes are designed for 16:9 displays and this means the cutscenes just don't look right. Luckily tools like Flawless Widescreen can be downloaded for free to help support more games in your library.
Trending Products

.