Amazon Prime Day is just around the corner, with two days of deals and discounts confirmed for 11 and 12 July.
As Ring is owned by Amazon, you can be sure that if you've been holding out for a smart doorbell or home security device, that you'll be able to pick one up with a tasty discount over those days – or even before that with early Prime Day deals.
Every year, Amazon can't help but release a few early Prime Day deals ahead of time, which are usually dominated by its own devices. That makes things like Ring's best video doorbells, indoor cameras and accessories are at the receiving end of some very tempting deals so far.
In particular, we find that Amazon likes to bundle Ring products together, so you have a ready-made smart home security system at a decent discount. Here are the hottest Ring deals we've found so far.
Ring Video Doorbell Wired
This is Ring's most affordable doorbell, and as its name suggests, it requires hardwiring in to an existing doorbell's wiring – something we'd recommend getting an electrician to do for peace of mind.
Once connected, it will offer up any Ring doorbell's core functions – Live View, 1080p HD Video and Two-Way Talk, as well as letting you know about any motion detection happening outside your door with notifications to your phone.
Because its wired in, it won't require charging like Ring's battery-powered doorbells, so while it might require some initial faff to begin with, once installed, you can simply leave it to go on and on.
Ring Video Doorbell Wired + Ring Indoor Cam
$59.99 $124.98 Save $64.99
This is one of the cheapest Ring bundles we've spotted for Prime Day so far, and it includes two fantastic bits of kit to keep an eye on both the outside and inside of your house.
It includes the brand's basic-but-brilliant Video Doorbell Wired as well as the all-new Ring Indoor Cam, saving you over 50 per cent on the standard price separately. A great way to kick off your smart home security system.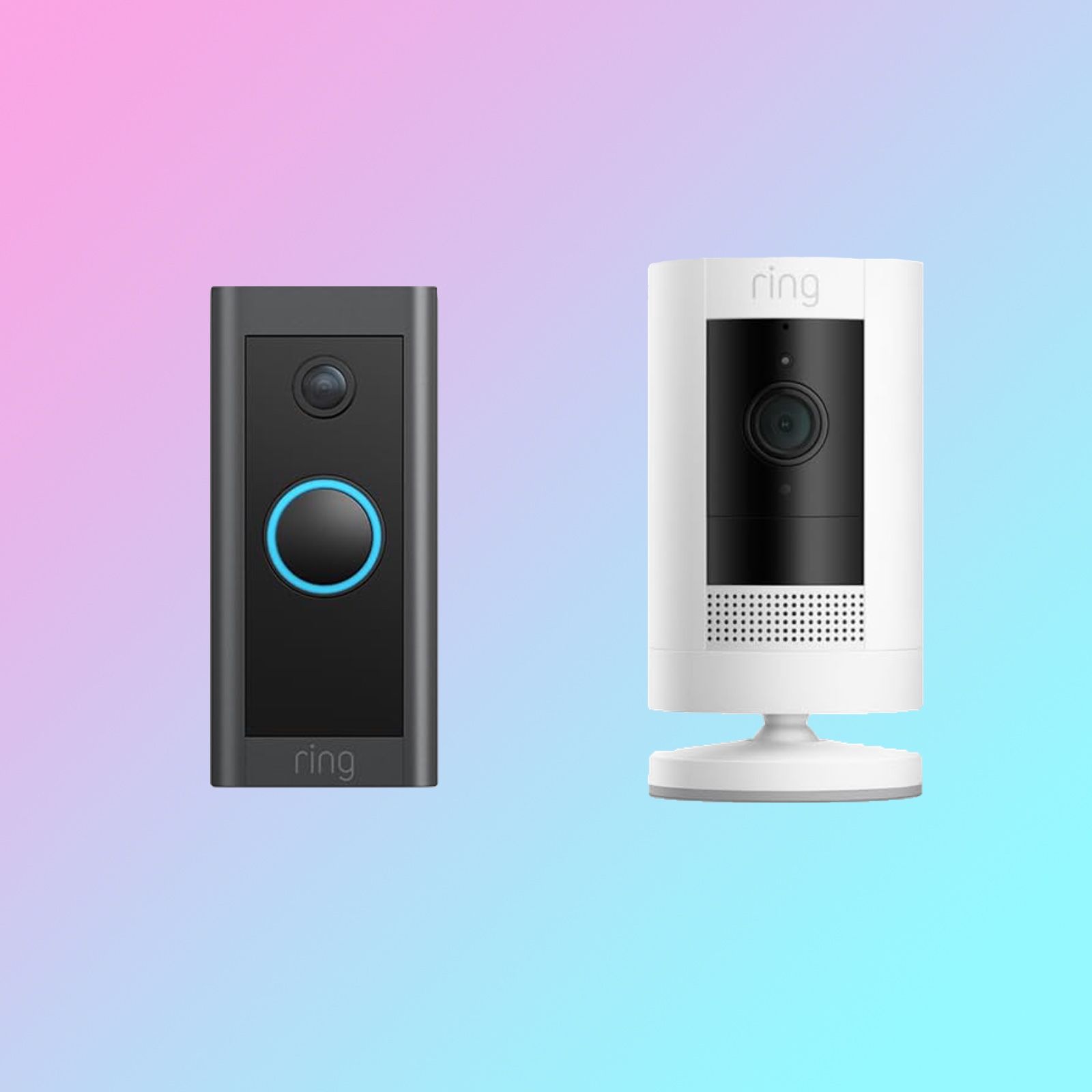 Ring/Pocket-lint
Ring Video Doorbell Wired + Ring Stick Up Cam
$79.99 $164.98 Save $84.99
This deal pairs your wired Ring Video Doorbell with the company's handy outdoor security camera. The best bit about it is that it can be installed with no drilling – just pick a flat surface and stick it down. It's weatherproof too.
Ring Video Doorbell (2nd Generation)
As with the wired version, you can expect all the core functionality that Ring doorbells offer, including real-time notifications of visitors to your home, as well as any motion detected outside your front door. Package alerts are also included on this doorbell, so Ring can even let you know if a delivery has been made.
The compromise with this doorbell is that it doesn't have a removable battery, so you will need to take the whole doorbell down to charge it, which may need doing once every couple of months, depending on your notification settings.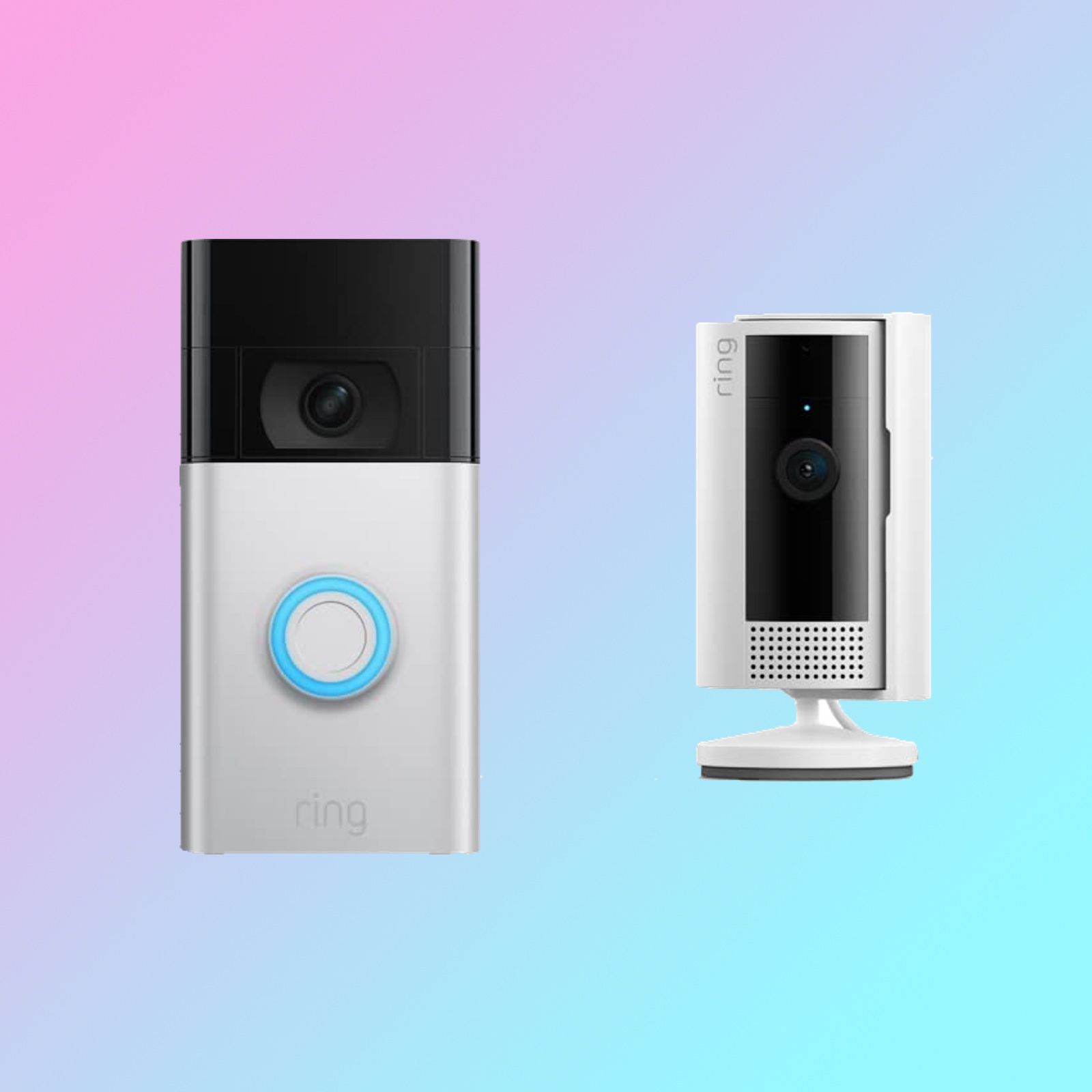 Ring/Pocket-lint
Ring Video Doorbell with All-new Ring Indoor Cam
$79.99 $159.98 Save $79.99
If you don't fancy getting an electrician in to wire up the doorbell, this bundle includes the battery-powered Ring Video Doorbell (2nd Generation), along with the Ring Indoor Cam.At half price for the bundle, this is a superb value at $79.99 – that's $20 less than it would usually cost to buy the Video Doorbell on its own.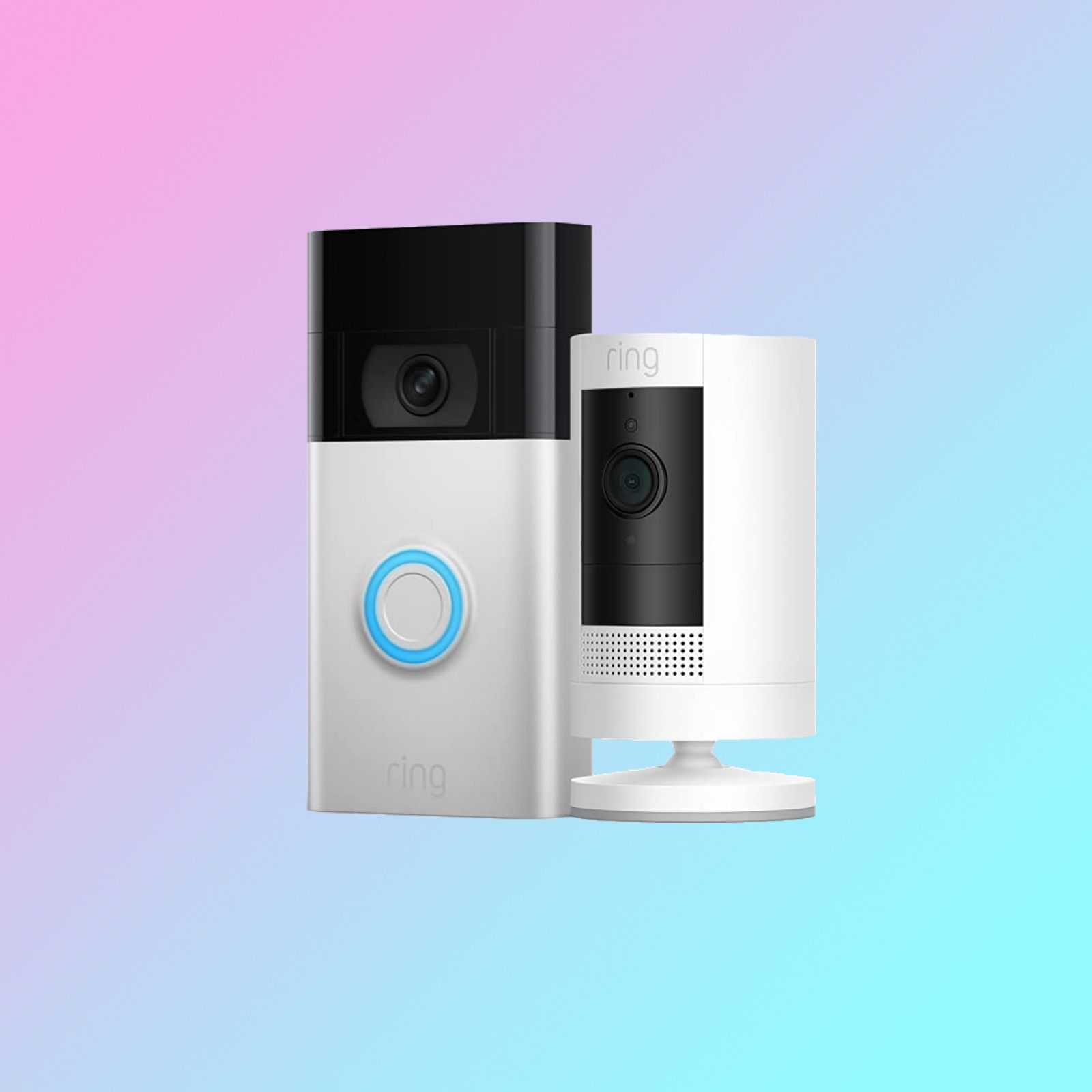 Ring/Pocket-lint
Ring Video Doorbell (2nd Generation) + Ring Stick Up Cam Battery
$99.99 $199.98 Save $99.99
This deal includes the Ring Video Doorbell (2nd Generation) with the Ring Stick Up Cam Battery – a convenient outdoor security camera that simply requires a flat surface that it can be stuck to, no drilling required. Great for rental properties, or those not so comfortable with DIY.This deal saves you 50 per cent compared to buying separately, offering outstanding value.
Ring Battery Doorbell Plus
The Ring Battery Doorbell Plus is Ring's latest video doorbell, and as its name suggests, it is one of Ring's battery-powered options. It adds a first for this section of Ring's line-up, with head-to-toe video thanks to a vertical and horizontal 150-degree field of vision.
This helps you to see any visitors in their entirety, and also helps you to see the floor near your door – which is particularly useful for package detection. It also improves video quality here, with a super sharp 1536p video, complete with colour night vision.
Keeping it charged is easy thanks to removable batteries – having a spare battery that you can have on charge ready to swap out is a great way of ensuring your doorbell has no downtime.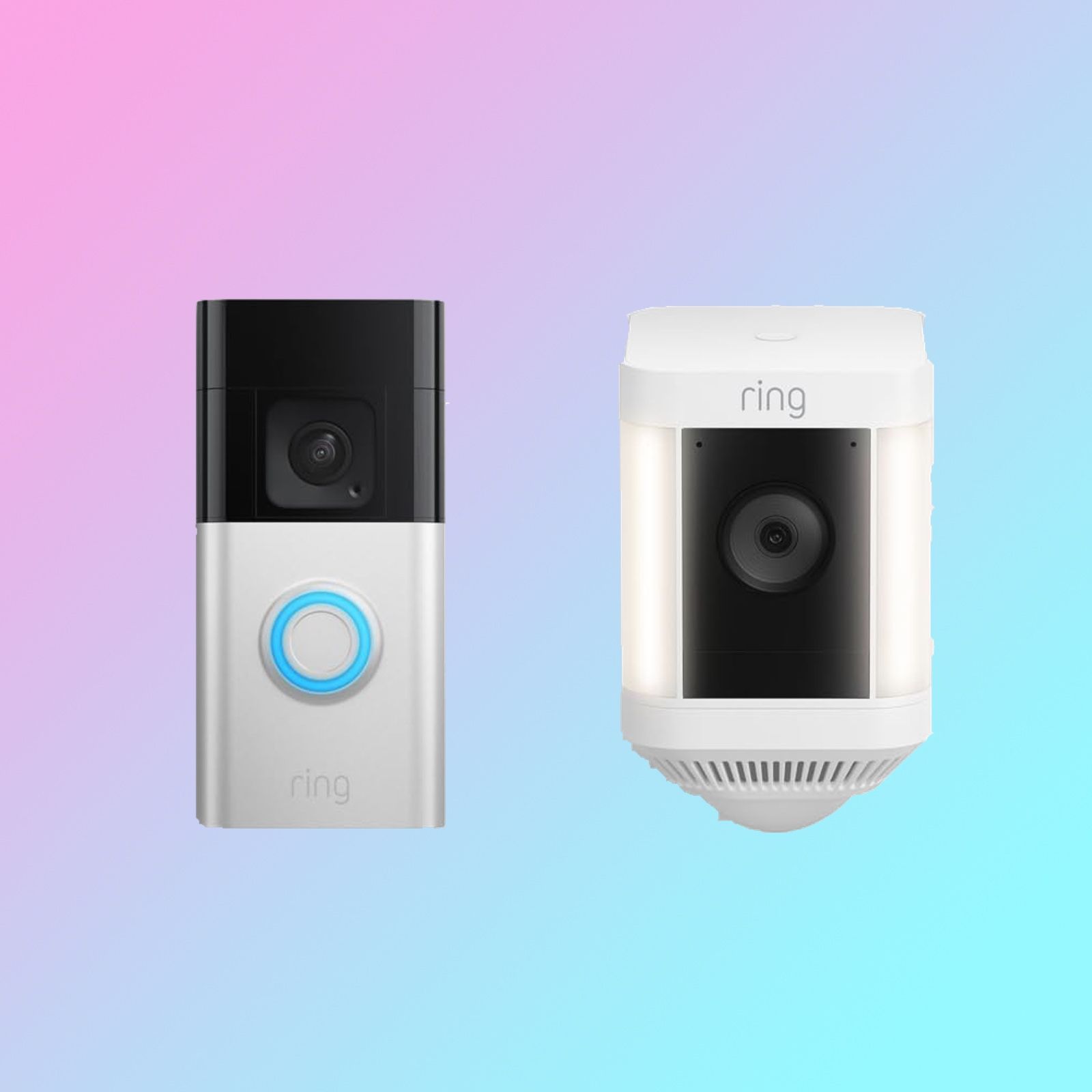 Ring/Pocket-lint
Ring Battery Doorbell Plus + Ring Spotlight Cam Plus
$219.99 $349.98 Save $129.99
If you're interested in the newest Battery Doorbell Plus and its head-to-toe video, we found this deal which includes the Ring Spotlight Cam Plus security camera, with its motion-activated lights. You can save 37 per cent off their price when bundled together, costing $219.99.
Ring Peephole Cam
Ring's Peephole Cam is a slim and compact video doorbell, perfect for those in flats and houses that have a peephole in their door. This simply slots right over the top and gives you a clear 1080p view of anyone who rings your bell – or knocks on your door, thanks to its built-in impact detection.
As you'd expect, it includes Two-Way Talk and motion-activated notifications as standard, with the ability to answer from your phone, wherever you are.
There's even a built-in peephole so you can continue to use it as you would do without a doorbell, with a privacy shutter to make sure you can look out, without others looking in. One thing to note – It's compatible with doors that are 34-55mm thick, so do check that before you buy.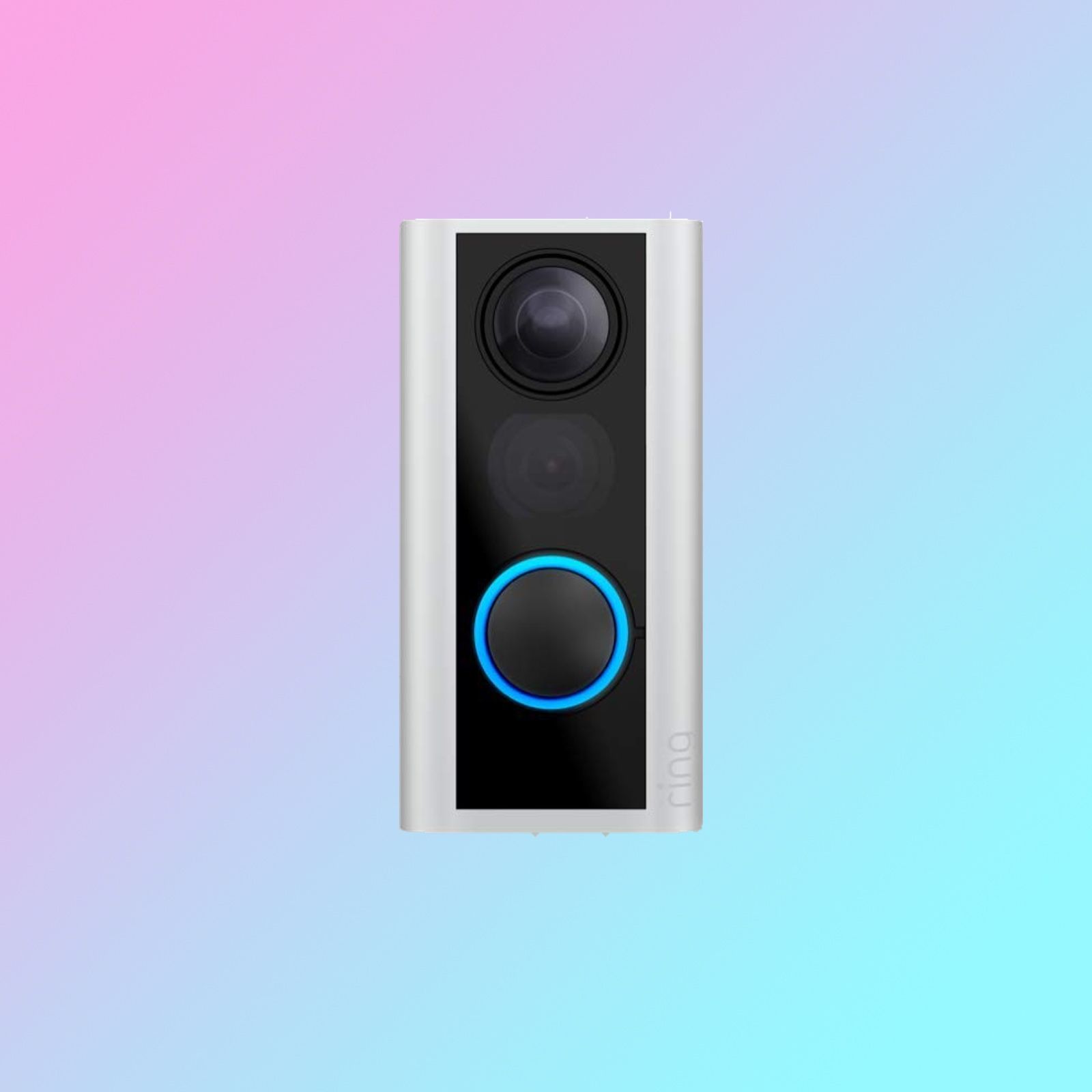 Ring/Pocket-lint
Ring Peephole Cam
$99.99 $129.99 Save $30
Amazon's Peephole Cam is great for those who have a peephole in their door, as it can be installed right over the top in minutes.It's one of the only Ring devices to be discounted without being in a bundle, so it's a great deal. You can pick it up for under $100 in the early Prime Day sale.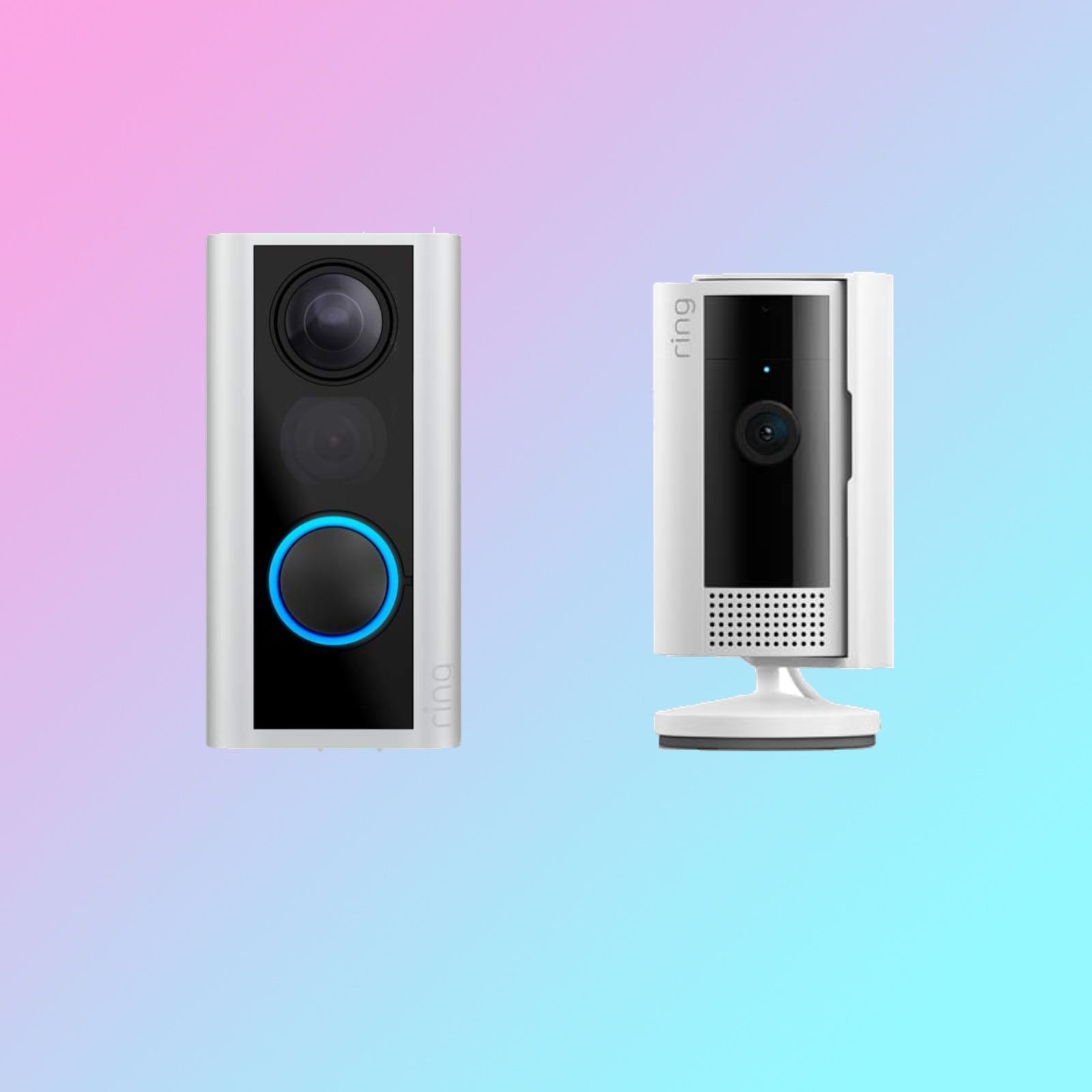 Ring/Pocket-lint
Ring Peephole Cam + Ring Indoor Cam
$159.98 $189.98 Save $30
If you want some indoors security as well as a doorbell keeping an eye on the front of your house or flat, this bundle with the Peephole Cam and Ring Indoor Cam is a great option.By bundling the two together, you can save $30 than you would spend buying them separately.
What should you consider when buying Ring smart security products?
Ring is arguably most known for its smart video doorbells, but it offers a whole range of home security products, including security cameras and full home alarms. They all work in conjunction with the Ring app, and offer many overlapping features, such as HD video, motion detection and Two-Way Talk.
When deciding which device to buy, you first need to decide on how much work you want – or can – put in. Ring offers a choice of wired or battery-powered devices, the former usually being cheaper but can require professional help to install them. However, once they're in, they're in – there's no need to remember to charge the battery like you'll need to with the battery-powered devices.
However, if you live in a rental property you may not be able to drill a lot of holes or mess with existing wiring, so the battery-powered range may suit you much better – not to mention it's much more convenient.
Some features aren't included on all devices, so be sure to look what is on offer. Things like head-to-toe video are only available on the Ring Video Doorbell Pro 2 and the Ring Battery Doorbell Plus, but the more features and functionality you want, the more you'll pay for the device in the first place – so do consider your budget too.
One thing we would consider as part of your budget is Ring Protect – the subscription service that Ring offers, and that opens up access to features like Package Detection and event recording, plus cloud storage of that video for 180 days. It depends how many Ring devices you have as to how expensive it'll be but it starts from $3.49 / £3.99 a month.
How did we choose the best early Prime Day Ring deals?
We have tested so many of Ring's products that we know the range inside out, and so we know which products are worth recommending. In all honesty, most of Ring's products are fantastic so even when we haven't had hands on experience with a specific product, we know the core functionality shared across the whole line up is superb. That makes most of the range easy to recommend as a result.
We've therefore considered all deals offered by Amazon, the discount offered and the product(s) included. If that seems like a good deal compared to the prices you would usually expect to pay, we've included it.
When is Prime Day 2023?
Prime Day 2023 will run over two days, from 11 – 12 July 2023, though some deals have already gone live as part of Amazon's early Prime Day deals. Some deals are limited so you might find there are deals on this page one day and gone the next so if you see them, we advise picking them up quickly. The same applies for Prime Day itself as once Prime Day is over, those discounts will disappear and you'll be back to paying quite a bit more in some cases. Be sure to check back on this page regularly as we'll be updating it with the best discounts we find during Prime Day, as well as in the run up to the event.
Do you have to be a Prime member?
Yes, all the discounts during Prime Day are for Amazon Prime members only, but if you aren't already a member, you can sign up for a 30-day trial period and, if you don't want to continue afterwards, you can cancel before the first payment is taken.
You will be missing out on some great extra benefits though, such as free next-day delivery, Prime Video membership and much more.
More early Prime Day 2023 deals
Trending Products

.