Philips Hue is probably the most recognisable brand in the world of smart home lighting. It was among the first to jump on the 'Internet of Things' bandwagon, giving us lighting in our homes that could be controlled with a smartphone at first and then – when smart speakers like the Amazon Echo and Google (Nest) Home came along – with our voices.
With the market now much more mature, there's barely a light type that isn't available from Philips Hue. Whether you want ambient lighting for the back of your TV, regular bulbs or outdoor lighting solutions, there's a Hue for you. And now that Prime Day is on the horizon, there are discounts to be had on these popular lights.
Philips Hue Play Light Bar 2-pack kit
The Philips Hue Play Light Bar is one of the newest models in the company's portfolio. It's a light bar that can be mounted in a number of ways. You can have it on a stand, vertically, you can lay it flat, or you can attach it to the back of your TV. It's an ambient light tool that's designed – predominantly – to flood the surface behind your screen/TV with light. Now it's on offer. It requires a Hue Bridge hub, but thankfully those are also on offer currently.
Philips Hue Play White & Colour light bar
$97.9 $159.99 Save $62.09
The Philips Hue Play Light Bars are a great way to add ambient lighting to your lounge, or the back of your TV. 
Philips Hue White & Colour BR30 (twin pack)
Philips Hue bulbs come in all shapes and sizes – including most popular traditional bulb sizes – including the mushroom-shaped BR30. As part of the early discounts, you can get a pair of BR30 bulbs that support 16 million colours and are compatible with Amazon Alexa and Google Assistant. You'll need a Hue Bridge to get this working (also on offer below).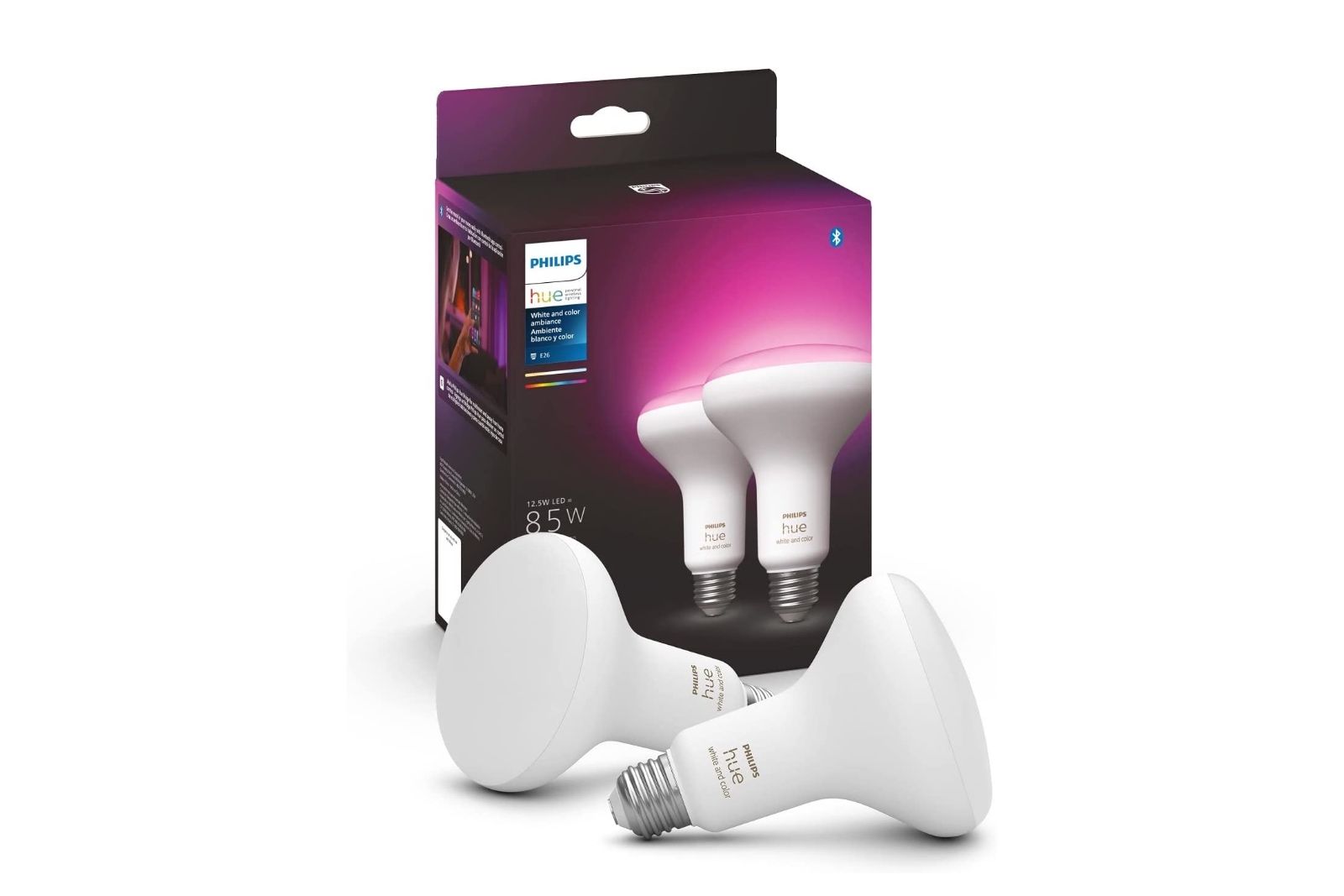 Philips Hue BR30 Smart Bulbs
$61.13 $99.99 Save $38.86
The BR30 is a classic bulb shape, and with Philips Hue you can have them with modern colour-changing LED tech. 
Philips Hue A19 LED Colour Smart Bulb Kit
If you've never taken the plunge on a Philips Hue light of any kind, the starter bundles are always a good place to start. You get four bulbs which can change white temperature and change to practically any colour. The kit also comes with the Hue Bridge, so you have everything you need to kickstart your smart lighting setup.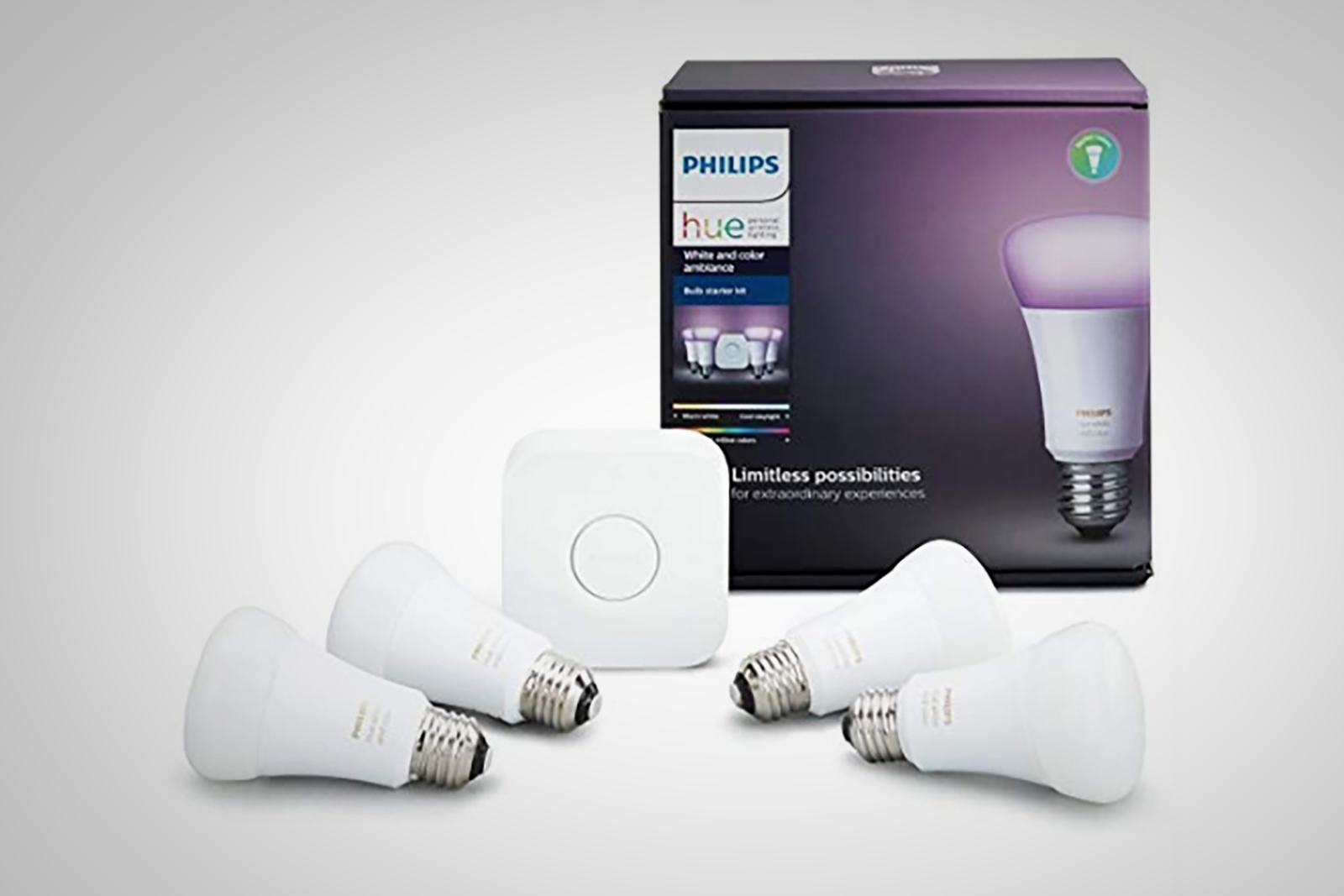 Philips Hue White and Color Ambiance Starter Kit
With this starter kit, you get four new 75-Watt colour-changing bulbs and a Hue Bridge. Everything you need to get going.
Philips Hue White and Colour Ambiance Smart Button Starter Kit
With the Philips Hue White and Colour Ambiance kit you get three bulbs that can change colour and temperature. You also get the Hue Bridge, plus a smart button for controlling them and a module that converts existing light switch, making the Hue bulbs easier to control the old-fashioned way.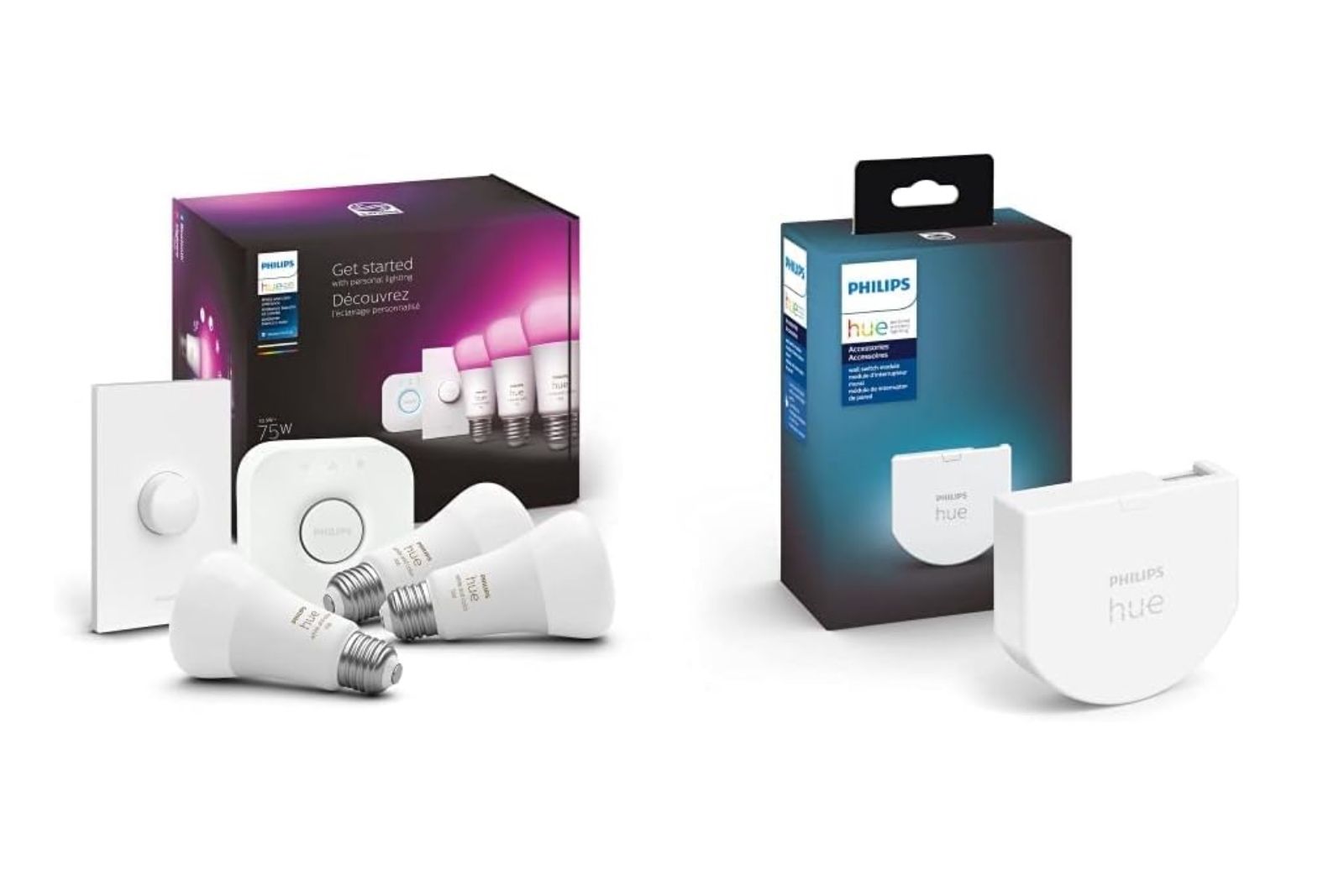 Philips
Philips Hue White and Color Ambiance Medium Lumen (75W) Smart Button Starter Kit
$175.18 $219.98 Save $44.8
This starter kit comes with three colour-changing 75W A19 bulbs, the Philips Hue Hub and a wall switch module. 
Philips Hue Bridge
One part of the Philips Hue system you'll be grateful to own – if you haven't already – is the Hue Bridge. It's a Zigbee-based hub that wirelessly connects to your Philips Hue lights, and ensures you're not putting a strain on your home Wi-Fi, giving your bulbs and light strips a single place to connect, and freeing up your Wi-Fi bandwidth for more important things.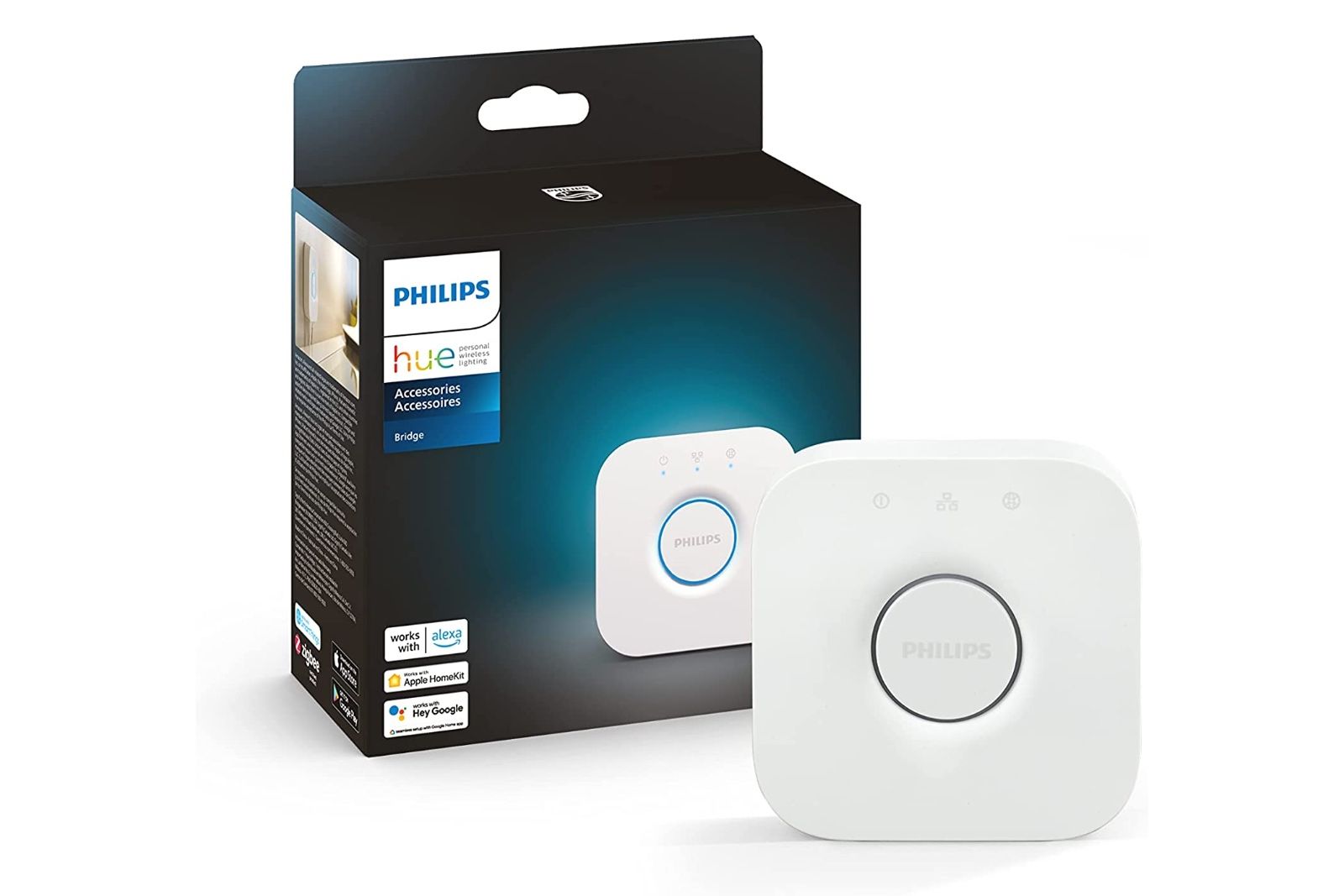 Philips
Philips Hue Bridge
The Philips Hue Bridge is the hub that connects all of your Hue bulbs and lights to the internet. It's the key to an integrated, seamless experience.
What to look for when buying Philips Hue
There is a lot to consider when getting into the world of smart lighting, particularly with Philips Hue. The first – and most obvious – thing to consider is the type of bulb or light that you need for the space you have. You'll need to look at the fixtures you have, and make sure you buy the bulbs with the correct fittings, just like when you go buying traditional light bulbs. You also need to decide if you want bulbs that only do different temperatures of white or whether you want one that changes colour.
After that, you'll need to figure out whether you need a Philips Hue Bridge. As mentioned above, the Hue Bridge is a wireless hub that connects all of your Philips Hue lights, and allows you to create and activate certain scenes. Some of the Hue lighting will work without the Hue Bridge, using Bluetooth to connect to the light, but the feature list is a little limited when you do this and you're limited to just a couple of bulbs. If you imagine kitting your house out with multiple bulbs, we'd advise getting the Hue Bridge. It's also a great way to ensure your Wi-Fi router/Bluetooth aren't getting clogged up by the demands of the smart lighting. However, you can technically use anything with a built-in Zigbee standard hub, and that includes a few of Amazon's Echo devices like the 4th gen Echo and the Echo Studio, or even an Ikea Tradfri gateway.
This brings us neatly to another point: are you using exclusively Philips Hue or are you planning on mixing and matching bulbs into one smarthome system? If it's the latter, you might want to skip the Hue bridge and get yourself a different Zigbee-compatible hub, this makes it easier to add other lighting to the same single hub.
You should also consider how you're predominantly going to control your lights. Would you rather a physical switch – in which case you could buy a kit with a smart switch included – or do you imagine using your voice? If the latter, you can often find bundles that include Hue bulbs and an Echo Dot.
Apart from all of that you then have the styles and designs of light. A standard-shaped bulb is great of existing fixtures, but if you want to add lighting to your entertainment system, there are gradient light strips and light bars that are far better at adding colourful lighting to your TV backdrop.
FAQ
Q: When is Prime Day?
Amazon is running its summer sales event over 11-12 July this year, but – as you can tell – there are already plenty of deals available in the run-up to the main event.
Q: Do I need to be a Prime member?
Short answer: yes. However, it should be noted that there are plenty of offers running even now, and those discounts aren't exclusive to Amazon Prime subscribers. On the other hand, we expect the discounts grow in number as we get closer to the actual Prime Day event. What's more, once there are Prime Day exclusive deals, you will need to be a member to take advantage. You can get a 30-day trial, however, so you don't even need to pay to sign up and get access to Prime Day and all the other benefits of being a Prime subscriber.
Trending Products

.