Action cameras are a great invention, rugged enough to tackle the elements but small enough to slide into your pocket.
Whether you're snowboarding, surfing, skydiving or just taking a little hike on a drizzly winter day, an action camera is a great choice to capture those moments.
The good news is that these dinky devices are now more capable than ever before, with great image stabilisation, high-resolution options and more mounting options than anyone can count.
There are even modular options that allow you to build the perfect camera for any action-packed moment. With all this choice it can get a bit overwhelming, so we've narrowed down what we believe to be the top picks for anyone buying an action camera.
We've also got a section down below that explains some of the jargon, and how best to find the right model just for you.
Without further ado, here are our top picks.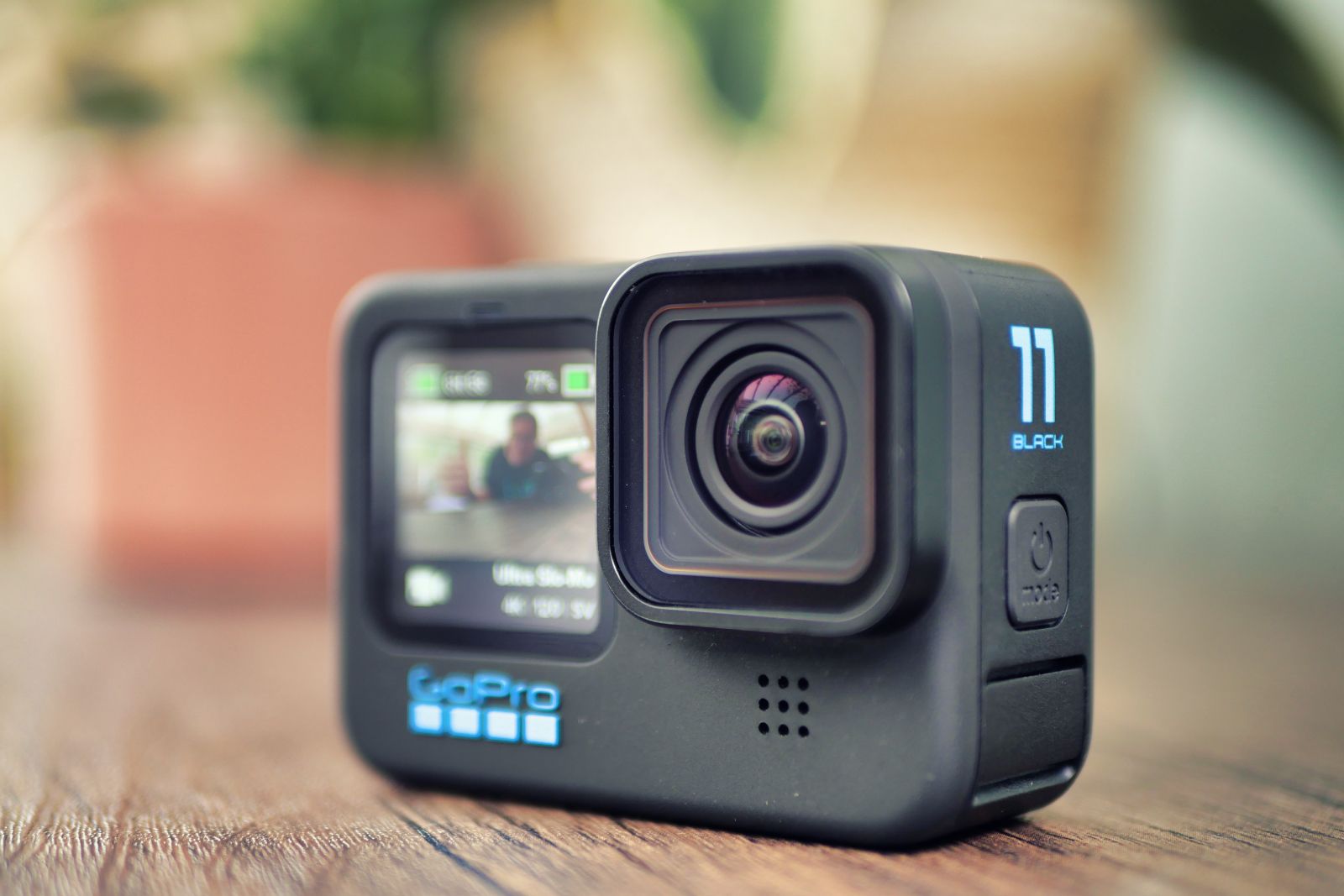 GoPro Hero 11 Black
1. Best action camera overall
$349 $500 Save $151
With its high bitrate recording, 10-bit colour and endless features, we think the Hero 11 Black is the best action camera money can buy.
Pros
Best-in-class stabilisation
10-bit colour video capture with high bitrate
Extremely wide HyperView digital lens
Cons
Fairly bulky
Quite expensive
The Hero 11 Black introduces a new 1/1.9-inch 8:7 sensor to the most popular action camera in the world. This new sensor allows for improvements in stabilisation, new shooting modes and the widest FOV we've seen from GoPro to date.
It also introduces 10-bit colour to the camera, which means it's much more suited to professional work than its predecessors. This, combined with an increase in bitrate, makes for the best picture quality that we've seen from an action camera.
If that all sounds a bit advanced, GoPro has got newcomers covered, too. A new Easy Mode makes the menu systems far less complicated, and the ability to access AI-generated highlight reels makes sharing your adventures super-easy.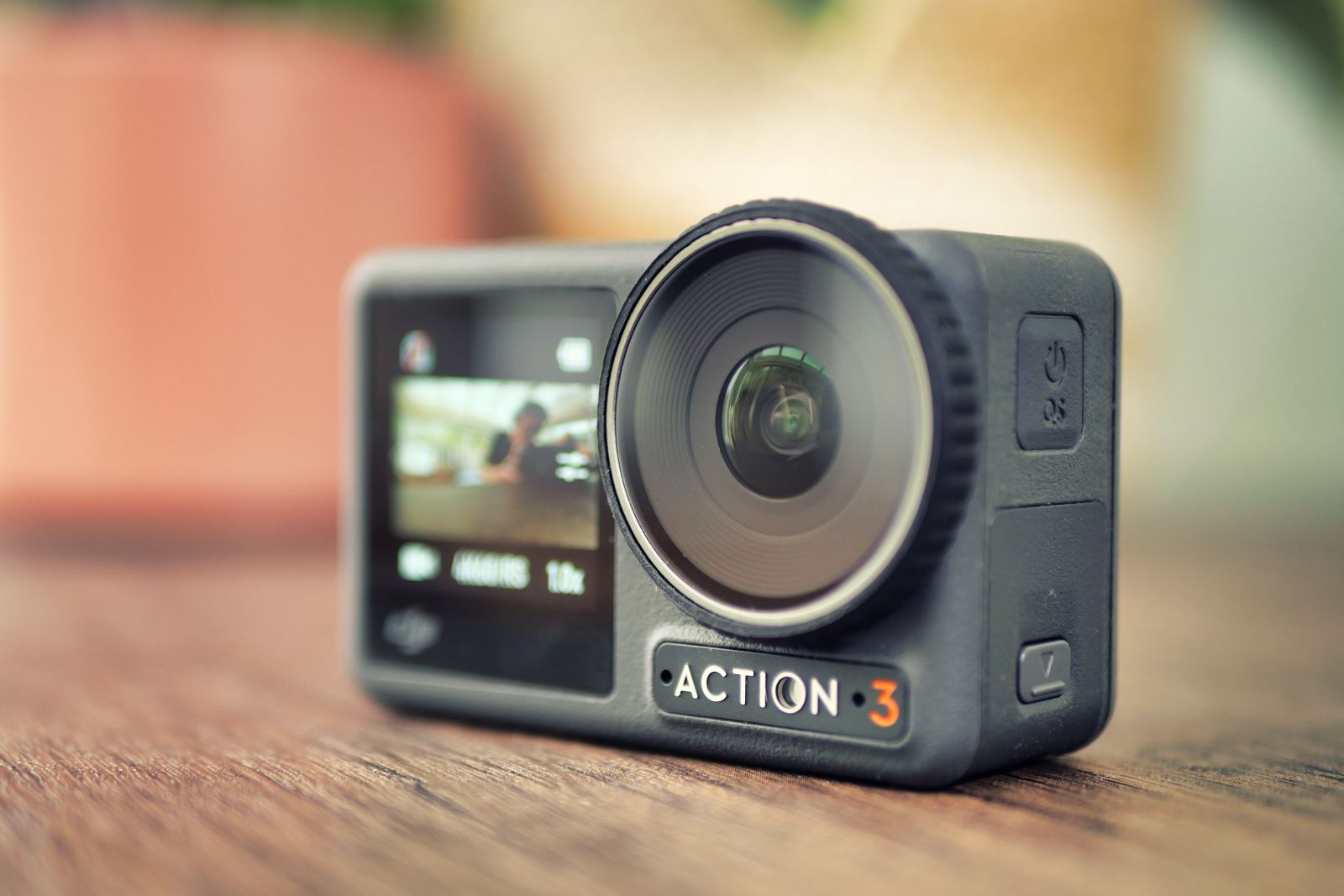 DJI Osmo Action 3
2. Brilliant alternative action camera
The Osmo Action 3 marks DJI's return to the GoPro-style form factor, and with it comes massive improvements in usability and versatility.
Pros
Excellent magnetic mounting solution
Extremely wide FOV
Handy front touchscreen
Cons
Needs a bracket for vertical shooting
The rubber lens protector can easily be lost
DJI's Osmo Action 3 is a compelling alternative to GoPro's flagship camera, offering a lot of the same features but at a more affordable price point.
That's not to say the Action 3 doesn't offer anything of its own, though. It's the only camera on the market to offer a front-facing touchscreen, so you can easily access your settings no matter where the camera is mounted.
It also utilises the ingenious magnetic quick-release mounting system that we first saw on the Action 2. This makes it super quick to switch between mounting locations, and it has been upgraded, keeping the camera more secure than ever before.
The Action 3 also offers an extremely wide FOV, and it's very close to the width of GoPro's HyperView, allowing for some really exciting shots.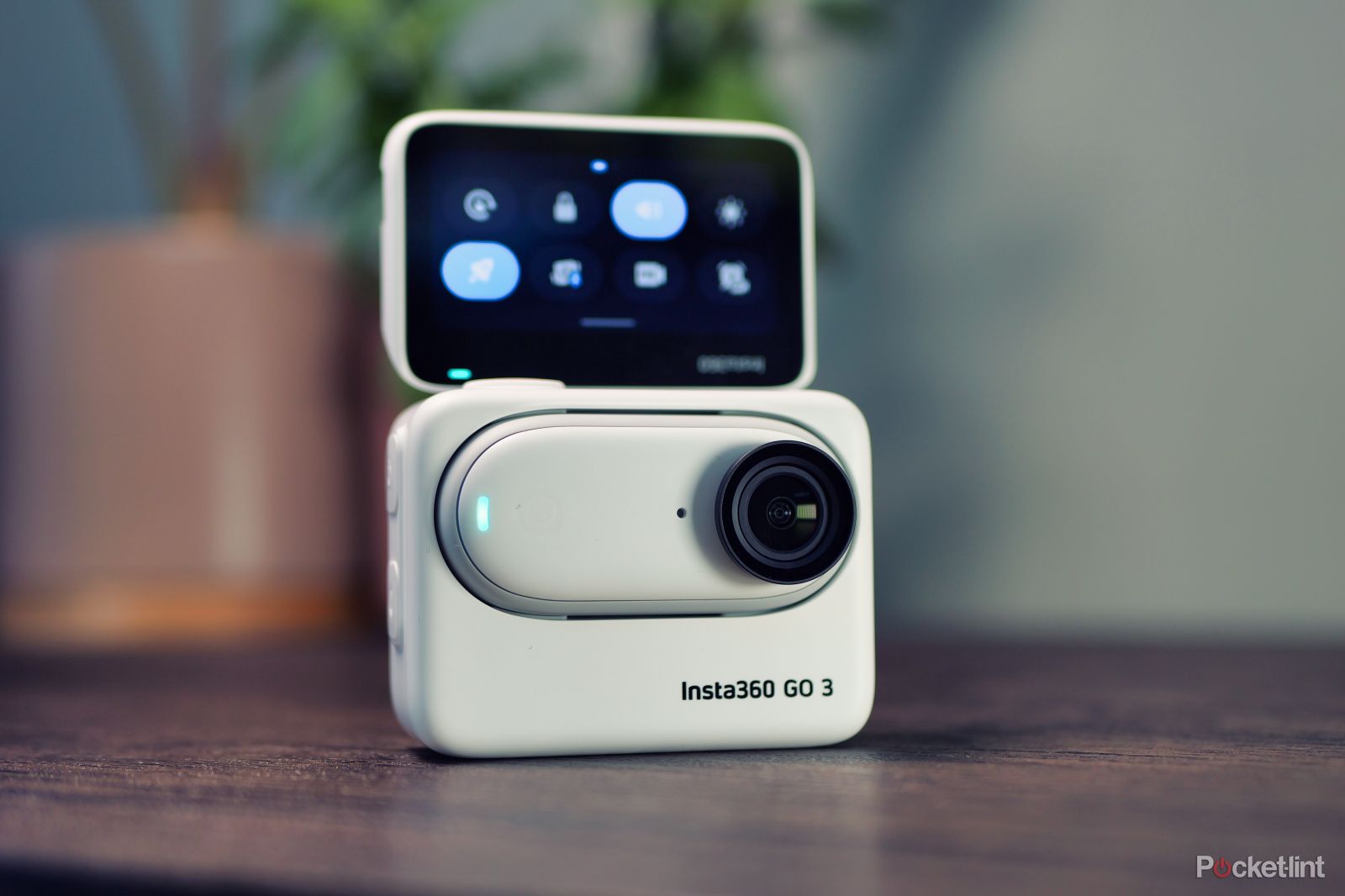 Insta360 Go 3
3. Best micro action camera
Insta360's third-generation Go camera is its best one yet, it's easier to use, higher resolution and has greatly improved battery life.
Pros
Tiny and unobtrusive
Remote monitoring with the Action Pod
Excellent mounting options
Cons
Quality can't compare to larger cameras
More expensive than its predecessor
We fell in love with the Go 2 when it was released in 2021, and now the Go 3 is here, and it's even better. The Go 3 is a tiny pill-shaped action camera, and it can be mounted in places where even something as small as a GoPro is too large and heavy – we love using it with things like RC cars and tiny drones, but it's great for squeezing into all manner of tiny spots.
The caveat is that such a tiny camera doesn't have room for a large battery, or a display, but Insta360 has solved these issues with the Action Pod. The Go 3 snaps into its Action Pod for charging, similar to how AirPods work with their charging case. When it's mounted, you also get an articulating touchscreen display and a form factor that's very similar to a GoPro.
The best part is that the Action Pod also works wirelessly, so you can use the display to frame your shots and change your settings, even while the Go 3 itself is mounted in a hard-to-reach location. It's so much easier to use than the previous model, and the battery lasts a lot longer, too.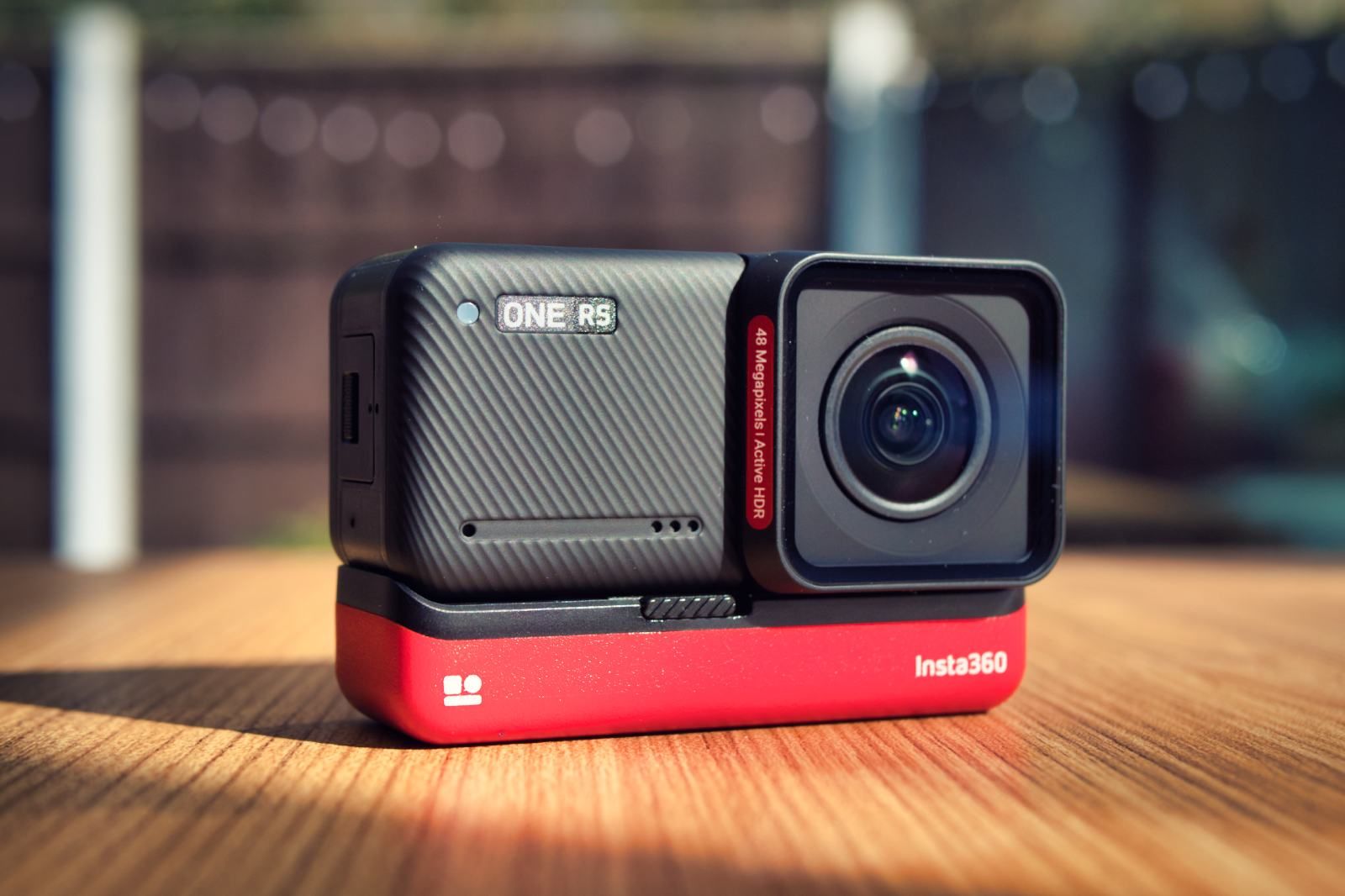 Insta360 One RS
4. Best modular action camera
$360 $550 Save $190
Thanks to its completely modular design, the Insta360 One RS can be used as a traditional action cam, a full 360 camera or a large sensor 5K beast.
Pros
The most configurable of the bunch
Robust and waterproof despite modularity
Up to three cameras in one
Cons
Small screen
Can't compete with GoPro on image quality
The Insta360 One RS takes modularity to the next level, allowing you to effectively have three different action cameras in one. The 4K Boost module gives you a traditional action camera, the dual-lens mod gives you a full 360 camera and the 1-inch sensor mod gives you 5.3k video and better low-light performance.
You can even unclick the screen and reverse it for vlogging action. Combine this with great features, like being able to pair to an Apple Watch or AirPods, and you have the most versatile action camera on the market.
The One RS makes some significant improvements over its predecessor but it still can't quite match GoPro when it comes to pure image quality. That said, the gap has certainly narrowed. If you need both an action camera and a 360 camera, the One RS offer unrivalled value for money and convenience.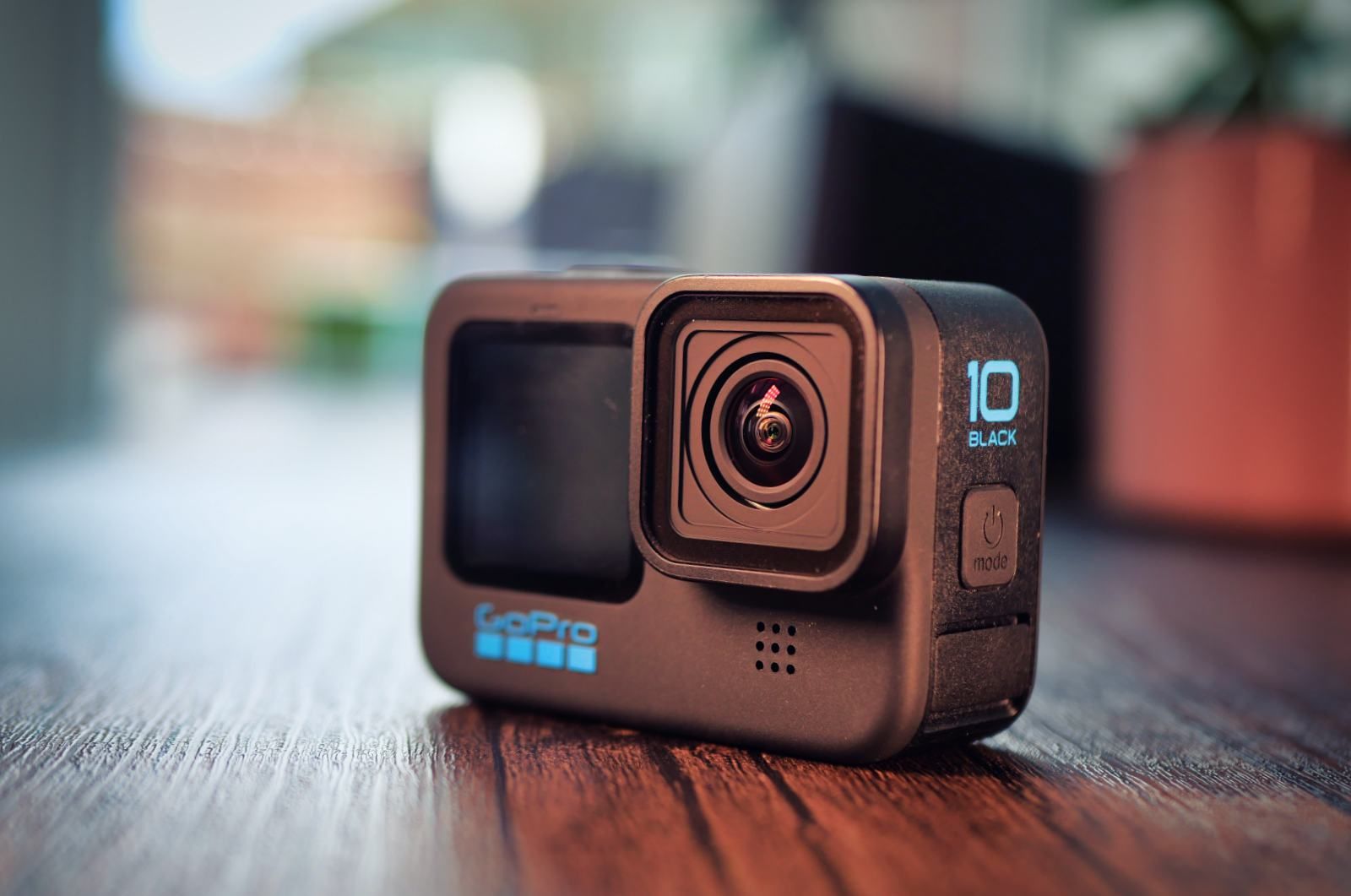 GoPro Hero 10 Black
5. Best value action camera
$299 $449 Save $150
Although surpassed by the newer model, the Hero 10 Black is still one of the best action cameras money can buy.
Pros
Superb image quality
Incredible image stabilisation
Extreme high resolution and frame rate options
Cons
Relatively heavy
Can be prone to overheating
While it has been succeeded by the feature-packed Hero 11, the Hero 10 Black is still a top option, particularly if you can find it at a discount.
It still shoots all the way up to a staggering 5.3K resolution at 60fps and even 4K at 120fps.
Stabilisation is excellent thanks to HyperSmooth 4.0, which offers horizon levelling at up to 45 degrees.
The lens has a hydrophobic coating to ward off droplets, and, while this sounds minor, anyone who has shot a video in the water will know it's a must-have.
Somehow, they have managed to add all of this whilst shaving off 5 grams of weight, though it is still pretty heavy.
How we selected these action cameras
We've tested every action camera on this list, and we've analysed the image quality, durability, mounting options and ease of use with each model. We take a lot of things into consideration when we add an action camera to our buyer's guide, including the value for money, performance, company reputation and customer support.
We've taken these cameras mountain biking, swimming, snowboarding and even strapped most of them to FPV drones. This means that we can confidently vouch for their ruggedness, waterproofing and stabilisation in a variety of challenging scenarios.
How to choose an action camera
With action cameras now coming in so many different shapes, sizes and price ranges, it can be especially difficult to find the right one for you. Before you commit to a camera, we've laid out some things to think about as well as explaining some of the more common features found on action cameras today.
Image stabilisation
Image stabilisation is one of the key things that sets the premium action cameras apart from the no-name cheaper options. When done well, it makes your footage look steady and smooth like it was shot on a gimbal – even when you're hurtling through the woods on a mountain bike.
The big players all have their own version of this, and, while some excel in certain areas over others, they all do an outstanding job. GoPro calls it HyperSmooth, Insta360 calls it FlowState and DJI calls it RockSteady. A few short years ago, none of this was possible without external accessories, and it really opens up a whole new world for these diddy cameras.
All of these systems are capable of horizon levelling, too. This means when you tilt the camera off-axis the image will stay perfectly level. The more premium options tend to have a larger angle at which they can keep the horizon locked, whereas more entry-level cameras will have to stay fairly level for the feature to work correctly.
Resolutions and frame rates
Action cameras can now shoot at incredibly high resolutions up to 5.3K. You might be thinking to yourself, "How can I even watch content of this quality when my TV is only 4K?".
Well, the truth is, you probably can't.
The reason for these high resolutions is editing flexibility. For example, if you export your video at 4K, the extra resolution allows you to crop in and reframe your footage with zero loss of quality.
The same goes for high frame rates. Almost no one wants to watch 120fps footage at full speed, but it gives you the flexibility to have incredibly smooth slow-motion shots. The higher the frame rate, the smoother the slow-mo.
It's important to think about whether you will need the higher resolutions offered today. If you'll mostly be posting on Instagram, then 5K video is total overkill and takes up a huge amount of storage space on both your SD card and hard drives. In this case, you might be able to save some money by going for the last-generation GoPro, rather than the flagship, for example.
Durability
Of course, it wouldn't be an action camera if it wasn't durable. We want these things to be water-proof, drop-proof, and everything-proof!
As well as the general build quality of the device, it's important to think about repairability. For example, many of the options on our list have swappable lens protectors. In the event of a smashed lens, you can unscrew the protector and replace it with a new one.
Some, like the DJI Action 2, have the lens built-in and the only way to repair it is to send it off to DJI to be fixed up. It's still very durable thanks to Gorilla Glass but if you're doing something very dangerous like slapping it on the outside of a rally car, then it should be a consideration.
Size and weight
You might not think it's a huge deal, since all the cameras are pretty tiny but, in practice, it can make a huge difference. If you're doing something particularly challenging, the added weight on your helmet can be quite distracting. Similarly, if you're strapping the camera to a drone or RC plane then the extra weight can throw off the flight characteristics quite dramatically.
Of course, they're all still lightweight and if the main purpose will be something like travel vlogging, an extra few grams isn't likely to matter that much. It will always be handier than lugging around a DSLR, but getting the lightest and the most portable camera can often mean that it gets used more.
Trending Products

.