In the world of consumer technology, the next big thing is always just around the corner – but in the case of TVs, it is actually available already.
While many people may only just be making their 4K TV purchase, manufacturers are already steaming ahead with ranges of 8K TVs for those that are looking for the very best picture quality you can buy.
As you might expect, 8K ups the resolution of the picture you're watching to a staggering 7680×4320 – though it's worth pointing out that there is actually next-to-no native 8K content available, aside from some impressive demo clips to show off how brilliant the technology could look. Instead, you'll be relying on excellent upscaling to push the picture quality past that you'll find on the very best 4K TVs.
Your budget will depend on if 8K TV is within your reach at the moment, as these models are – predictably – not cheap, and there's still a limited number of models to choose from too. If your budget sits towards the bottom of the 8K bracket, it's worth considering whether your money could be spent better at the top of the 4K market instead.
Still, if 8K has piqued your interest, we've pulled together the very best 8K TVs you can buy right now, including some of 2023's newest TV models and some older, more affordable options too.
Best 8K TVs 2023 – Our Top Picks:
Samsung QN900C
1. Best 8K TV overall
Exceptional clarity
$4498 $4998 Save $500
If you're looking for the very best 8K TV you can buy, and you have the sizeable budget to spend on it – the Samsung QN900C is it.
Pros
Remarkable HDR performance & great picture processing
Fantastic audio with Atmos
Comprehensive smart features
Great for next-gen gamers
Cons
No Dolby Vision
Next-to-no 8K content
Expensive
Samsung QN900C deservedly sits at the top of the brand's range. It boasts every cutting-edge technology the brand has to offer, and delivers a state-of-the-art performance with SDR and HDR content. If you can access 8K content all the better, but this TV makes any resolution look good – not to mention packs some of the best and most accurate HDR seen outside a mastering suite.
An elegant design, great build quality, useful One Connect box, and top-drawer gaming features play their part, plus audio quality is also excellent, thanks to built-in 6.2.4-channel sound with native Atmos support.
In fact the QN900C is hard to fault, aside from the lack of Dolby Vision support, but given this TV's HDR prowess it would offer limited benefits anyway. Otherwise this stunning range-topper is the perfect choice for any well-heeled TV fan looking to future-proof themselves – as long as you've got the budget, of course.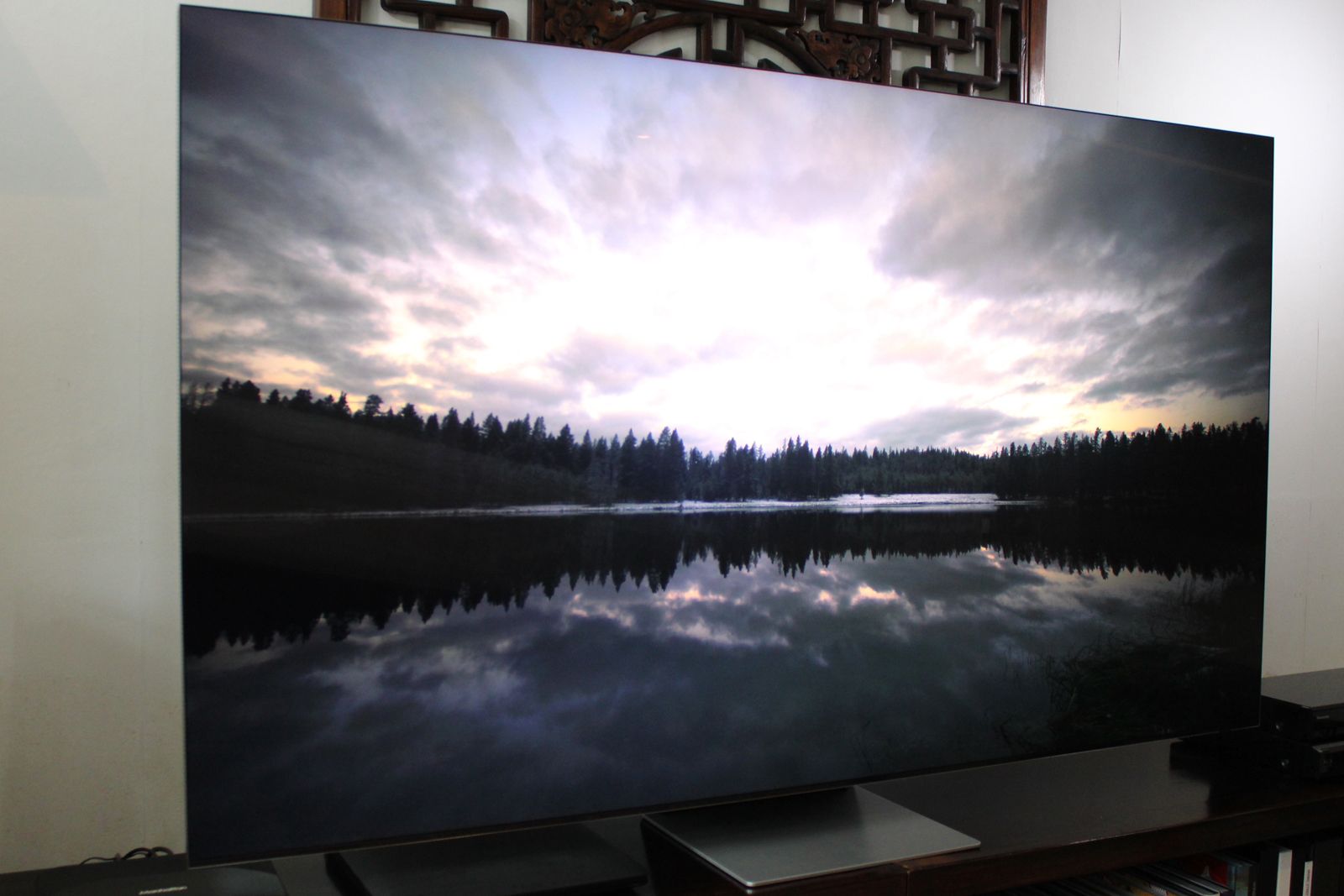 Samsung QN900B
2. Best 8K TV for value
$3999.99 $4999.99 Save $1000
An 8K TV that looks simply amazing, with exceptional brightness and HDR performance.
Pros
Amazing brightness and clarity
Excellent design
Impactful HDR
Cons
No Dolby Vision
Little 8K content
The QN900B is an 8K TV that delivers in the areas that count – its picture quality will have you believing that you're basically living a few years ahead of the rest of the world, with HDR performance that gets jaw-dropping at times.
This TV was once as expensive as 2023's QN900C, but since that has launched, you can now pick up this TV at a significant discount – making the investment all the more worthwhile.
This set offers Samsung's last-gen Neural Quantum Processor 8K, meaning upscaling might not be quite as good, plus it's not quite as bright as its successor either, but it's still a fantastic picture that will scratch the 8K itch you might be feeling for significantly less cash.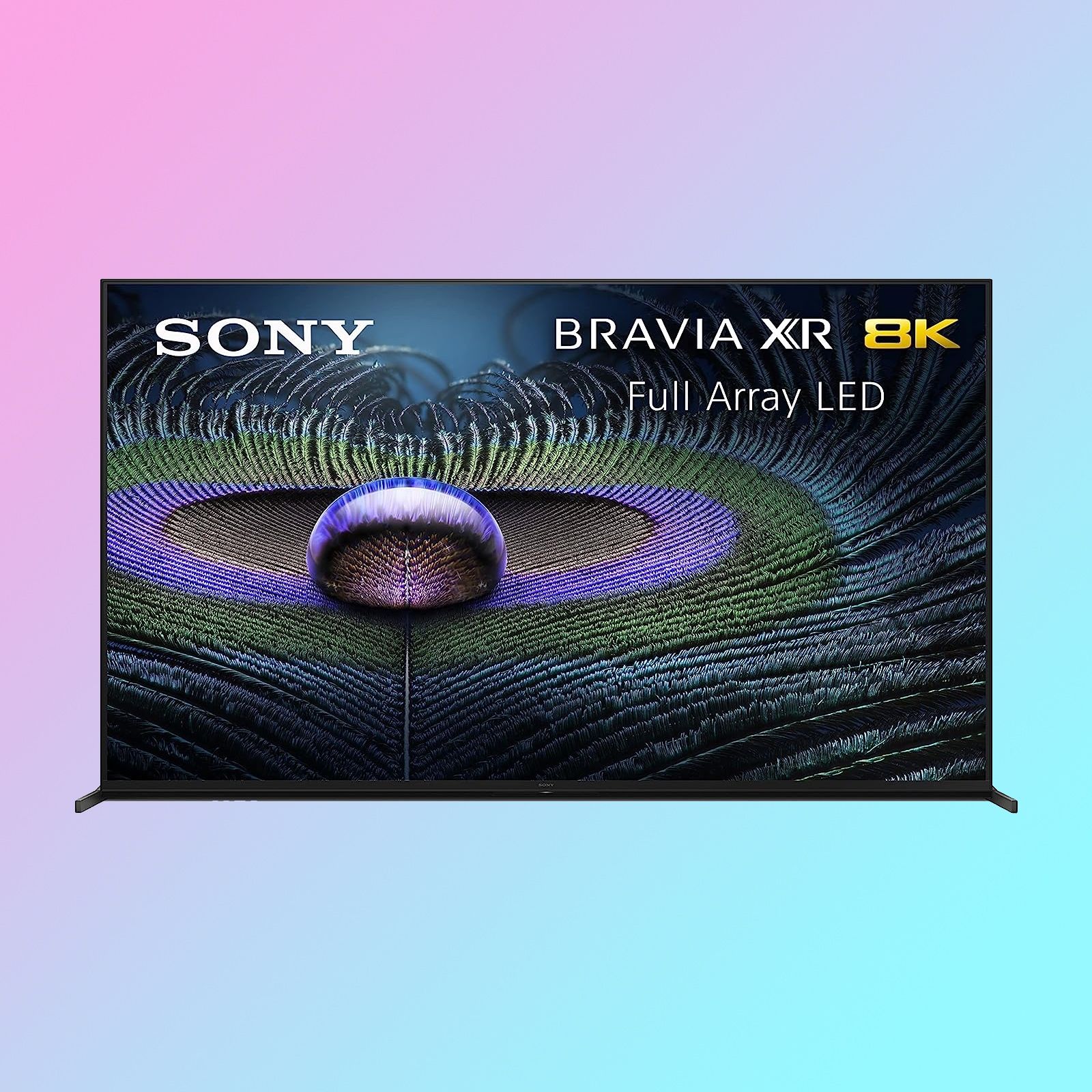 Sony/Pocket-lint
Sony Z9J
3. Best 8K TV for subtlety
Impressive upscaling
$2700 $4000 Save $1300
The Z9J uses some very clever processing to deliver fantastic 8K results from a variety of sources.
Pros
Superb natural colours
Excellent video processing
Extremely bright
Cons
Only available in 75 and 85 inch
Lacks YouTube 8K support
Sony's Z9J is a seriously impressive TV and it does a great job of addressing the biggest issue with 8K – a lack of content. The TV uses something called Cognitive Processor XR to upscale and enhance both sound and image to deliver the best results possible.
We love that the tech doesn't veer into the over-processed look and the colours, especially, appear pleasing and natural. The biggest downside is that it doesn't support 8K content from YouTube, which is one of the only outlets offering such resolutions as things stand.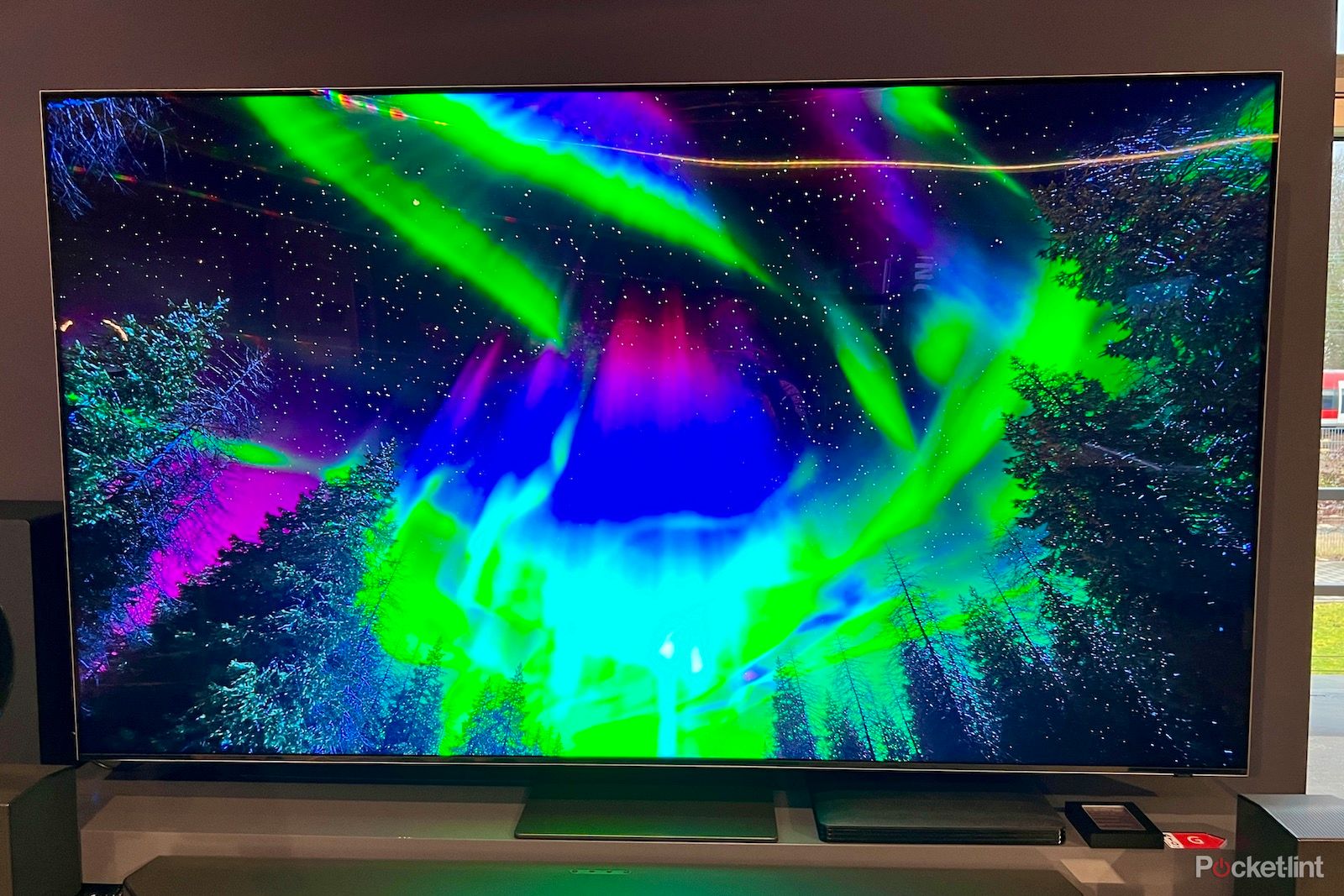 Samsung QN800C
4. Best 8K TV for less in 2023
$3298 $3498 Save $200
If 8K intrigues you but you want to do it on a slightly lower budget, the QN800C still offers you plenty of 2023's tech to love, but with some small performance tweaks that take a sizeable chunk off the price tag.
Pros
Great 8K picture
Good connectivity
Eye-catching design with One Connect box
Cons
Sound system isn't as good
Not as bright as QN900C
A step down from the QN900C in Samsung's 2023 8K TV line up is is the QN800C – which still offers the more advanced Neural Quantum Processor of its big brother, but with a few tweaks.
The biggest differences here are you'll lose the 144Hz refresh rate in exchange for a 120Hz capability and it'll also be less bright too with fewer dimming zones – you can expect peak brightness to be around 2000 nits.
That's still a very bright screen, and with support for ALLM and VRR alongside 4K/120Hz video, should still be great for gamers. Depending on prices, you might feel like the trade off is worth it.
The design is great too, with support for the One Connect box meaning it's still suitably slim for wall mounting – there's just a slightly lesser sound system than the QN900C, with eight speakers offering 70W of sound in an Atmos-supporting 4.2.2 channel configuration.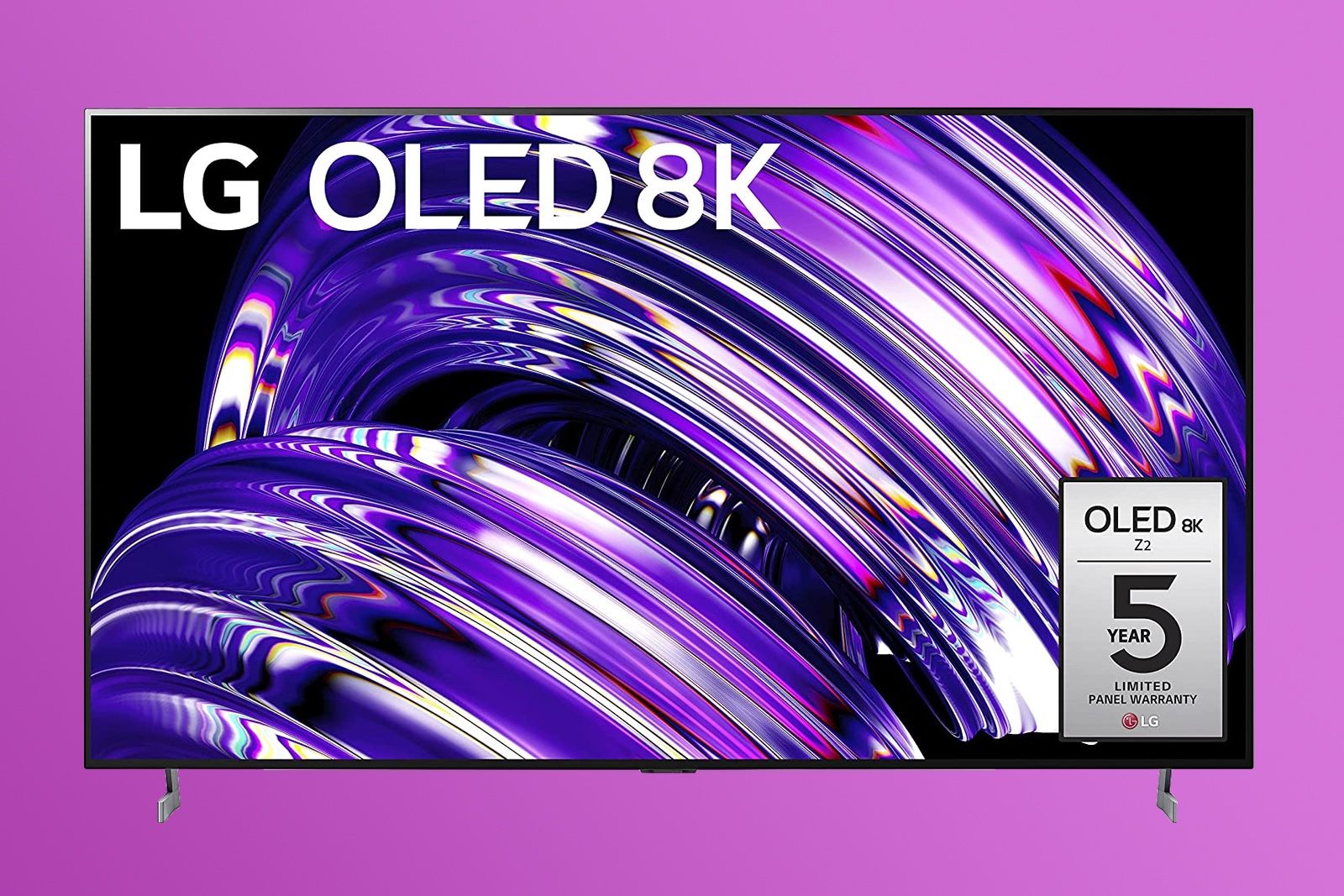 LG/Pocket-lint
LG Z2 OLED
5. Best 8K TV for big budgets
Glorious 8K OLED
$9997 $13000 Save $3003
If you want an 8K OLED, and can stomach the price, the Z2 is the TV for you. Not least because it's the only one you can currently buy.
Pros
It's an 8K OLED – what's not to like?
One of the brightest OLED panels around
Good audio performance
While the LG Z2 is significantly cheaper than previous 8K OLED models, it's still astonishingly expensive – even now. That said, it's certainly an impressive bit of kit, and if you want all the benefits of OLED, at an 8K resolution, then this is the TV for you.
The good news is, if you can get past the price, you're getting a serious performer. The picture quality is second to none and it's also one of the brightest OLED panels on the market. The audio packs a good punch, too.
It's a 2022 model but LG didn't announce a replacement in 2023, so if you want 8K OLED, this is the latest and greatest you can get – not to mention it's the only 8K OLED you can currently buy.
How did we choose the best 8K TVs?
At Pocket-lint, we spend a lot of time reviewing the products we recommend – living with them to understand how they perform and if they do the job they say they do. So first and foremost, we have of course included those, with several five-star products recommended here.
The other products have been included on a basis of our previous experience with the brand, the performance of products in the range and extensive research based on customer reviews and feedback. We're not in the business of recommending any old product – if you can find it in our best buy lists, you can be sure it'll be a good purchase, assuming that it aligns with your budget and requirements.
FAQ
Q: Should I buy an 8K TV?
Whether you should buy an 8K TV depends on a few things – but mainly what your budget is and how big you want your TV to be. Because when it comes to how much you are planning to spend, 8K TVs can get as expensive as you're willing to go – particularly if you want a bigger screen size, or a more expensive screen technology, like OLED.
Conversely, if you want a smaller TV, they basically don't exist right now in 8K. You'll find 8K TVs starting from around 65 inches and up, so smaller rooms are much better served by 4K.
As for what you should look to spend, we'll say this – if you're out to get the most affordable 8K TV you can, we think you might be better off spending that budget on a really great 4K TV instead. For the majority of people, this is going to be the best way to go – there's just not the content to justify 8K at the moment, particularly at the more reasonable price points.
However, if you're still set on getting an 8K TV for less, you may be better looking to last year's ranges to get a good deal.
Q: What 8K content is available?
There isn't a whole lot of 8K content available at the moment – certainly nothing that's really worth watching – and whether we'll ever have any really remains to be seen.
Filmmakers have been experimenting with 8K resolutions and even above that, as the higher resolutions give flexibility when editing. But how – and if – that will make its way to us remains to be seen.
The streaming of 8K content is something that none of the bigger streaming services have even alluded to, not least because of all the infrastructure improvements that need to happen for internet speeds to support it, and the issues with getting that amount of data onto a physical disc have raised a question mark as to whether it's even possible.
Vimeo has got some demo 8K footage you can watch, but nothing much you'd want to watch apart from to show your friends how great 8K can look. YouTube is similar.
One place that 8K is showing potential in some parts of the world is in broadcast. Some broadcasters in places like Korea and Brazil have done some limited 8K trials, while NHK, the Japanese broadcaster and one of the pioneers of 8K, actually launched the first 8K television channel back in 2018. It broadcasts in 8K daily, including the Tokyo Olympics in 8K in 2021 and the 2019 Rugby World Cup. Whether we'll see this in the US and UK remains to be seen, but it would be some way off if so.
This sits at the heart of why it's hard to recommend 8K TVs for the majority of people. Only those who have money to spare and really want to see the power of the upscaling technology in the very best 8K TVs should consider them.
Trending Products

.