Asus can go a little over the top with its ROG brand sometimes, as we discovered with the extravagant twin-screen design of its Zephyrus Duo 16 recently. Unsurprisingly, the 16-inch Zephyrus Duo was big and heavy and suffered from poor battery life – as well as being wildly expensive. Fortunately, the company does also make some more down-to-earth models, such as the Zephyrus G14, which puts aside some of the eye candy and simply focuses on squeezing as much gaming power as possible into a more compact 14-inch laptop.
It's still expensive, with this top-of-the-range review unit providing the latest AMD processors and nVidia RTX 4000 series graphics cards, but the Zephyrus G14 achieves the rare feat of combining high-end gaming performance with a more streamlined design that you can easily carry around in a backpack. And, despite the high-end hardware and compact design, the G14 can even provide respectable battery life that will see you through most of the day when you're out and about.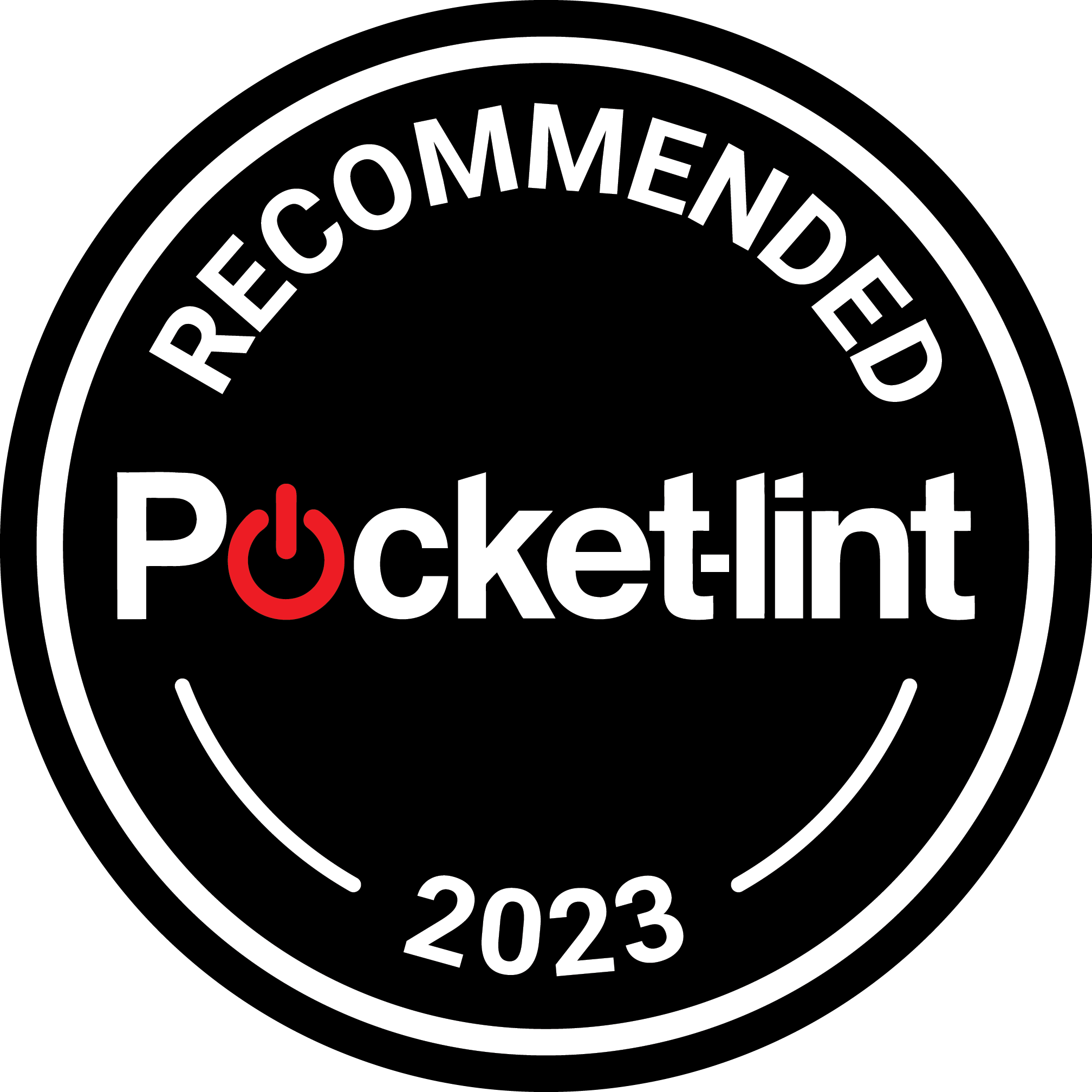 Asus ROG Zephyrus G14 (2023)
Recommended
It's expensive, but if you need a high-performance gaming laptop that can also fit comfortably into a backpack or travel bag, the Zephyrus G14 is hard to beat.
Pros
High-end gaming performance
Compact, lightweight design
Sturdy magnesium casing
Bright 2560×1600 display with HDR
Cons
Expensive
No 4K option
Battery life could still be better
Price and options
Processor: AMD Ryzen 7-7735HS @ 3.2GHz (Max Boost 4.75GHz) / Ryzen 9-7940HS @ 4.0GHz (Max Boost 5.2GHz)
Graphics: AMD Radeon 780M (integrated), nVidia GeForce RTX 4060/4070/4080/4090 (discrete)
Memory: 16GB / 32GB DDR5
Storage: 512GB / 1TB SSD
There are plenty of upgrade and customisation options available for the Zephyrus G14, although you may need to shop around online to find just what you want.
Asus' website lists several models that are equipped with either AMD Ryzen 7 or Ryzen 9 processors, although the Ryzen 9 review unit tested here was one of the few that can be bought directly from Asus itself. This is the top-of-the-range model, costing $3299.99/£3399.99 from the Asus website, and includes an 8-core Ryzen 9-7940HS running at 4.0GHz (with boost option up to 5.2GHz), along with an nVidia GeForce RTX 4090 graphics card, 32GB memory and 1TB solid-state storage.
My review unit was also equipped with a 14-inch Mini LED display with 2560×1600 resolution and 165Hz refresh rate, and this display seems to be a standard feature with all Zephyrus G14 models.
There are plenty of other options, though. As well as offering both Ryzen 7 and Ryzen 9 processors, Asus also provides models with 16GB memory and 512GB storage, as well as a choice of RTX 4060/4070/4080 graphics. However, these other options aren't available directly from Asus, and the company simply points you in the direction of third-party online retailers for sales information. If you want to find a more affordable model that comes in below £3000/$3000, you may need to shop around.
Design
Dimensions: 19.5 x 312 x 227mm
Weight: 1.8kg
Ports: 1x HDMI 2.1, 1x USB 4, 1x USB-C (3.2), 2x USB-A (3.2), 3.5mm audio in/out, microSD
Wireless: Wi-Fi 6E, Bluetooth 5.2
The Zephyrus G14 isn't the most elegant 14-inch laptopI've seen recently. The design is almost boringly rectangular and plain, with our review laptop finished in a sombre dark grey (although some models are available in white as well). But the real achievement is simply that Asus' engineers have managed to cram the G14's high-end hardware into a design that is still quite light and portable.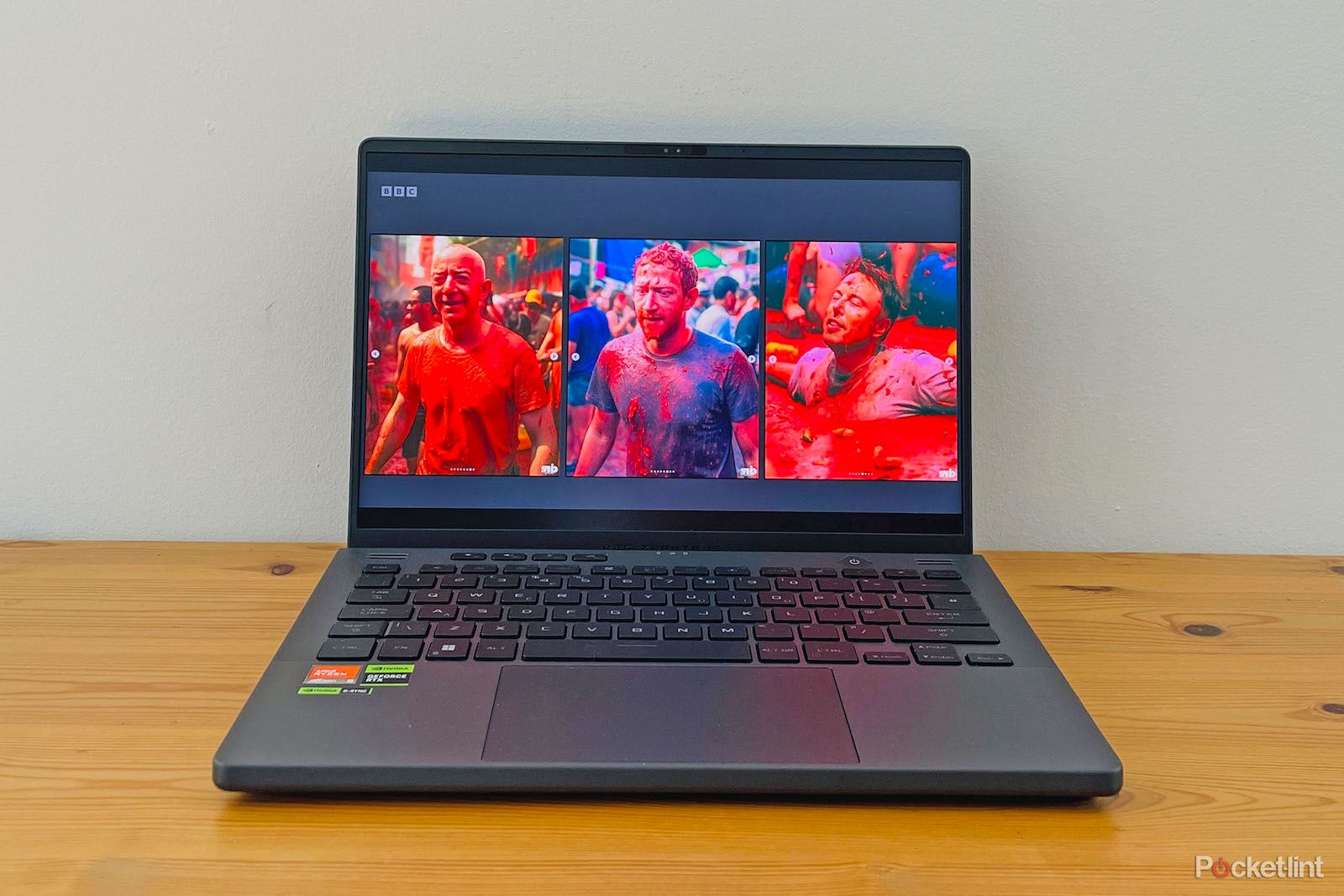 The Zephyrus G14 measures 19.5mm thick, 312mm wide and 227mm deep, so it'll fit into a backpack or bag without too much trouble. Asus says that the laptop weighs 1.72kg, although our scales put it closer to 1.8kg. Even so, that's still a good size and weight for a high-end laptop with a powerful cooling system, and you can pick the G14 up with one hand and carry it around easily enough when you need to.
It's also built like a tank, with a magnesium alloy case that feels really sturdy, and provides good protection for the screen panel. The keyboard feels very firm too, and should be more than capable of taking a pounding during long gaming sessions. And, in addition to the standard row of Function keys, there's also a set of four 'hot keys' available too.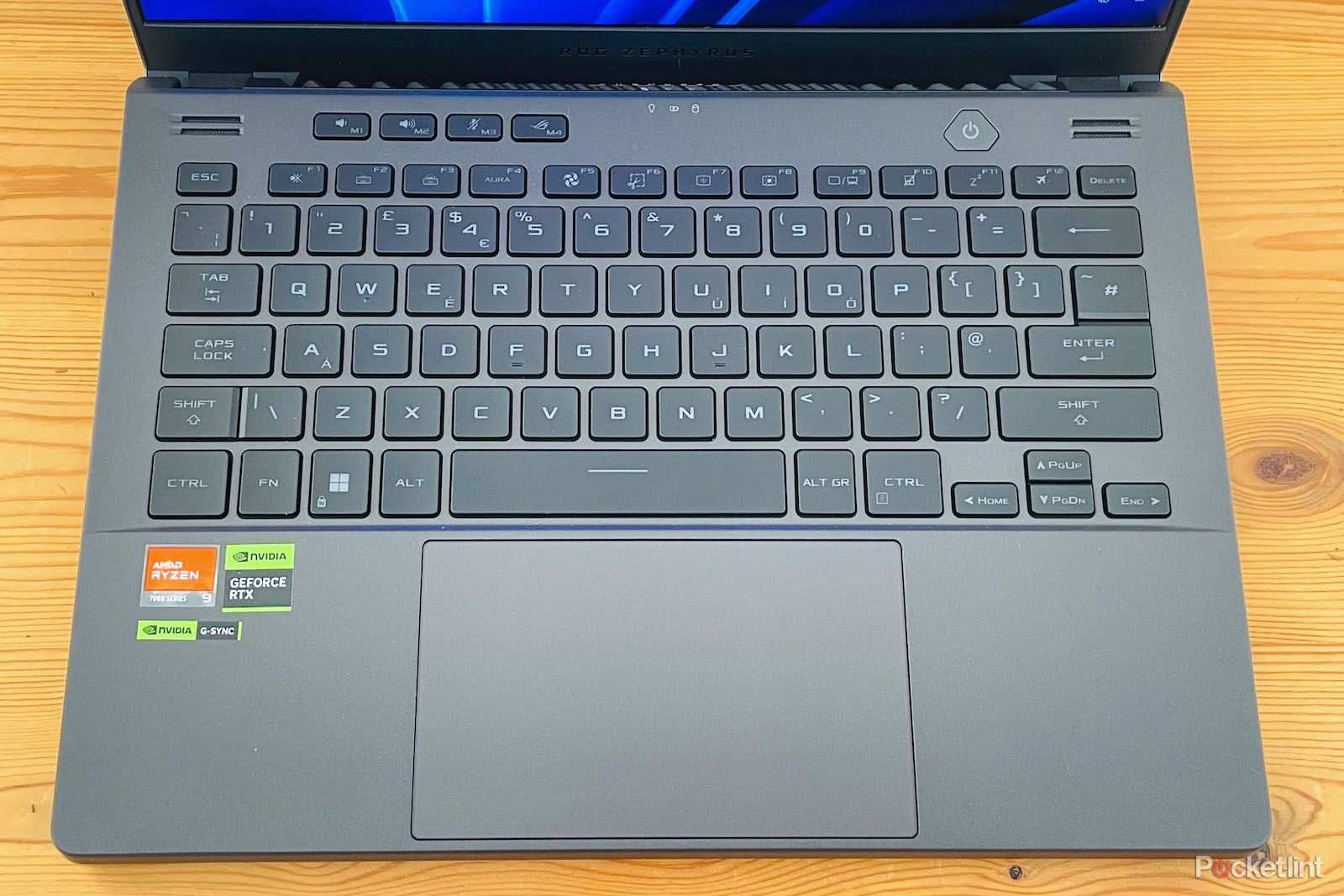 By default, these four keys can be used to control volume settings, and to launch Asus' Armoury Crate app, which provides a wide range of gaming features, including the ability to assign your own macro commands to these four keys. My only complaint here is that the labels on the keys are dark grey, and almost invisible unless you turn the backlight on – which might not always be convenient, and obviously won't help the battery life either.
Connectivity is good for a compact 14-inch laptop, with one HDMI port for an external display as well as USB-C (3.2) and USB 4 ports that support video output as well. There are also two USB-A ports, a microSD slot for memory cards, and 3.5mm connector for audio input and output, while wireless connectivity is handled with Wi-Fi 6E and Bluetooth 5.2.
It's a shame, though, that Asus still uses a spindle-like power connector that sticks out from the side of the laptop and could easily snap if it gets caught or someone trips over the power cable.
Display: 14-inch Mini LED with HDR @ 2560×1600, 16:10 aspect ratio, 165Hz refresh
Webcam:1080p
Audio: 2x woofers, 2x tweeters, with Dolby Atmos
You might expect a laptop costing well over $3000/£3000 to provide a 4K display or the latest OLED technology, but the G14's 2560×1600 resolution and 16:10 aspect ratio do work well for its relatively small 14-inch display, and Asus finds other ways to enhance the display and image quality as well.
The display supports HDR and boasts 600 nits brightness (when used with HDR content) that produces a very bold and brightly coloured image. In fact, to my eyes, the colours can look a little oversaturated at times, but Asus states that the display does support 100 per cent of the DCI-P3 colour standard used for professional-level video editing – that means it's capable of handling serious graphics and video work as well as gaming. Speaking of which, the display also provides a very smooth and precise 165Hz refresh rate for gamers to make the most of too.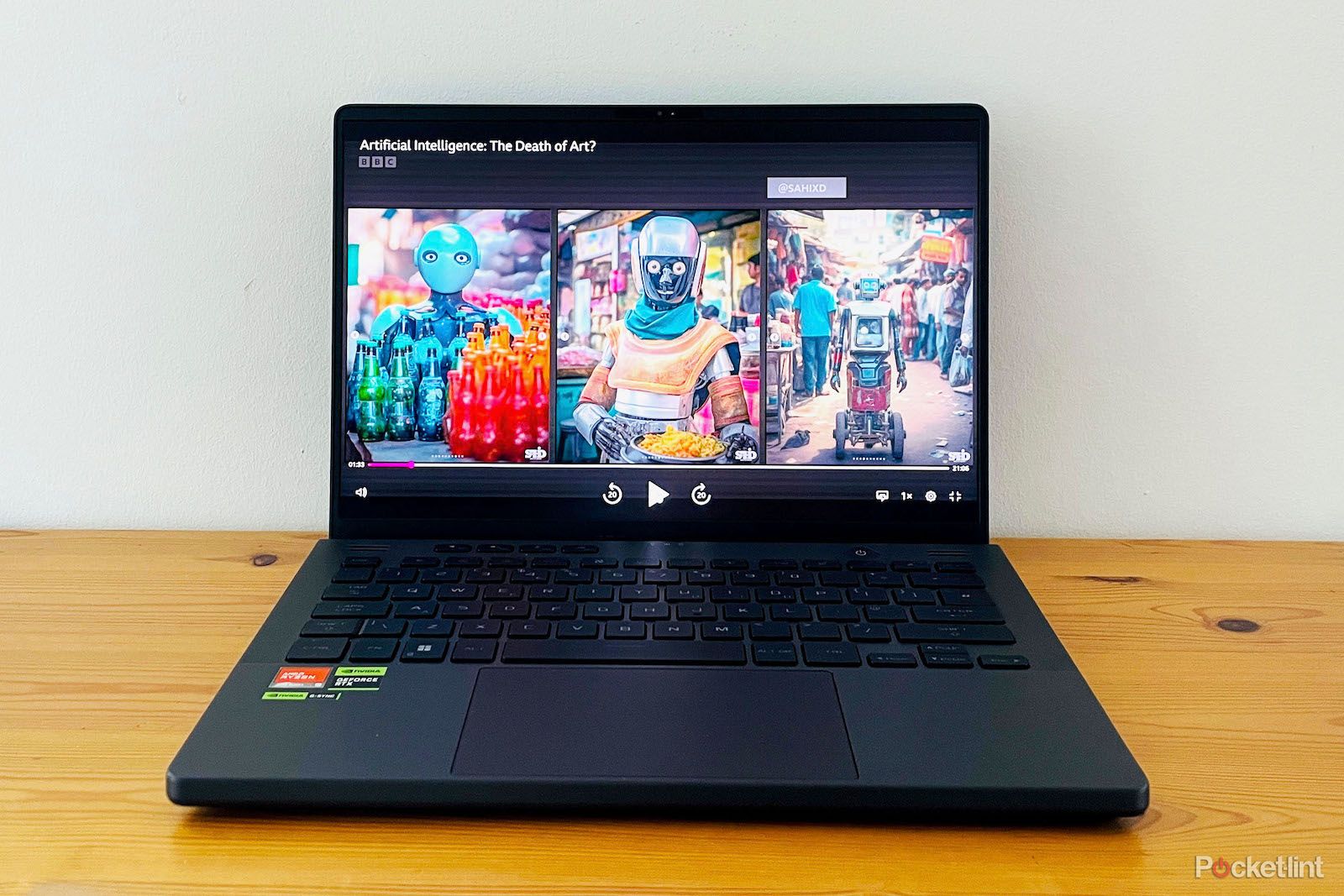 The G14 also includes a 1080p webcam that provides a clear, sharp image and which coped admirably with low-light conditions during the cloudy, grey summer that we've been enjoying in the UK. Even the speakers work well, as the Zephyrus G14 includes four separate speaker drivers – two woofers and two tweeters – that provide a good, full sound that manages to avoid the thinness on higher frequencies that affects so many laptop speakers.
Performance and battery (as reviewed)
Ryzen 9-7940HS @ 4.0GHz (Max Boost 5.2GHz)
nVidia GeForce RTX 4090 (16GB VRAM)
Power – 240W adaptor, with 76Whr Li-Ion battery
Asus uses AMD processors in a number of its gaming laptops, and the Ryzen 9 used by the Zephyrus G14 seems like another good choice. When running the GeekBench 6 benchmark, the G14 scores 2,640 for single-core performance, and 13,000 for multi-core, with the latter score putting it only slightly behind the 14,106 multi-core score of HP's Intel i7-powered Omen 16 laptop.
However, the Zephyrus G14 catches up on graphics performance with its RTX 4090 GPU, which allows it to score 173fps when running the Unigine Valley 3D benchmark, right alongside the 174fps scored by the Omen 16 with its RTX 4080.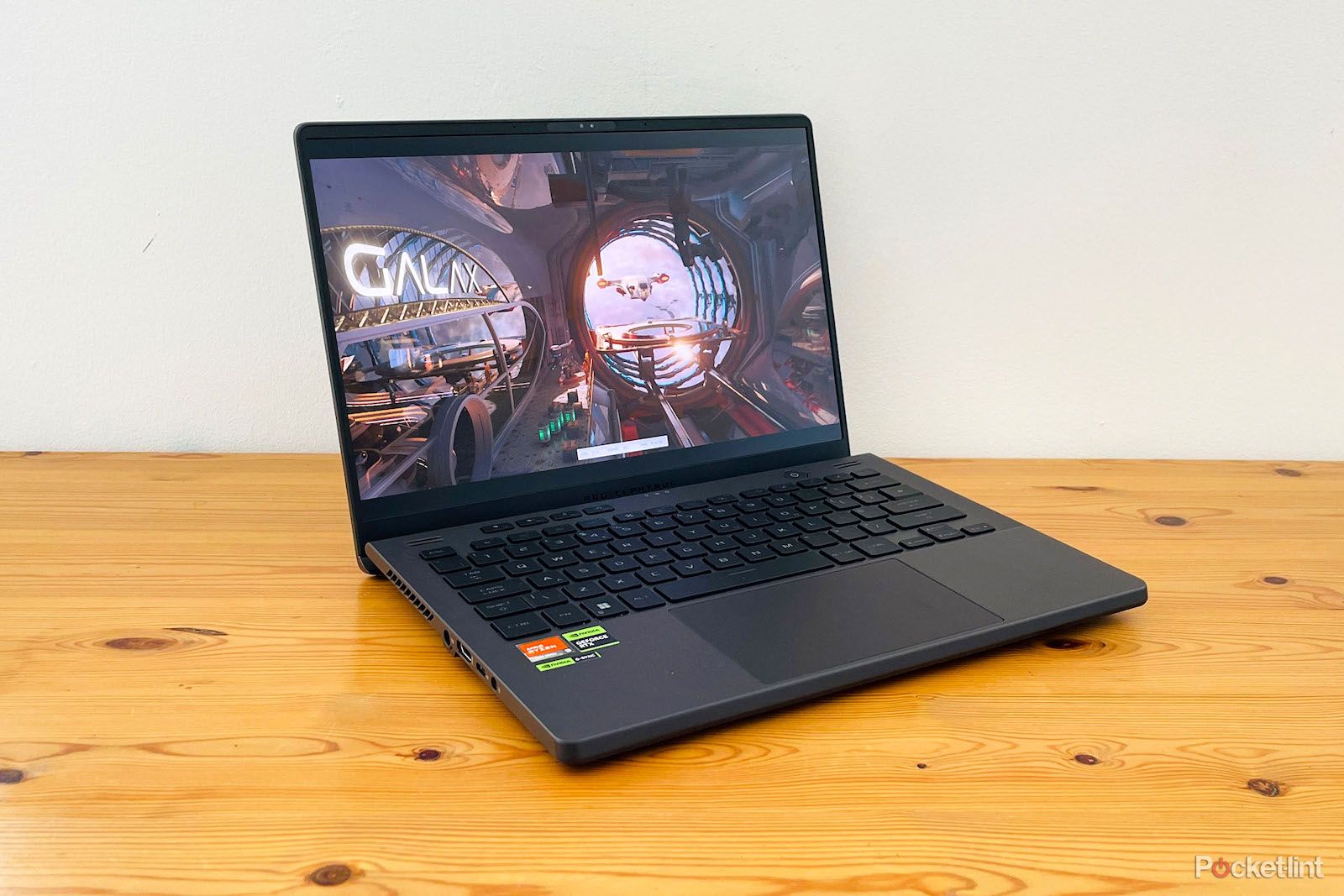 The Zephyrus continues to impress in our game-based tests, being rated at 155+fps when running 3DMark Wildlife Extreme – which is based on Battlefield V – compared to 150fps for the Omen. The Zephyrus pulls even further ahead when running Rise Of The Tomb Raider, breezing to 206fps at 2560×1600 resolution while using the game's highest graphics settings, while the Omen 16 trailed behind at 187fps.
Admittedly, the Zephyrus is the more expensive of the two laptops, but the price difference also reflects the more compact and portable design of the Zephyrus rather than just its frames-per-second horsepower. And, on that score, the Zephyrus manages to pull one more rabbit out of its hat. It's not going to break any records for battery life, but it does manage to last for a respectable 6.5 hours when streaming full-screen video and using its integrated Radeon graphics.
If you're not using wi-fi all day long then you might even be able to stretch that to a full eight-hour working day – which isn't something that many gaming laptops can boast about.
Verdict
It's expensive, but the Zephyrus G14 pulls off a very tricky balancing act by squeezing high-end gaming performance into a 14-inch laptop that is still admirably compact and lightweight. You're paying extra for the engineering that makes this possible, but if you do need a high-performance gaming laptop that can also fit comfortably into a backpack or travel bag, then the Zephyrus G14 is hard to beat.
Trending Products

.