Amazon's Echo Show comes in a range of sizes – 15, 10, 8 and 5, with the numbers referring to the screen size. Generally speaking the functionality of these devices is the same, centred on Alexa's skills, but there's a wide range of differences between them.
So how do these devices compare and which is the best model for you? With Prime Day approaching quickly, there are sure to be deals had on the Echo Show models, so choose wisely.
Our recommendation: Which is the best Echo Show?
We've used all the Echo Show models extensively and the models below come out on top. If you're looking to add the Echo Show to your home then these two devices should be your starting point.
Amazon Echo Show 10 (3rd Gen)

Best Echo Show overall

The Echo Show 10 offers the best sound quality of all the Echo Show models and is great for bigger rooms.

Pros

Great sound quality
Excellent for video calls

Cons

Takes up a little more surface space
Price

Amazon

Amazon Echo Show 8 (2nd Gen)

A great alternative

The Echo Show 8 gives a great display and good sound, while offering good value for money.

Pros

Good balance of screen and size
Good video camera

Cons

Some apps don't work well on the display
While the models above are our top recommendations, there are a further two models in the range that you might also consider, depending on what you're looking for. Below we'll cover each model in detail so you know what each offers and whether it's the best choice for you. But first, here are the specs of all the models so you can quickly compare what they have to offer. Bear in mind that all of these devices work around the same core Alexa-based service, so the functionality is very similar.
| | Amazon Echo Show 15 | Amazon Echo Show 10 (3rd Gen) | Amazon Echo Show 8 | Amazon Echo Show 5 (3rd Gen) |
| --- | --- | --- | --- | --- |
| Chipset | Amlogic Pop1 with AZ2 Neural Edge | MediaTek 8183 with AZ1 Neural Edge | MediaTek MT 8183 | MediaTek MT 8169 B |
| Display | 15.6in touchscreen | 10.1in rotating touchscreen | 8in, 1280 x 800 | 5.5in touchscreen |
| Sound | 2x 1.6in speakers | 2x 2in tweeter, 1x 3in woofer | 2 x 2.0in driver with passive bass radiator | 1.75in speaker |
| Connectivity | Wi-Fi, Bluetooth, Matter | Wi-Fi, Bluetooth, Zigbee, Matter | Bluetooth, Matter, BLE Mesh | Wi-Fi, Bluetooth, Matter |
| Dimensions | 402 x 252 x 35mm, 2215g | 251 x 230 x 172mm, 2560g | 200.4 x 135.9 x 99.1mm, 1037g | 147 x 91 x 82mm, 456g |
| Camera | 5MP with physical shutter | 13MP | 13MP with privacy shutter | 2MP camera with built-in shutter |
| Integrations | Amazon Alexa | Amazon Alexa | Amazon Alexa | Amazon Alexa |
Now we're going to look at the individual Echo Show models in detail so you can figure out which is best. We have extensively reviewed each Echo Show and used these devices long term, both as a stand-alone device and as part of a wider ecosystem in a smart home. You can read our Echo Show tips right here.
Amazon Echo Show 10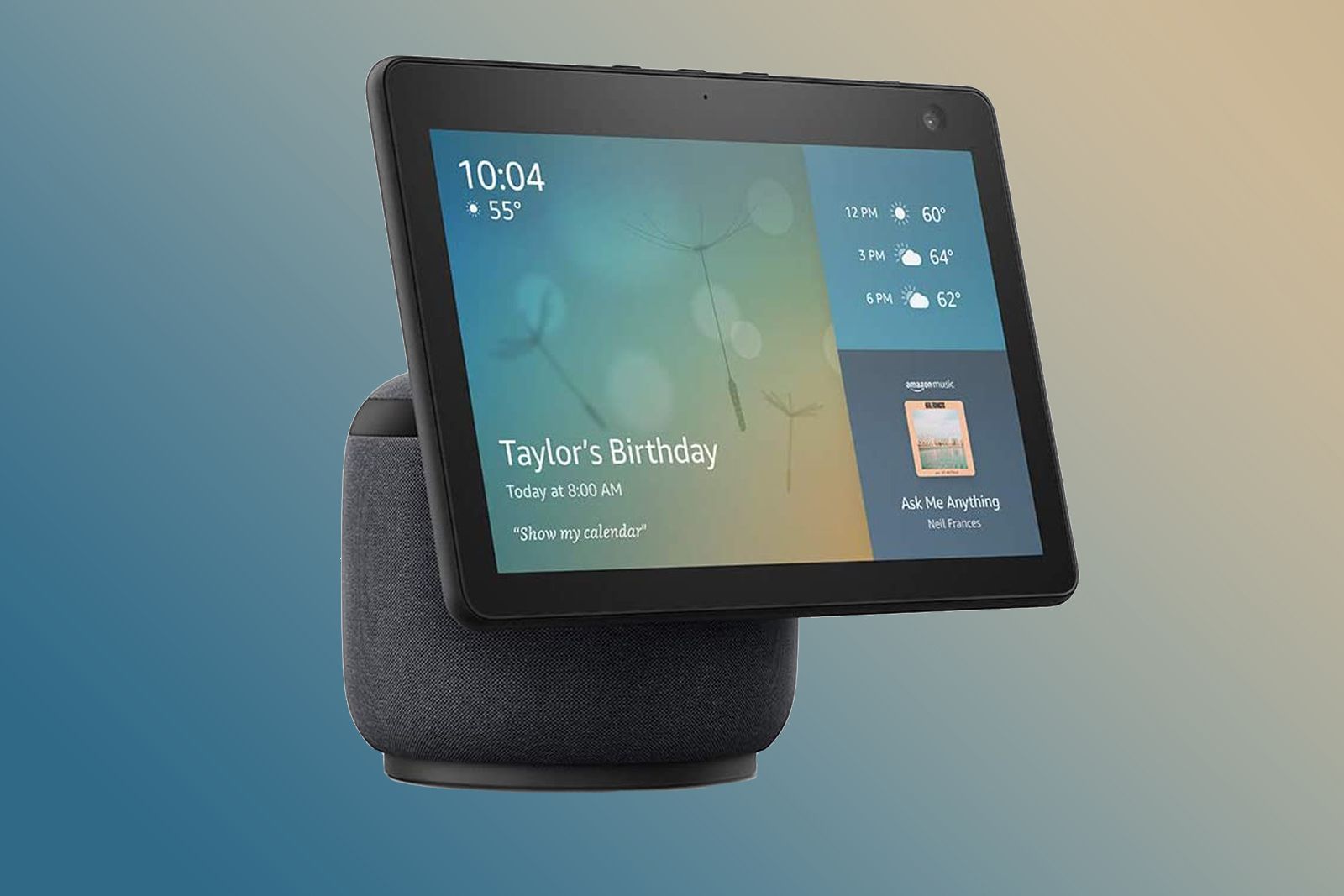 Amazon
Amazon Echo Show 10 (3rd Gen)
Best Echo Show overall
The Echo Show 10 offers great sound quality while the motion-controlled display makes for a great video-calling experience. This is the best overall Echo Show.
Pros
Best sound quality
Motion-controlled display
The Echo Show 10 is a slightly quirky design, with a rounded base upon which is mounted a display. The display can rotate, so it's ideal to place in the centre of a room like a kitchen. The advantage here is that when used for video calling, it can track you around the room, so you're not limited to staying in one place. We've found this really good for video calling, meaning you can make that call while doing something else, without being limited to stay in one spot.
The Echo Show 10 also has the best speaker performance of all the Echo Show models. This will make music and video you consume sound better, but there's a bigger price tag attached to it as a result. It also takes up quite a bit of worktop space, but we think it's worth the space it takes up on a worktop.
Amazon Echo Show 8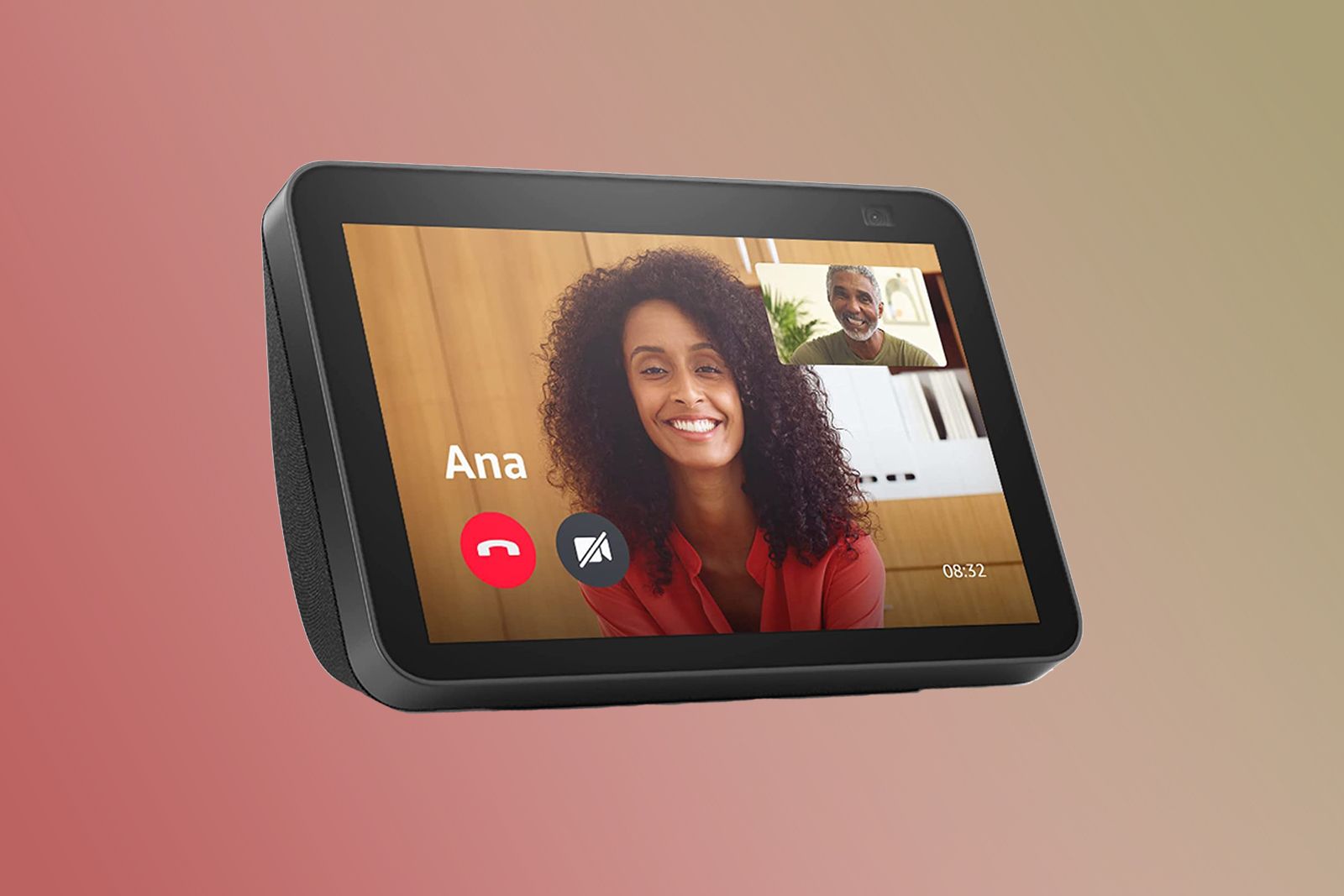 Amazon Echo Show 8 (2nd Gen)
Good value Echo Show
The Echo Show 8 offers a great compromise between size and price. You get a decent display, good sound quality but it's not too large.
Pros
Pan and zoom camera
Good sound quality
Cons
Some Alexa Skills could be better
The Echo Show 8 sits in the middle of the Echo Show family, offering a decent size display and good sound quality. At 8-inches, the display gives you plenty of space, so this is great for a larger room. The upgraded camera will also track you around a room, but not to the extent that the Echo Show 10 will. We have found the Echo Show 8 to be a great compromise, strong in all areas.
It takes up less space than the Echo Show 10, while the functionality is pretty much the same, so it offers better value for money overall. It's just not going to be a showpiece like the Show 10. With that said, the combination of screen size and sound quality will suit many buyers.
Amazon Echo Show 5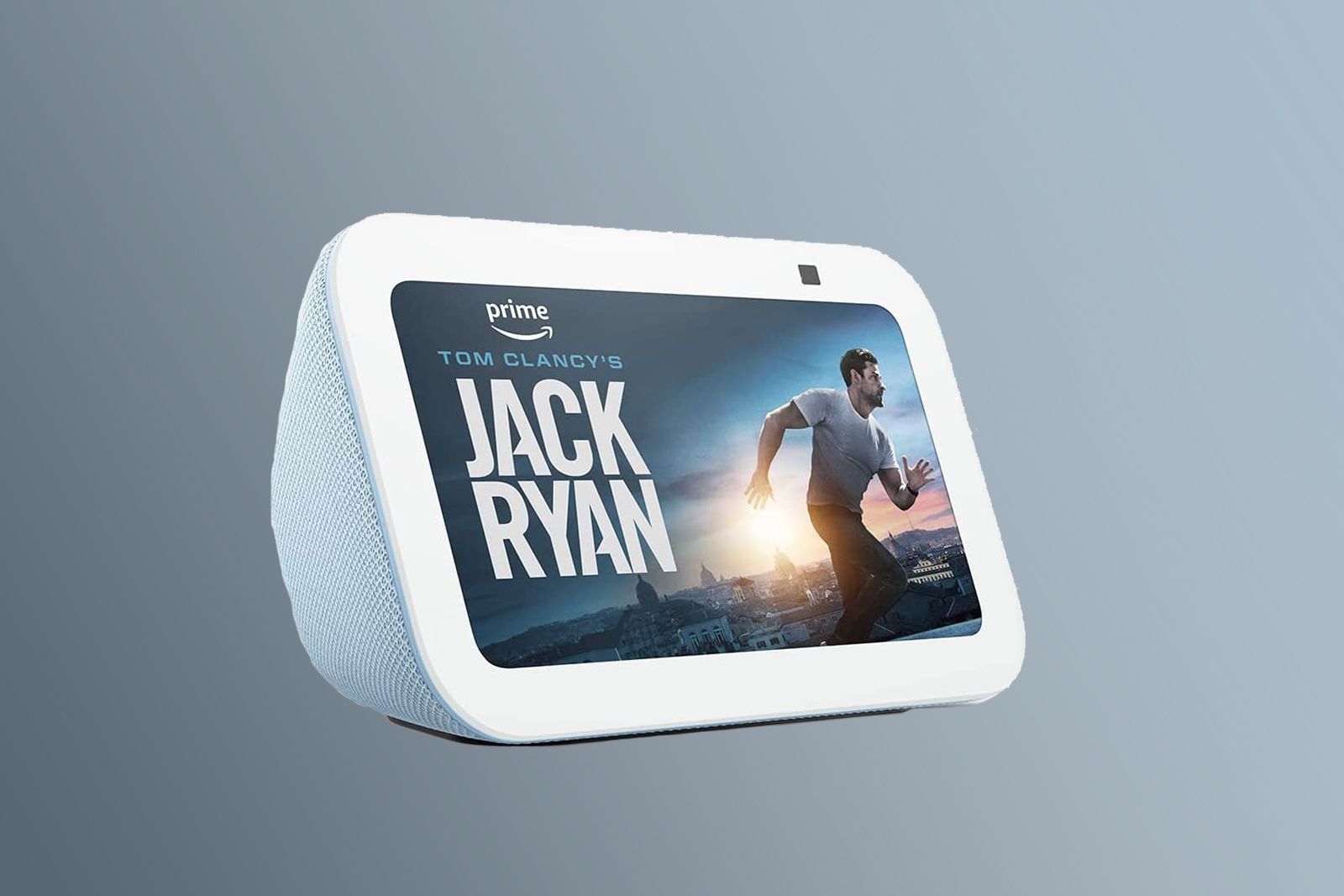 Amazon
Amazon Echo Show 5 (3rd Gen)
Best Echo Show for bedrooms
Fully updated, the new Echo Show 5 offers a refined desgn and boosted sound over the 2021 model – but it's still compact and affordable.
Pros
Compact display
Great for the bedside
The Echo Show 5 is the smallest and cutest of the Echo Show models and this means it's also the most affordable. It's now in the third generation with the most recent model boosting the sound quality and refining the design, so it's a little better looking and sounding than it was before. The display is small so you don't get the advantages you do from the larger Echo Show models – this isn't quite as adept at playing movies or video calling – but both are still possible.
As an Echo device for a desk or small room, the Echo Show 5 is a great choice and while many will use it as a bedside device, it doesn't offer that many useful features for nighttime use. Still, it's an affordable route into Echo Show ownership.
Amazon Echo Show 15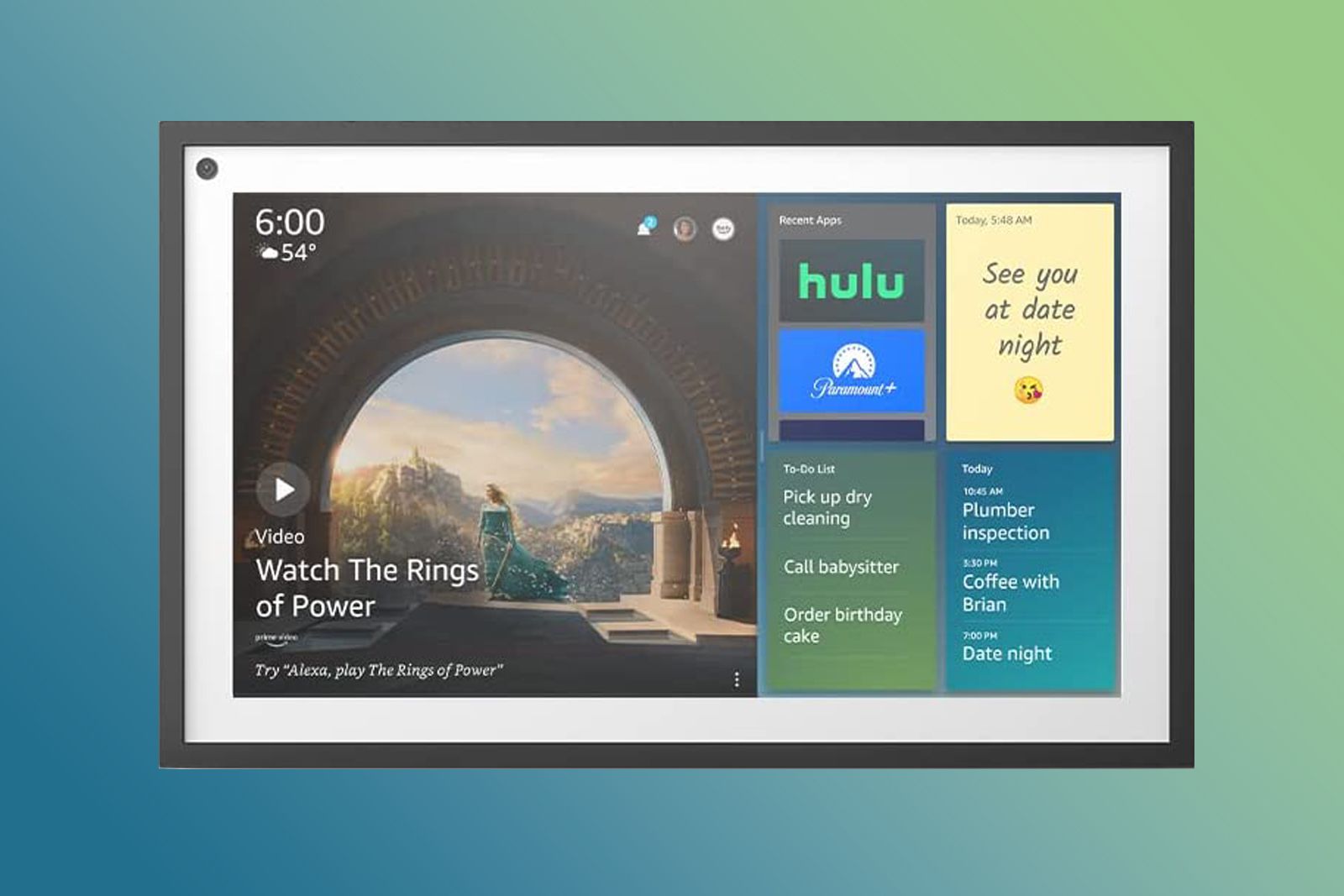 Amazon
Amazon Echo Show 15
Best Echo Show for wall-mounting
The biggest Echo Show to date makes it easy to get Alexa's functions onto the wall and off your worktop.
Pros
Flat for wall mounting
Fire TV functions
Cons
Poor sound quality
Expensive
The Echo Show 15 is pretty unique. It has the largest display at 15.6-inches and is designed to be wall mounted, leaving your surfaces free. That's combined with a camera that will track you, as well as being able to recognise family members to customise the display experience for them. It also offers Fire TV viewing, so it's good as an additional TV.
However, the sound quality is poor compared to the Show 8 and Show 10 and there's not really a huge advantage to having the larger display. The Echo Show 15 is pretty expensive – but feels like it could be better – unless you really want it mounted on the wall which looks great and is convenient.
Echo Show functions and software
All the Echo Show models offer the same basic set of skills. They take the Alexa experience and make it visual. For example, when you ask for the weather, you'll be able to see that on the display, or when you ask about something you'll get supporting imagery. It's more useful for things like recipes as you can have them displayed for you, while the ability to view things like home security cameras is an added benefit.
All the Echo Show models allow you to stream movies, but the Echo Show 15 goes a step further, offering a Fire TV experience and allowing you to pair the Alexa Voice Remote so you can control it. All the Echo Show models also offer Alexa Calling and related functions, such as Drop In – while supporting some other video calling apps too.
The Echo Show 15 offers a little more flexibility with the larger display, but theShow 10 and Show 8 aren't too different. The Show 10 offers an integrated Zigbee hub, while the Show 8, 10 and 5 are all Matter compatible.
Conclusions
One of the hardest things to talk about with Echo devices is price points because they vary so much due to Amazon's regular sales. Overall, we feel confident in saying that Echo Show 8 offers the best value of these devices, sitting in the middle with a more compact size than the Show 10, but all the power and performance.
However, it's not enough for a main household room, so if you want an Echo Show for one of those locations then you need the Echo Show 10. Clearly, that's the most impressive device here, offering that swivel display to keep you in the picture, so it's ideal for big rooms and our favourite device.
Echo Show 5 is generally available at a very appealing price during sales, but it's really only enough for the bedside or desk. However, it's still a very capable device, thanks to Alexa's skills.
The Echo Show 15 has all the potential but doesn't really deliver. It's great mounted on a wall, but with sluggish responses and weak sound, it's not as good to use as either the Show 10 or the Show 8.
Trending Products

.