Amazon Echo Pop

Best for most people

The Amazon Echo Pop comes in three eye-catching colourways and has a new semi-spherical design. It's the cheapest option in the current lineup, but with a sizable new speaker driver on board, it seems like it'll punch above its weight.

Pros

More colour options
Larger speaker driver
Lower price

Amazon

Amazon Echo Dot (5th Gen)

Best for smart homes

The Amazon Echo Dot is one of the most popular smart speakers in the world. It offers great sound quality, excellent smart home integration and brilliant voice recognition. If you've got a lot of smart devices, this is the way to go.

Pros

Temperature sensor and tap controls
Easy access mic mute button
eero Wi-Fi built-in
The Echo Dot is one of Amazon's most popular smart speakers, and it has been for some time. It's easy to see why, too, it's one of the most affordable and compact options in the Alexa smart speaker lineup.
That is, until the Echo Pop was announced. The newer speaker is even cheaper, has an attractive design, is available in multiple colourways and could be looking to take the top spot as Amazon's most popular device.
The question is, how does this new speaker compare to the 5th-generation Echo Dot? and which one is right for your needs? We've taken a deep look at the specifications, and here's how they compare.
Specs, pricing and availability
The Amazon Echo Dot is now in its fifth iteration, it was a puck-shaped device for many years, before moving to a spherical design in 2020. The latest version was released in 2022 and currently retails for $49.99 / £54.99.
The Echo Pop was released in May 2023 and it's available for $39.99 / £44.99. Silicon sleeves that can change the colour of the Echo Pop are available for an additional $16.99 / £19.99.
| | Amazon Echo Pop | Amazon Echo Dot (5th Gen) |
| --- | --- | --- |
| Dimensions | 99 x 83 x 91mm, 196g | 100 x 100 x 89mm, 340g |
| Woofer Size | 1.95in | 1.73in |
| Connectivity | Dual-band Wi-Fi, Bluetooth | Wi-Fi, Bluetooth, Matter |
| Colors | Charcoal, Glacier White, Lavender Bloom, Midnight Teal | Charcoal, Glacier White, Deep Sea Blue |
| Others | Matter | Temperature sensor, Accelerometer |
Design
The design differences between the Echo Dot and Echo Pop are quite plain to see. The Echo Dot has a spherical shape, whereas the Echo Pop has a flat front, creating what Amazon calls a semi-sphere design.
Both devices have LED illumination to signal when they're in use, but the location is different on each model. The Echo Dot has an illuminated ring around its base, whereas the Echo Pop has a small illuminated section at the top.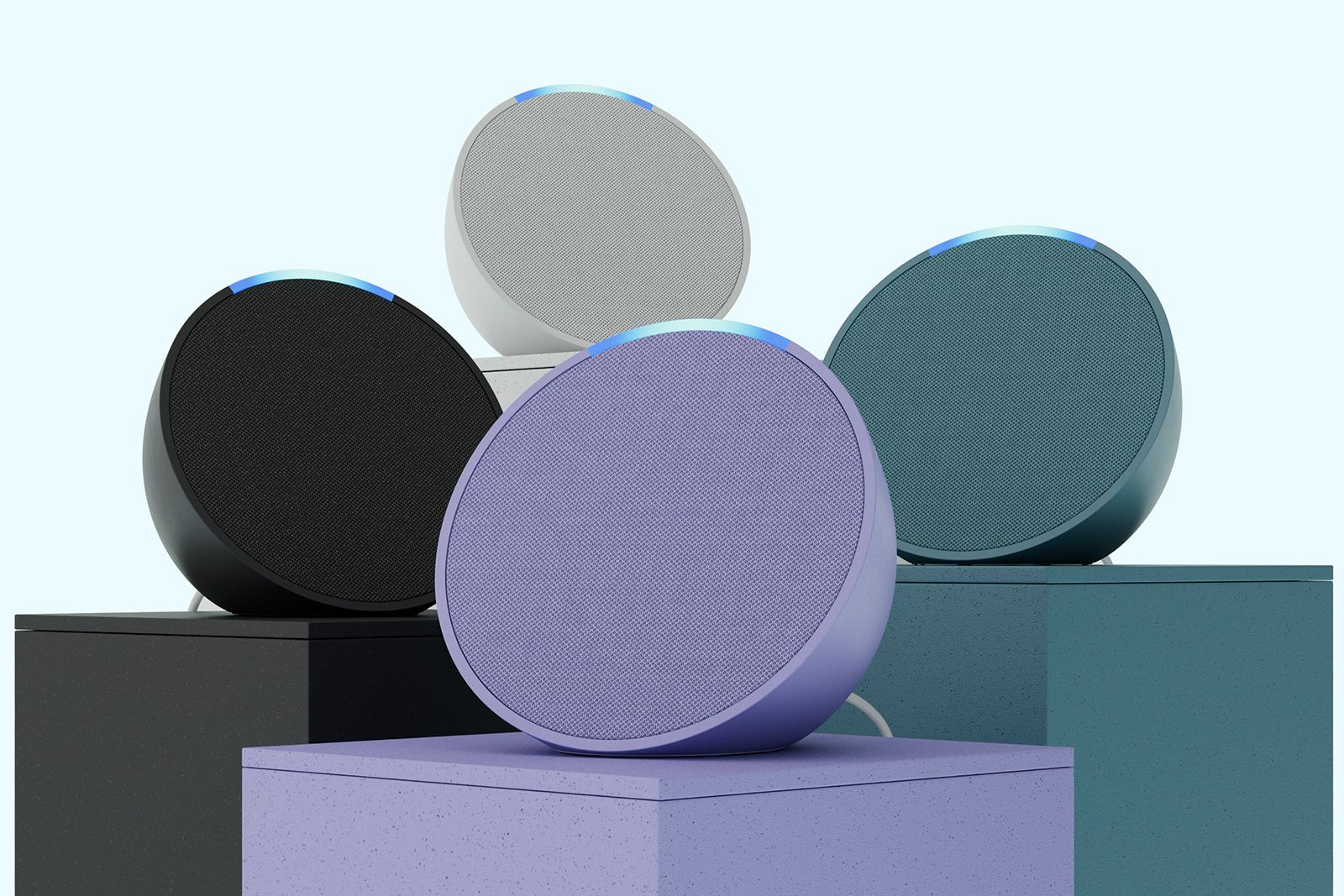 Amazon
The Echo Dot is available in Charcoal, Glacier White and Deep Sea Blue colour options. They're all quite subtle, whereas the Echo Pop goes for a slightly louder approach.
The Echo Pop can be purchased in Lavender Bloom and Midnight Teal options, as well as classic grey and white versions. But, if you want to liven things up further, you can purchase silicone sleeves in Blue, Red, Orange, Grey, Lilac, Purple, and even Glow in the Dark – funky stuff.
Sound quality
While we haven't listened to these two speakers side-by-side yet, the specifications give us a pretty good idea of what to expect. The 5th generation Echo Dot has a 1.73-inch driver which creates a good amount of bass from its tiny chassis.
Surprisingly, the Echo Pop has an even larger speaker inside, at 1.95 inches. Amazon says it can deliver a full sound that's great for bedrooms, flats, or any small space in the home – hinting that it's not as loud as the Dot, despite its size. Based on this description, we'd expect the Echo Dot to offer a bassier and more room-filling sound, that's suitable for larger living spaces. The Echo Pop is designed for small spaces, so we're not expecting as much volume, but it should still deliver good-quality audio.
Of course, we'll only know for sure once we get our hands on one.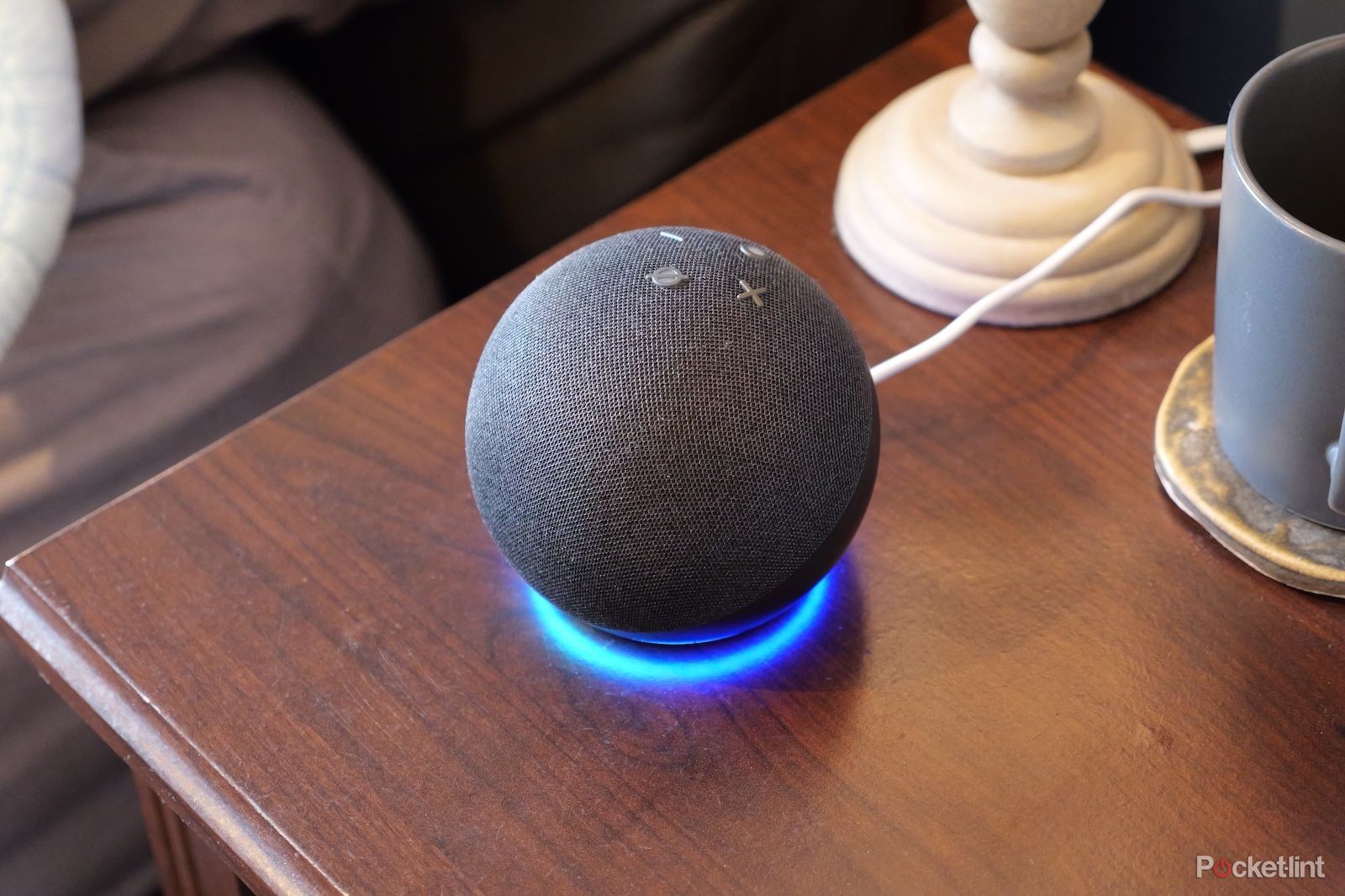 Alexa and smart home connectivity
Both devices house Amazon's AZ2 Neural Edge processor at their core. This means that they'll give you roughly the same Alexa experience, with speedy response times and reliable voice recognition. Features will be the same, too, since they both rely on Alexa's universal capabilities.
The difference comes in the form of the additional sensors. The Echo Dot has a temperature sensor built-in, as well as an accelerometer. This means it can be used to create temperature-based automations and can also be tapped to turn off an alarm, for example.
There has been no mention of these features on the Echo Pop, so presumably, that's where the cost savings have been made.
Conclusion
The Echo Pop is a great addition to the Amazon Echo lineup. We think it's one of the nicest-looking speakers from the brand so far, and the wealth of colour options means that it's easy to match with your home decor.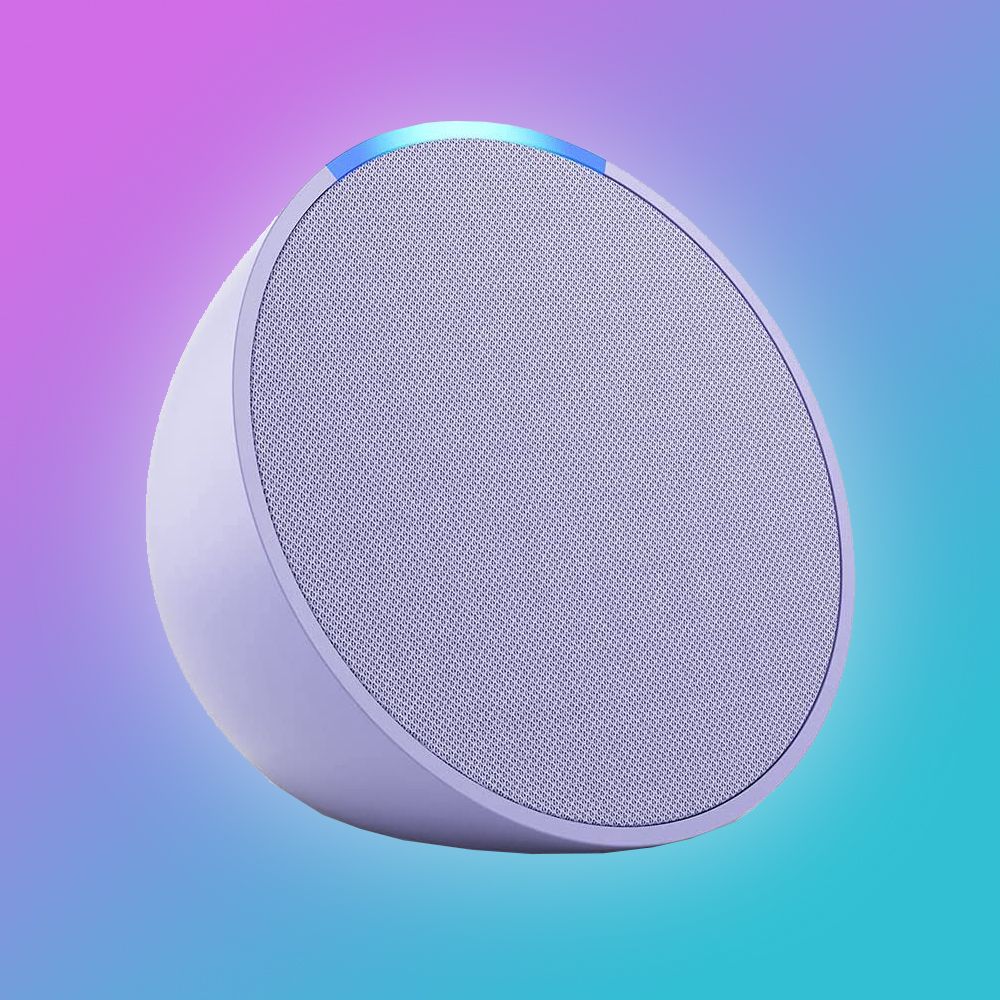 Amazon
It's also the cheapest option, which is a big selling point in and of itself. With a larger driver onboard, it might even sound better, but we'll need to test that out before we pass judgement.
However, to achieve this price, corners had to be cut somewhere, and it seems like the Echo Pop is less capable when it comes to smart home integration, due to the missing sensors.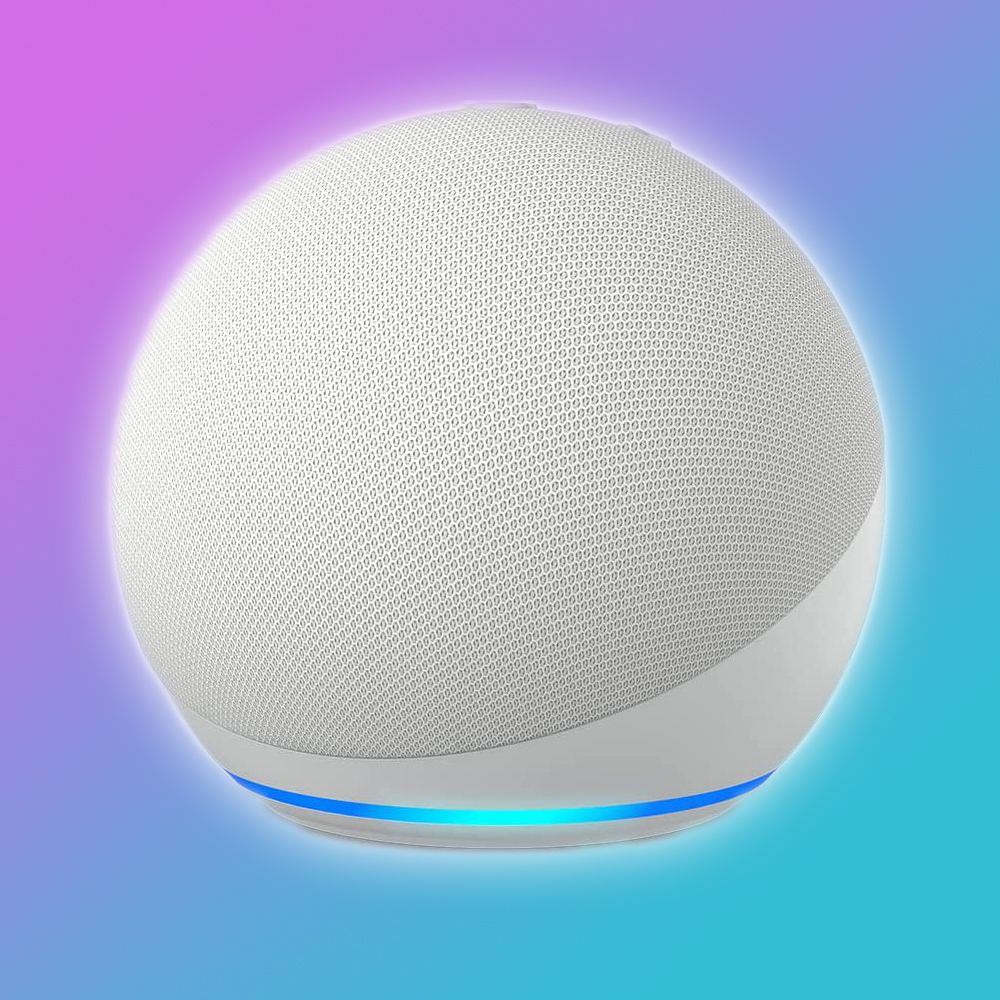 Amazon
Amazon Echo Dot (5th Gen)
If temperature-based automation and alarm clock usage are features that you want from your smart speaker, then you're likely best off with the Echo Dot – for everyone else, the Echo Pop is likely the way to go.
No matter which device you choose, you're getting a lot for your money, and you can rest assured that you're not likely to find a better smart speaker for the price.
Trending Products

.